This Thanksgiving offers a rare equinox for sports fans. Traditionalists flock to this Holiday for the wonderful mix of indulgent food and hearty football. Thanksgiving 2022 unites the football world by overlapping the tried-and-true staples of Thanksgiving NFL games and NCAA rivalry week, with the FIFA World Cup hosted in the Northern Hemisphere winter for the first time ever. 
As Americans gather around for their traditional (or not so traditional) Thanksgiving dinners, the Playbook is here to break down the viewing schedule for each event and give you an idea of how to plan your food and sports consumption. 
Thanksgiving
Meal prep: Uruguay v South Korea – 8am ET
As you wake up early to prep your turkey, tune in to watch the World Cup group stage as Uruguay takes on South Korea. Liverpool forward Darwin Núñez leads Uruguay's dangerous attack, looking to make a deep run in this year's tournament. Núñez has averaged a goal every other game so far this season, and despite the 23-year-old forward having just 13 Uruguay appearances to his name, he is the one to watch.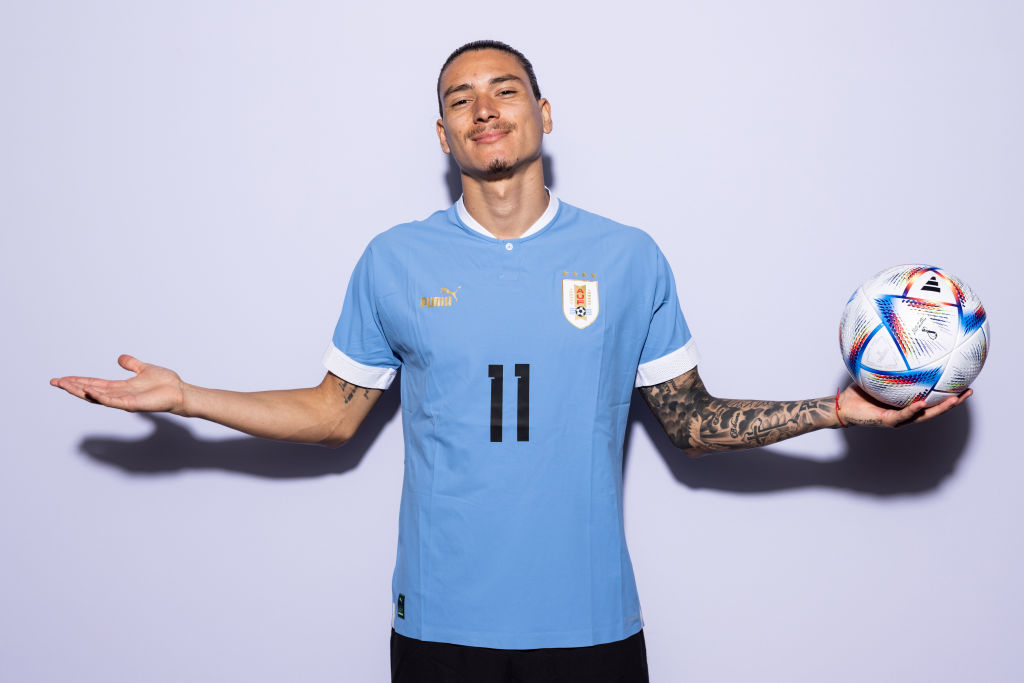 South Korea was fretting over the fitness of their own superstar, Heung-Min Son, but those fears have been allayed. The Tottenham Hotspur striker, who scored 23 goals in the Premier League last year, has been declared fit to feature in South Korea's opening game. That changes the game completely: this could be a rollercoaster at breakfast.
Think Núñez could lead your Fantasy World Cup team to glory? Try your hand at The Telegraph's World Cup Fantasy Football game, here. 
Setting the table: Portugal v Ghana – 11am ET 
As that match concludes and you're buried in potato peels getting your side dishes ready, Cristiano Ronaldo begins what will surely be his final World Cup as a player. As one of the favorites, it could be the perfect way for Ronaldo to bow out. On paper, Portugal has arguably one of the strongest squads at the tournament, with a host of European superstars like Manchester United's Bruno Fernandes, Manchester City's Bernardo Silva and Rúben Dias, and AC Milan's Rafael Leão.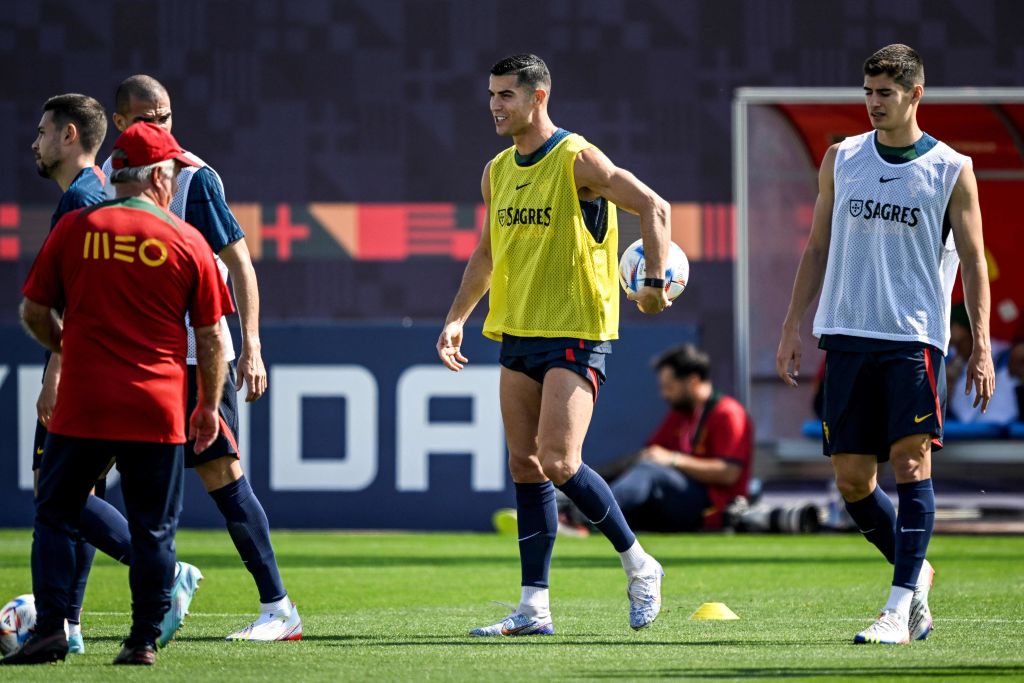 But Portugal's tournament preparation has been less-than-perfect, thanks in large part, to Ronaldo. A devastating set of interviews in which he slammed his current playing position and treatment by his club, Manchester United, lead ultimately to the club terminating his contract yesterday. With reported rifts in the locker room, can Ghana exploit Portugal's sour atmosphere?
Traditional appetizer: Bills @ Lions – 12.30pm ET
In a tradition that dates back to 1934, those who eat their Thanksgiving meal at lunchtime will see the Lions. Detroit hosts Buffalo, which is battling for position in a very competitive AFC East. Tune in here for the Holiday atmosphere and to see Josh Allen continue what could be an MVP season. The perpetually-rebuilding Lions allow a league-high 29.3 points per game, so there's a good chance for some Josh Allen and Stefon Diggs fireworks.
But the Detroit has won three games in a row, and Dan Campbell appears to have steadied the ship. They rank 5th in yards per play (5.9), and Amon-Ra St. Brown increasingly looks like the key to this offense.
Wondering how high on the Lions we are after Week 11? Find out here, in our Playbook Power Rankings.
Apéritif: Brazil v Serbia – 2pm ET
Watching the Seleção at the World Cup is truly one of life's great sporting pleasures. Brazil enter this tournament as favorites, with an unrivalled list of attacking talent – including the great Neymar – who will be looking to cement his legacy alongside some of Brazil's all-time greats.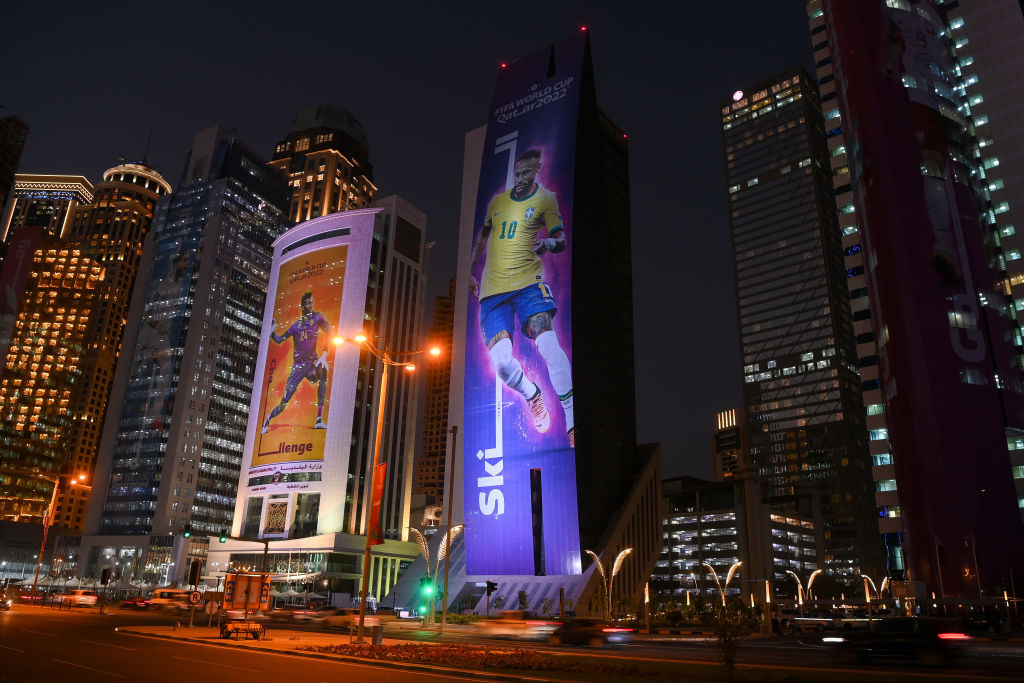 Their opening game presents a stern test. Serbia are arguably the toughest opponent in Brazil's group, and will be looking to spoil the party – as Saudi Arabia did against Argentina on Tuesday. While their talismanic superstar Dusan Vlahovic is doubtful to start, they bring their own attacking talent to the occasion, with Aleksander Mitrovic and Dusan Tadic the players to watch. They will cause Brazil's aging defense problems.
Main course: Giants @ Cowboys – 4.30pm ET
Turkey with all the trimmings!
This will be one of the very highest rated TV games of the year, battling for second place in the NFC East and playoff position. The Giants have surprised most so far this year and sit in second place in their extremely competitive division. New head coach Brian Daboll has reinvigorated the rushing attack and star Saquon Barkley leads the NFL in rushing yards. Dallas has a top-5 defense and is coming off a statement win over the Vikings. 
We have both of these teams inside the top 10 of our Power Rankings.
The second wind: Mississippi State @ Ole Miss – 5pm ET
Whether your family eats early or late, don't skimp on the eggs. As in, the Egg Bowl. Ole Miss-Mississippi State is always a hotly-contested game that is sure to be high-scoring and will give you the second wind you need to fight off the tryptophan evening haze. 
Dessert and coffee: Patriots @ Vikings – 8.20pm ET
The food is consumed, and everyone is settling around the TV ready for dessert. Whether you're having pumpkin or pecan pie, this game should see you through. The Vikings are atop the NFC North and are led by undervalued QB Kirk Cousins and an advantageous defense.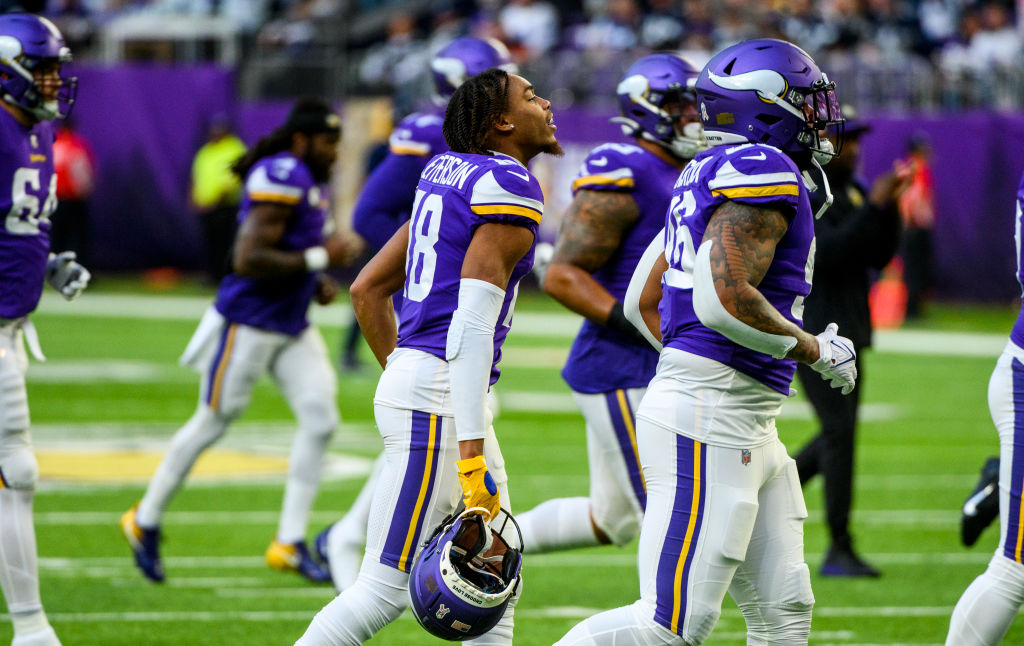 The Patriots are up and down all year. But as long as Bill Belichick is the head coach you can never count them out for a late season playoff run. The Vikings offense is led by wide receiver Justin Jefferson, who ranks second in the league in receiving yards and is tipped in some corners to pick up the Offensive Player of the Year award. 
Black Friday
Leftovers for lunch: Tulane @ Cincinnati – 12pm ET
What's better than cold turkey leftovers while you watch two ranked teams battle for a regular season championship? It's the only game of the day between two ranked teams (Tulane – 19th, Cincinnati – 24th) and the winner hosts the AAC title game. 
A tasty treat: England v USA – 2pm ET 
For the USA to qualify for the World Cup, be drawn in the same group as England, and the game to take place the day after Thanksgiving? That's fate, if ever we've seen it.
England's 6-2 demolition of Iran in their opening game was impressive, and means that a win would automatically qualify them for the Round of 16. For the USMNT, the draw against Wales was hard-fought. The first half was excellent from the USMNT, with breathless pressing and slick passing movements proving too much for Wales. But the Welsh dragon fought back well in the second half, and the inevitability of Gareth Bale eventually came good, as Wales grabbed a point.
If the United States want to progress from the group, a defeat to England could be fatal. It would leave a lot out of their hands heading into the final game. Expect fireworks.
Saturday
Thanksgiving, take two: Michigan v Ohio State – 12pm ET
For many, The Game is like a holiday on its own, and this Saturday offers Thanksgiving 2.0. 
Michigan and Ohio State, no matter the stakes, is filled with passion and emotion. This year the matchup is for bragging rights in the Big Ten and has major playoff implications. In 2006, Ohio State was ranked No. 1 and Michigan No. 2, and this game is close to that. It's the second straight year both teams are ranked in the top 5 at the time of The Game. 
It also features three players which Michigan Head Coach Jim Harbaugh recently described as having 'Heisman habits': Ohio State QB CJ Stroud and Wide Receiver Marvin Harrison, and Michigan Running Back Blake Corum.
Extra helpings: Argentina v Mexico – 2pm ET 
Saudi Arabia humbled Messi and Argentina in their opening game. They lost 2-1 to the lowest-ranked team in the tournament. Mexico's 0-0 draw with Poland was a good result for Argentina, who probably see this game as a must-win now. Can Messi keep the dream of clinching a World Cup alive?
Do we have any turkey left? Notre Dame v USC – 7.30pm ET
Why doesn't Notre Dame join a conference? It's because the Irish hold that independence dearly as a national brand, and it's part of their university DNA. Playing coast to coast is important to their history and tradition, and the game at USC illustrates that. Southern Cal is still in the playoff hunt and a win here would go a long way in supporting their case.
Wherever you live in the world and whatever you celebrate, there are plenty of exciting football games to take in. The Playbook wishes all a wonderful and joy-filled Thanksgiving – this one will be remembered forever.