Noon ET, ESPN
Ford Field – Detroit, MI
After a month of midweek #MACtion where Mid-American Conference football schools take center stage on ESPN, the league's two top teams are back on Saturday, playing for a championship. Toledo (7-5, 5-3 MAC) won the MAC West pretty much a month ago and has been getting right for Detroit since clinching the title game spot on November 8. As a result, UT is coming off two straight losses.  
Toledo's opponent – and the official home team in the game – is MAC East champ Ohio (9-3, 7-1 MAC). The Bobcats are without MAC Offensive Player of the Year Kurtis Rourke but are the hottest team in the league. Ohio has won seven straight games and is the only team to go 7-1 in MAC play.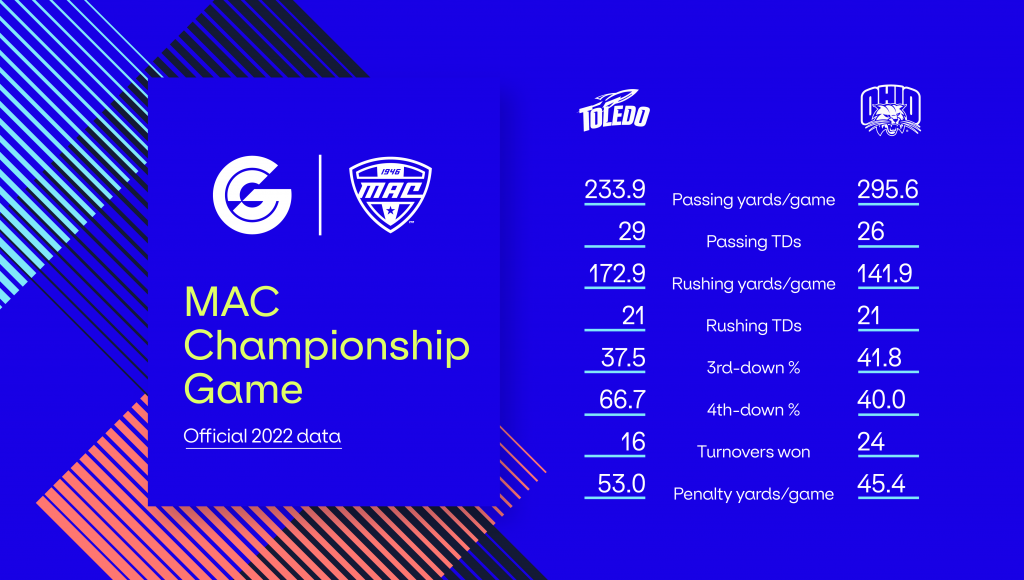 It's a fairly even matchup statistically, and as most MAC titles game do it could come down to who can create the most big plays and avoid turnovers. Here's what to look for on both sides of the ball and The Playbook's keys for each team to take home the crown. 
When Ohio Has The Ball 
With Rourke out, Ohio will need to control the game on the ground. Lucky for the Bobcats, they have freshman sensation Sieh Bangura at running back.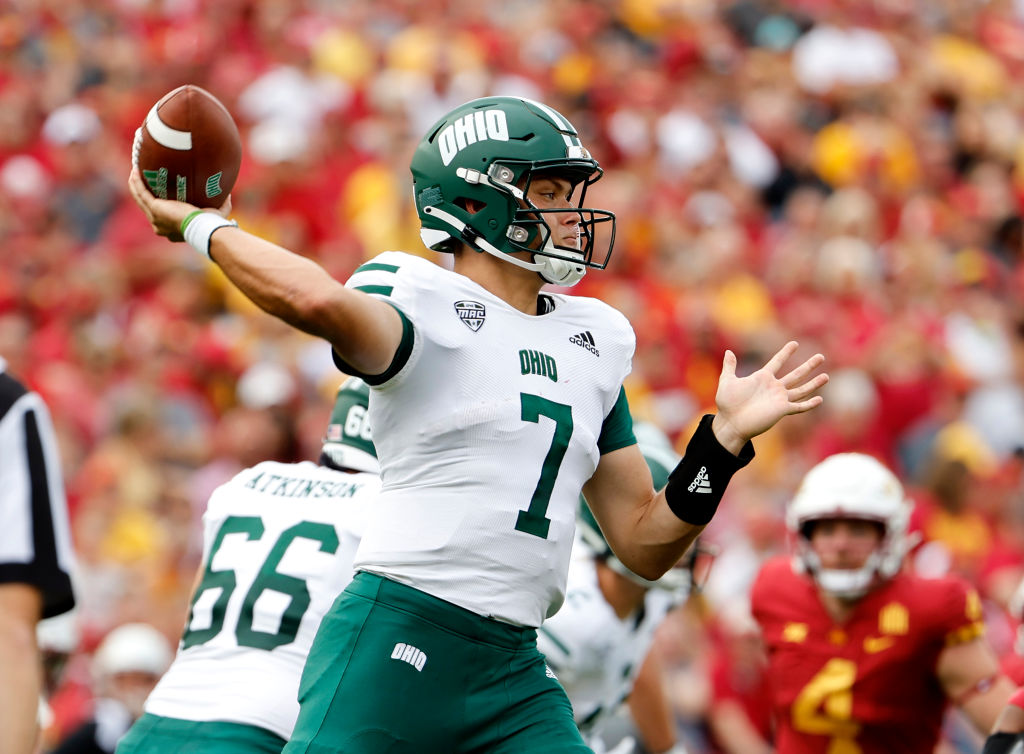 Not only did Rourke (3256 yards, 25-4 TD-INT, 69.1% completion) capture the league's top honor offensively, but Bangura was voted the conference's top offensive freshman after coming on strong over the last month. He averaged 90 yards per game in conference play and scored 11 touchdowns. If Bangura gets going, that opens the door for now-starting QB CJ Harris to get comfortable and pop some big passing plays. 
Defensively for Toledo, seven Rockets were named this week as All-MAC performers.
Toledo posted 28 sacks in conference play – a MAC-high – while also tying for second in the conference with nine interceptions. Toledo's defense is capable of big plays and they'll be working to put pressure on Harris, who has only thrown 33 passes this season. 
When Toledo Has The Ball 
Fans who aren't familiar with Toledo QB Daquan Finn need to be. Finn, despite battling injuries this season, has thrown for 21 touchdowns and rushed for eight more. He missed a couple games late in the season but played a supporting role the regular season finale. If Finn is full-go, Toledo becomes dangerous with multiple running threats and the occasional deep ball.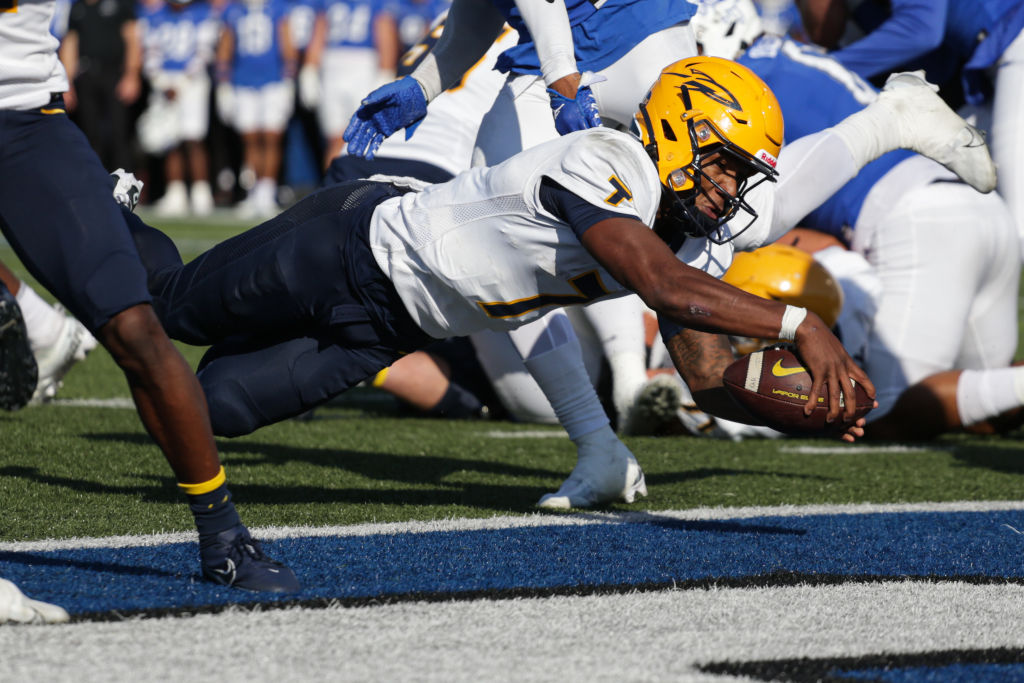 Defensively for Ohio, the Cats were susceptible to the passing game and ranked last in passing yards allowed. However, OU was at the top in rushing defense. Nobody on OU's defense was voted first or second team All-MAC, so you may see some guys with a chip on their shoulder. 
The Keys for an Ohio Win
Confidence: Of the seven wins in Ohio's current win streak, six have come by at least 14 points. The regular season has belonged to OU, and even without Rourke, it's a confident group.  
Win The Ground Game: Toledo allowed the fewest passing yards in the league, so OU needs to establish the run to give Harris time and room to throw.  
Win Turnover Margin: Both teams ranked at the top of the conference in taking the ball away, and if OU controls the ground game it can avoid turnovers, extend drives and score. 
Sieh Bangura (22) is going to be pivotal to Ohio's gameplan. Establishing the run is key. (Photo by Gregory Fisher/Icon Sportswire via Getty Images)
Toledo will likely have the crowd. How can they harness that energy? (Photo by Scott W. Grau/Icon Sportswire via Getty Images)
The Keys for a Toledo Win
Feed Into The Energy: This might not matter in an NFL venue, but Toledo will likely have the crowd. Toledo's campus is 63 miles from Ford Field.  
Get Off The Field: Ohio led in conference play with a 44% conversion rate on third down. OU can extend drives and make teams play. Toledo needs to get the defense to the sideline. 
Finn's Role: Finn's status was up in the air for much of November and he did play a little in the finale, though there was nothing at stake. Toledo had already clinched its Detroit trip. However Toledo deploys Finn's talents, it needs to make Ohio's defense think and play slow.  
Every snap, tackle and touchdown in the Mid-American Conference is powered to fans by Genius Sports, the official data and gaming partner of the MAC and the official data collection partner of the NCAA. Click here to learn more about how the MAC and Genius Sports work together to improve the fan experience.