Of the teams who own a pick in the top 10 in this year's NFL Draft, up to eight could arguably use an upgrade at quarterback.
For the fourth time in the modern draft era – after 1971, 1999 and 2021 – each of the first three picks could be QBs. Three of the top prospects at QB fit surprisingly well with the teams who pick first, second and third this year. So, with some help from NCAA LiveStats, we've paired them up. These would be curveball picks, but when you zoom in, they make total sense.
Carolina Panthers select Anthony Richardson (Florida)
There's always one player that appears from out of nowhere during a draft season. Anthony Richardson could be that guy.
As the starter for the Florida Gators for 2023, Richardson threw for 2,549 yards and 17 touchdowns, neither of which land him in the top 50 for quarterbacks. He led his team to a mediocre 6-7 record in his final season.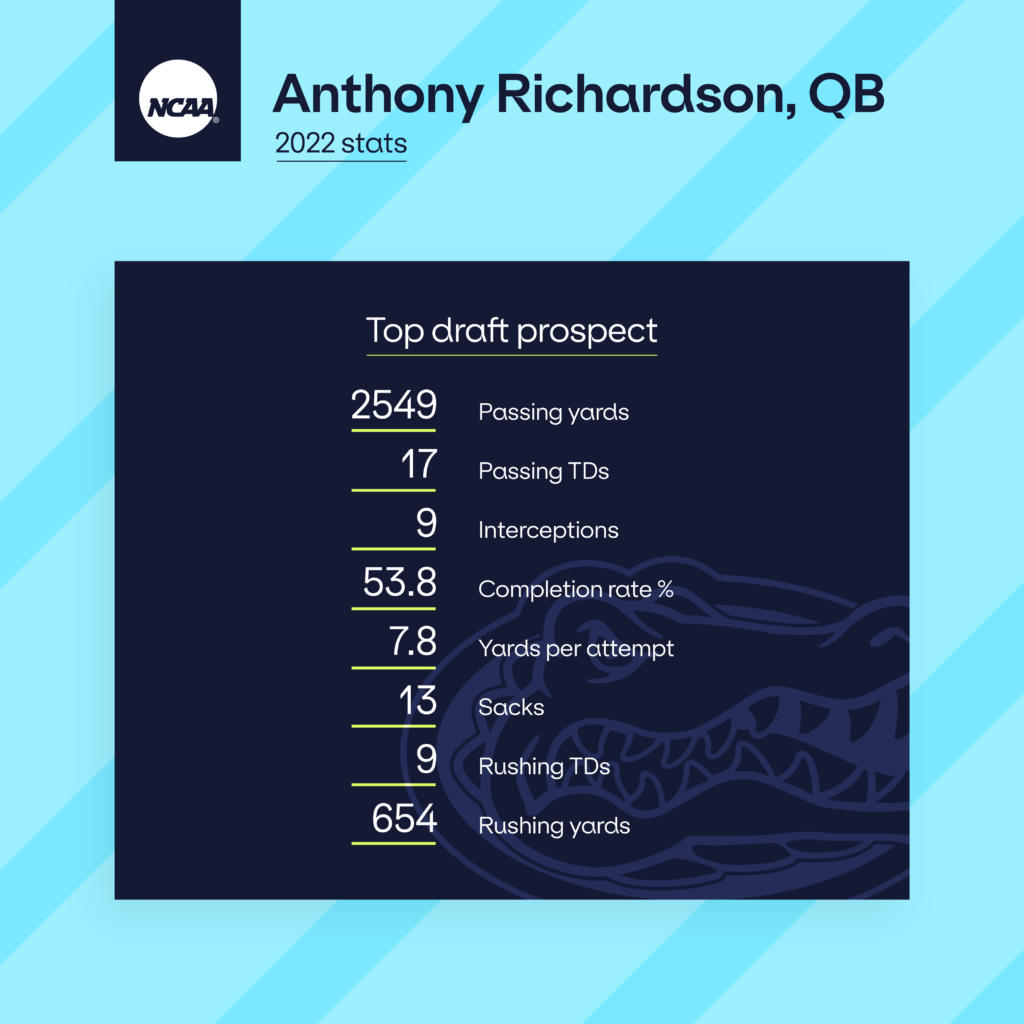 But despite his team's lack of success, Richardson was able to impress NFL scouts with his arm strength and ability to use his legs to make plays. These traits, along with strong combine and pro day performances thrust him into first round discussion, and after the Carolina Panthers traded with the Chicago Bears to take control of the 1st overall pick, we think there seems to be a perfect match here.
The last time the Panthers selected 1st overall was in 2011 when they selected quarterback Cam Newton, another powerful running quarterback with a strong arm. Newton obviously had a lot more college success, as a Heisman Trophy and National Championship winner, but he played with the same style that Anthony Richardson employed at Florida.
Both quarterbacks used their ability to run to make big plays and were able to throw the deep ball.
Richardson has a few areas still needing fine tuning, such as his accuracy, but the Panthers head coach Frank Reich is known to have success with taller quarterbacks. Both his floor – and ceiling – are arguably the highest of all the QBs available. If the Panthers are willing to take a chance, Anthony Richardson could fit right in with Carolina.
Houston Texans select C.J. Stroud (Ohio State)
Although he went to the Ohio State University, one of the most prominent schools in college football, C.J. Stroud has been overlooked for most of his college career.
Unfortunately he may be remembered best as the quarterback who lost twice to hated rival Michigan Wolverines, the first two losses to them in the past 10 seasons. Despite the infamy that may follow his collegiate career, he is still one of the highest rated quarterbacks coming out in this year's draft. In 2022, he finished the season second in passing touchdowns (42) and racked up just under 4,000 passing yards while only throwing for 6 interceptions.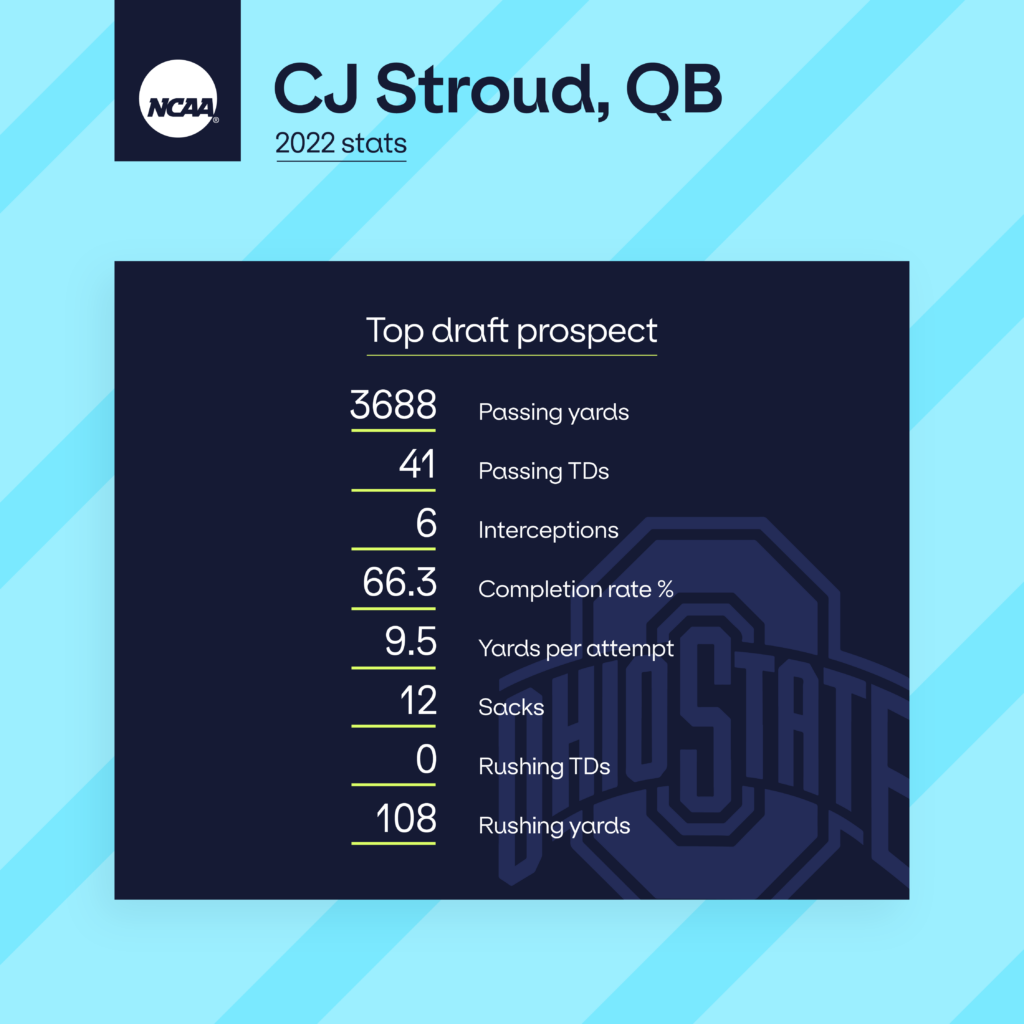 This was good enough for an invite to New York as a Heisman Trophy finalist, though he came third in the voting. The Buckeyes season ended in a thrilling back and forth College Football Playoff semifinal loss to eventual champion Georgia Bulldogs, with Stroud throwing for 350 yards and four touchdowns in the game.
Taking C.J. Stroud with the second overall pick – which appears to be gathering in momentum as a likely outcome on draft night – the Texans will gain a QB with a solid skillset. A skillset in a key position that they've lacked in recent years, following the suspension and trade of Deshaun Watson.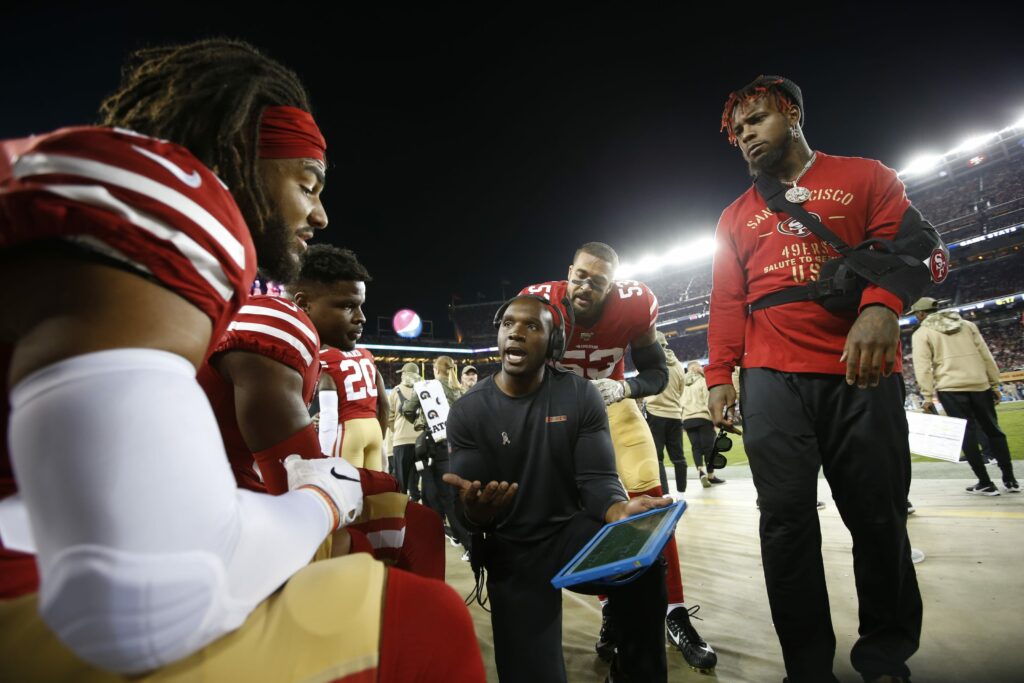 The Texans have been in rebuild mode in the last few years. But in this offseason, they worked hard to bring in some offensive weapons, such as TE Dalton Schultz and WR Noah Brown from the Cowboys, and RB Devin Singletary from the Bills. With a strong rookie season from running back Dameon Pierce, and new head coach DeMeco Ryans arriving with a stellar reputation – having worked under Kyle Shanahan as the DC for San Fransisco – the Texans are in a position where a plug-and-play QB would suit them nicely. That's exactly what Stroud can be. He's mature, an excellent distributor of the football, and is able to go-off script when needed.
His experience as the centerpiece of a huge program like Ohio State will bode well for his future as a franchise QB. This is a nice fit.
Detroit Lions trade up (from Arizona) and select Bryce Young (Alabama)
According to reports, the Arizona Cardinals have received up to six different enquiries from other teams looking to trade up to No. 3. The franchise is in dire straits, with an aging roster of sliding talent and a quarterback in Kyler Murray who, despite his clear talent, has had a patchy few years and is recovering from a clean tear of his ACL. If there was ever a time for a team to accumulate as much draft capital as possible, it would be now for the Cardinals. So, a trade makes sense for Arizona. But what about Detroit?
Lions QB Jared Goff had an impressive second half to his 2022 season, as the Lions morphed into one of the most devastating offensive forces in the NFL. They narrowly missed out on the playoffs, but dazzled and entertained with Ben Johnson pulling the strings as the offensive coordinator. Detroit ranked fifth in yards per play (5.9) and points per game (26.6), fourth in total first downs (379), and top 10 in just about every important offensive metric in 2022.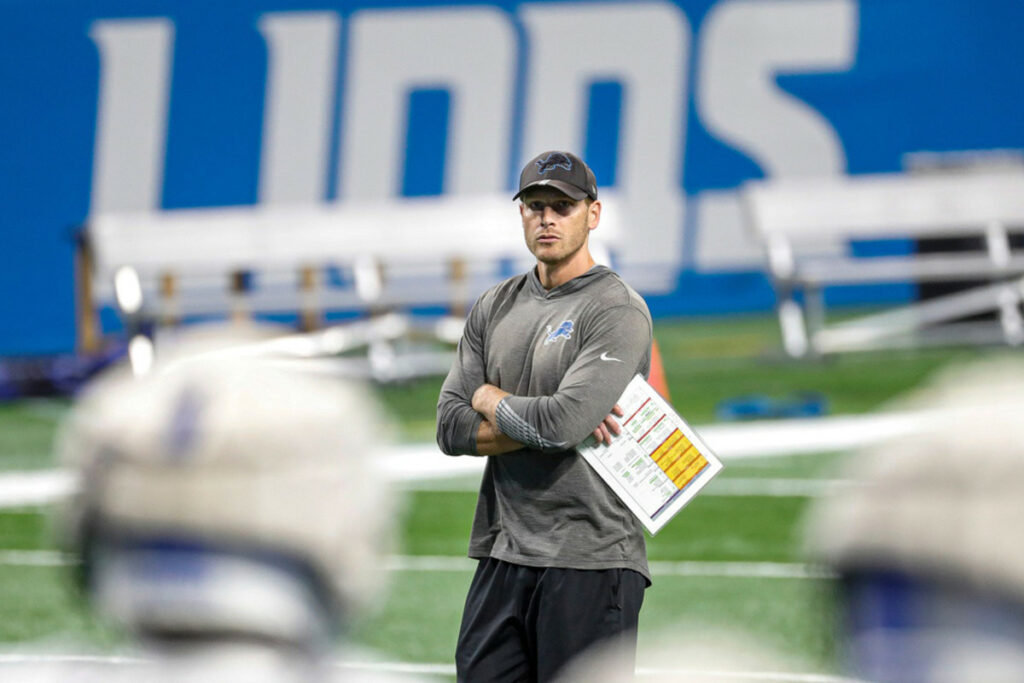 Their competitive window is approaching. They need to shore-up the defensive side of the ball, but they also need to capitalize on their position. Jared Goff probably isn't the QB to take them forward heading into the future. They're unlikely to be in a position to draft an elite-level quarterback any time soon. Their offensive playmakers, such as Amon-Ra St. Brown, have found another level, but Ben Johnson isn't going to be around forever.
They also pick again at #18, so they'll be able to add the defensive playmaker they need.
In trading up to take Bryce Young, the Detroit Lions would be setting themselves up for future success.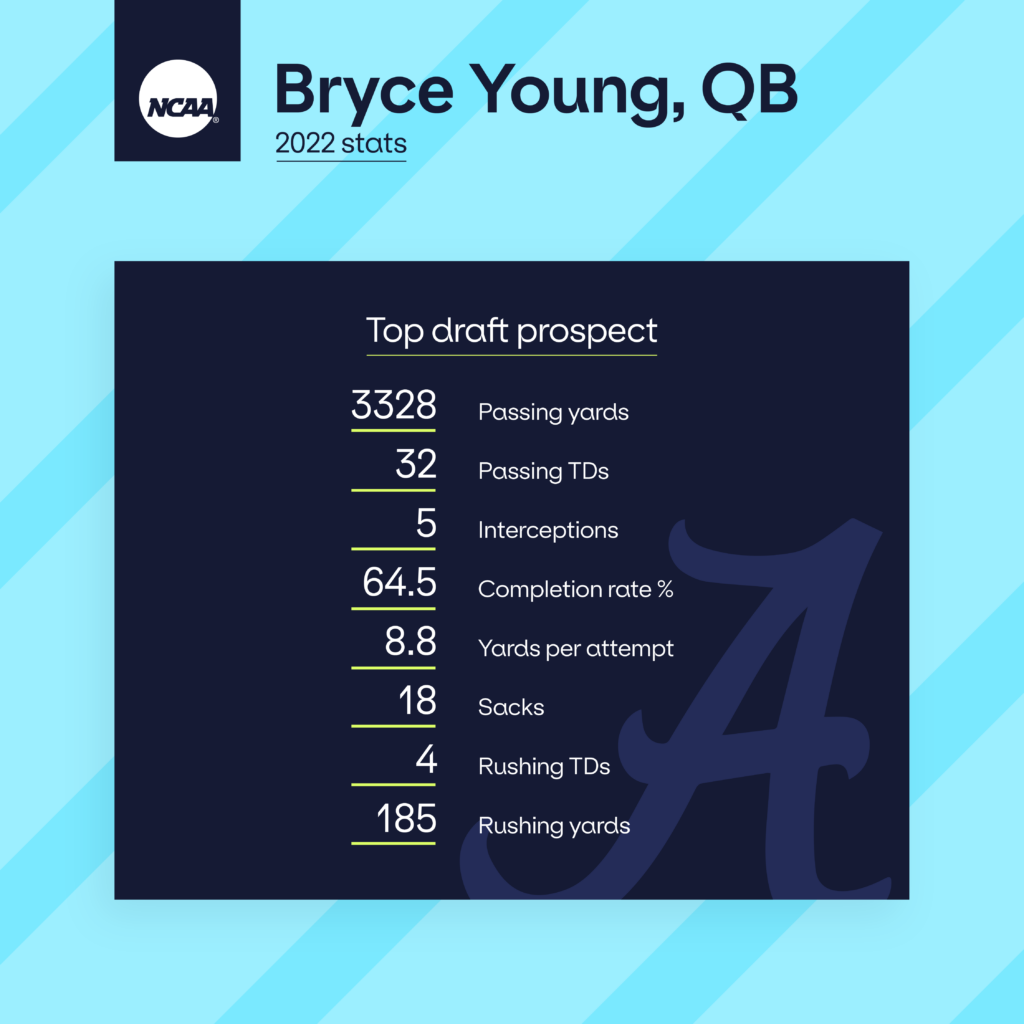 He's the #1 rated prospect and a former Heisman Trophy winner. Young threw for 32 touchdowns, five interceptions, and was happy enough to play the main character role in some thrilling games this year. He has all the fundamentals: the skillset, the intelligence, the play-calling ability, the leadership – to be able to succeed.
His size is a concern, but Dan Campbell has often referred to his players being 'kneecap biters', so that shouldn't be an issue, right?
The Playbook is powered by Genius Sports, the exclusive distributor of official NCAA data.