College Football Playoff, National Championship 
TCU Horned Frogs (3) vs University of Georgia Bulldogs (1)
SoFi Stadium, Inglewood, CA
Monday, 7:30PM ET
Two incredibly exciting semifinal Bowl Games (maybe the best ever?) have given us our CFP National Championship game. Pre-season number 1 team Georgia face off against TCU, who opened the year at 200-1 to make the playoffs in Head Coach Sonny Dykes' first year.
The Bulldogs continued their dominance behind the nation's best defense and experienced QB Stetson Bennett. The Horned Frogs were the most explosive offense in college football with Heisman finalist Max Duggan at Quarterback. Let's look at how the game might play out. 
Texas Christian University Horned Frogs
(13-1) 
TCU was counted out before the season even started, after moving on from their longtime head coach Gary Patterson and bringing in Sonny Dykes. The new era of Horned Frogs football with Dykes was to be led by Chandler Morris at quarterback, but an unfortunate injury in the home opener let veteran Max Duggan regain his starting job.
TCU faltered in their Big 12 Championship game and gave them their only loss of the year. The overtime loss was the lone blemish on an otherwise outstanding season, leading to their #3 overall ranking and spot in the Fiesta Bowl Semifinal game. TCU quickly bounced back after the loss to defeat #2 University of Michigan 51-45 and earn their spot to take down reigning National Champion Georgia Bulldogs.
Duggan and Johnston key to TCU success
Max Duggan led the Horned Frogs to an undefeated regular season on the back of an explosive offense that led college football in plays over 20 yards. Duggan earned his stripes leading the Big 12 Conference in passing touchdowns, yards per attempt and passing efficiency rating. Ultimately leading to a 2nd place finish in Heisman voting this year.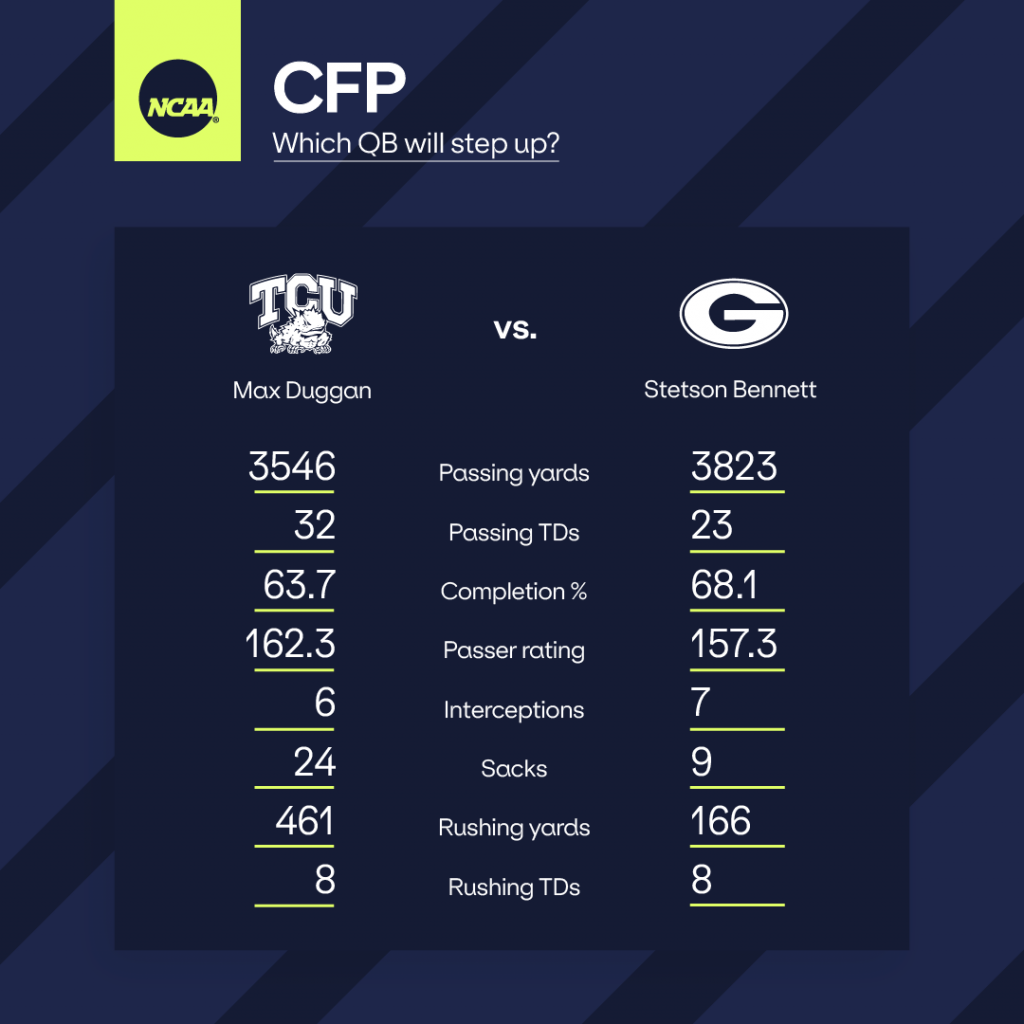 Duggan's leading target all year was Quentin Johnston at wide receiver. A projected first round pick in the NFL next year, Johnston was third in the Big 12 with 1,066 receiving yards and 22.1 yards per reception—a guaranteed big play threat. Against the best unit they faced all year to this point, Johnston tore up a Michigan defense that gave up an average of 194.2 yards a game for 6 receptions, 163 yards and a touchdown.  
University of Georgia Bulldogs
(14-0)
The Georgia Bulldogs never faltered from their number 1 spot and cruised to both an undefeated regular season and SEC Championship. The Bulldogs reloaded a defense that had five players drafted in the first round of the 2022 NFL Draft. Georgia's road to the championship was carried by a defense that allowed less than 15 points per game, the best in the SEC and 5th best in the nation. Make no mistake, Georgia is more than just defense, as they outgained their opponents an average of 190.4 yards per game over their 14 games. 
Their entrance to the championship game was as dramatic as it gets, as a missed Ohio State field goal – right on the stroke of midnight on New Years Eve – meant they held onto a 42-41 win.
By request, here is the multicam view of the feed from Times Square, All-22, and ESPN, Georgia, and Ohio State radio calls, as it happened onscreen live: pic.twitter.com/k775T4VNTo

— Timothy Burke (@bubbaprog) January 1, 2023
Stetson Bennett showed his class in the semifinal
The Bulldogs' offense gained more respect this year with a full season of Stetson Bennett at quarterback. Bennett's career year led him to a 4th place finish in the Heisman Trophy voting with 3,989 total yards, the most in the SEC and 10th-highest in the nation. The Georgia QB's favorite target all year was the All-American Tight End Brock Bowers. He led the Bulldogs with 790 receiving yards and was a matchup nightmare all season.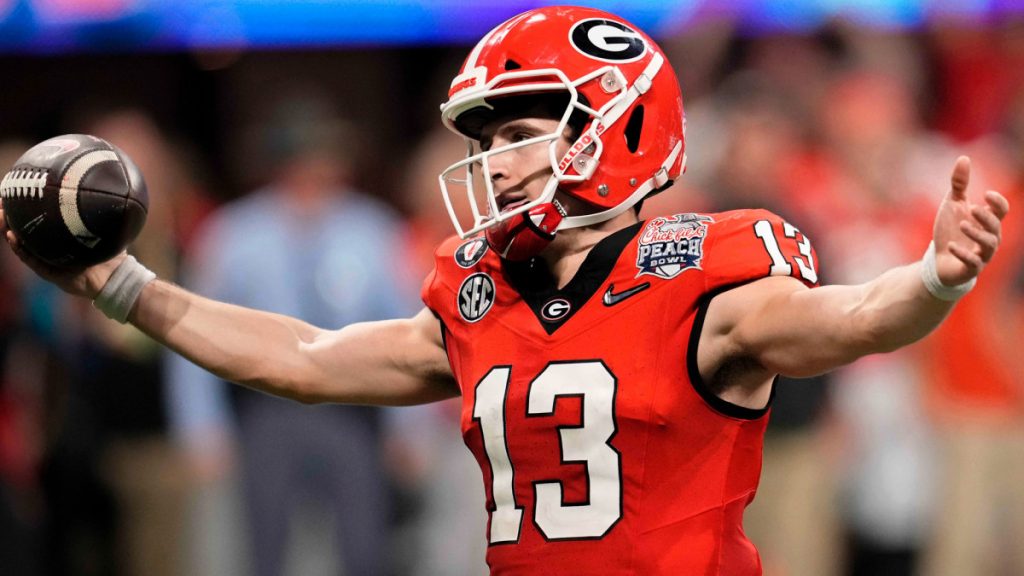 While their offense should get a lot of credit for improvements made this season, their defense had the tough task of replacing starters across the board.
Despite the players moving on, Georgia continued to lead the league in almost all statistical categories. This includes the number one red zone defense— it's kind of tough to win if you can't score in the red zone.
Two major first-round draft prospects to watch on the Georgia defense are defensive lineman Jalen Carter and defensive back Kelee Ringo. Carter is a force in the middle of the field who had 7 tackles for loss, 3 sacks and 2 forced fumbles. Ringo will have his hands full trying to match up with TCU's Johnston, but has been up to the challenge all season. Ringo leads the Bulldogs with 7 pass breakups and is second on the team with 2 interceptions. 
Regardless of outcome, history will be made
Whoever you might root for in the regular season, these two teams have earned their chance to be in the mix for the National Championship. Georgia will look to become the first repeat champion since Alabama in 2011-12. TCU could end their historic season as the first team to start unranked and win a championship since Georgia Tech in 1990. Over to you, SoFi Stadium.
The Playbook is powered by Genius Sports, official data collection partner of the NCAA.