Is it that time of year already? Championship weekend has passed, the College Football Playoffs are set, and the Heisman finalists have been selected. The business-end of the college football season is upon us.
For the first time since 2018, each of the four Heisman trophy finalists are quarterbacks. The voters returned Caleb Williams (USC), CJ Stroud (Ohio State), Stetson Bennett (Georgia), and Max Duggan (TCU) as the candidates. The winner will be announced this Saturday, in New York City.
We've used official data, captured by NCAA LiveStats, to power this preview of the four finalists.
Caleb Williams, QB – USC
There's no question: Williams is the favorite here.
His decision to transfer to USC from Oklahoma saw him continue his progress under Lincoln Riley, and they made a formidable pair across the year. A defeat in the Pac-12 championship game to Utah saw them miss out on what would've been USC's first ever trip to the College Football Playoff. In the game itself, Williams fought through a recurrent hamstring injury, still managing to throw for 372 yards and three TDs.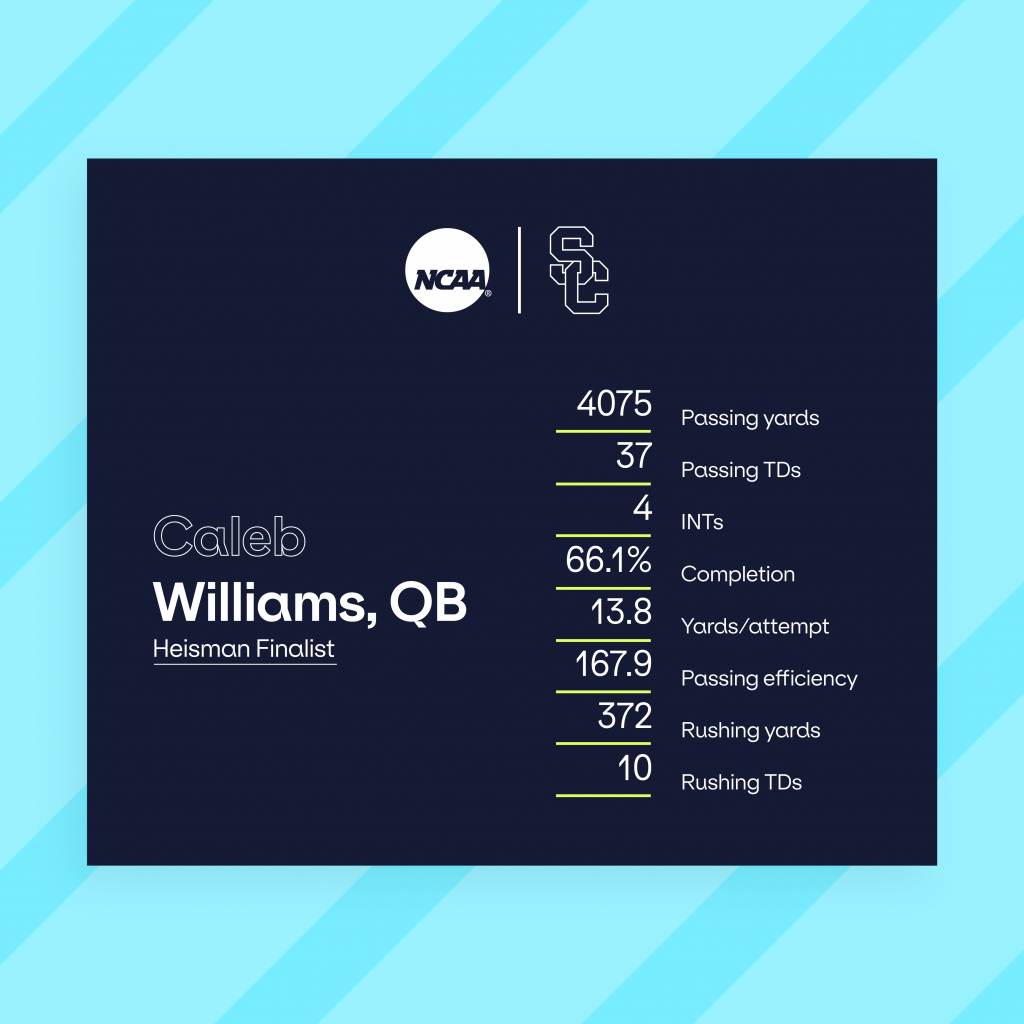 The defeat aside, it's been a history-making year for Caleb Williams. His 47 touchdowns (37 passing, 10 rushing) are the most ever by a Trojans quarterback in a single season. His skillset is that of the archetypal modern quarterback: excellent arm talent; athleticism and skillful footwork; and the ability to make big plays in key situations.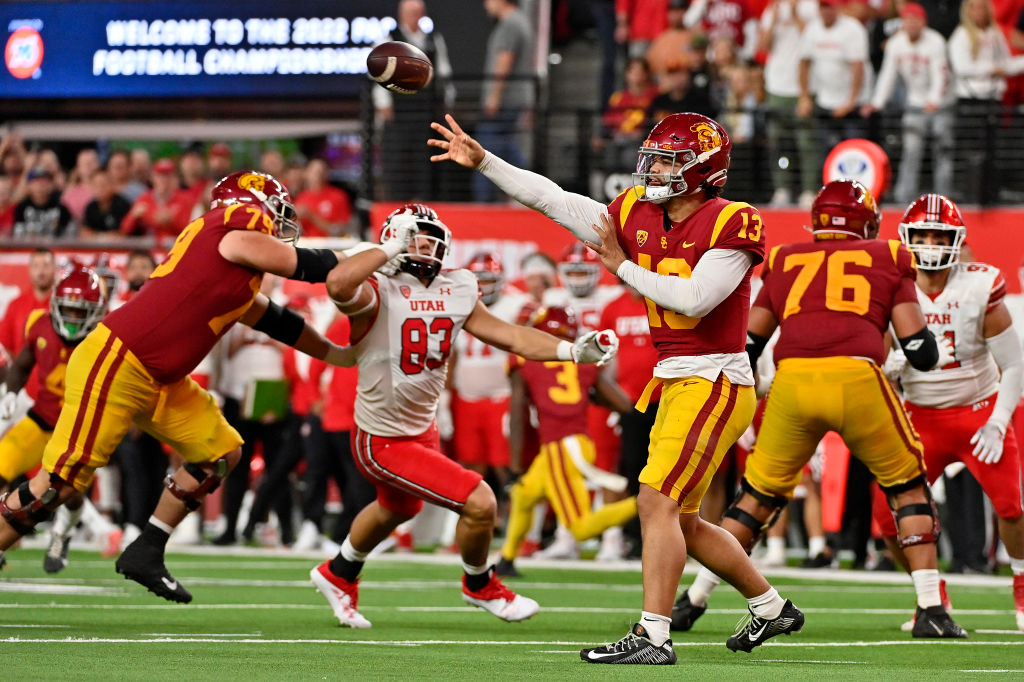 He has been the standout candidate for almost two months. The Pac-12 black mark against his name shouldn't deter voters; barring a real shock, Williams should become USC's third Heisman-winning quarterback.
C.J. Stroud, QB – Ohio State
CJ Stroud's Ohio State Buckeyes went 11-1 during the regular season, losing their final game to rivals Michigan.
Throwing for 3340 yards, 37 touchdowns and six interceptions, CJ Stroud ensured that Ohio State were nevertheless ranked at least fifth or higher all season long. His yards per attempt (14.2) is the highest of all the Heisman finalists, and he made use of the elite-level skill players like Jaxon Smith-Njigba and Marvin Harrison, at his disposal.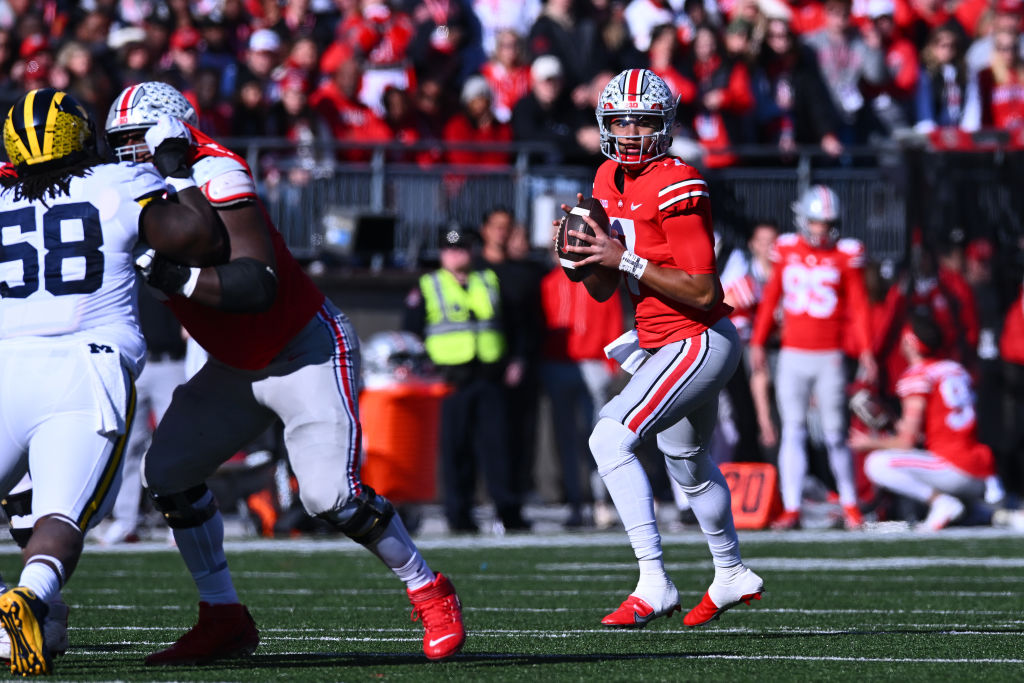 His rushing stats are less glamorous than those of his competitors, but that isn't Stroud's game. He's a pocket passer, with laser perception and impeccable timing. His ability to dissect coverage is arguably the best in college football.
Stroud is a fan favorite, and finished 4th in last years' award. The 6-3, 215-pound quarterback will be one of the hottest prospects at the 2023 NFL draft. The Lions, Colts and Texans could all do with picking up their quarterback of the future, and Stroud fits the bill.
Stetson Bennett, QB – Georgia
An undefeated regular season record. A conference championship. A No. 1 CFP seed.
Not bad for Georgia Bulldogs, and their quarterback, Stetson Bennett. He's the first Georgia player to be nominated for the Heisman trophy since in 2013, and the first ever Georgia QB to be a finalist. If he wins, he'll be the first Bulldog to win the award since Herschel Walker in 1982.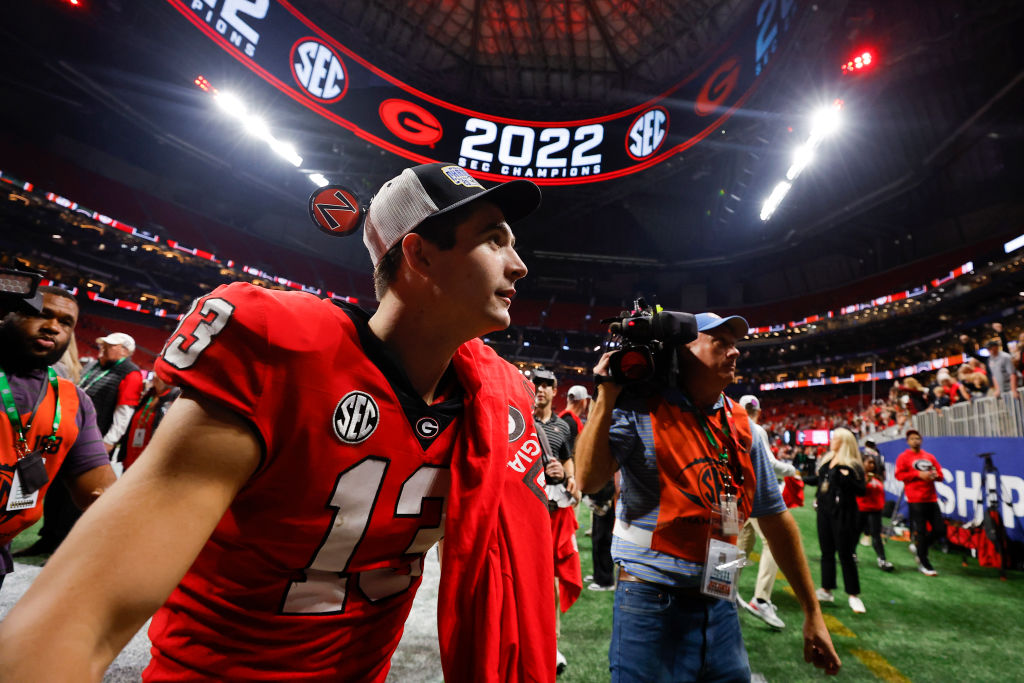 The narrative arc is strong with Bennett. He worked his way up through the junior college route and his position as a walk-on to become the starting quarterback for the best team in college football for two years. Nevertheless, his critics will point to the latter fact: that Georgia have been imperious on defense, with the best running game, as harmful to his chances. His stats aren't necessarily as dazzling as the other candidates: throwing for the fewest TDs (20) and the shortest yards per completion (12.7) of all four QBs.
On the other hand, he has the highest completion percentage of all four (68.1%), threw for over 3,400 yards, and distributes the football with purpose and accuracy. He'll probably come up short, but he's had a season to remember.
Max Duggan, QB – TCU
Who called TCU making the College Football Playoff before the start of the season? Arguably, not even Max Duggan, who didn't even start TCU's first game. But since he came in, he's been a sensation, just like his team.
Like his competitors for the Heisman trophy, Duggan also lost his conference championship game. He pulled up trees in the Big-12 final against Kansas State, throwing for 251 yards and rushing for another 110. Like the many occasions that have caused TCU to become neutral-fan-favorites this season, Duggan inspired another 4th-quarter comeback, taking the game to an eventually futile overtime.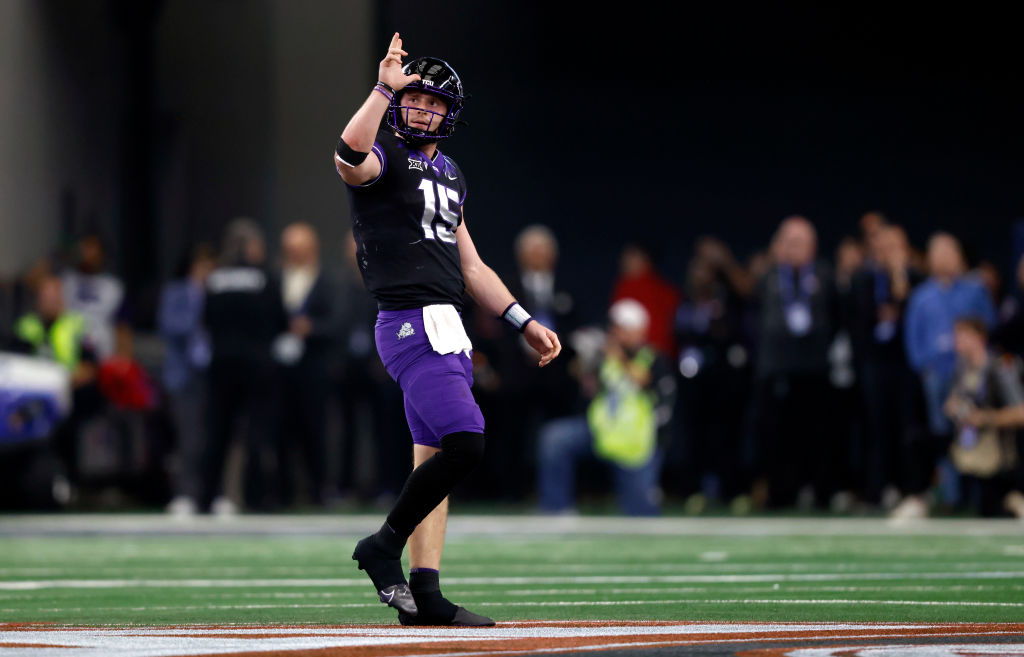 He's an athletic, sizeable and rangy quarterback, with the ability to make huge plays. He's rushed for more yards than any of this years' Heisman candidates (404), picking up six TDs in the process. That athleticism helps him extend plays in the pocket, which helps his ability to read the field. His accuracy has been highlighted as an issue, and he has the lowest completion rate (64.9%) in this candidate class.
TCU face Michigan in the CFP semi-final, with a chance to make history.