In the 2020 NFL Draft, the Green Bay Packers traded up to select Jordan Love with the 26th overall pick. This sparked immediate speculation that Green Bay was ready to move on from Aaron Rodgers.
But after rattling off two back-to-back MVP seasons, he made that decision more difficult. Despite his success, every offseason since has brought speculation about his future, stemming from postseason disappointment and off-field comments.
In the 2022 season, it seemed as if Rodgers had lost his touch. Both he and the Packers struggled early and had to rally to get back in the playoff mix, only to come up short again. After a regular season loss at home to the Detroit Lions in the finale, Aaron Rodgers took his time walking off the field and had a moment with longtime teammate and friend Randall Cobb. Those scenes made many wonder whether he would come back to football at all.
Now that he is out of his darkness retreat, let's shed some light on some possible destinations for Aaron Rodgers in the 2023 NFL Season.
The favorite: New York Jets
Even with shaky quarterback play, the New York Jets still managed to put together a decent run throughout the 2022 season. Wide receiver Garret Wilson amassed 1,103 yards and four touchdowns on his way to winning offensive rookie of the year.
They also had a strong run game. Michael Carter had the highest efficiency in the league for running backs, and rookie Breece Hall was on his way to a great season before an injury derailed him.
On the other side of the ball, the defense finished the season top five in the NFL for yards allowed and added their own rookie of the year in cornerback Sauce Gardner. The Jets management may have had Rodgers already on their mind this offseason, hiring former Denver Broncos head coach Nathaniel Hackett as offensive coordinator. Hackett and Rodgers worked well together in Green Bay, so it's a potentially smart move for the Jets.
But is it sufficient to lure Rodgers to the Big Apple?
The outsider: Las Vegas Raiders
One possible landing spot for Rodgers is in Las Vegas with his buddy Davante Adams.
There was a lot of Las Vegas hype last year after Adams moved there in free agency, but they failed to live up to expectations this season. Much of the blame fell on the shoulders of Derek Carr, who will be leaving the Raiders this summer.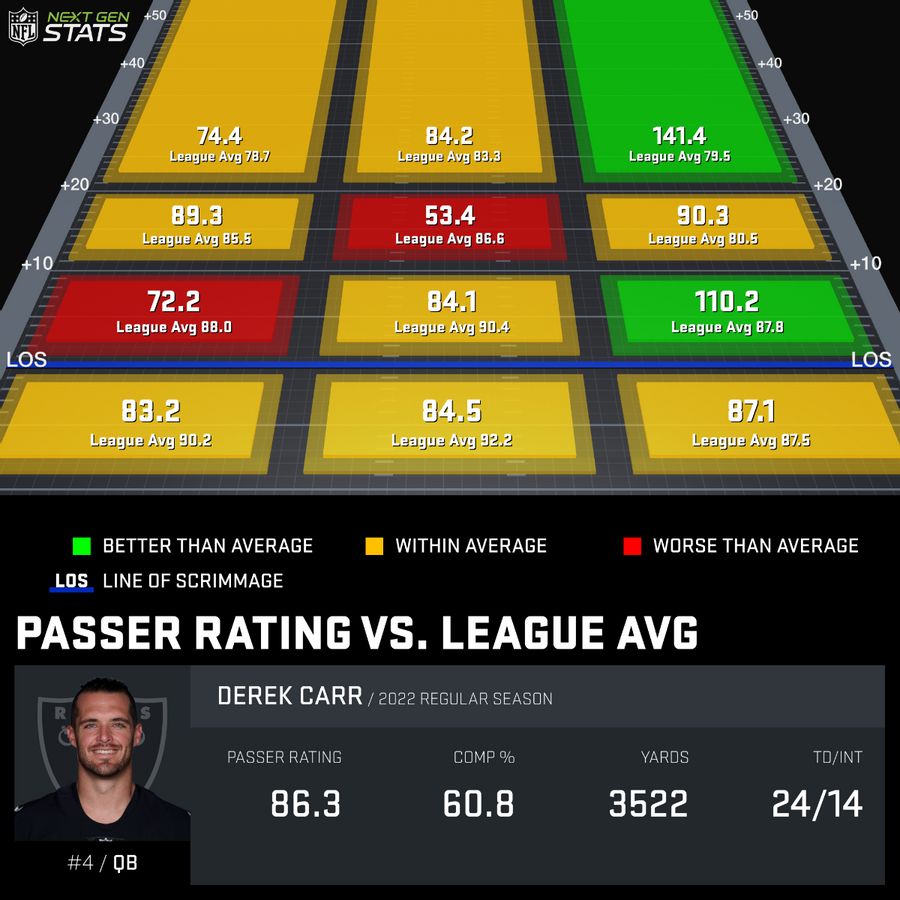 In 2022, Adams had a solid year. He picked up 1,516 receiving yards on 180 targets – both top-three figures in the league. He also added a league-leading 14 touchdowns. On the ground, Josh Jacobs carried the Raiders offense – leading the league in rushing yards with 1,653 on 340 attempts. With these two major weapons and a strong supporting act of Hunter Renfrow, Foster Moreau, Las Vegas would be an alluring spot for a plug-in-and-play quarterback.
If there was one reason to avoid moving to Las Vegas, it would be the division. Arguably the hardest division in football, with QBs like Patrick Mahomes and Justin Herbert, is not necessarily the place you'd like to hunt down a second Super Bowl.
The boring choice: Green Bay Packers
Despite all the speculation, the reality for Aaron Rodgers is that the Packers need to trade him if he's any prospect of a new destination. Green Bay has Jordan Love waiting in the wings, and will soon have to decide his future with the team too. His fifth-year option comes into effect in 2024, and is worth a reported $20 million.
When Adams moved to the Raiders before the 2022 season, Rodgers lost his favorite target. Allen Lazard became the new go-to-guy, leading the team with 788 receiving yards on 100 targets. After a rough transition to the NFL, rookie receivers Christian Watson and Romeo Doubs also showed that they can be relied upon.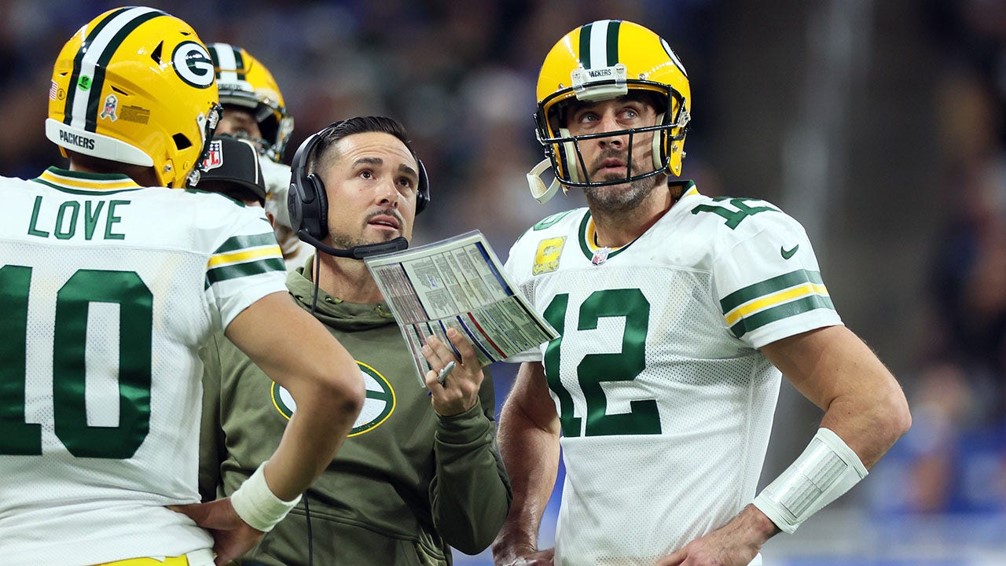 In the backfield, running back Aaron Jones finished the season with over 1,000 rushing yards – 141 yards over expected according to Next Gen Stats. He added five receiving touchdowns, while his teammate AJ Dillon preferred the direct approach: crossing for seven rushing touchdowns of his own.
Is Rodgers secretly sentimental about Green Bay? The one thing they can offer is familiarity. It's hard to throw 18 seasons out the window, and that might play on his mind.
The choice no-one wants to see: Retirement
For the past few seasons, the question wasn't just whether Aaron Rodgers would come back to the Packers, but whether he still wanted to play football at all.
His spiritual retreats, vacations, podcast appearances and golf trips have become part of the Aaron Rodgers merry-go-round. Rodgers even skipped preseason workouts with the team in 2022, which many rightly raised after a turbulent start to the season – particularly with regards to his new receivers.
The one decision he can make this offeseason that is 100% in his own hands is retirement. NFL fans would hate to see both Brady and Rodgers depart the league at the same time, but it could be on the table. For the Packers, it would give them the chance to move on with their succession planning. Perhaps a year out could reignite his love for the game – it wouldn't be the first time it's happened in Green Bay.