March is here! Conference championships have started, teams are sitting on the bubble, and some teams' seasons are ending abruptly. The anticipation and excitement for March Madness is increasing exponentially each day.
We've set out the women's field of play for conference tournaments and life on the bubble heading into this weekend.
State of play: Conference championships
On Saturday (March 4), the OVC will be the first conference to crown a tournament winner.
Seven more bids will be cashed in the following day (3/5) as the ACC, A10, Big South, Big10, PAC12, SEC, and SoCon conferences announce their tournament winners.
Rounding out the first 10 teams automatically in, the Big East and Sunbelt conferences have their tournament championships on Monday (3/6).
Although five of these conferences will only be sending their conference tournament winners, the other five are big conferences, looking to send several teams. The impact of their tournaments could affect who ultimately makes the cut.
Which conferences will send multiple teams?
The ACC is estimated to send more teams than any other conference (~9). Those nine teams include Virgina Tech #8 (24-4; 14-4), Notre Dame #10 (24-4; 15-3), Duke #13 (24-5; 14-4), UNC #18 (20-9; 11-7), Florida State (23-8; 12-6), Louisville (21-10; 12-6), and NC State (19-10; 9-9).
One conference trying to send seven teams to March Madness is the Big10 Teams like Indiana #2 (26-2; 15-2), Maryland #5 (24-5; 15-3), Iowa #7 (23-6; 15-3), Ohio State #14 (23-6; 12-6), Michigan #17 (21-8; 11-7), and Illinois (21-8; 11-7) are all in contention.
Another conference slated to send seven teams is the PAC12. Schools, such as Utah #3 (25-3; 14-3), Stanford #6 (27-4; 15-3) – the 2021 March Madness Champions – UCLA #19 (22-8; 11-7), Colorado #20 (22-7; 12-5), Arizona #21 (21-8; 11-7), and USC (21-8; 11-7), will be among those looking for a ticket to the big dance.
The SEC is home to the undefeated and defending March Madness Champions, the South Carolina Gamecocks (29-0; 16-0).  Besides the Gamecocks, the SEC is looking to send another six teams, including LSU #4 (27-1; 15-1), Tennessee (21-10; 13-3), and Ole Miss (22-7; 11-5).
Although not as many as the above conferences, the Big East is still looking to send five teams to this year's March Madness. Included on that short-list are UConn #9 (26-5; 18-2), Villanova #11 (26-5; 17-3), and Creighton (21-7; 15-5).
Who's on the bubble?
As the conference tournaments get underway, keep an especially close eye on these five conferences: ACC, Big10, PAC12, SEC, and Big East. Each of these are sending multiple teams and have at least two teams sitting on the bubble, hoping that on Selection Sunday, they'll see their name.
ACC
The two bubble teams for the ACC are Miami (18-11; 11-7) and Syracuse (18-11; 9-9).
Miami turns the ball over more often than Syracuse (19.1% vs 17.3%); however, when they shoot, Miami makes more of their field goals than Syracuse (48.3% vs 46.7%). That is why the prediction has Miami as one of the "Last 4 Byes" and Syracuse as one of the "Last 4 In."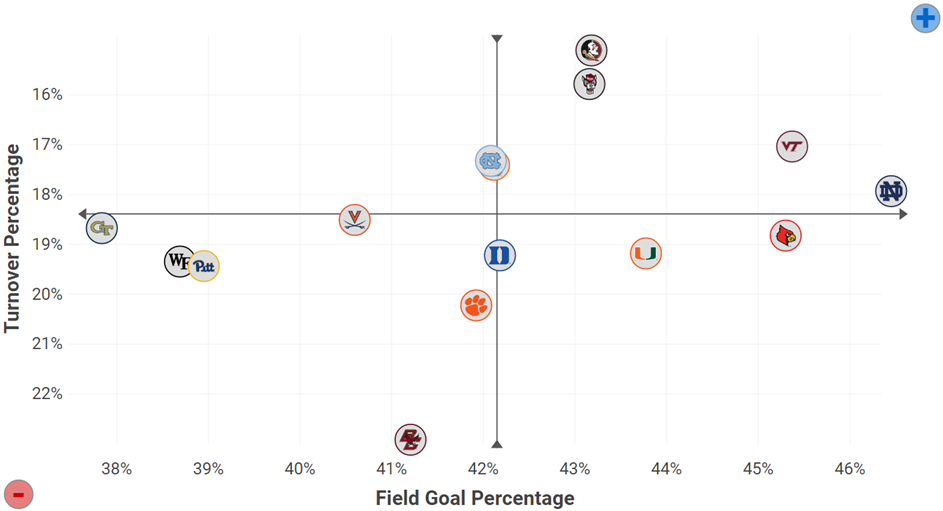 Big10
The Big10 has three bubble teams, Purdue (18-9; 9-5), Illinois (21-8; 11-7), and Nebraska (16-13; 8-10).
Purdue and Illinois are both predicted as two of the "Last 4 Byes," which isn't surprising when you consider each team is extremely efficient on offense (eFG%: Purdue – 51.8%; Illinois – 51.5%). Nebraska is the most at-risk team of the three sitting as one of the "First 4 Out."
If you're a Nebraska fan, you'll want to be routing against the upset in 1-bid conference tournaments.
Pac12
Oregon (16-13; 7-11) and Washington (15-13; 7-11) are the bubble teams to keep a close eye on in the PAC12. Washington is listed as one of the "Next 4 Out" and Oregon one of the "First 4 Out."
Oregon turns the ball over significantly less often than Washington (14.8% vs 20.5%); however, they make up for it by being aggressive on the offensive boards (38.6% vs 35.2%). Fans of these schools will find themselves anxious all the way through Selection Sunday.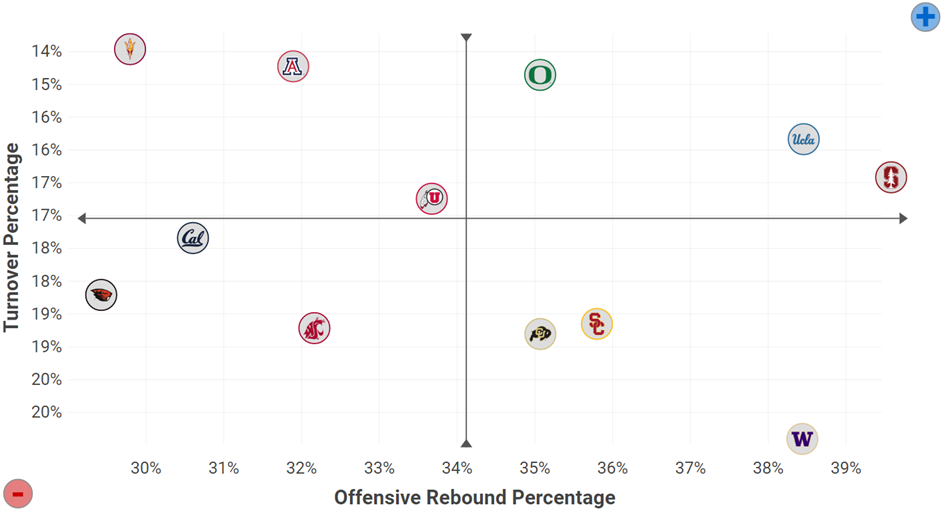 SEC
The SEC finds itself with Arkansas (20-11; 7-9) and Missouri (17-12; 6-10) as their two bubble teams.
Just like in the PAC12, these SEC teams are on the "Next 4 Out" list (Missouri) and the "First 4 Out" list (Arkansas). Although Arkansas turns the ball over far less often than Missouri (16.1% vs 20.4%), they aren't as strong as Missouri at making their shots (eFG%: Missouri – 50.3%; Arkansas 47%).
Big East
The two bubble teams for the Big East are St. John's (22-7; 13-7) and Marquette (20-9; 13-7).
These evenly matched teams find themselves on the "Last 4 In" list. Marquette gets more offensive boards (33.6%) and turns the ball over less often (16.8%) compared to St. John's (33.2%; 18.4%. However, St. John's has a better effective field goal percentage (49.7%). This contributes to a better offensive rating (103.5), compared to Marquette (45.3%; 97.0).
The only way to guarantee a spot on the 2023 bracket is to win the conference tournament, securing the automatic bid. Otherwise, teams may find themselves watching – not playing – in two weeks.
The Playbook is powered by Genius Sports, the official data collection partner of the NCAA, via NCAA LiveStats.