If you watched this past NCAA Women's March Madness Tournament, then you'll know the defending national champions are the LSU Tigers, who beat Caitlin Clark's Iowa Hawkeyes 102-85. Instead of celebrating their victory, head coach Kim Mulkey was hard at work scooping up the best talent the transfer portal has to offer.
History-making season for LSU
In just her second season as head coach, Kim Mulkey won the Lady Tiger's first NCAA Tournament Championship. The Tigers ended the 2022-23 season 34-2 overall, and 15-1 in the SEC.
Their only two losses came at the hands of the #1 overall team (South Carolina) in the regular season and Tennessee in the SEC tournament. During March Madness, LSU eased their way into Dallas, where they beat #1 seed Virigina Tech in the semifinals and #2 seed Iowa in the finals.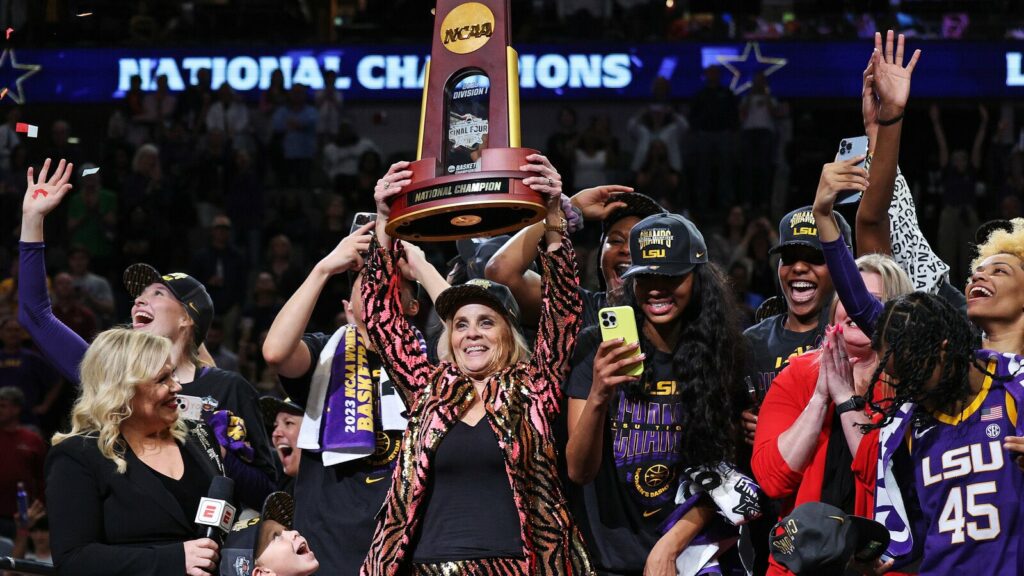 The Tigers ended their season with an Offensive Rating of 115.0, where they averaged 82.3 points per game, 14.9 assists per game, and 17 offensive rebounds per game. Their ending season Defensive Rating was 80.9, where they averaged 9.5 steals per game, 5.1 blocks per game, and 29.1 defensive rebounds per game.
LSU's held their opponents to an average of 57.9 points per game last season. They also forced their opponents to turn the ball over 17.6 times per game on average, compared to the Tigers' 13.7 turnovers per game.
State of the roster
As a team heading into next season, LSU will only lose a few to either the draft or due to ineligibility. LaDazhia Williams and Alexis Morris were both drafted (17th and 22nd overall respectively). Jasmine Carson and Emily Ward are no longer eligible, so they won't return either.
The incoming class of freshmen includes two guards – Mikaylah Williams and Angelica Velez, and a center – Janae Kent. All could start from day one, and will plug gaps by outgoing players. Most players on the team that won the National Championship were either freshmen or sophomores, including the new face of LSU, Angel Reese.
The first surprise: Hailey Van Lith joins
The first transfer to commit to LSU was Hailey Van Lith, former Louisville guard. Yes… former.
In a shocking turn of events, at least for spectators, Ms Van Lith entered the transfer portal upon conclusion of the tournament. To fans of women's basketball, the actual shocker came when Ms Van Lith announced her commitment to LSU, the defending champions, on April 27.
Last season, Hailey averaged 19.7 points, 3.2 assists, 3.7 defensive rebounds, and 1.5 steals per game. Her shooting came in at 46.6% for 2-pointers, 29.3% for 3-pointers, and 87.4% for free throws.
With the acquisition of Van Lith, the Tigers are strengthening their depth at guard as well as their maturity, since she will be a senior next season with tournament experience. She just fits LSU's style of play. LSU was able to beat Iowa by shooting, something Coach Mulkey said South Carolina didn't do against Iowa in the semifinals, which resulted in their loss. Plus, she's aggressive on defense and isn't afraid to get physical without fouling (average 1.9 fouls per game).
A bonus addition: Aneesah Morrow commits
The second transfer to commit to LSU was Aneesah Morrow, former DePaul forward. She committed only eight days after Van Lith, on May 5.
The forward, one of the biggest names to enter the transfer portal this offseason, spent her first two seasons of basketball eligibility at DePaul, where she became a star her first year as a second-team All-American, and led the Blue Devils to the tournament each season.
Last season, Aneesah averaged 25.7 points (4th in NCAA), 12.2 total rebounds (7th in NCAA), 2 assists, 2.6 steals, and 1.3 blocks per game. Aneesah's shooting came in at 48.6% for 2-pointers, 25.4% for 3-pointers, and 64.6% for free throws. For a 6'1" forward, she only averaged 2.5 fouls per game
With this acquisition, the Tigers are deepening their bench at the forward position and gaining another incoming Junior.
By gaining these players, Mulkey and LSU are rounding out their team, expanding their bench at each position, and adding to the overall level of experience, including tournament experience. This will come in handy this next season when they have to defend their championship against the likes of Caitlin Clark and the Hawkeyes, Dawn Staley and the Gamecocks, and Kenny Brooks and the Hokies – all of whom have their eyes set on a title, which was just barely out of their reach. They're unlikely to let LSU stand in their way…again.