There were some incredible rookie seasons from both wide receivers and tight ends in 2021. Whether you're hoping your team can kick-start their production this year, or you're looking for a Fantasy Football edge – we've got you covered in our 2nd-year Pass Catcher guide.
We've chosen 10 catchers – 8 wide receivers and 2 tight ends entering their sophomore year, and have made some predictions on how they might impact their teams in 2022.
Next Gen Stats Comparison: 2nd-Year Pass Catchers
Ja'Marr Chase, Cincinnati Bengals – WR
It's hard to find a better return on investment than Chase as a rookie.
He won rookie of the year, helped the Bengals reach the Super Bowl and caught 81 passes for 1,455 yards and 13 TDs. Football fans cringe now at the debate on drafting him or OT Penei Sewell with the 5th overall pick. Or the fact that Chase had some training camp and pre-season drops that many thought would end his career before it began.
BURROW TO CHASE. INCREDIBLE. #RuleItAll

📺: #SBLVI on NBC
📱: https://t.co/K02y40b5Nu pic.twitter.com/9GTKEeuqV2

— NFL (@NFL) February 14, 2022
The Burrow-Chase connection should keep Cincinnati fans happy for the next decade. Although, don't be alarmed with a slight drop in production, it's hard to repeat a season as formidable as his 2021 campaign.
Kyle Pitts, Atlanta Falcons – TE
Pitts was drafted one spot ahead of Chase and didn't have nearly the season as the Bengals superstar.
Kyle Pitts didn't have a receiving touchdown until week 5 and didn't catch another touchdown all season. He finished with 1,026 receiving yards averaging 9.3 yards per target. He has showed flashed of brilliance in year one, although there was lower production.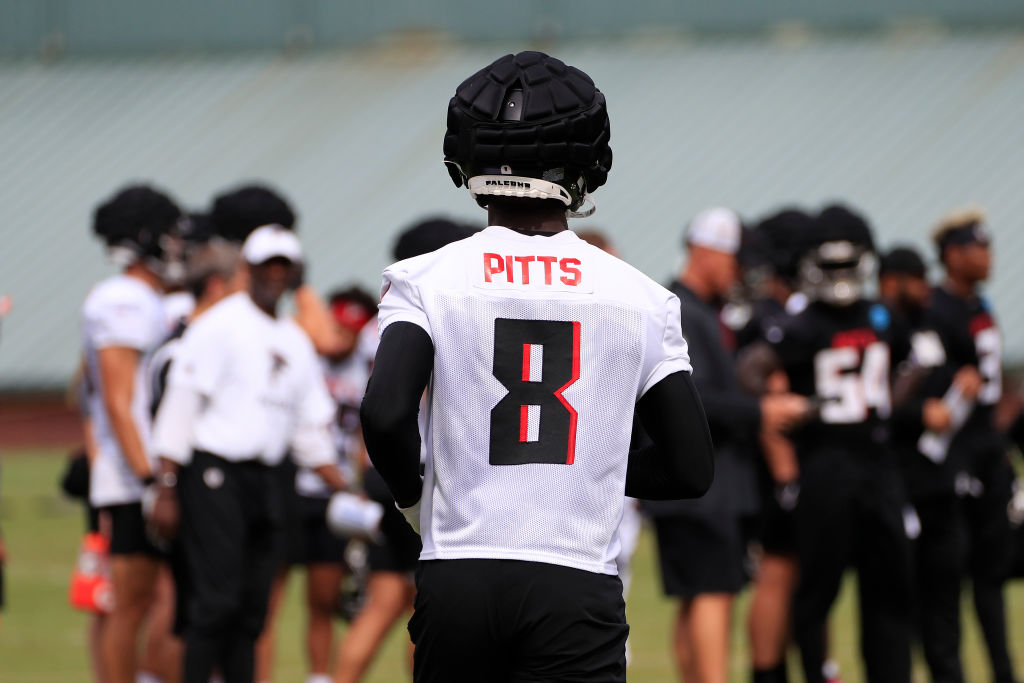 Atlanta is in sort of a rebuild mode and just moved away from long-time quarterback Matt Ryan for Marcus Mariota. No slight to Mariota, but Pitts' production may take a further dip as the Falcons figure out their quarterback situation and long-term strategy.
Jaylen Waddle, Miami Dolphins – WR
Had Waddle not suffered a knee injury late in his college career he very likely could have been the first wide receiver off the board. Clearly, General Managers weren't scared of his injury and the Dolphins grabbed him number six overall.
Waddle also cleared the 1,000 yard benchmark and averaged 9.8 yards per reception, along with 6 touchdowns. Waddle's production was unfairly judged against some stiff competition at the wide receiver position.
Jaylen Waddle does the penguin waddle 🐧 @D1__JW #FinsUp

📺: #CARvsMIA on FOX
📱: NFL app pic.twitter.com/gFvq75SUo6

— NFL (@NFL) November 28, 2021
Dolphins fans should be pleased with his early showing and with the addition of Tyreek Hill on the roster, Waddle may see more open fields and even a bump in production.
DeVonta Smith, Philadelphia Eagles – WR
DeVonta Smith was the surprising Heisman winner in 2020 and the Eagles swooped him up with the number 10 pick.
While he didn't quite crack the 1,000 yard mark, his 14.3 yards per reception puts him in respectable company through one year. Fans can also be optimistic about his 104 targets, showing Philadelphia's willingness to get him involved.
We're going to be hearing Jalen Hurts to DeVonta Smith for a lonngggg time. 🔥

📺: #PHIvsNYG — Sunday 1pm ET on FOX
📱: NFL app pic.twitter.com/KPtCcNIv1u

— NFL (@NFL) November 26, 2021
Eagles QB Jalen Hurts has improved year after year and with AJ Brown now on the roster, Smith may find more space in the offense and a more proficient role.
Kadarius Toney, New York Giants – WR
If there were to be an opposite of Chase's rookie year, it would be that of Kadarius Toney's.
Toney was a bit of a surprise getting drafted number 20 overall by New York, though he flashed exciting talent in college. Toney is now on the trade block and didn't have a productive year in New York at all. He had 420 receiving yards on 39 receptions while only playing in 10 games and starting 4.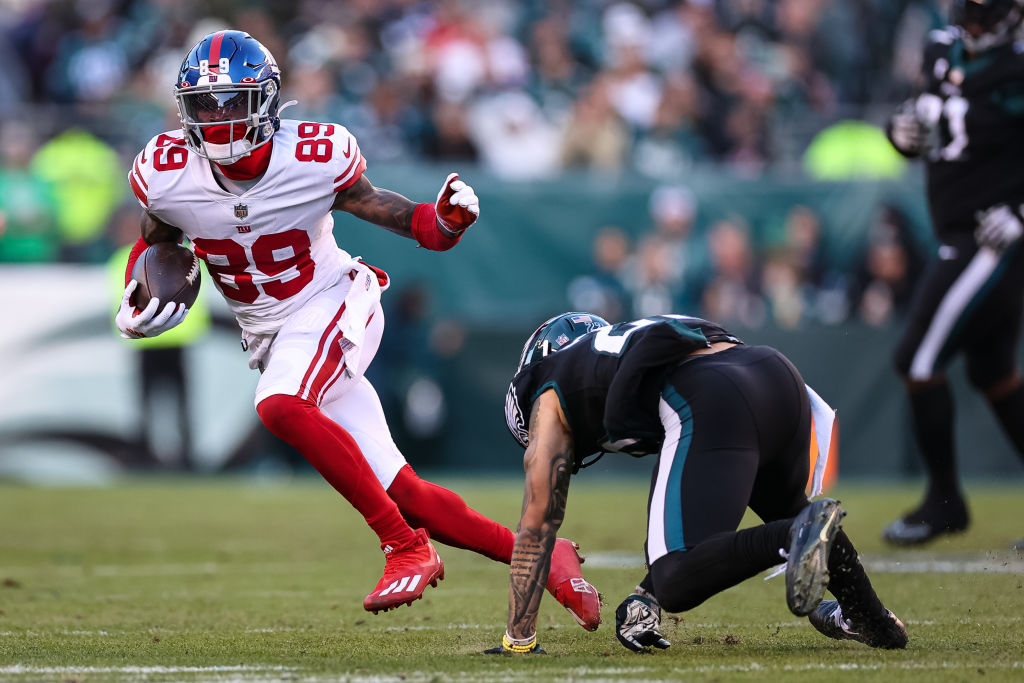 In the right system and supportive environment, Toney will flourish. It may not be this year, but fans should keep an eye on him and expect a breakout season soon enough.
Rashod Bateman, Baltimore Ravens – WR
Bateman was a first down machine in 2021. He only had 46 receptions, but 29 of them went for first downs.
As a rookie, he was a reliable target for Lamar Jackson and the Ravens' offense. As the 27th overall pick and last wide receiver picked in the first round, Baltimore fans should be optimistic about his production and pleased with his ability to fit in his role.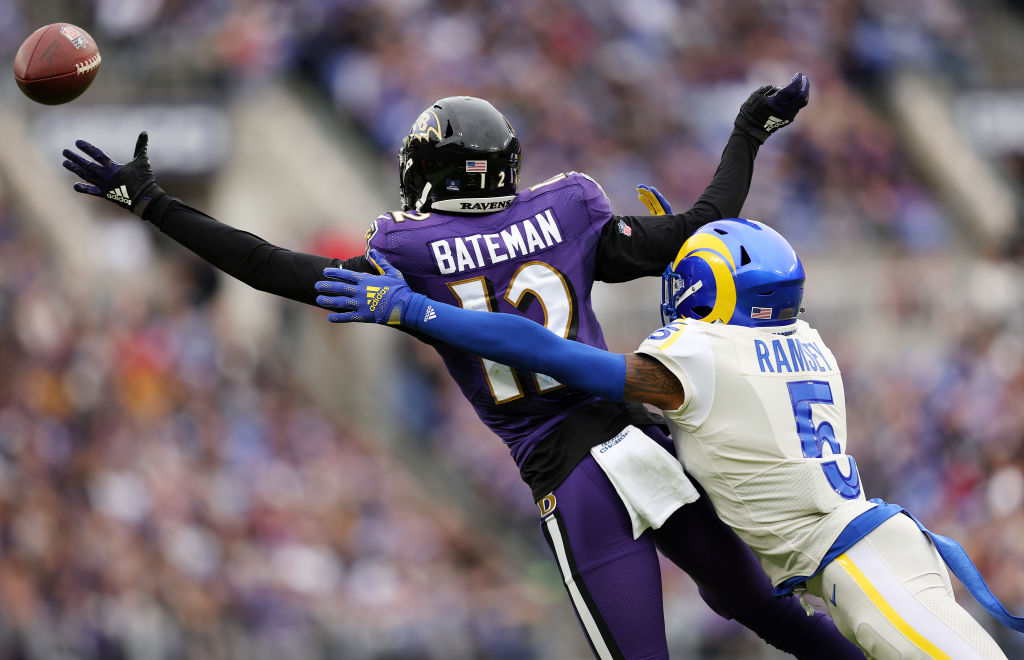 Now that Marquise Brown is in Arizona, Bateman can be the true number one wide receiver, and create a dynamic duo with veteran TE Mark Andrews.
Elijah Moore, New York Jets – WR
Moore was drafted to support the Jets' earlier selection of QB Zach Wilson.
The move showed a commitment to Wilson and reiterated the intention of rebuilding a struggling Jets franchise. His production was nothing to write home about year one, but neither was that of the New York Jets as a whole. Moore showed he could be a playmaker for Wilson, averaging 12.3 yards per touch.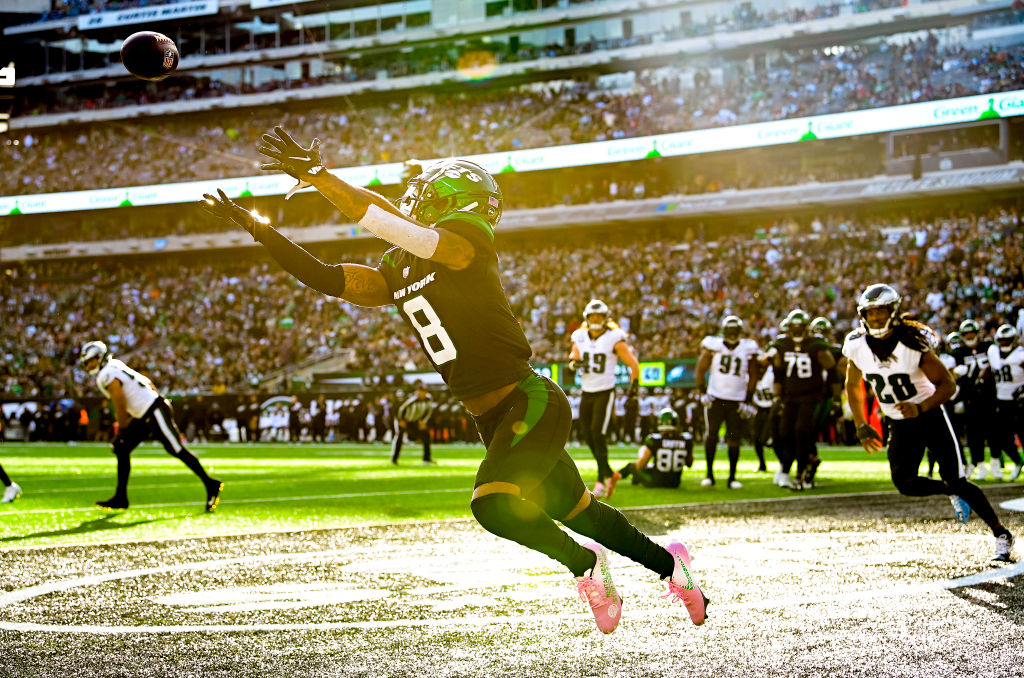 Zach Wilson also had the longest TT (time to throw) of all rookie QBs last year (3.0s), and the Jets also picked up one of the most highly sought-after WRs in the 2022 draft – meaning coverage might be spread a little more evenly for Moore.
With more time in the system, and better play from the quarterback position, Moore can take the leap in year 2 to a Pro-Bowl wide receiver.
Rondale Moore, Arizona Cardinals – WR
Rondale Moore broke out at Purdue as an undersized utility back. Moore was a playmaker all over the field, showing ability to run and catch the ball in a variety of scenarios.
KYLER MURRAY IS ELECTRIC. #AZCardinals

📺: #MINvsAZ on FOX
📱: NFL app pic.twitter.com/MQ2THg6Qau

— NFL (@NFL) September 19, 2021
Entering into the explosive Cardinals offense led by Kyler Murray and Kliff Kingsbury, a lot of fans were excited about the possibilities. Moore lacked production and utilization late in the season, but showed what he was capable of good things, particularly during a 114 yard performance against the Vikings in week 2. With a young core in Arizona, Moore and Murray may turn into one of the most exciting duos on offense next season.
Hot stat: 100.4% of Rondale Moore's total yards last year came after the catch. Incredible.
Pat Freiermuth, Pittsburgh Steelers – TE
The Pittsburgh Steelers TE impressed coaches and fans in his rookie season.
While the narrative last season was all about Ben Roethlisberger's retirement, Freiermuth made an impact on the team catching 60 passes for 497 yards and 7 touchdowns: very respectable numbers for a rookie tight end.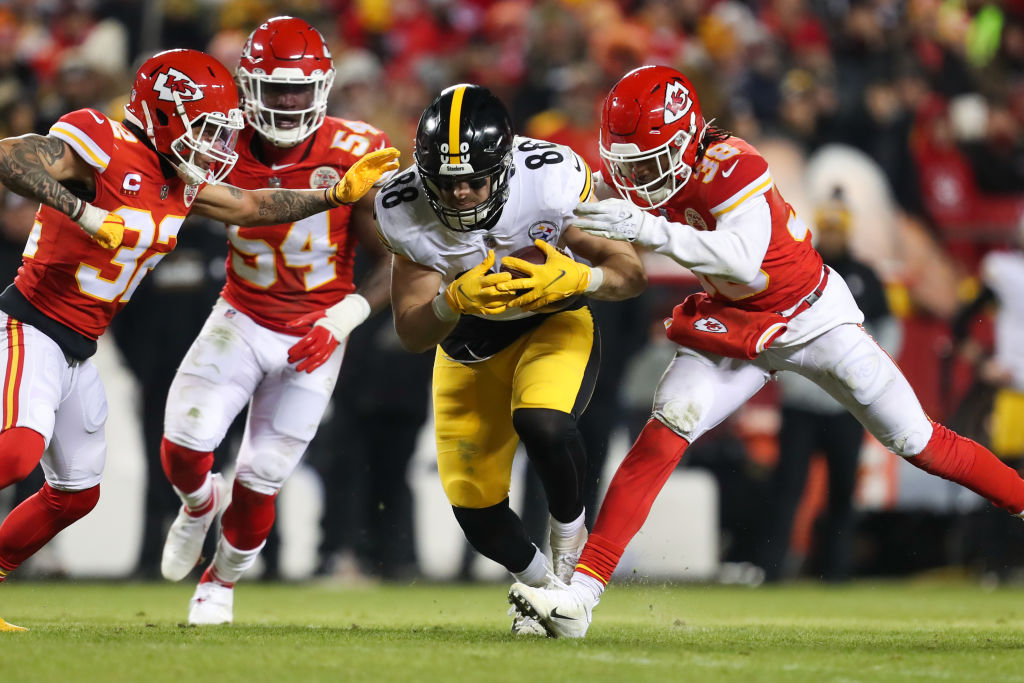 While many expect Freiermuth to make a leap in his second year, the Steelers are now without their Hall of Fame quarterback and need stability in their offense. If whoever takes snaps come regular season can distribute the ball well, Freiermuth is a reliable and productive target.
Amari Rodgers, Green Bay Packers – WR
Amari Rodgers is another rookie who didn't make a splash his first year, but is well worth mentioning.
Rodgers was a star at Clemson, going for 1,020 yards and 7 touchdowns his final year. In 2021, the Green Bay Packers' offense was crowded and dominated by the Aaron Rodgers-Davante Adams connection.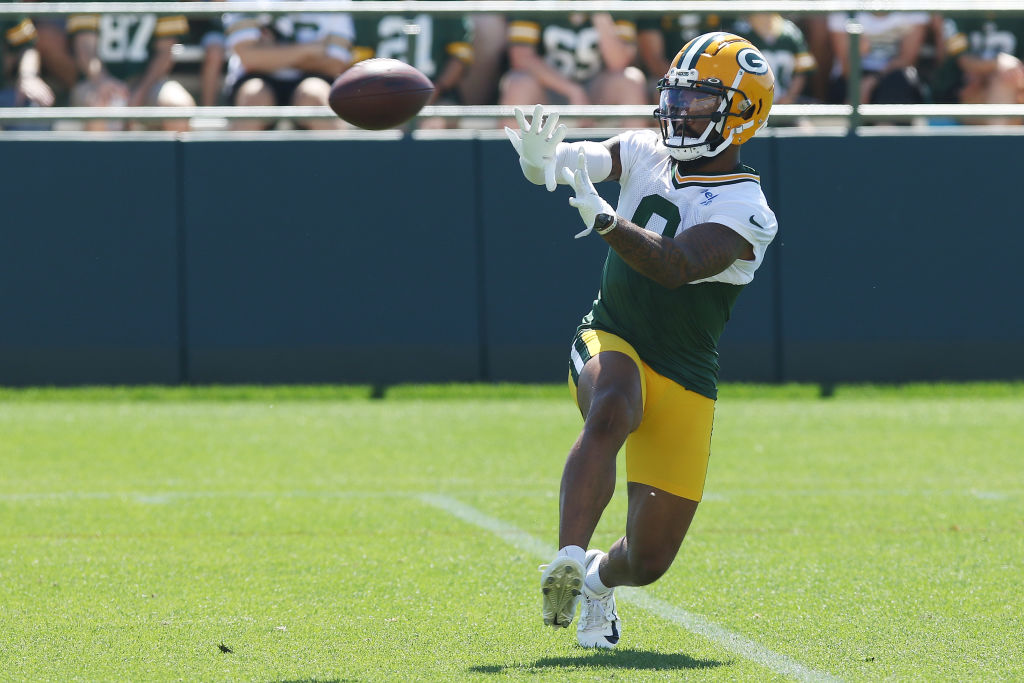 With Adams now on the Raiders, it is Amari Rodgers' turn to fill the gap left by the All-Pro. With a less capable quarterback this might not be possible, but if the two Rodgers gel over training camp then expect a massive leap in production in year two.