The offseason merry-go-round of players, trades, management changes and front office problem-solving shows no signs of slowing down. In fact, it's about to get even more chaotic, as the 2022 NFL Draft gets underway in Las Vegas, Nevada in less than a week. To accompany our Round One 'Big Board', we've asked our analysts to compile the top 50 prospects and give us the lowdown.
Over the course of the next week, we'll be shining a light on the most talented players available in Thursday's draft. We've broken the players into positional groups: quarterbacks and running backs; wide receivers and tight ends; edge rushers and offensive linemen; tackles and linebackers; cornerbacks and safeties.
– Cornerbacks & Safeties – 
Ahmad Gardner (Cornerback) – Cincinnati
Nicknamed "Sauce", Gardner won All-American AP honors in 2021, as well as the AAC Defensive Player of the Year award. His three seasons in Cincinnati have demonstrated his unique blend of skills over a sustained period – something of a rarity. He has incredible length, rapid footwork and remarkably well-timed aggression that helps massively in both press-man and press-trail coverage. He could even be a Top 10 prospect here.
Key Stats (2021)
11 Games
37 Tackles
3 Interceptions
40: 4.41
Potential Suitors: New York Giants, Seattle Seahawks
Kyle Hamilton (Safety) – Notre Dame
The Notre Dame Safety is 6'4", weighing 220 pounds, and one of the most explosive athletes in this class. Unfortunately a knee injury meant he was only able to feature seven times in 2021. In those games, he showed an elite ability to be a professional nuisance: disrupting passing lanes and making brave tackles. He might be the highest-drafted safety on this list.
Key Stats (2021)
7 Games
34 Tackles
3 Interceptions
40: 4.59
Potential Suitors: Houston Texans, Philadelphia Eagles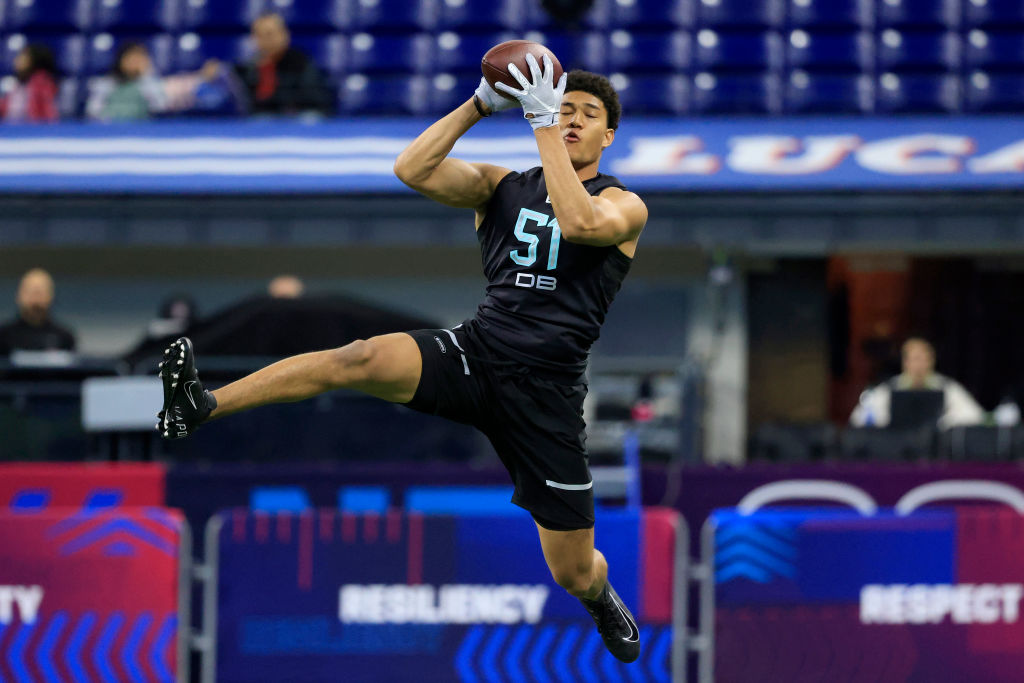 Trent McDuffie (Cornerback) – Washington
The 5'11", 193 cornerback out of Washington was given All-Pac-12 honors for his production efforts in the 2021 season. His compact frame gives him incredible athletic ability, but his instincts are what set him apart. He can track passes with elite precision and reaction time, allowing him to shut down lanes quickly.
Key Stats (2021)
11 Games
35 Tackles
0 Interceptions
40: 4.44
Potential Suitors: Seattle Seahawks, Philadelphia Eagles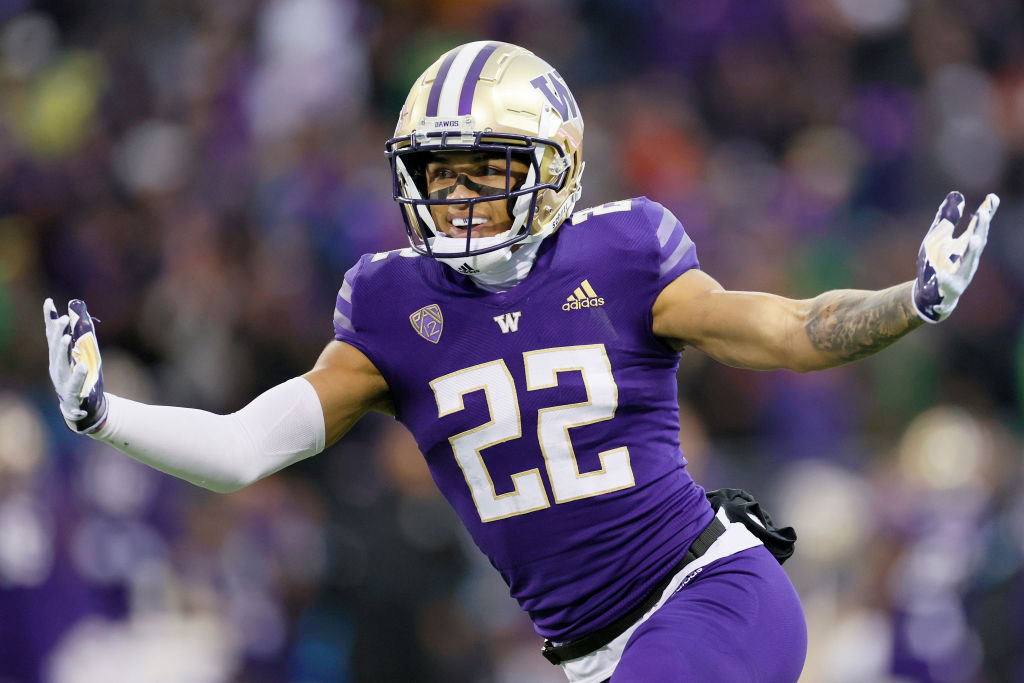 Derek Stingley Jr (Cornerback) – LSU
It will be a toss-up as to whether Stingley or Gardner go first in this years' Draft. Stingley has outstanding hand-eye coordination and ball skills and a long frame that helps in coverage. NFL teams will be wary of the foot injury that cut short his 2021 season.
Key Stats (2021)
3 Games
8 Tackles
0 Interceptions
Potential Suitors: Seattle Seahawks, New York Giants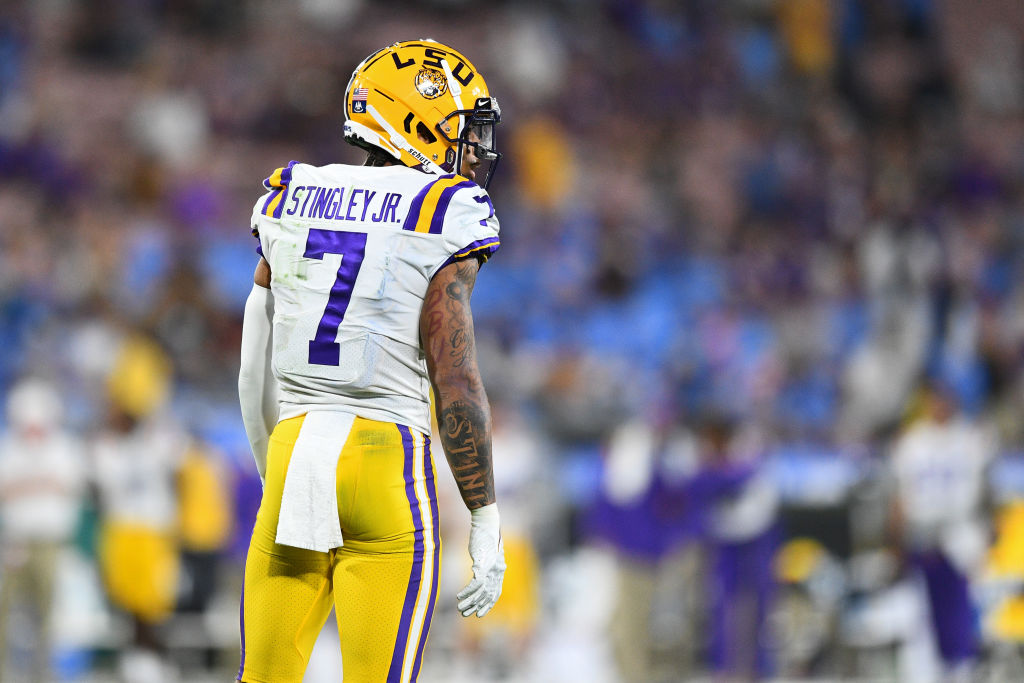 Dax Hill (Safety) – Michigan
Having played 14 games in 2021, Hill would be able to slot into the rigor of a fully-fledged NFL season with relative comfort. His explosive speed and uniquely instinctive playmaking means he gets off the line quickly and has a knack for cutting off dangerous routes. His ability to play equally as well in the slot and secondary will attract a number of teams.
Key Stats (2021)
14 Games
69 Tackles
2 Interceptions
40: 4.38
Potential Suitors: Late in the first round. Maybe the Chiefs.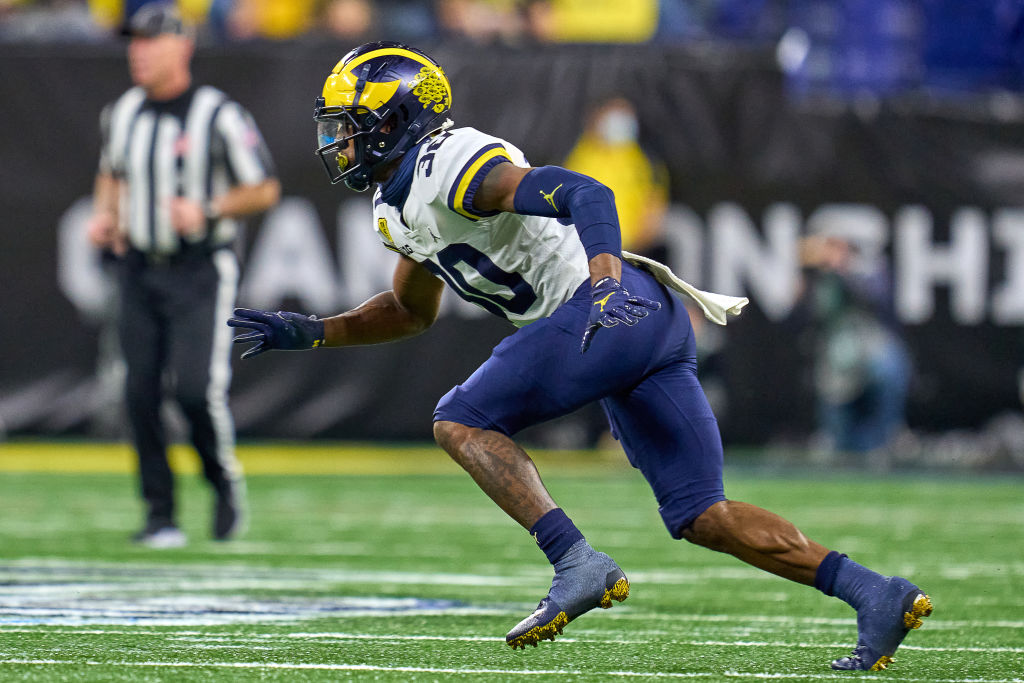 Andrew Booth Jr (Cornerback) – Clemson
A two-year starter for Clemson, Booth is 6'0", 194 and has an elite frame. His physicality and size mean he's a lock in one-on-one situations and provides him a cutting edge in contested situations. In outside situations, Booth is the man you want.
Key Stats (2021)
11 Games
37 Tackles
3 Interceptions
40: N/A
Potential Suitors: Expect Booth to go early in the second round.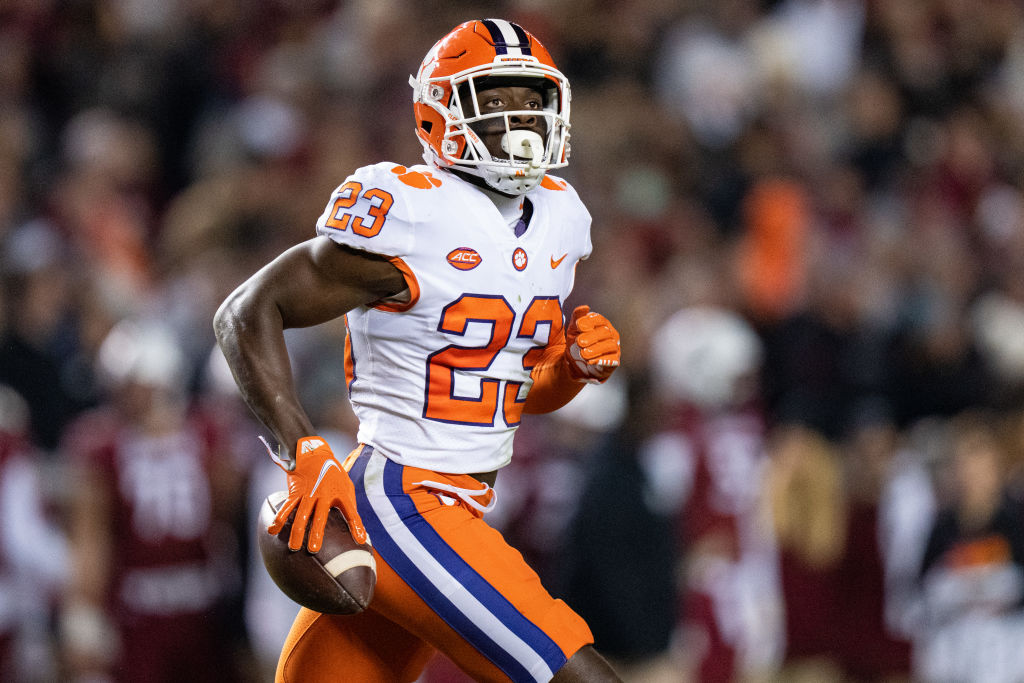 Lewis Cine (Safety) – Georgia
At 6'2" and 199 pounds, a 40 yard dash time of 4.37 is mightily impressive. Like many others slated for a Top 50 selection, Cine was part of Georgia's solid defense that helped them to a 2021 national championship. It also earned him a Third-Team All-American spot. He's an aggressive presence and an expert tackler. He could some late in the first round, but most expect him to be an early second round selection.
Key Stats (2021)
10 Games
52 Tackles
0 Interceptions
40: 4.37
Potential Suitors: Green Bay Packers, Houston Texans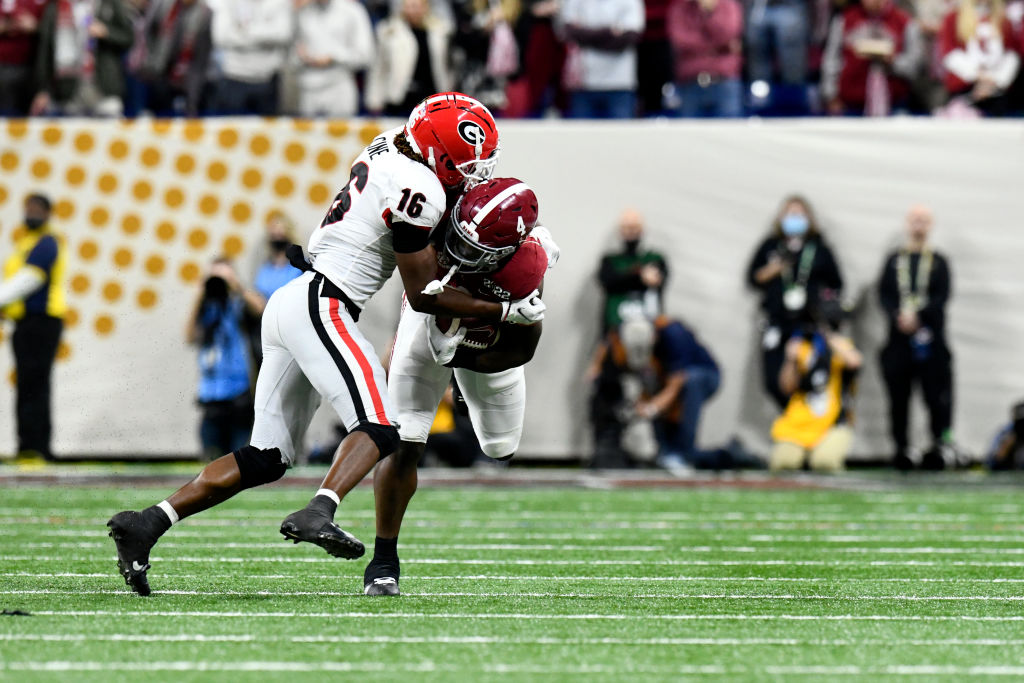 – Quarterbacks & Running Backs – 
Malik Willis (Quarterback) – Liberty
Willis is one of the leading contenders to be the first QB to be drafted this year. At 22 years he stands at just over 6ft and weighs in at 219 lbs. This size for a nimble, quick player, coupled with a strong arm and overall playmaking skills makes him a viable candidate for any franchise looking to bolster their roster with a potential QB starter.
He really made a name for himself when he transferred from Aubern to Liberty in 2020. During his time at Aubern he played 12 games, throwing for 1 TD and completing 69 yards. However, his two years at Liberty was where he made his mark. In 23 games he threw 47 TDs, completing 5,107 yards and 18 interceptions. Across his college career he finished with an average pass completion of 62.8%.
Potential Suitors: Seattle Seahawks, Atlanta Falcons, Pittsburgh Steelers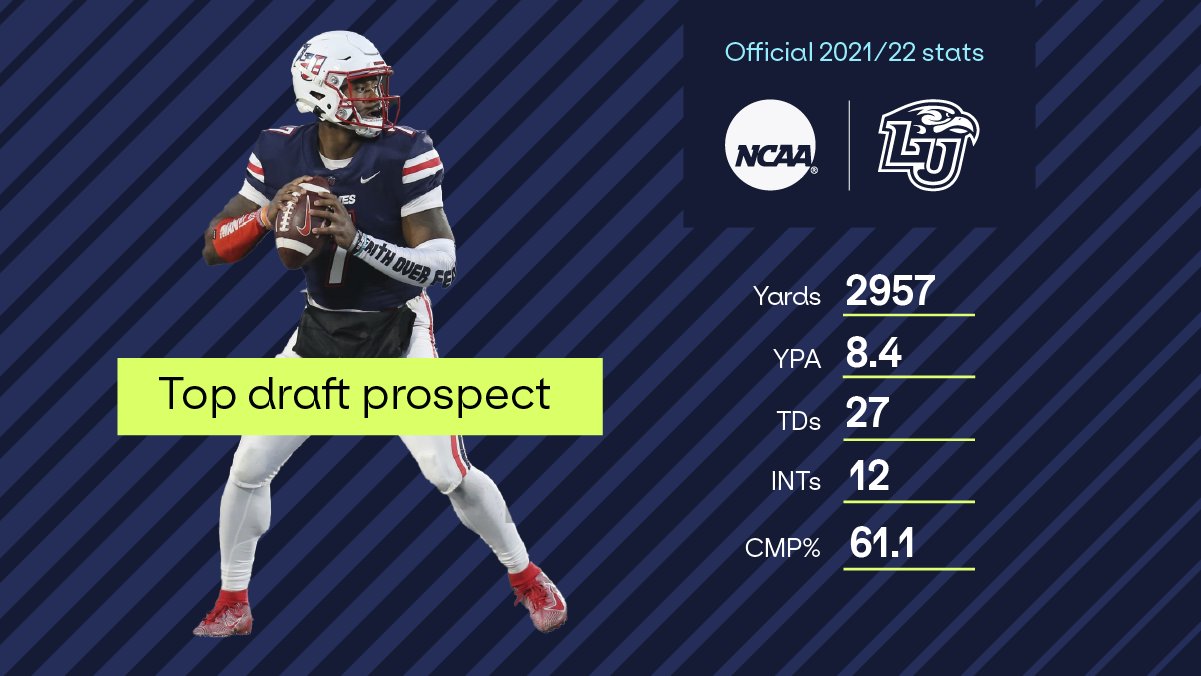 Kenny Pickett (Quarterback) – Pittsburgh
Pickett enters the draft with the most experience out of the pool of QBs for 2022. At 23 though he will be an older rookie. He finished third in the Heisman Trophy voting and many believe he has the tools to convert his college potential into the NFL. His strengths lie in his arm, but also his quick decision making in the pocket which will be advantageous for many teams who like to play that way.
Pittsburgh was his destination throughout his college career where he finished with figures of 52 games players, 12,303 yards thrown, 81 TDs, 32 interceptions and 1,045 completions with an average of 62.4%.
Potential Suitors: Carolina Panthers, New Orleans Saints, Pittsburgh Steelers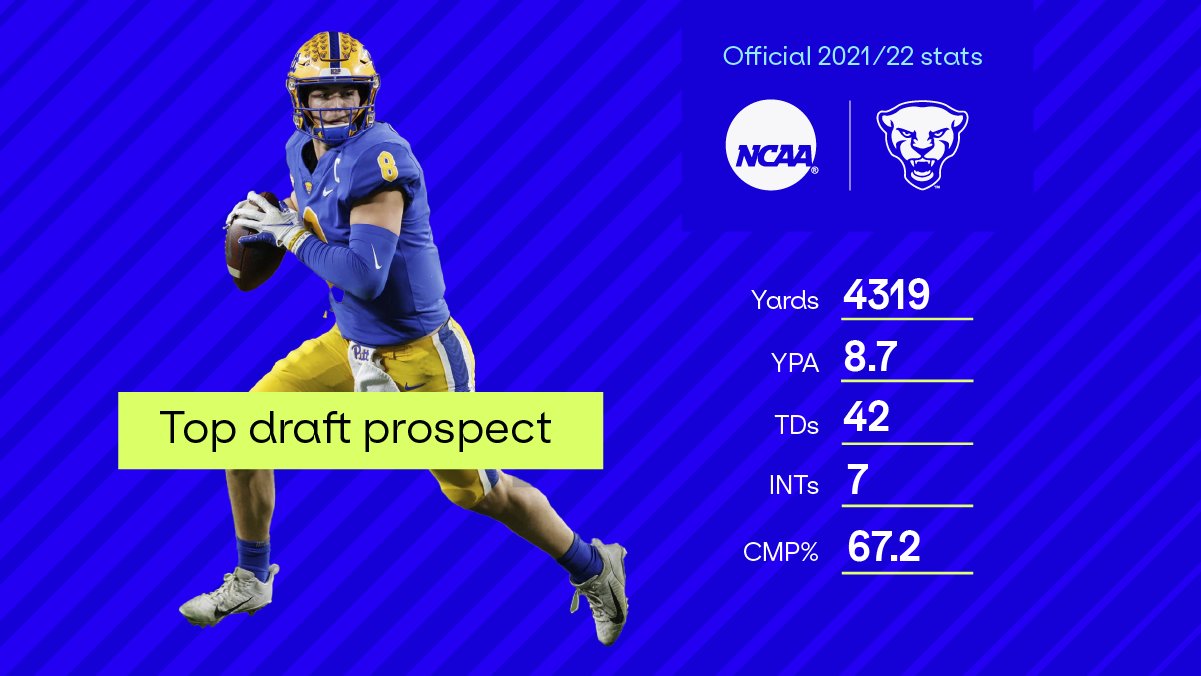 Desmond Ridder (Quarterback) – Cincinnati
It shows the lack of depth in the QB pool this year that we could find Ridder drafted in Round 2. However, he will be extremely positive with his performance in the combine.
Many noted that Ridder performed the best amongst the QBs at the combine last month with a 4.52 40-yard dash, 36-inch vertical and 10-7 broad jump. It's his energy and mobility that are the strongest attributes, while it is reported his arm does need some work if he is to make it as a regular in the NFL.
He started 49 games and reached the College Play-Offs with Cincinnati in 2021. He completed 810 passes for 10,239 yards thrown over his four years. While he scored 87 TDs and had 28 interceptions, finishing with an average pass completion rate of 62.1%.
Potential Suitors: Washington Commanders, Houston Texans, Atlanta Falcons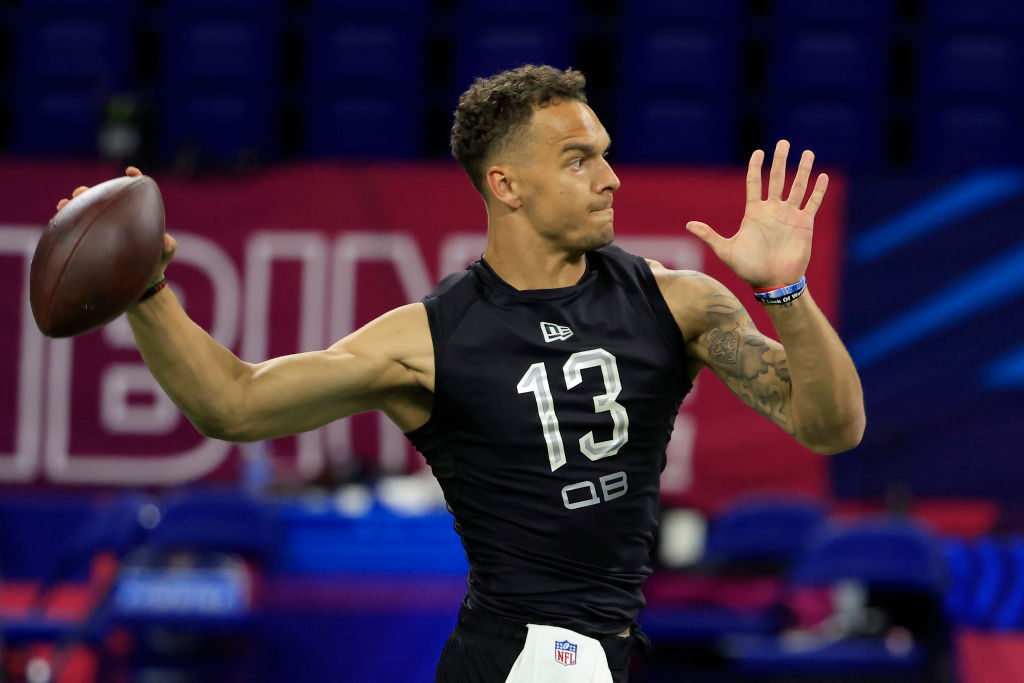 Matt Corral (Quarterback) – Mississippi
Corral finished seventh in Heisman trophy voting and a few leading scouts believe he could be a starting QB.
His qualities lie in his leadership skills, particularly when his team need to be lifted after suffering heavily in games. While his ability to throw from a good base down the field will be something that scouts will look for in detail. However, his accuracy has been pointed to as a key indicator as to why we may see him picked further down the draft table.
In 37 games for Ole Miss, he completed 614 passes for 8,287 yards. Although it's one of the lowest touchdown rates in the pool with 57 TDs and 23 interceptions, he does boast one of the best pass completion rates with 67.3%.
Potential Suitors: Seattle Seahawks, New Orleans Saints, Tennessee Titans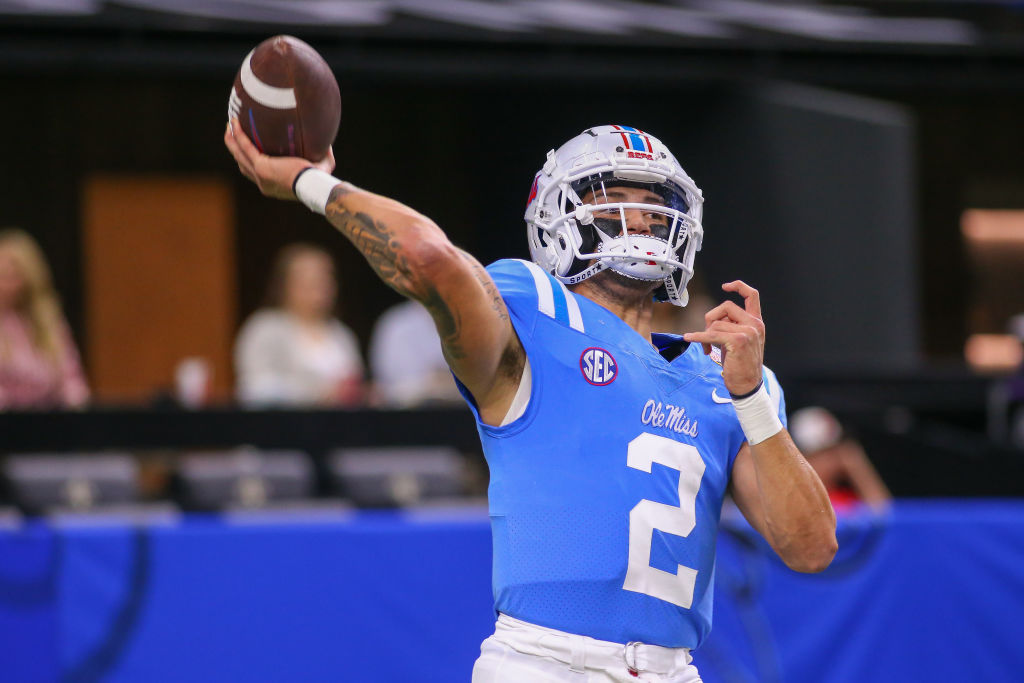 Sam Howell (Quarterback) – North Carolina
Howell is an interesting prospect. He could be the third or fourth in line to be picked out of the QB pool, but his traits and statistics match up against all of them.
Rather than the natural flair and decision making you see from some QBs, Howell's qualities lie in his toughness and willingness to never give in. He's mobile, but will take sacks as he doesn't protect himself well according to some scouts. Although many feel he was best of the bunch at combine, particularly noting the way he throws deep ball.
In his three years with North Carolina he amassed 37 games, completing 713 passes for 10,283 yards thrown in that time. He has the best touchdown rate amongst rivals in the draft having completed 92 TDs with 23 interceptions. With a pass completion rate of 63.8% he could be the QB of the draft for the sides looking to instill an immediate starter into their roster.
Potential Suitors: Detroit Lions, Washington Commanders, New Orleans Saints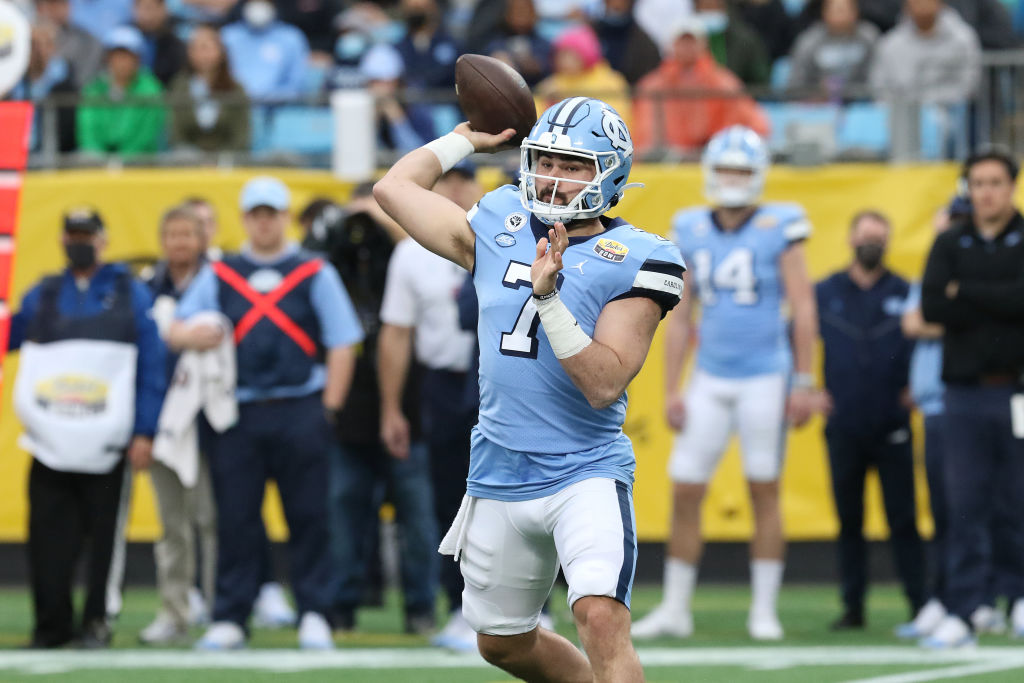 Kenneth Walker III (Running Back) – Michigan State
Walker was named 2021 Doak Walker Award winner as the top running back in college football last season and finished sixth in Heisman Trophy voting.
After two seasons with Wake Forest, he transferred to Michigan State where he really turned in the performances. He has great vision and excellent speed, showing a 4.39 second 40-yard dash at the recent combine.
In 32 career college games, he had 480 rushing attempts for 2,794 yards and scored 35 TDs off them. While he took 19 receptions, with 136 receiving yards and scored 1 TD.
Potential Suitors: Cleveland Browns, Tampa Bay Bucs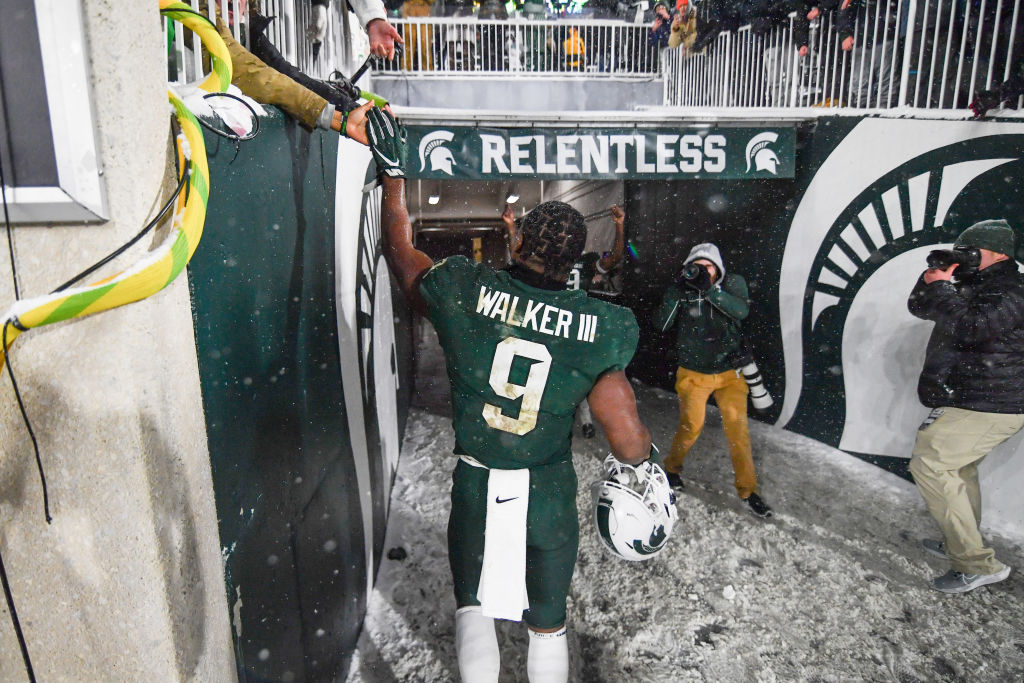 Breece Hall (Running Back) – Iowa State
In 36 games for Iowa State across three years, Hall finished with figures of 718 rushing attempts for 3,941 yards while scoring 50 TDs from rushes. He took 82 receptions for 734 yards and scored 6 TDs.
Potential Suitors: New England Patriots, Kansas City Chiefs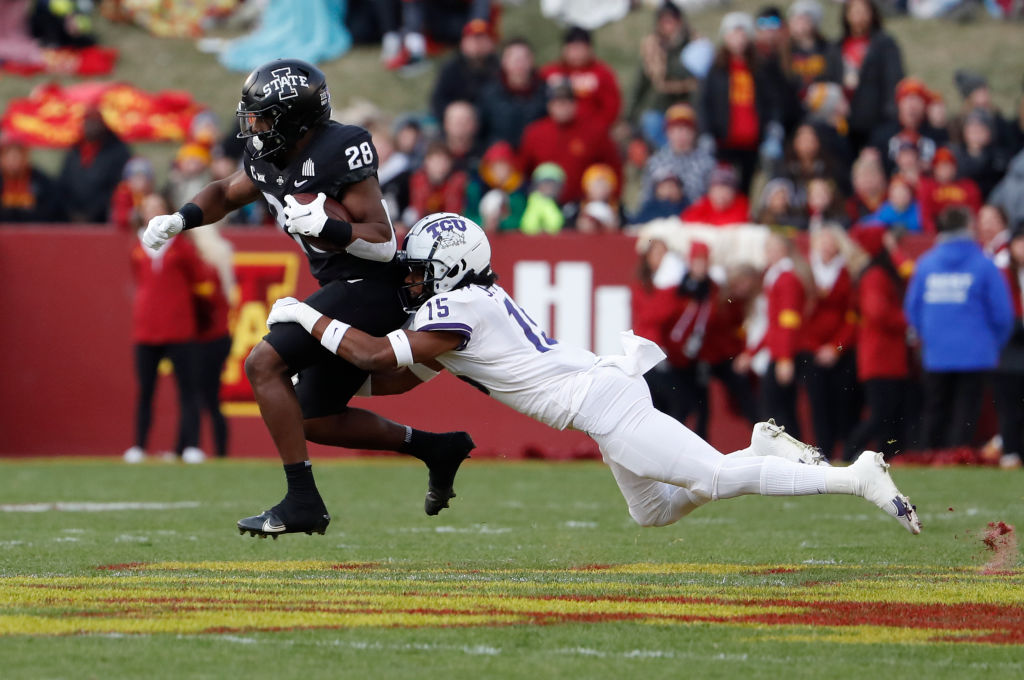 – Linebackers & Tackles – 
Devin Lloyd  (Linebackers) – Utah
Lloyd is arguably the most NFL-ready linebacker in this draft. He's 6'3 and 237 pounds and can play inside or outside linebacker. He frustrates offensive coordinators with his ability to disrupt both run and pass plays. It's like he has a sixth sense of knowing where all 22 players are on the field at once. In addition to having the second most tackles-for-loss in the FBS (22), he was also named a first-team AP All-American and the 2021 Pac-12 Defensive Player of the Year. He's probably the only linebacker on this list that is round 1 no-brainer. He'll likely end up in the middle-late first round.
Key stats (2021 season):
111 total tackles (solo + assist)
4 interceptions (two returned for scores)
7 sacks
Potential Suitors: Texans, Eagles, Patriots, Titans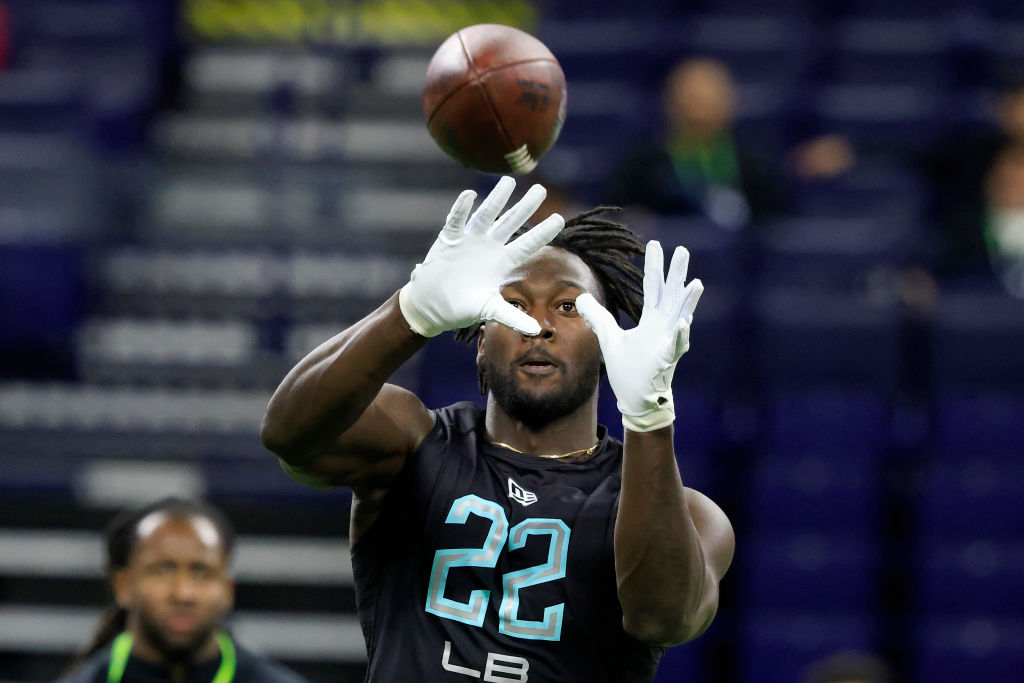 Nakobe Dean (Linebacker) – Georgia
At 5'11 and 228 pounds, Nakobe Dean has no fear. He relentlessly attacks ball-carriers and bursts through the line of scrimmage to make plays. Dean led Georgia in tackles-for-loss last season (10.5) and was the 2021 Butkus Award winner (best collegiate linebacker). The main concern I have about Dean is that NFL offenses will target him in zone-coverage due to his lack of size. He'll most likely be one of the first picks in the second round, but it's entirely possible a team takes a chance on him late in the first round.
Sidenote: Get used to seeing Georgia players on this list.
Key stats (2021 season):
2 interceptions
5 pass deflections
2 forced fumbles
Potential Suitors: Eagles, Packers, Jets, Lions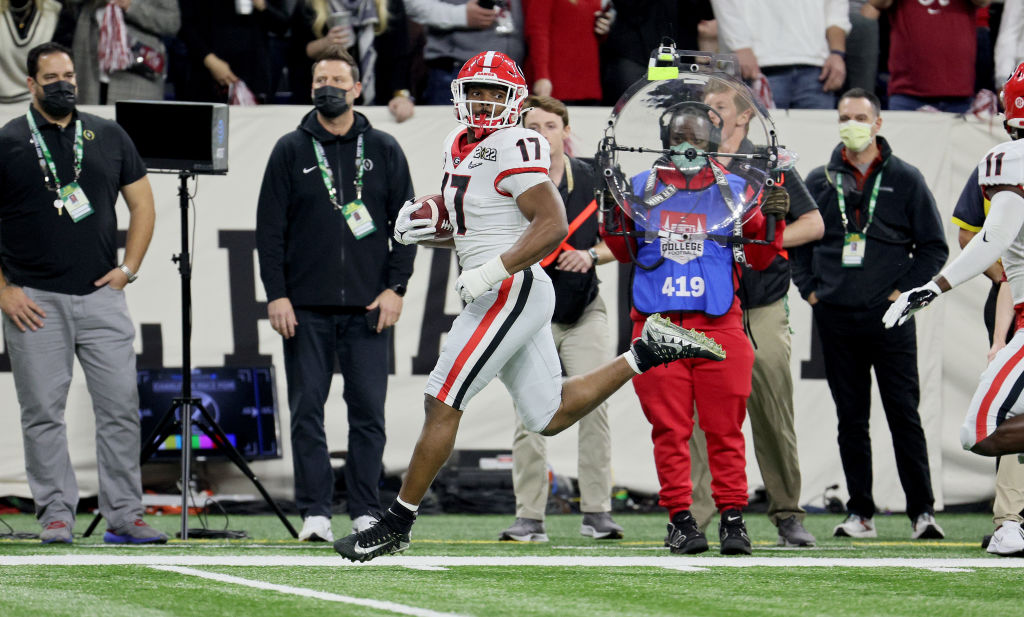 Chad Muma (Linebacker) – Wyoming
At 6'3 and 239 pounds, Muma has the framework to become an elite NFL linebacker. His 85 solo tackles last season was the most by any player in college football. He takes great angles when pursuing outside runs and continues to run through the ball-carrier. He proved to be a threat in zone-coverage, returning two interceptions for scores last season. Muma will have to learn to be patient at the NFL level and not overcommit on his run fits. He will likely get selected early in the second round.
Key stats (2021 season):
142 total tackles
3 interceptions
1.5 sacks
Potential Suitors: Steelers, Jets, Jaguars
Christian Harris (Linebacker) – Alabama
At 226 pounds and just over 6 feet tall, it's Harris' pure athleticism that is intriguing to NFL teams. His 4.44 40-yard dash time is second amongst all linebacker prospects. His speed helps him chase down ball-carriers in the backfield and makes him decent in man-coverage, too. His athleticism and technique allows him to consistently make plays in the open field. However, he lacks the instincts and blocking recognition needed to become an elite linebacker in the NFL. Hitting the film room will improve his recognition. I could see him going anywhere in the mid-to-late second round or possibly falling to the third round.
Key stats (2021 season):
5 tackles-for-loss
5.5 sacks
2 forced fumbles
Potential Suitors: Ravens, Chiefs, Steelers
Quay Walker (Linebackers) – Georgia
Quay Walker's size and football IQ make up for his only-average athleticism. At 6'4 and 240 pounds, he's one of the biggest linebackers on the draft board. He has fantastic intuition and play recognition that allows him to mirror runningback's movements and be in the best position to make a play on the ball. His stats aren't jaw-dropping by any means, but he impacts the game by playing smart and making good reads. Walker's ceiling may not be as high as some other guys on this list, but he'll likely become a consistent starter at the next level. I see him going late in round 2 of the draft.
Key stats (2021 season):
65 total tackles
5.5 tackles for loss
1.5 sacks
Potential Suitors: Seahawks, Broncos, Jaguars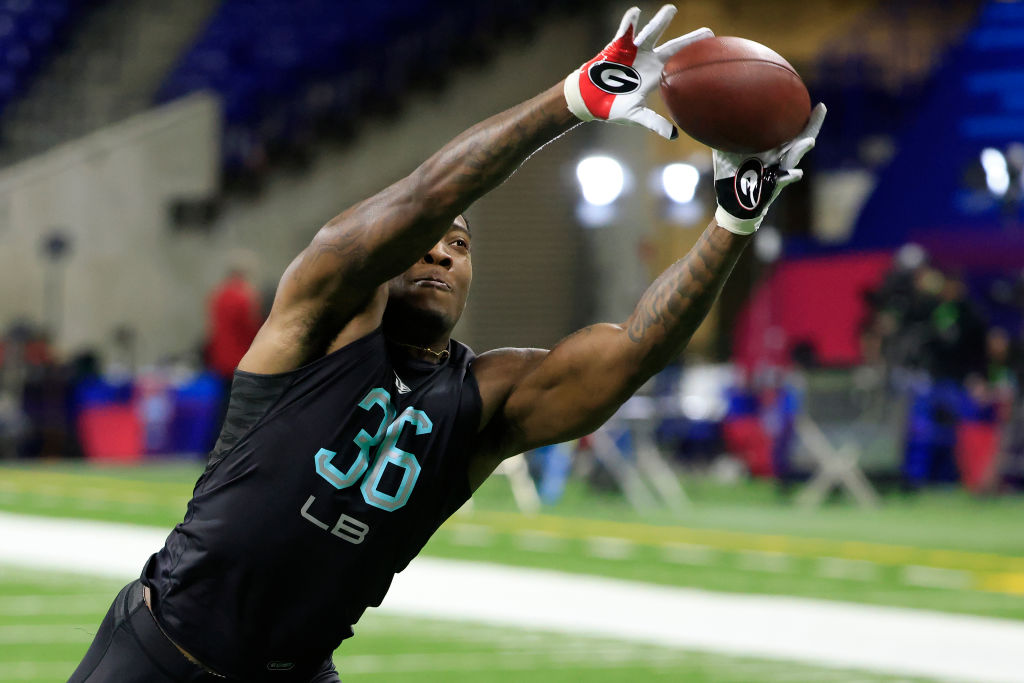 Jordan Davis (Defensive tackle) – Georgia
At 6'6 and 340 pounds with a 4.78 40-yard dash time, it's almost like Jordan Davis was created in a lab. He also received the Chuck Bednarik Award which is given to the best defender in college football. His stats don't appear to be very impressive at first glance, but this is because opposing teams' offenses constantly avoided running the ball to his side. His balance, size and strength provide Davis with all of the tools he needs to become an elite run-stopper in the NFL. Davis will likely be a top 15 pick, it's still just a question of who will take him?
Key stats (2021 season):
0 total tackles
5.0 tackles-for-loss
2 sacks
Potential Suitors: Seahawks, Eagles, Chargers, Saints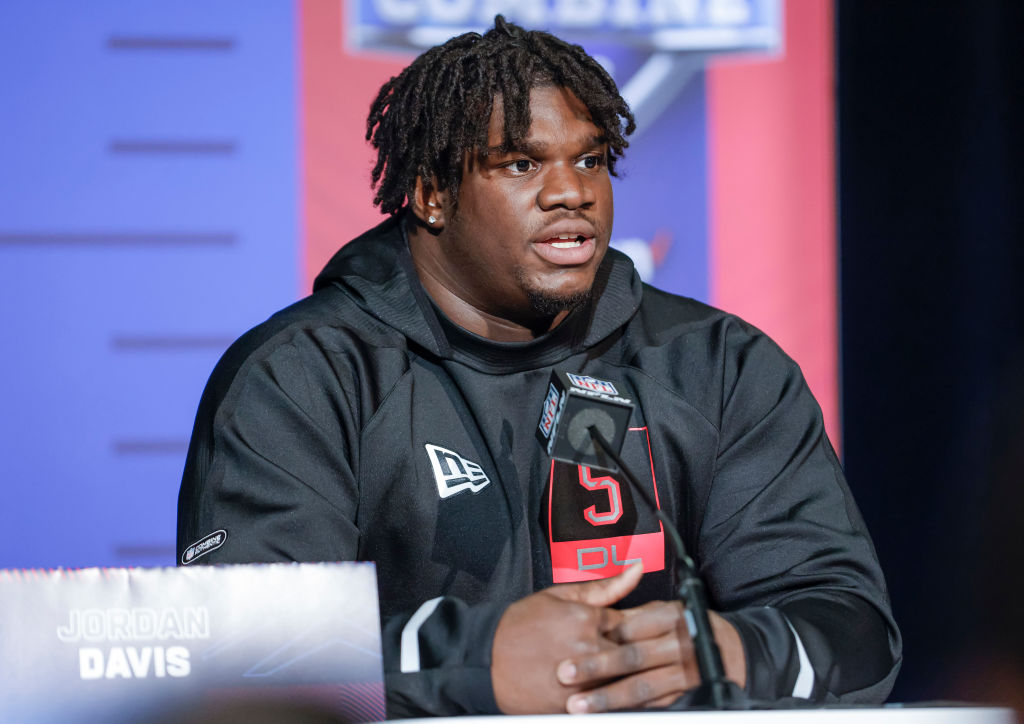 Devonte Wyatt  (Defensive tackle) – Georgia
What I really like about Devonte Wyatt is that he does more with less. At 6'3, 304 pounds with a short wingspan, he doesn't have the natural size or length like some of the other prospects. His work ethic and talent are what sets him apart from his competitors. He punches, spins and stomps his way through the line of scrimmage to make plays. Wyatt's also agile and shifty enough to move from side-to-side, locate the ball-carrier and make the correct read. He's almost certainly going to be picked somewhere late in the first round, if not, then very early round 2.
Key stats (2021 season):
0 tackles-for-loss
2.5 sacks
2 forced fumbles
Potential Suitors: Cardinals, Packers, Bengals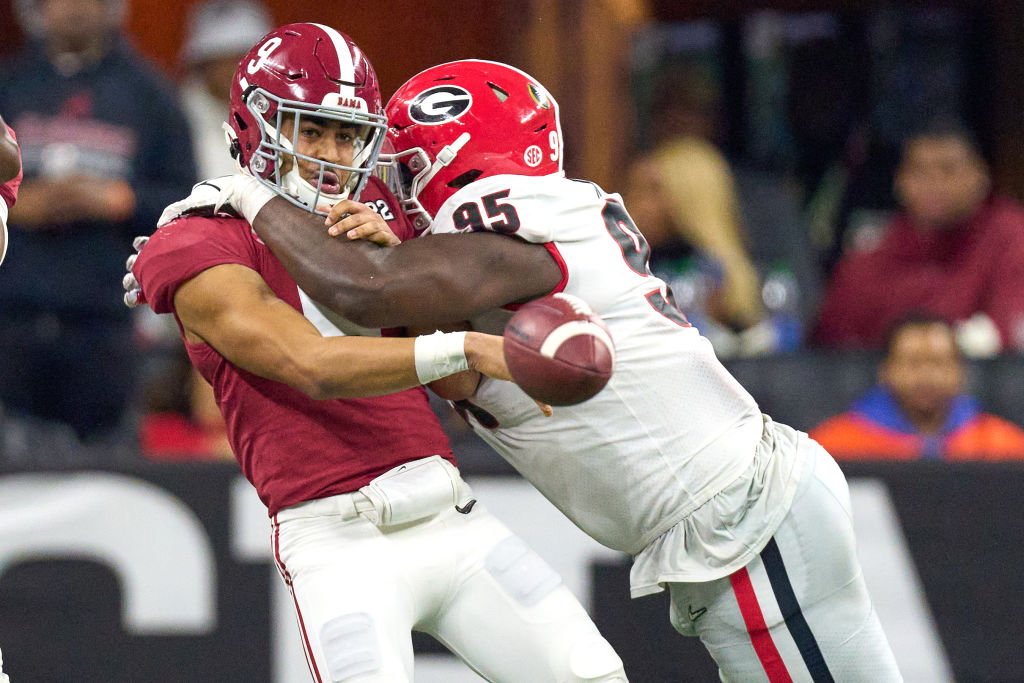 Travis Jones (Defensive tackle) – Connecticut
Jones is 6'4 and 326 pounds and he uses all of that to his advantage. While he may not have quick arm movement like some of the other prospects, he uses his brute strength to get the job done. He typically lines up between the offensive line's guard and center, and then uses his size and strength to bulldoze two linemen at once. His ability to stuff plays at the line of scrimmage and give his linebackers a clear path is what stands out to NFL teams. Jones is most likely to get drafted around the middle of the second round.
Key stats (2021 season):
48 total tackles
7.5 tackles-for-loss
4.5 sacks
Potential Suitors: Browns, Falcons, Bears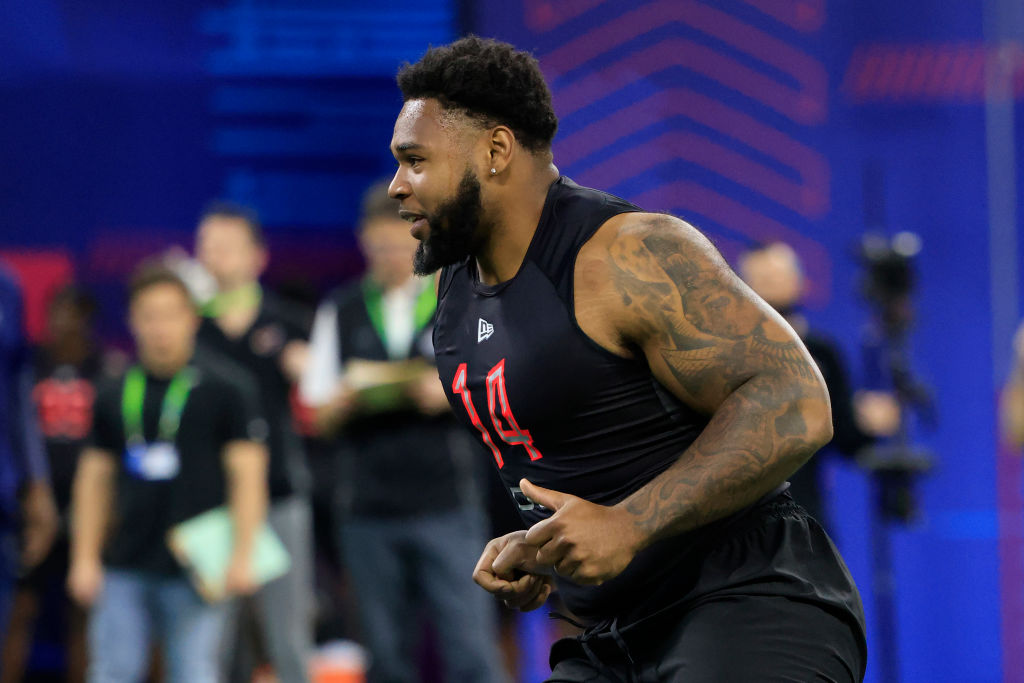 Perrion Winfrey (Defensive tackle) – Oklahoma
A lot of experts describe Winfrey's gameplay as a "home-run hitter." Known for his explosiveness, long, quick arm movements, he has the ability to hit "home runs" by completely shut-down run plays. Home-run hitters also have a tendency to swing-and-miss big time. There are times where it seems like he's guessing on run fits and not making actual reads, which causes him to be in the wrong spot. There's no question about this guy's physical ability to perform, but he'll need to watch some film in order to hang around in the NFL. I see Winfrey getting drafted early in the second round.
Key stats (2021 season):
0 tackles-for-loss
5.5 sacks
1 forced fumble
Potential Suitors: Texans, Bears, Browns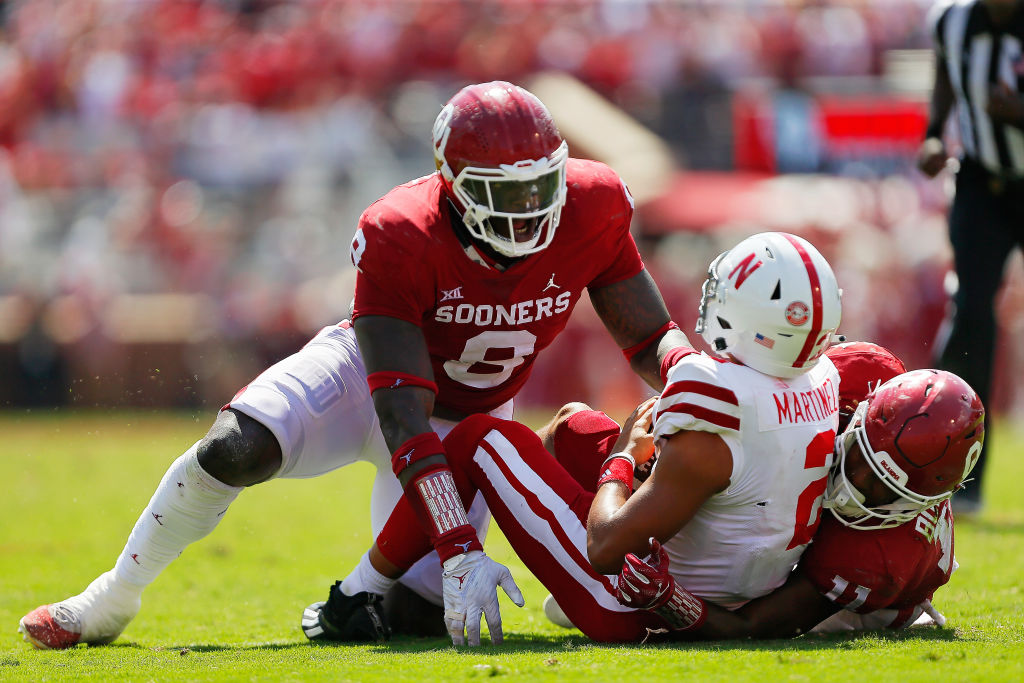 – Pass Catchers: Wide Receivers & Tight Ends – 
Drake London (Wide Receiver) – USC
At 6 feet 4 inches and 219 pounds, Drake London is a big-bodied receiver with high-end red zone threat potential. His catch radius and ability to work back to the ball and fend off smaller DB's makes him likely one of the first receivers off the board. London averaged over 12 yards per catch every year at USC, and hauled in a career high 88 receptions for 1084 yards and seven TDs in just eight games during his third and final year with the Trojans.
Potential Suitors: The Jets at the 10th pick pairing him with their second year QB Zach Wilson make a lot of sense for London.
Treylon Burks (Wide Receiver) – Arkansas
Burks is an interesting case study. He has a bulky 225 pound frame, great hands, can shed and hold off defenders, and he's tough as nails. In his junior season, he averaged over 16 YPC all three years at Arkansas, and had 1104 yards and 11 TDs his junior season. He also rushed 14 times and scored once. As these numbers signify, he was all over the field for the Razorbacks, which translates well to an ever-evolving NFL game. His speed measurements were a little bit lackluster during the combine, but if he starts to fall down the draft board there is potential for a serious steal for teams in the late first round.
Potential Suitors: Green Bay or Arizona in the early 20s selections are popular guesses for a landing spot for Burks.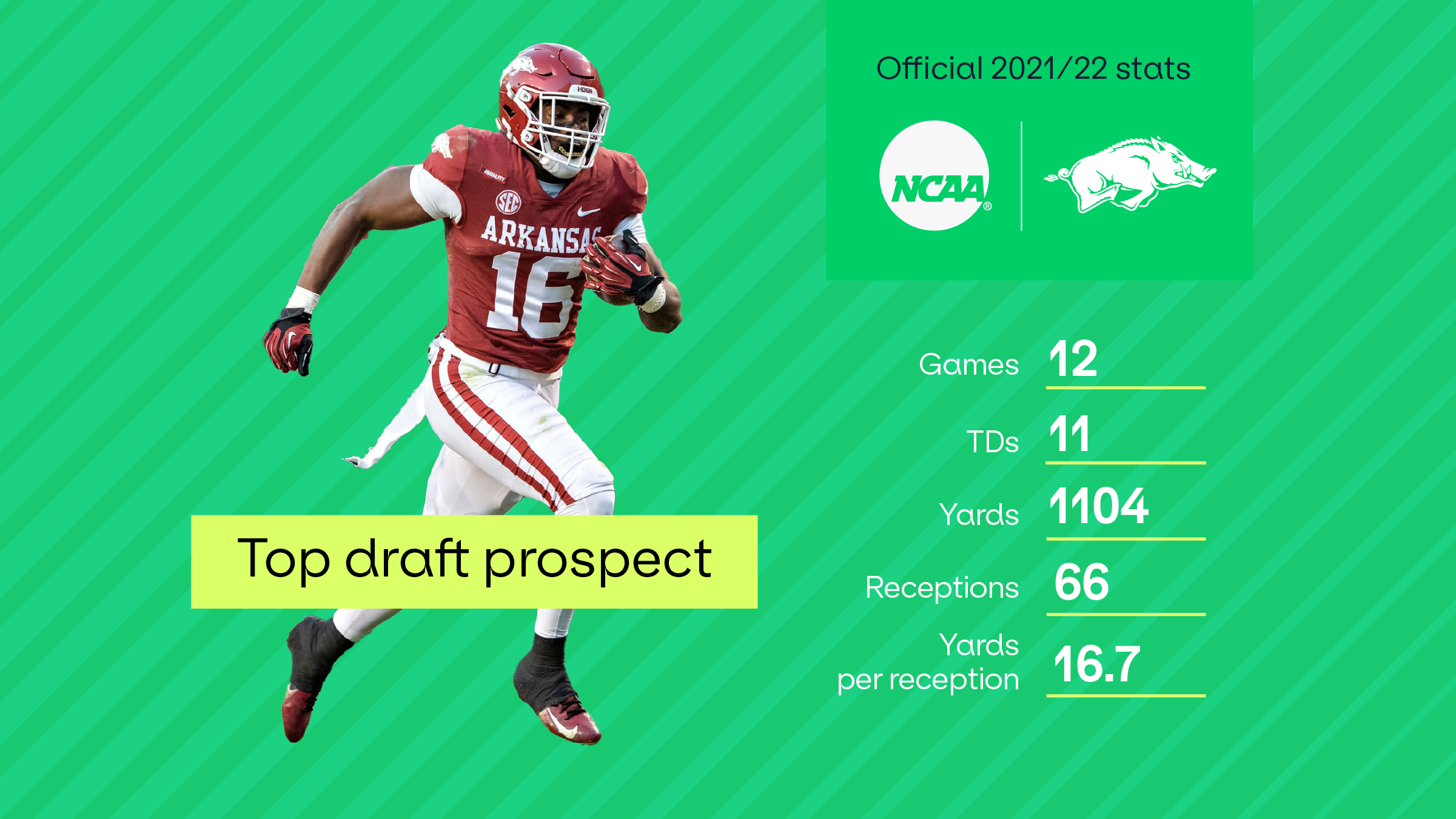 Jahan Dotson (Wide Receiver) – Penn State
Dotson brings high level speed and downfield threat potential to any NFL receiver room. He's shifty and can separate from corners using quick changes in speed and direction, which also makes him a potential game breaker as a punt returner. He's undersized and can get pushed around from lack of strength from time to time, but slight improvements in those areas could make him a very dangerous player. His role and production increased each of his four years at Penn St., culminating in 91 catches for 1182 yards and 12 TDs during his senior season. This trajectory will likely be similar in his NFL career.
Potential Suitors: Late first/early second round is a fair projection, possibly landing him in Kansas City or Green Bay.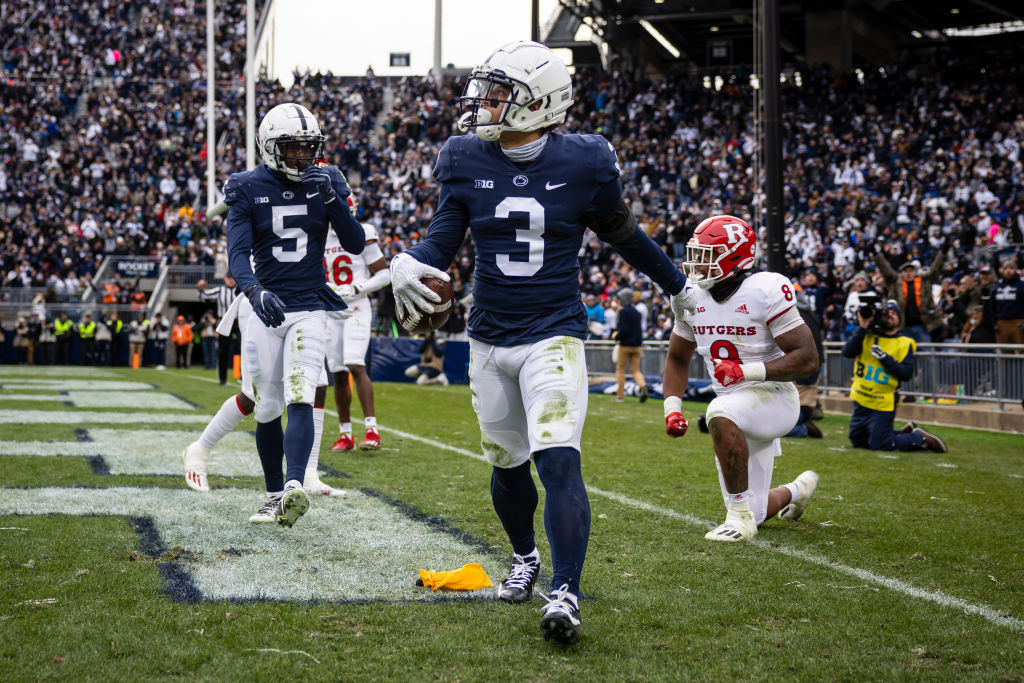 Garrett Wilson (Wide Receiver) – Ohio State
Coming from a loaded Ohio St. wide receiver room, Garrett Wilson likely has the best chance of all of the Buckeye pass catchers to excel at the next level. Wilson is an average sized target, at just 6 feet tall, but he's quick off the ball and deceptively fast downfield. He averaged 15.5 YPC during his whole career at Ohio St. and added 12 TDs in his third and final year alone. He also has experience returning punts and had a rushing TD during his junior season.
Potential Suitors: Several mock drafts have him as the first receiver off the board, being paired with the young elite talent of Kyle Pitts in Atlanta.
George Pickens (Wide Receiver) – Georgia
If George Pickens can stay healthy and out of trouble long enough to gain significant strength, he's a potential "steal of the draft" caliber player. Pickens has top-tier catch making ability, especially in the red zone and other tight-quarters situations. As a freshman, he averaged over 14 YPC in each of his first two seasons at Georgia and had 8 TD catches. He tore his ACL late in the 2020-2021 season and battled back quickly to make an impact down the stretch in the Bulldogs 21-22 title campaign. While a lot of mock drafts have Pickens going late in the second round due to his injury history and lack of discipline, I think a team takes a chance a little earlier.
Potential Suitors: Green Bay is a great fit, having just lost Davante Adams and needing an overhaul of the WR room.
Chris Olave (Wide Receiver) – Ohio State
Olave is the more experienced of the two Ohio St. receivers here, leaving as a senior rather than a junior. Olave has been a staple of the powerful Buckeyes offense for the last three seasons, catching 32 total touchdowns from his sophomore year on. He never eclipsed the 1000 yard receiving mark in a single season in college, but averaged 15.4 YPC over all four years.
Potential Suitors: This could be another potential Eagles pick, or possibly the Ravens or Saints.
Jameson Williams (Wide Receiver) – Alabama
Jameson Williams is an elite downfield threat. For reference, watch the SEC Championship game against Georgia from this past season. Against a generational Georgia defense, Williams had 7 catches for 184 yards and two touchdowns. Enough said. There are slight health concerns, as he tore his ACL during the National Championship game in January, but he has stated recently that he is ahead of schedule.
Potential Suitors: We can't possibly get through a NFL Draft first round without the Eagles taking a WR, right? Maybe this one works out.
Skyy Moore (Wide Receiver) – Western Michigan
While there isn't much that really jumps off the page in terms of elite level intangibles, we've seen undersized receivers with average athleticism be extremely productive in the right system. A couple particular benefits are shiftiness and courage across the middle of the field, knowing a hit is coming. Think Welker, Edelman, and Amendola in New England. Moore also has big hands for his body size, which will allow for that extra bit of contact on the ball in tight spaces and bang-bang plays. Not playing against very much upper-echelon competition in college is going to dock him some points, but almost 1300 yards and 10 TDs in a single season is impressive, no matter how you spin it.
Potential Suitors: Moore is likely a mid-to-late second rounder, and Washington could be a nice landing spot.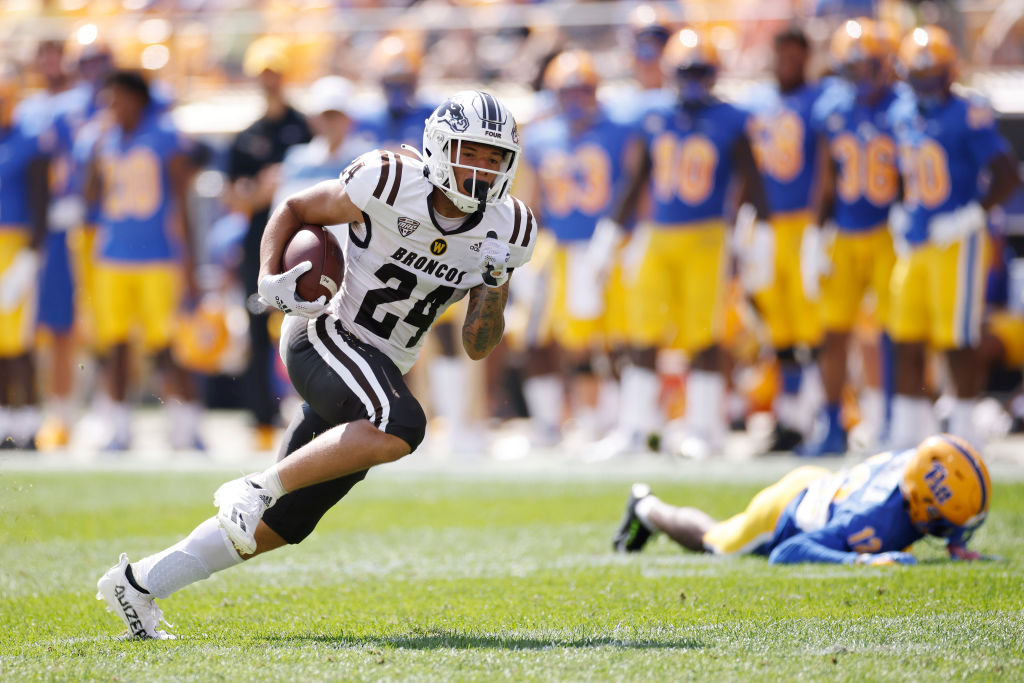 Jalen Tolbert (Wide Receiver) – South Alabama
So often we see players in the NFL and are confused about how they could have fallen through the cracks out of high school and ended up at a less-than-stellar college program. Jalen Tolbert could be one of those guys. Over 1000 yards each of his last two seasons, and all the way up at 1474 yards in his senior year. He even put up 7 catches for 143 yards and a TD against SEC corners in the matchup with Tennessee this past season. He moves effortlessly with speed and deception, and if he finds another level of competitive consistency, he could be a very productive player.
Potential Suitors: Late second/early third round seems likely.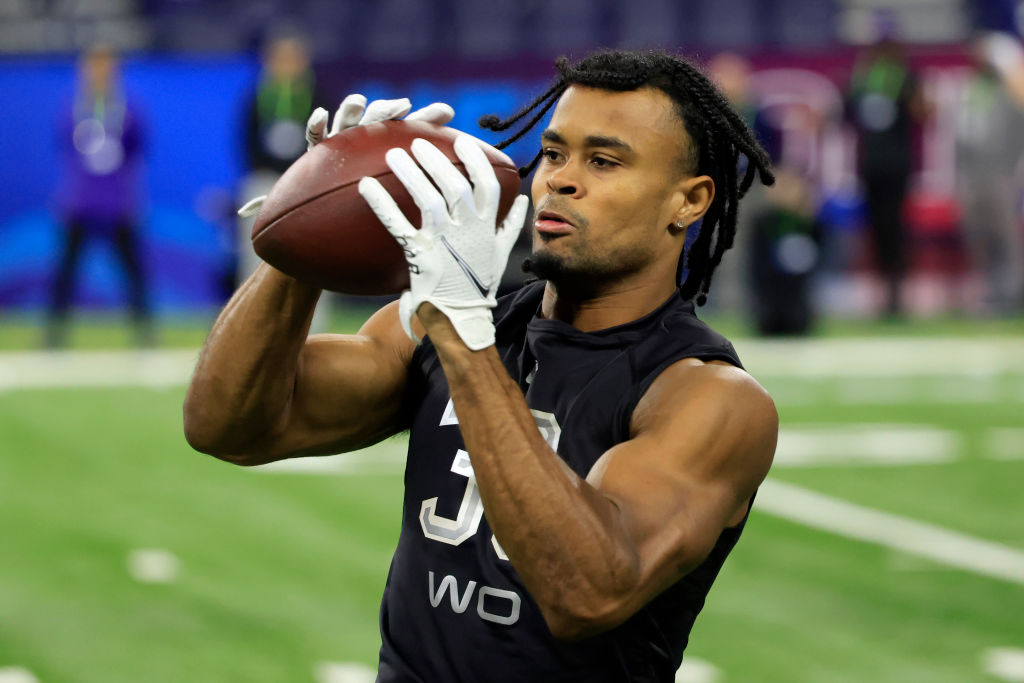 Christian Watson (Wide Receiver) – North Dakota State
Watson is getting a lot of buzz in the late first round and early second round. He drastically outmatched his opponents in skill, size, and speed at the FCS level in college (18.6 YPC during his senior season), but has yet to really be tested against elite opposition. His speed is very good for a player his size and if he can increase his strength and general fundamentals of the position needed to beat good players, he has the frame and the talent to be a productive player.
Potential Suitors: Early third rounder, here.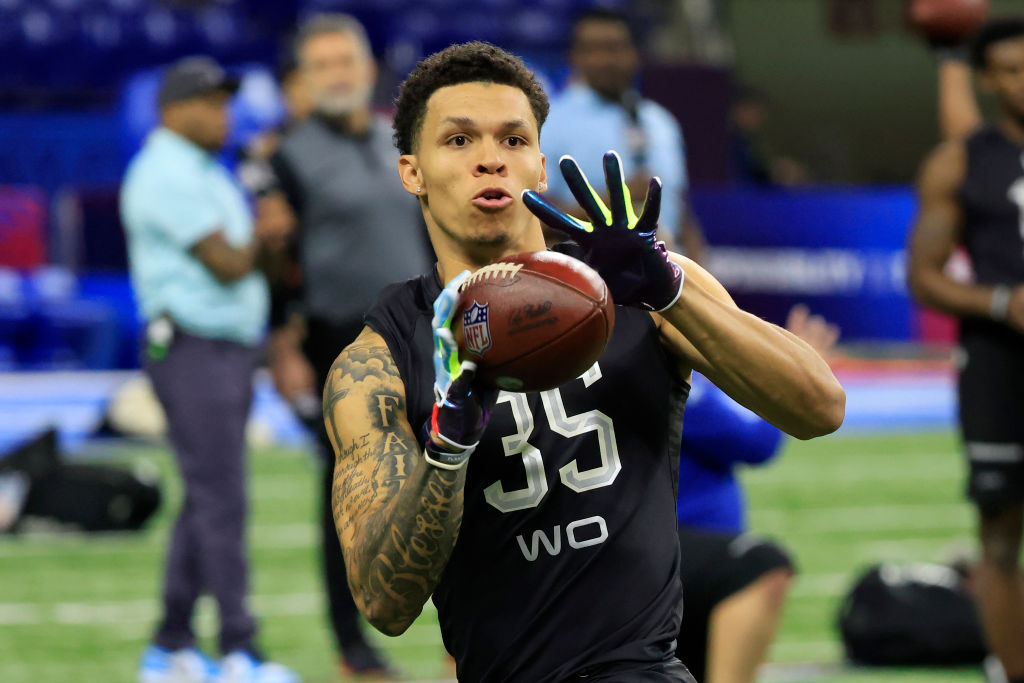 Trey McBride (Tight End) – Colorado State
McBride still has room to grow in the blocking and pass-catching portions of the game, but his strength and raw attributes show a lot of promise for a consistent every-down TE. He had 90 catches for over 1100 yards during his senior year, but was only able to convert one of those catches into a touchdown. He struggles with physicality and length, but should learn to use his frame at the next level.
Potential Suitors: Mid-second round to the Vikings makes a lot of sense here.
Greg Dulcich (Tight End) – UCLA
What Dulcich lacks in run-blocking ability, he makes up for with his downfield presence. He averages 17.6 YPC throughout his career at UCLA, and, while he sometimes suffers from a lack of focus, has big play ability at his size with some fine-tuning. He's determined and competitive, which bode well for an increase in skill in the blocking game, as well as the potential for YAC in the NFL.
Potential Suitors: Late second rounder, possibly to Green Bay.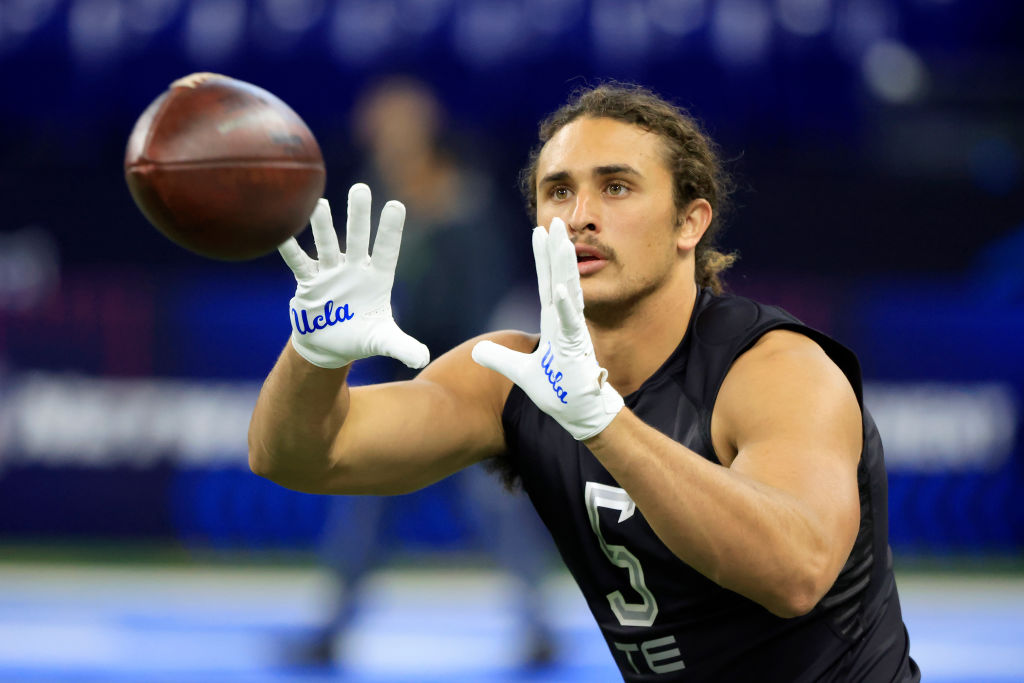 Jeremy Ruckert (Tight End) – Ohio State
Ruckert is quite the opposite of Dulcich in their areas of skill coming out of college. Ruckert is already an above-average blocker at the TE position, but likely won't provide a ton of upside in the downfield passing game. He had only 54 catches during all 4 seasons at Ohio St., granted they were stacked at wide receiver. Could be a decent short yardage and goal-to-go receiver with his frame.
Potential Suitors: Ruckert should be a Day 2 draft selection.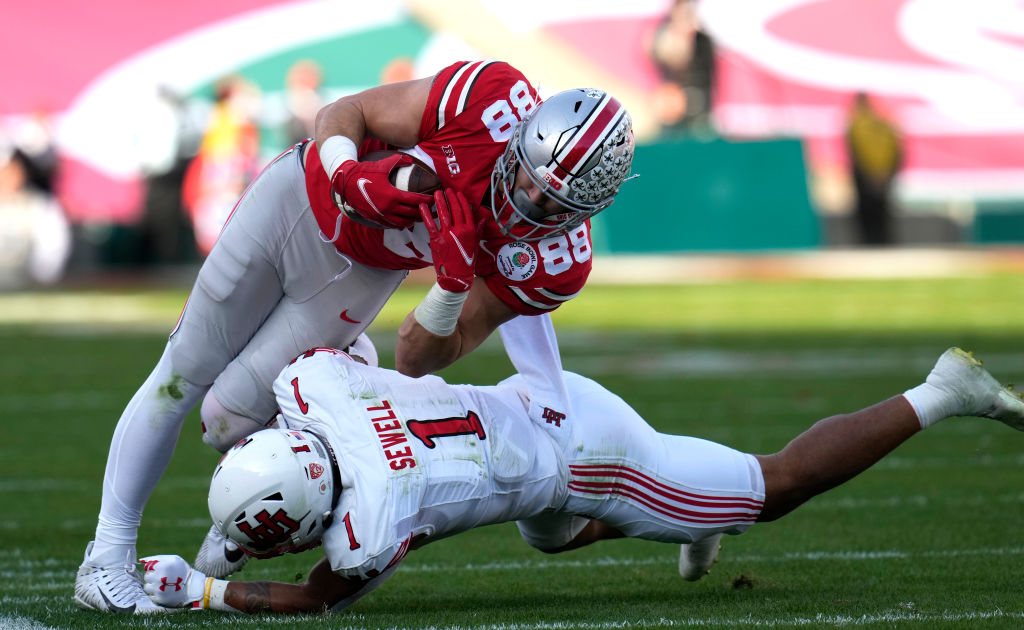 – Edge Rushers & Offensive Linemen – 
Aidan Hutchinson (Defensive End) – University of Michigan
Growing up just miles away from Ann Arbor, Aidan Hutchinson spent his four seasons at the University of Michigan, becoming the new hometown hero. He began by winning "Rookie of the Year" honors for the Wolverines in 2018 and worked all the way up to being runner-up for the Heisman Trophy his senior season, all while leading Michigan to its first College Football Playoff berth. Of all draft prospects, Hutchinson is likely to be the first overall pick, but needs some work on his instincts in the run game in order to sustain his success.
2021 Stats
62 tackles (36 solo)
14 sacks
2 forced fumbles
Potential Suitors: Jacksonville Jaguars, Detroit Lions, Houston Texans
Evan Neal (Offensive Tackle) – University of Alabama
Evan Neal has experienced a lot of success throughout his college career. Moving from guard his freshman year to tackle the following seasons, he helped lead Alabama to a College Football Championship in 2020 and a near repeat the following season, when Neal was voted a captain of the Crimson Tide. His technique and versatility on the offensive line can make him desirable if he can overcome concerns about maintaining his intensity on the field and his weight off of it.
2021 Stats:
34 knockdown blocks
40 total games started
Alabama: 6th ranked scoring offense
Potential Suitors: New York Jets, Carolina Panthers, Seattle Seahawks
Kayvon Thibodeaux (Defensive End) – University of Oregon
Thibodeaux enrolled early at the University of Oregon and if not for a pandemic and an ankle injury (more of a speed bump), it would be impossible to keep him off the field. His ability to get off the snap quick and his relentless drive led the Ducks to a Pac-12 Championship in 2020 and to himself receiving game MVP honors. Although he did rack up 49 tackles in 2021, including 7 sacks, Thibodeax will need to learn to begin relying on his skill and instincts over his power as he transitions into the next level.
College Career Stats:
122 tackles (82 solo)
19 sacks
7 pass deflections
Potential Teams: Jacksonville Jaguars, Detroit Lions, New York Jets
Ikem "Ickey" Ekwonu (Offensive Tackle) – North Carolina State University
Ekwonu established himself early by playing two different positions his first two seasons for the Wolfpack, being voted Co-Offensive Lineman of the Year his freshman season. In 2021 he continued his growth as one of the top college prospects, being recognized with first team AP All-American and All-ACC honors as well as being a finalist for the Outland Trophy. Ickey is a great teammate and personality to be around and knows when to turn it on come game time. Pass protection and hand technique are some areas of his game that could use improvement.
NFL Combine Results:
40-Yard Dash: 4.93 seconds
Broad Jump: 108"
Potential Teams: Detroit Lions, New York Giants, Seattle Seahawks
Tyler Linderbaum (Center) – University of Iowa
Tyler Linderbaum began his college career on defense before moving to the offensive line for the Hawkeyes, who he grew up watching basically from his backyard. A wrestling background is evident through his core strength and ability to gain leverage against opponents, and this helped him earn first team AP All-American honors and the Rimington Award as the nation's best center in 2021. Linderbaum will need to work on the finishing power of his blocks and keeping the height down on his shotgun snaps for success in the NFL.
Stats:
2021 Games: 14
Arm Length: 31 1/8″
Hand Size: 10″
Potential Teams: New York Giants, Washington Commanders, Minnesota Vikings
Jermaine Johnson II (Defensive End) – Florida State University
Jermaine Johnson spent two seasons at Independence Community College, racking up 12.5 sacks, before moving on to the University of Georgia for the following two seasons. He showed promise, but wasn't getting the playing time to fully shine. Opportunity came with the Seminoles, where in one season he led the ACC in sacks on his way to becoming the conference's Defensive Player of the Year. Johnson rushes with relentless force and effort, but in order to make it around NFL linemen he will need to add some finesse moves to his repertoire.
2021 Stats:
70 tackles (34 solo)
12 sacks
2 forced fumbles
Potential Teams: Arizona Cardinals, New York Jets, Baltimore Ravens
Trevor Penning (Offensive Tackle) – University of Northern Iowa
It's easy to overlook Penning's play being in the less popular Missouri Valley Conference, but this three year starter is worth the watch. A relentless fire inside, Trevor Penning wants to not only get the defender out of the way but to put him flat on the ground. If he can work on his inside positioning and harness his rage, this Walter Payton award finalist will be a strong addition to any team looking for help on the offensive line.
NFL Combine Results:
40-Yard Dash: 4.89 seconds
Vertical Jump: 28"
Broad Jump: 111"
Potential Fits: Tennessee Titans, New Orleans Saints, Los Angeles Chargers
Travon Walker (Defensive End) – University of Georgia
This newly crowned National Champion has been a force on the Bulldog defense for years. Although a member of the Freshman All-SEC team his first year, Walker was only used sporadically until his junior season where he started all 15 games and led Georgia to a victory over rival Alabama in the College Football Playoffs National Championship Game. Footwork is an area that can be improved upon, as he can sometimes get beat to the point of attack. Nevertheless, Walker has the size and ability to shed blocks and set the edge. He has to be considered among the top prospects.
2021 Stats:
37 tackles (19 solo)
36 QB hurries
6 sacks
Potential Teams: Detroit Lions, New York Giants, Houston Texans
Kenyon Green (Offensive Guard) – Texas A&M University
Kenyon Green showed versatility and team commitment by playing every position on the offensive line besides center in his 35 games starting for the Aggies. Mostly being utilized as a left guard, he earned multiple AP All-American and All-SEC selections, including first team honors his junior year. Green has the leg drive and foot quickness to get to the defender and get him away from the ball. Although his hand technique is a strength of his, he will need to hone it to limit the amount of holding penalties.
NFL Combine Results:
40-Yard Dash: 5.24 seconds
Bench Press: 20 reps
Broad Jump: 102"
Potential Teams: Dallas Cowboys, Buffalo Bills, Miami Dolphins
Charles Cross (Offensive Tackle) – Mississippi State University
The Bulldogs were blessed to have a reliable offensive tackle in Charles Cross, who started 25 games over his two seasons in Mississippi. He may not be as athletic as the other lineman prospects, but his knowledge of the game more than makes up for it. Cross may sometimes get beat, but he is able to recover and use his length to get back in the play. This first team All-SEC selection in 2021 is poised to make a relatively smooth transition to NFL schemes.
NFL Combine:
40-Yard Dash: 4.95 seconds
Vertical Jump: 26"
Cone Drill: 7.88 seconds
Potential Fits: New York Giants, Indianapolis Colts, Carolina Panthers
George Karlaftis (Defensive End) – Purdue University
A football player since the 8th grade, Karlaftis enrolled a semester early to Purdue and began making an immediate impact on the defensive side of the ball, gathering 54 tackles for the Boilermakers. Covid-19 and injuries slowed his production in 2020, but he returned to form in 2021 to be a first team All-Big Ten selection and Ted Hendricks award finalist. Lengthy linemen can sometimes give this edge rusher trouble, but he has a relentless motor. His drive to get to the ballcarrier and will only continue to develop on the next level.
Career College Stats:
94 tackles (58 solo)
14 sacks
4 fumble recoveries, 3 forced fumbles
Potential Fits: Dallas Cowboys, New England Patriots, Kansas City Chiefs
Arnold Ebiketie (Defensive End) – Penn State University
Arnold Ebiketic transferred to Penn State after spending three seasons at Temple, where he led the team with 8.5 tackles for loss in his final year as an Owl. Each year through college, he was able to improve upon his previous seasons stats and was selected to the first team All-Big Ten team his redshirt senior season. Although not beginning on the football field until his sophomore year of high school, Ebiketic understands how to rush with purpose and use his hands to get to the passer, but may needs work in stopping the run game.
2021 Stats:
62 tackles
9.5 sacks
2 blocked kicks
Potential Fits: Green Bay Packers, Dallas Cowboys, Arizona Cardinals
Zion Johnson (Offensive Guard) – Boston College University
Boston College was lucky to get this transfer guard, who spent two seasons at Davidson earning a first team All Pioneer League selection. Johnson made an immediate impact his first year with the Eagles, which was recognized by his being voted a team captain the following season and to the AP All-American and All-ACC first teams his senior year. Zion Johnson uses brute strength and force to knock back defenders, but that will be tough to maintain with NFL lineman for 3 downs at a time.
NFL Combine Results:
40-Yard Dash: 5.18 seconds
Bench Press: 32 reps
Vertical Jump: 32"
Potential Fits: Tampa Bay Buccaneers, Pittsburgh Steelers, Green Bay Packers
2022 Draft Schedule
Day 1 (Round 1) at 8 p.m. ET on Thursday, April 28.
Day 2 (Rounds 2-3) at 7 p.m. ET on Friday, April 29.
Day 3 (Rounds 4-7) at noon ET on Saturday, April 30.