The last weekend of MLS action before the All-Star game later this week was utterly chaotic. A total of 57 goals were scored on Saturday – a single day league record, surpassing the previous record by 11. Seven of the 13 games that took place on Saturday saw at least five goals scored.
Aside from the rollercoaster games, we also saw new MLS signings make their mark. Here are the stats behind an eye-catching weekend of soccer.
AWA – Always Watch Austin
Fans of Austin FC are sure getting value for money this season. They're the league's highest scorers (50), rank in the top 15% for total xG (36.027), and have scored more goals over expected (13.973) than any other team in the MLS.
They've also conceded 31, which is not exactly water-tight. In their last seven games, they've had a 3-2 victory, a 4-3 defeat, and just this last weekend added a 3-3 draw with San Jose Earthquakes to the list.
Argentine superstar Sebastian Driussi notched another brace against San Jose, taking his goal-scoring tally to 16 for the season. His second was classic Driussi – beginning the attack with a driving run, before making another sprint to get on the end of the move.
NO STOPPING @SebadriussiOk! pic.twitter.com/Tg8aNFwBi0

— Austin FC (@AustinFC) August 7, 2022
But the goal of the game, perhaps the entire season, came from San Jose's Paul Marie. His incredible strike, from a distance of 30.94 meters (33.83 yards) had an xG of just 0.021. His effort clocked in with a velocity of 27.803 m/s – one of the highest recorded in the season.
PAUL MARIE WITH @MLS GOAL OF THE YEAR! pic.twitter.com/BAnbwy1yrl

— San Jose Earthquakes (@SJEarthquakes) August 7, 2022
Vintage Bale takes LA to a new level
Gareth Bale rolled back the years during LAFC 4-1 victory over Real Salt Lake, scoring a superb solo effort reminiscent of his explosive youth. From the point at which Bale picked up the ball, he had an xG of 0.193.
HE'S GARETH BALE. 🏴󠁧󠁢󠁷󠁬󠁳󠁿🐉#LAFC pic.twitter.com/r22UgbUFKg

— LAFC (@LAFC) August 7, 2022
His goal was the fourth of the game, rounding off a win that sees LAFC go six points clear at the top of the Western conference, with seven wins in their last eight games.
Cristian Arango picked up another two goals, taking him to 11 for the season. He also picked up an assist and was busy in the box, making five penalty area touches. Our prediction as an outside pick for the golden boot still stands.
Lorenzo Insigne: Welcome to the MLS
Summer signing Lorenzo Insigne scored his first goal in just his fourth appearance for Toronto FC at the weekend. His goal turned out to be the winner in a seven-goal thriller with Nashville SC who are now five games without a win.
Despite clawing themselves back into the game on three separate occasions, Toronto's heightened quality shone through. The game also saw a goal for Insigne's compatriot and fellow summer signing, Federico Bernardeschi, who scored from the penalty spot. The xG timeline below demonstrates the flow of the game.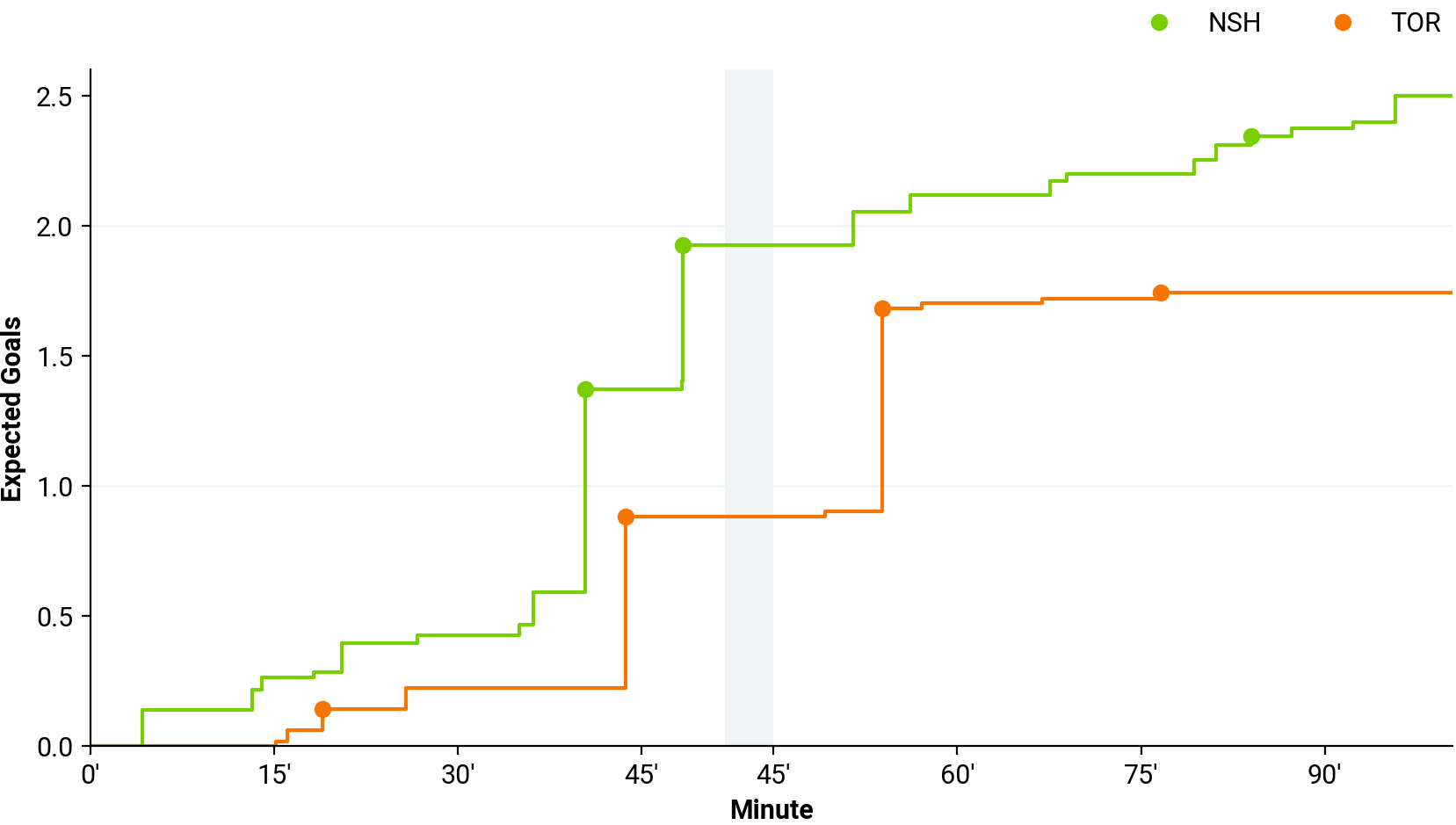 Insigne put in a match-winning performance. Beyond the goal, he completed 52 passes – the third-most of any player. 37 of those passes were under pressure, easily the highest in the game. His involvement is critical for Toronto. He registered five shots in total, three on target, an his outstanding goal had an xG of just 0.024, fetching a velocity of 25.772 m/s.
A piece of history. A work of art.@Lor_Insigne | #TFCLive pic.twitter.com/91Lp3w7H5G

— Toronto FC (@TorontoFC) August 7, 2022
Zelarayan shines in NYC encounter
When Lucas Zelarayan plays well, so do Colombus Crew. That's a trend that continued over the weekend, as they edged out New York City in yet another end-to-end MLS game. Zelarayan has 18 goal-involvements so far this season, including 10 assists – the second-most in the MLS.
The below graphic demonstrates the importance of Zelarayan to Crew's style of play. Everything goes through him.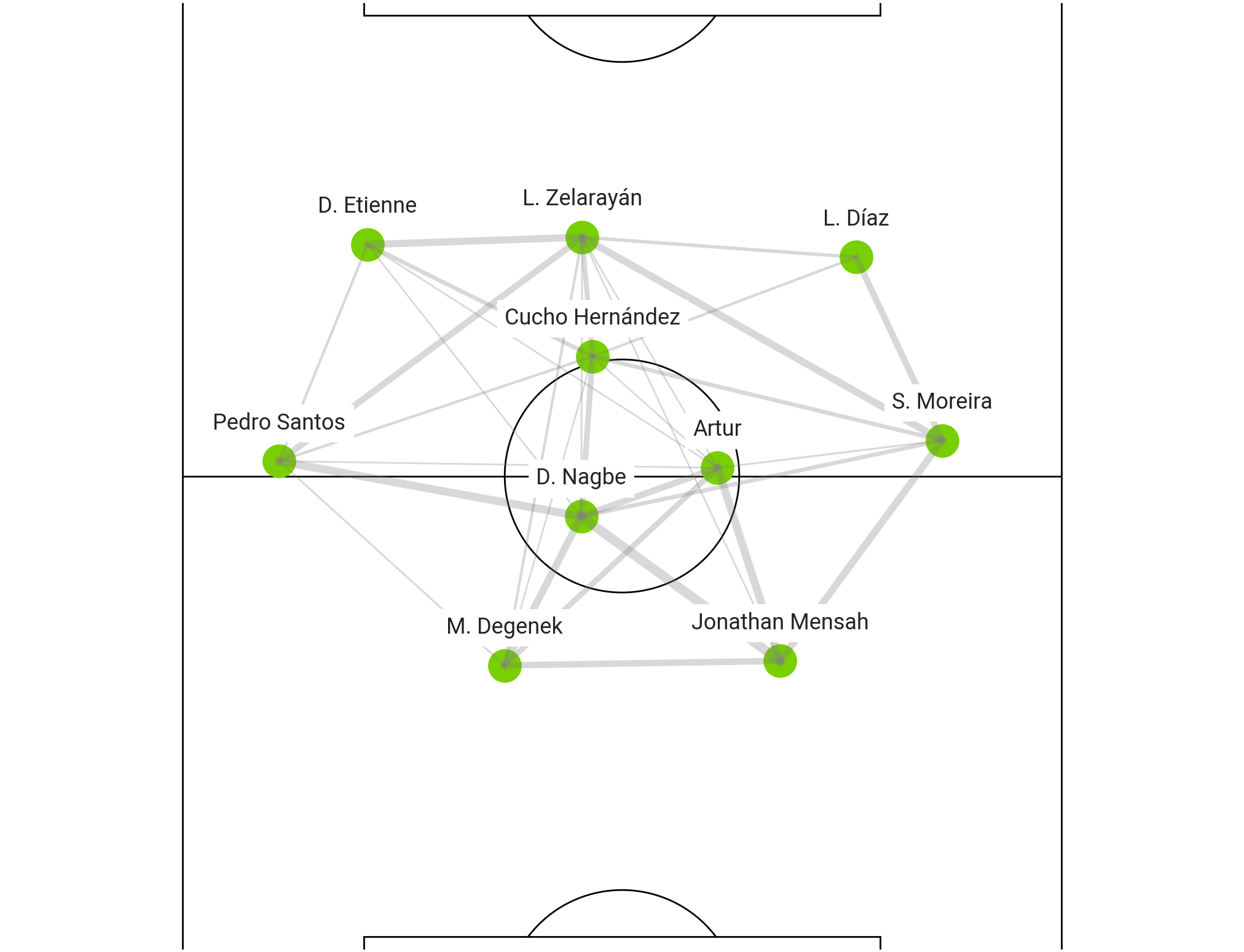 The way in which his first goal unfolded mirrors the diagram above. The mistake from Johnson in the NYC goal is punished so well by Crew because the front three hold their positions so well. Although he's unmarked, Zelarayan still has a lot of work to do when he finally receives the ball.
He had an xG of just 0.067 when he received it, and responded to the chance with a delicate finish. If he continues in this form, he's slowly working himself into the conversation for MVP.
Lucas hit that RB+B like this is a video game 🎮#Crew96 | 2-1 pic.twitter.com/5Du6VBNJdZ

— The Crew (@ColumbusCrew) August 7, 2022