As Taty Castellanos moves to La Liga, a window has opened for a new player to step forward and claim the MLS golden boot – the award given to the league's top scorer. Excluding Taty – last season's winner, who currently sits joint-first for goals scored in 2022 – a total of seven players are already on double figures.
With around a third of the season remaining, we've used Second Spectrum data to analyze five contenders in with a shot at winning the coveted golden boot in 2022.
Sebastián Driussi, Austin FC – Serious Contender
Austin have been a revelation this season. In only their second year in franchise history, they currently sit in second place in the Western conference: keeping pace with LAFC and with a sizeable gap to the teams below. Driussi's form has been integral to their success.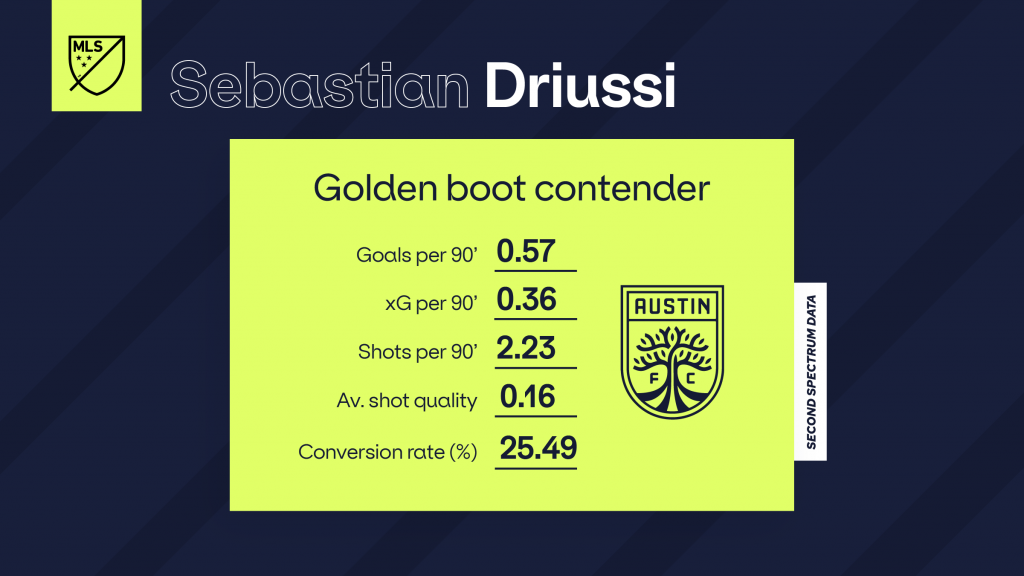 Driussi's 13 goals make him the top scorer in the MLS. The 24 year 0ld Argentinian has been deployed most often as a number 10, playing a supporting role behind his compatriot Maxi Urruti. His position as an attacking midfielder makes his production (Driussi also has 7 assists) even more spectacular.
He is varied in his shooting, with 16 of his 51 shots coming from outside the box. His total xG across the season stands at 8.30, which means he's scored 4.7 goals more than he was expected to have done – the highest figure in the MLS.
Number 1️⃣ 3️⃣ on the season for @SebadriussiOk! 👏 pic.twitter.com/3gwbI9eggG

— Austin FC (@AustinFC) July 25, 2022
He's heavily involved in build-up play, as he sits in the top 6% of players for pressured passes (482) and passes that break the back line (160). His relationship with Urruti is reciprocal, and during attacks they often team up as a duel threat. While his freakish numbers – averaging just under a goal or assist every game – might lead one to think that Driussi's golden spell will dry up eventually, his constant involvement in the most threating areas of the pitch mean he'll always be in scoring positions.
In our eyes, he's the favorite.
Jesús Ferreira, FC Dallas – Serious Contender
21 year old USMNT striker Jesús Ferreira has been a talismanic figure for FC Dallas so far this season. They're currently 5th in the Western conference and well within a shot at securing a play-off spot before the season is out.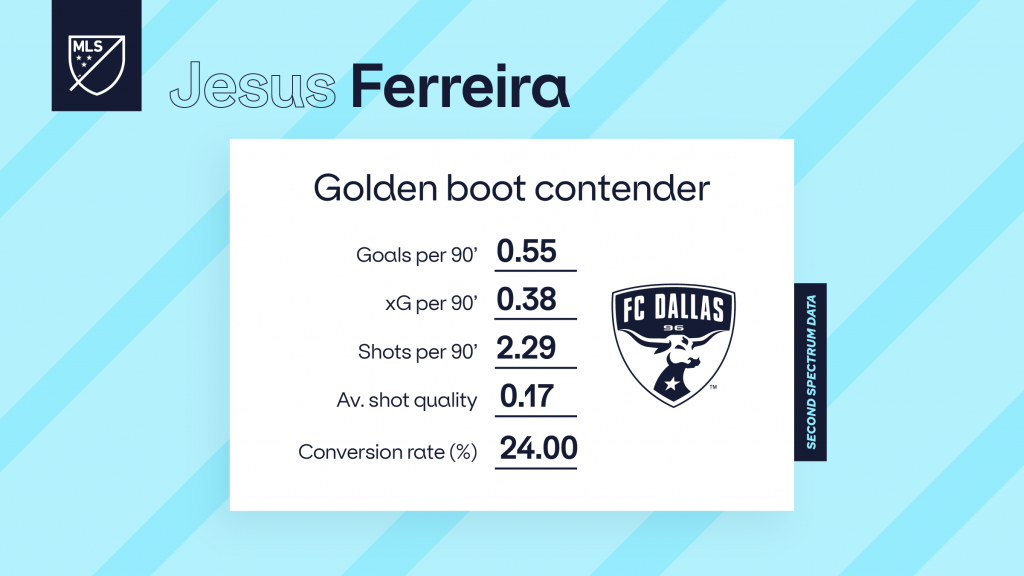 Of his 50 total shots, he's scored 12 goals, and his conversion rate of 24% places him in the top 10% of MLS players. If you removed penalties from the equation, Ferreira would be top of the scoring charts with 11. Additionally, he's scored 3.67 more goals than his xG – second only to Driussi.
In the 4-3-3 formation favored by Nico Estevez, Ferreira has been deployed consistently as the middle player in the front attacking three. Flanked most often by Velasco on the left and Arriola on the right, Ferreira is encouraged to play between the width of the posts, and remain a central threat. He's incredibly calm inside the box. His 52 touches inside the area place him in the top 4% of all MLS players, while 30 of those touches were under pressure – the most in the league.
The 4th player in FC Dallas history with 30+ goals & 20+ assists.

The second player in MLS history to reach 30 career goals and 20 career assists at the age of 21 or younger.

The one and only, Jesús Ferreira pic.twitter.com/3UovDEj0mb

— FC Dallas (@FCDallas) July 24, 2022
If he continues to be the bedrock of the FC Dallas attack, Ferreira will be in contention up until the very last game.
Hany Mukhtar, Nashville SC – Serious Contender
Sat just one point below FC Dallas in the Western conference are Nashville SC, thanks in large part to forward Hany Mukhtar.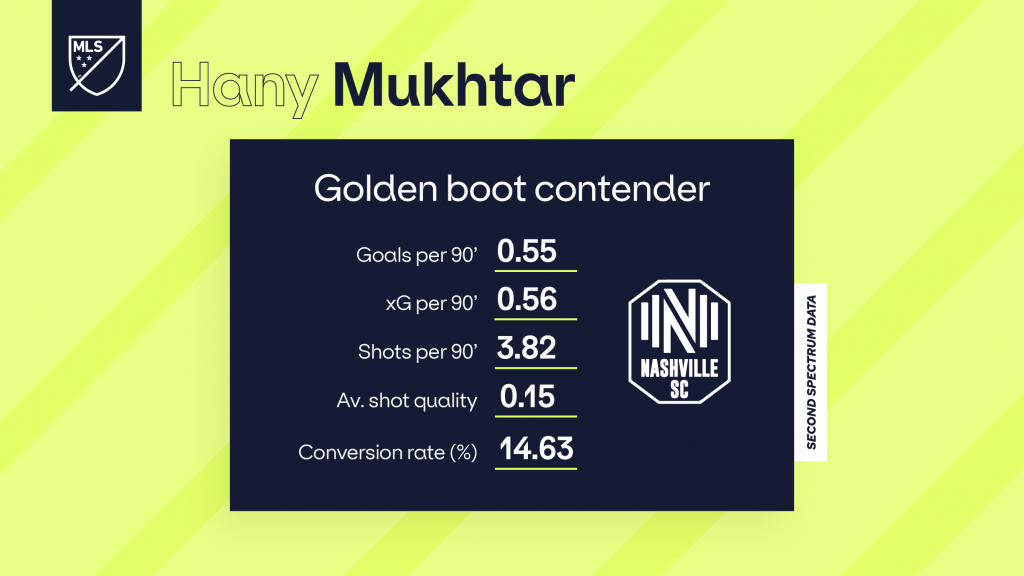 Mukhtar is tied with Ferreira on 12 goals and 5 assists, placing him firmly in the conversation as a golden boot contender. The former Benfica, RB Salzburg and Hertha Berlin player was formerly used as a midfielder, until he joined Nashville. The German international recorded an impressive 16 goals and 12 assists (most) in the MLS last season, meaning his transition was the correct one.
Playing as part of a front-two, Mukhtar is very much the focus of the Nashville attack. He takes an incredible amount of shots: ranking in the top 1% for shots (82), shots per game (3.905) and expected goals (11.91).
MUSIC CITY'S ALL-STARS 〽️⚡️

Hany Mukhtar and @thewalkerzim are headed to the 2022 @MLS All-Star Game pic.twitter.com/qBfso1EJYL

— Nashville SC (@NashvilleSC) July 12, 2022
The thing that might hold up Hany towards the end of the season is Nashville's reliance on his talent. They already rank 24th out of 28 MLS clubs for total attacking entries and final third entries, and the next closest scorer for Nashville is CJ Sapong on five. If Nashville spread the workload a little, he'll be in with a shot.
Taxi Fountas, DC United – Outside Chance
Despite their abysmal form, Greece international Taxi Fountas has been the one shining light for DC United this year. With 10 goals to his name so far, Fountas is holding his own with the leagues leading scorers.
He's a top 2% player when it comes to shots (57) and shots on target (24), while his conversion rate stands at a respectable 17.54%. He ranks in the top three of all MLS players for shots per game (4.39) and goals scored over expected (4.36). These are incredibly impressive stats when you consider the form of his teammates this year, which may also be the factor that holds him back.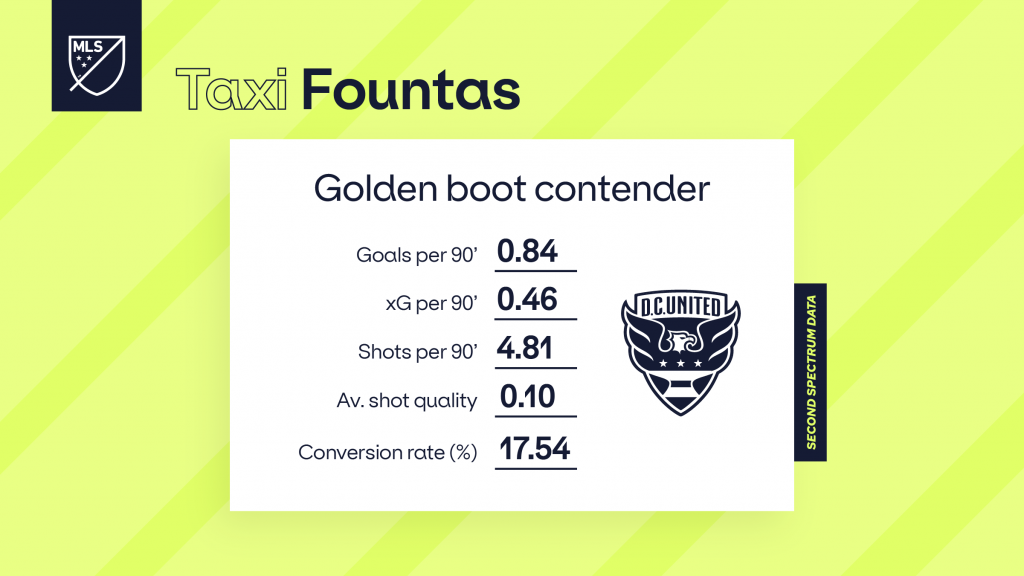 DC are currently sat at the bottom of the Eastern conference, with the joint-worst defensive record in the MLS. Aside from Fountas, their attacking threat has been more or less nonexistent this season. They rank the worst in the league for attacking entries, as well as final third (896) and penalty area entries (299). They have the third-lowest number of completed passes and the second-lowest number of progressive passes. They also have the fewest touches in the final third (2049) in the MLS.
A reduced attacking threat means less opportunities for Fountas to add to his tally.
Off the volley!

What a first MLS goal for Taxi Fountas! 🚖 pic.twitter.com/YBEucUudxj

— Major League Soccer (@MLS) April 24, 2022
The arrival of Wayne Rooney will surely be seen as a plus for Fountas, who will hope to benefit from the stewardship of England and Manchester United's all-time leading scorer. At this point, we've pegged him as an outsider in the golden boot race.
Cristian Arango, LAFC – Outside Chance
LAFC are soaring in the right now. They're sat top of the Western conference, and have just brought in some elite acquisitions to help them get over the line.
Cristian Arango's inclusion in this list might come as a surprise; he's not yet reached double figures (he's on 9), and there are seven players who have scored more goals than him.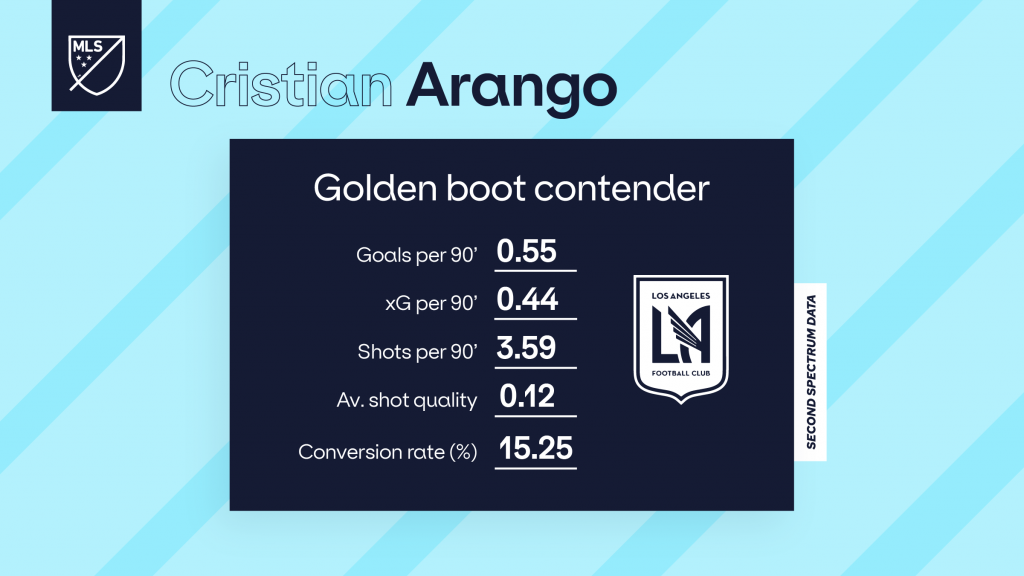 But his numbers are strong regardless. He sits in the top 3% of players for shots (59), shots per game (2.81) and shots on goal (24). His movement is dynamic and direct, placing him in the top 10% of players for penalty area entries per game and making an average of 12 attacking runs per game.
The factor that places Arango as an outside contender is the talent around him. As the centerpiece of a front three flanked by Carlos Vela and the newly-acquired Gareth Bale, Arango will not be short for scoring opportunities in the remainder of the season. LAFC are already the third-best team at making attacking entries, and the fourth-best at progressive passes.
Chicho Arango can't stop scoring!#LAFC with a pretty, pretty goal. pic.twitter.com/QsITps024C

— Major League Soccer (@MLS) July 24, 2022
The introduction of Bale will have an enormous impact on the create creation factor for Arango. The timing couldn't be more perfect, with Arango scoring 7 goals in his last 8 games. Watch this space.