While some teams bounced back from tough week nine losses to re-establish themselves as contenders, other playoff hopefuls continued to struggle. Here's our recap of another stunning weekend of NFL action.
Bouncing back: Cowboys and Bills rediscover that winning feeling 
Both the Buffalo Bills and the Dallas Cowboys are considered to be Super Bowl contenders from the AFC and NFC  respectively. Both suffered defeats in week nine to inferior opponents and were looking for positive response going into week 10.
The Buffalo Bills travelled to East Rutherford, N.J. to play divisional rival New York Jets after their 9-6 loss in Jacksonville last week. The Jets are still without rookie QB Zach Wilson, but have experienced some success with their young backup Mike White. Unfortunately for the Jets, the Bills returned to form. Bills QB Josh Allen put in a near-perfect display: with 21/28 passing for 366 yards and 2 TDs, re-asserting himself in the MVP discussion. The Bills defense was all over Mike White, forcing 4 interceptions and recovering a fumble from WR Corey Davis. The AFC East is still up for grabs, but if the Bills continue to play well they may run away with the division.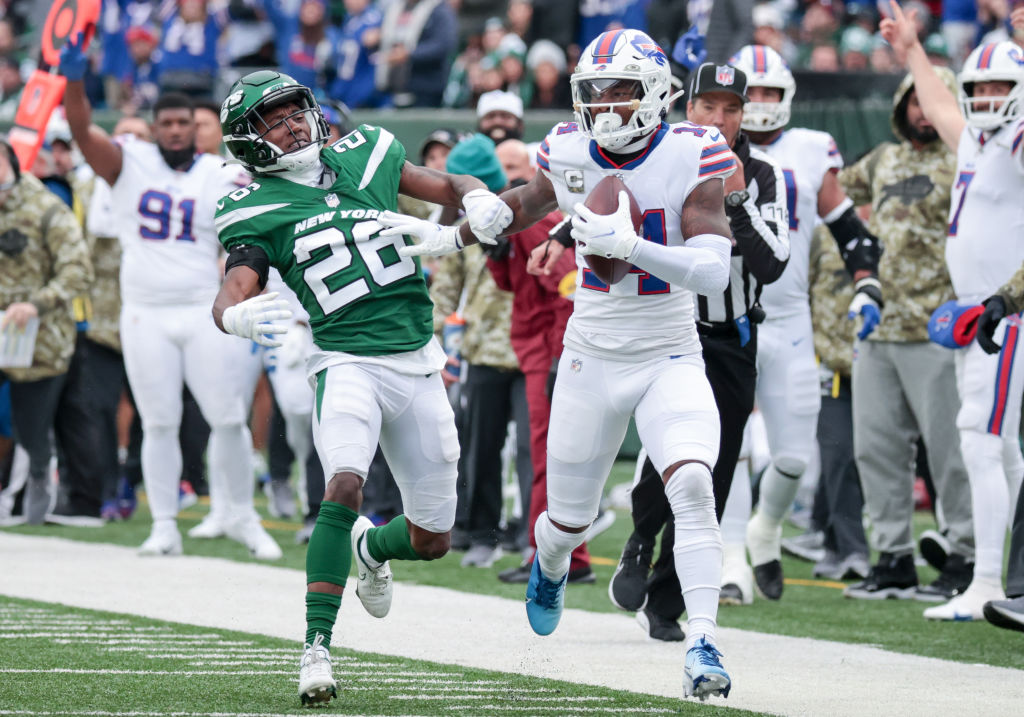 Their 30-16 home defeat last week to the Denver Broncos was actually flattering for the Dallas Cowboys – who found themselves down 30-0 late in the fourth quarter and only scored once the game was out of reach. This week, Dallas hosted the Atlanta Falcons and came out firing. Dallas Defensive Coordinator Dan Quinn was fired last season as the Falcons head coach and his Dallas defense were out to prove a point. They held the Falcons to 3 points all game, which came only from the opening Falcons possession – and forced 3 INTs from Falcons' quarterbacks.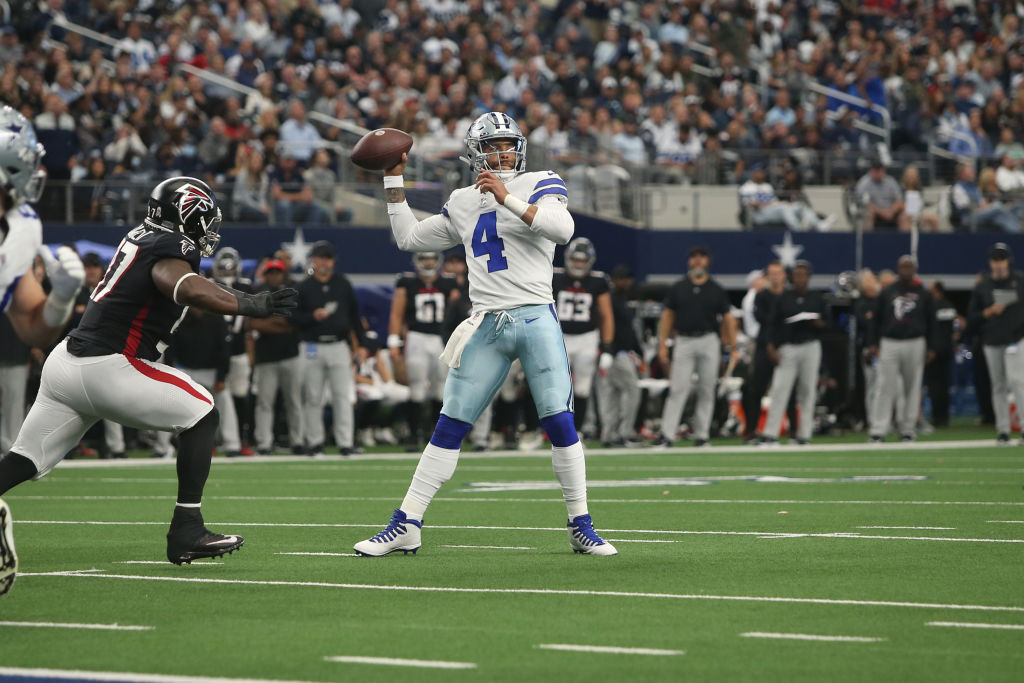 Cowboys QB Dak Prescott was sharp throughout, passing for 2 TDs and 296 yards, earning a passer rating of 127.9. Dallas rookie LB Micah Parsons continued his Defensive Rookie of the Year campaign with 6 solo tackles, 1 sack and 1 tackle for loss in the victory. The NFC East hasn't been competitive this year and the Cowboys continue to dominate the division. With continued success, the Cowboys have their sights set on the top seed in the NFC.
Any Given Sunday… (or Thursday)
As the saying goes in the NFL: "On any given Sunday, any team can beat any other team." The opening game of week 10 proved that, while not always accurate, it still holds true. The Baltimore Ravens travelled to Miami to face the Dolphins on Thursday Night Football as eight point favorites and were beat handily 22-10. Ravens QB Lamar Jackson struggled all night against a fierce and committed Miami defense. Miami stacked the box against Jackson and sacked him 4 times for 28 yards, intercepting him once and holding him to just 39 rushing yards. Miami quarterback Tua Tagovailoa played a smart game without turning the ball over, posting a passer rating of 104.0.
In a rematch of the 2020 NFC Wild Card, Super Bowl champions Tampa Bay Buccaneers travelled to Washington to take on the Washington Football Team on Sunday. Even as 9.5-point favorites, Tampa QB Tom Brady looked out-of-sorts against the Washington Football Team. Brady uncharacteristically threw 2 interceptions in the game and the Buccaneers ended up losing 29-19. Washington was led by their defense and controlled the clock through a physical running game and well-timed passes. Washington running back Antonio Gibson grinded out 64 yards and 2 TDs on 24 carries. Washington is a long shot for making the playoffs, but with eight games left in the season, anything is possible.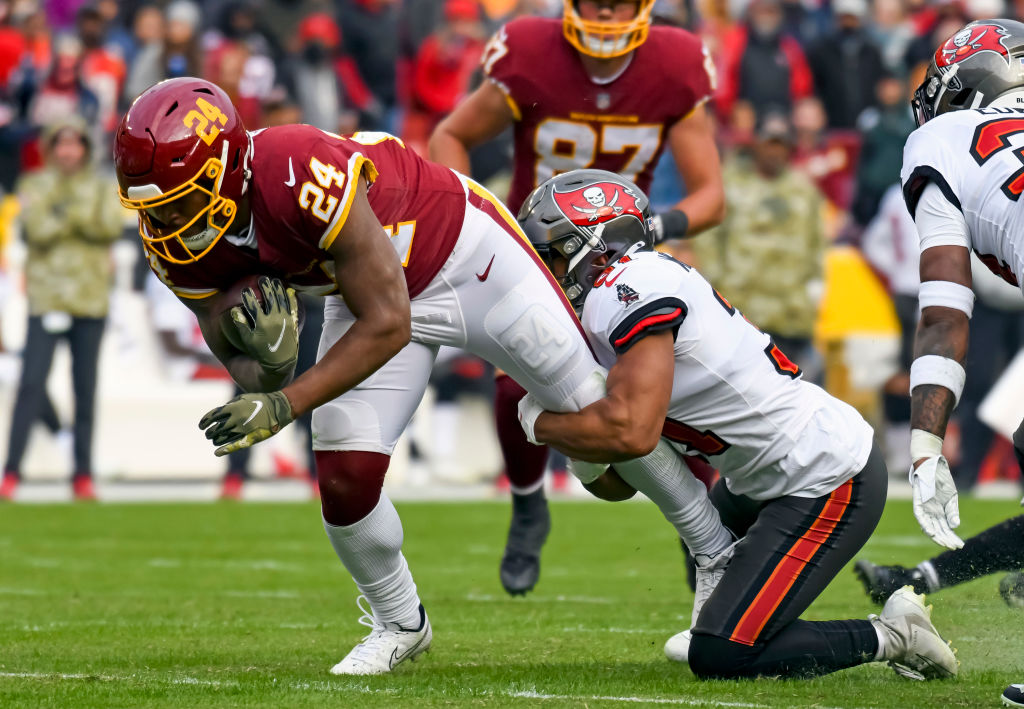 Moment of the Week
The Detroit Lions didn't lose! They didn't win either, but progress is progress. The Lions were 0-8 heading into the week 10 matchup against the Pittsburgh Steelers, who were without QB Ben Roethlisberger due to COVID-19. The game was ugly from start to finish and ended in a 16-16 tie, after both teams failed several times to score in overtime. The Steelers will hope to bounce back when their starting QB returns. The Lions, meanwhile, will hope this is a step in the right direction, and another closer to clinching their first win of the season.