Week 14 features seven divisional games with added intrigue and meaning. As each team battles for playoff positioning no team can afford to slip up this late in the season.
Genius Sports Reports takes a data led approach to four of this week's games.
Baltimore Ravens (8-4) @ Cleveland Browns [-2.5] (6-6):
Kick off time: Sunday 13:00 EST
The Cleveland Browns are coming off their bye week, while the Ravens lost a thrilling division game to the Steelers last week 19-20. This match up marks the second and final time these two are scheduled to play each other, with the Ravens winning 16-10 in week 12. Oddly enough, because of Cleveland's bye week they will be playing Baltimore in back-to-back games: something that hasn't happened in the NFL regular season since 1991.
Scoring 10 points again won't be enough for the Browns and their offensive will need an explosive spark, which TE David Njoku could provide. Tracked by Next Gen Stats, Njoku caught a short pass that was expected only 2 yards after the catch, but he broke it for 57 yards, the sixth-most YAC above expected across the entire season so far. More plays like that against the Ravens will keep the Browns in the game. Although it won't be easy against Baltimore's tough, albeit injured, defense. The Ravens have recorded three of the top 15 fastest sacks according to Next Gen Stats, including one from star rookie Odafe Oweh.
The Genius Sports Predictor expects a narrow game – the Browns edging it with the home advantage.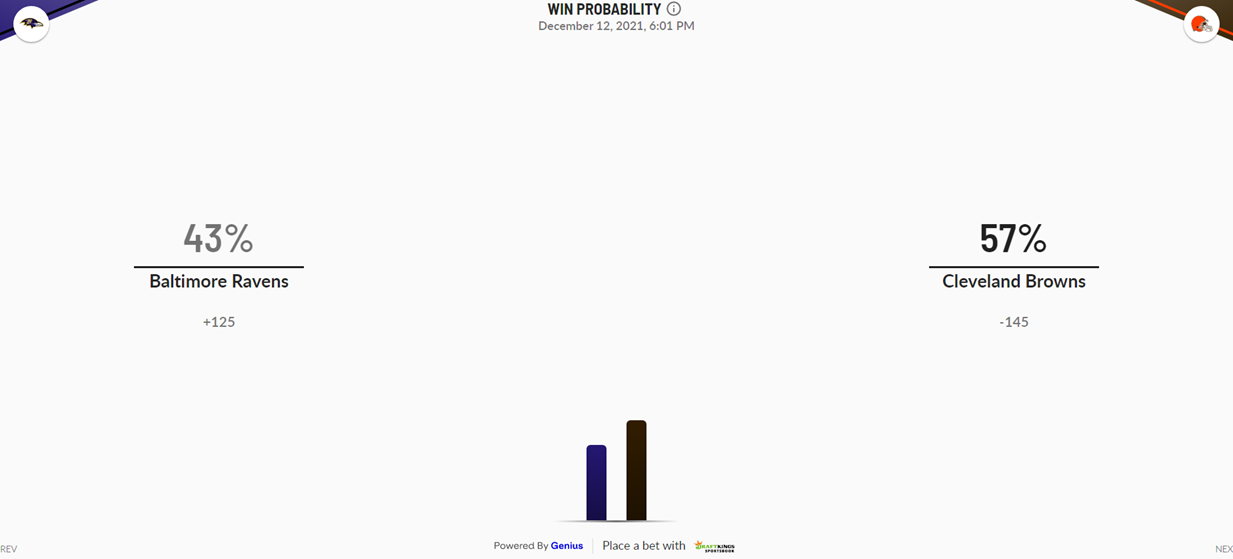 Dallas Cowboys (8-4) [-4.5] @ Washington Football Team[-3] (6-6):
Kick off time: Sunday 13:00 EST
The Dallas Cowboys and Washington Football Team both head into a big NFC East battle after wins last week. The Cowboys needed a tough win against New Orleans to stay two games against the streaking Football Team. Dallas and Washington play twice in three weeks in matches that may end up deciding the division. Washington won the NFC East last season and no team has won the division twice in a row since the Philadelphia Eagles from 2001-2004.
The Cowboys lead the number one offense in the NFL, in part because of their playmaking second year wide receiver CeeDee Lamb. Lamb currently has six touchdowns and 829 receiving yards, but ranks sixth overall with +2.3 yards after catch over expected. If QB Dak Prescott can get him the ball early and often, the WFT will have trouble slowing him down. On the other offense, undrafted and true underdog story Taylor Heinicke has been impressive during Washington's four game win streak. The Football Team's pass blocking has helped Heinicke shine, giving him the fourth longest time to throw according to Next Gen Stats. Their hands will be full against a healthy Dallas defense, but if kept upright expect Heinicke to find star wideout Terry McLaurin for big plays downfield.
The Genius Sports Predictor has gone for a reasonably comfortable Dallas win.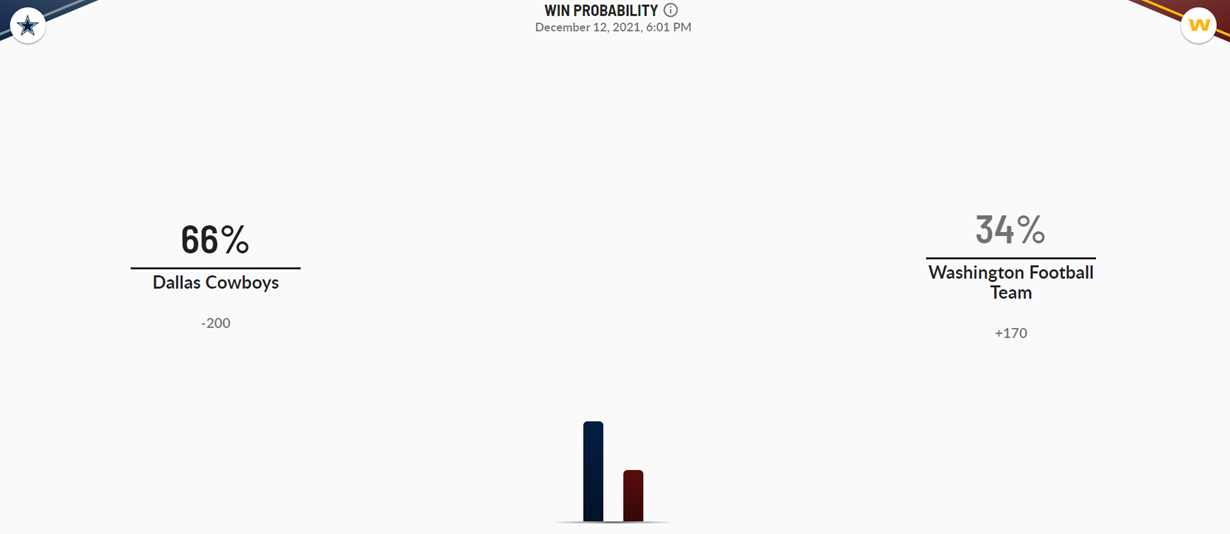 San Francisco 49ers [-1.5] (6-6) @ Cincinnati Bengals (7-5):
Kick off time: Sunday 16:25 EST
The Cincinnati Bengals and San Francisco 49ers head into the week coming off tough losses and striving for a Wild Card berth; neither team can afford to lose this late in the season. Bengals' QB Joe Burrow has looked good most of this season, but suffered an injury to his pinky in the 41-22 loss to the Chargers last week. If healthy, he'll look to lead an explosive offense with Joe Mixon and Ja'marr Chase. The Chase-Burrow connection has led to some exciting plays, including a 82 yard touchdown reception that had the second most YAC great than expected according to Next Gen Stats. The player who has the play with the most yards after catch over expected is Deebo Samuel from the 49ers.
Deebo Samuel has been a Swiss Army knife for Head Coach Kyle Shanahan and has played big roles as both wide receiver and running back. The 49ers are expecting him to come back from injury and if available, he will be a major piece of the San Fransisco offense. Samuel has over 1,000 yards receiving and five receiving touchdowns, along with five rushing touchdowns. The Bengals will need to be solid on defense to slow this offense down.
The Genius Sports Predictor expects a tight game here, with a slight nod to the 49ers.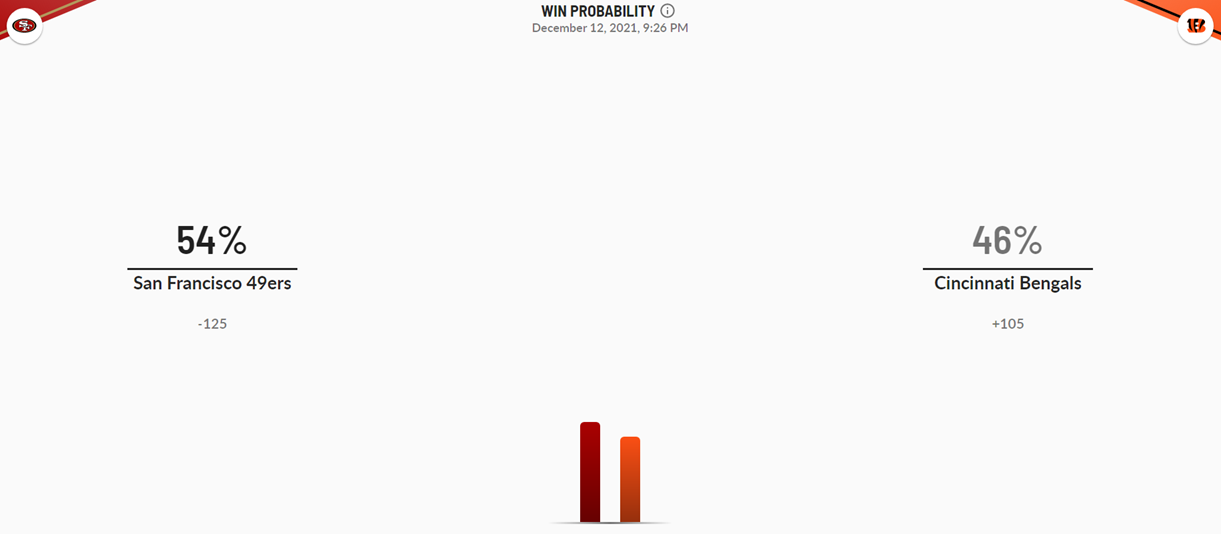 Los Angeles Rams (8-4) @ Arizona Cardinals [-2.5] (10-2):
Kick off time: Monday 20:20 EST
For the second week in a row, the Monday Night matchup pits two divisional opponents against each other in a crucial game with playoff implications. The Rams went winless in November and have yet to piece together the winning strategy after splashy player acquisitions midway through the season. The Cardinals were able to hold serve while Kyler Murray and DeAndre Hopkins recovered from injuries and remain in first place in the NFC West over the Rams.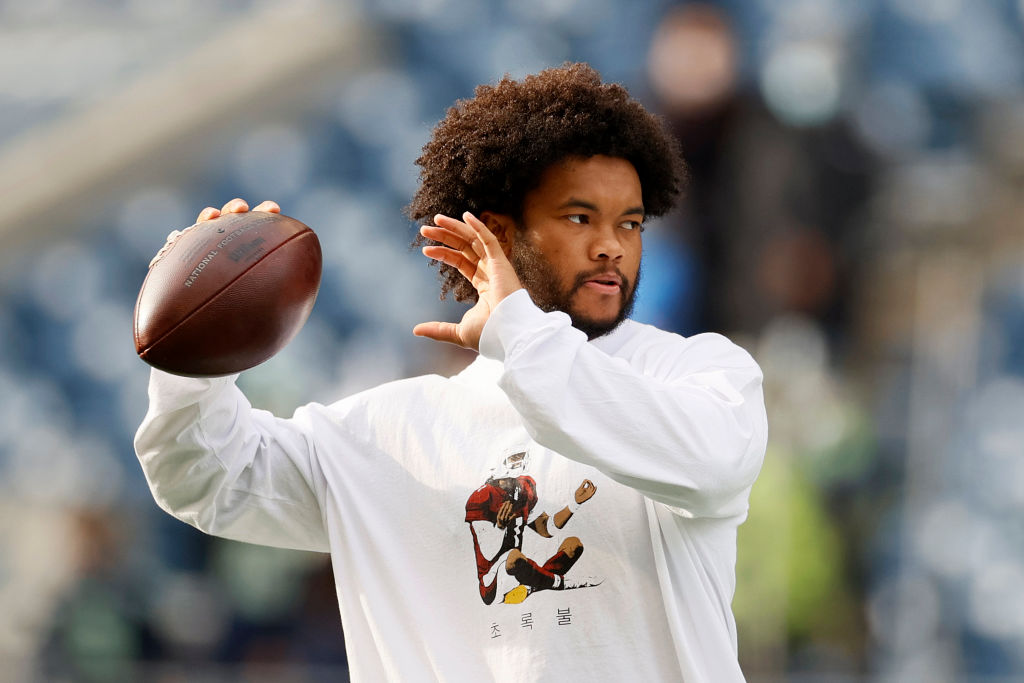 The Cardinals have had a balanced approach all season and their 19 rushing touchdowns are second most in the league while their 8.5 yards per pass attempt lead the league. RB James Conner has been a huge pickup for their offense as he is tied for second in the league with 12 rushing touchdowns. The Rams stopped their three game losing streak with a 37-7 rout of the Jacksonville Jaguars last week. The Rams defense will need Aaron Donald and Von Miller to contain Murray and his explosive offense. QB Matthew Stafford will look to keep leading wide receiver Cooper Kupp involved. Kupp leads the league with 1,366 yards and is the only receiver with 100 receptions. WR Odell Beckham Jr. compliments the offense and keeps defense honest with his deep play ability. Beckham ranks fifth, according to Next Gen Stats, with 14.4 average targeted air yards.
BYE: Indianapolis Colts, Miami Dolphins, New England Patriots, Philadelphia Eagles