And then there were four. Cincinnati, Kansas City, San Francisco and Los Angeles have battled through the longest regular season ever in the NFL and the most competitive divisional round match ups in history, to come within one game of the Super Bowl. Both match ups have been played earlier in the year, with Cincinnati beating Kansas City in week 17 and San Francisco going 2-0 against Los Angeles this season.
Fun fact of the week: Cincinnati college football and professional football have made the top four in their respective leagues in the same season. The last city to boast the same feat was Miami when the University of Miami Hurricanes and Miami Dolphins both reached the mark in the 1992 season. The University of Cincinnati Bearcats lost in the semi-finals of the College Football Playoffs as the 4th seed this year and in 1992 the Hurricanes lost in the Championship, while the Dolphins lost in the AFC Championship game to the Buffalo Bills.
Will this week's results be the same as the regular season? Will we see late game heroics like last week? Genius Sports Report takes a data led approach to the Championship games.
Cincinnati Bengals (10-7) @ Kansas City Chiefs [-7.0] (12-5):
Kick off time: Sunday 15:00 EST
The Cincinnati Bengals travelled to Tennessee last week and knocked off the number one seed in the AFC to earn a trip to the AFC Championship Game. The Bengals needed a last second 52-yard field goal from rookie kicked Evan McPherson to win 19-16. The rookie kicker from the University of Florida was 4-4 in field goals against the Titans and 8-8 in kicks all post-season.
THAT'S WHY YOU DRAFT A KICKER!

— Cincinnati Bengals (@Bengals) January 23, 2022
The Bengals beating the Titans in Tennessee marked the franchise's first ever road playoff win and first trip to the AFC Championship game since the 1988 season. Bengals' QB Joe Burrow was sacked nine times against the Titans, but continued to battle through the game and finished the game with 348 yards on 28/37 passing. Running back Joe Mixon scored their only touchdown while rookie-superstar wide receiver Ja'marr Chase caught five passes for 109 yards, leading the team. The Bengals' stars aren't only on offense, though. The Bengals' defense has been a large turning point this season, especially edge rusher Trey Hendrickson. According to Next Gen Stats, Hendrickson led the league in turnovers caused by quarterback pressures (5). He has one each in his two post-season games so far. Cincinnati's key to victory will be around their ability to get to Patrick Mahomes and forcing turnovers.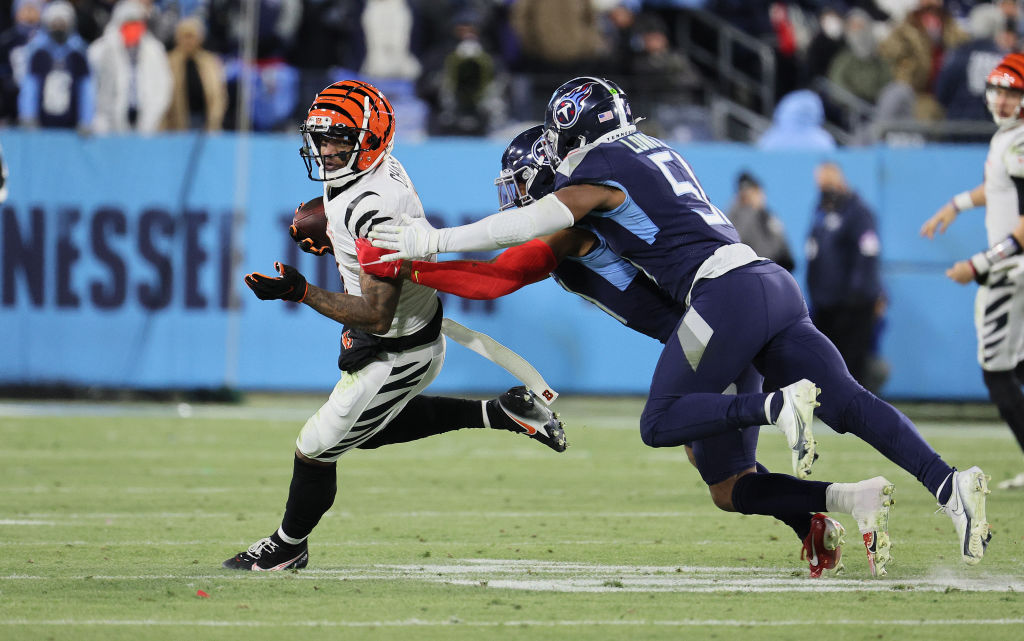 Kansas City was the only team in the divisional round to need overtime to advance, though it ended quickly after Mahomes found Kelce for a touchdown on overtime's opening drive. The Chiefs edged the Bills 42-36 in one of the most exciting football games of all time. Mahomes completed 75% of his passes for 378 yards and three touchdowns while also leading the team with 69 rushing yards and a rushing touchdown.
KELCE FOR THE WIN!!!!!!!!! pic.twitter.com/7ZDYjEMuxY

— Kansas City Chiefs (@Chiefs) January 24, 2022
The Chiefs were the favorites to return to the Super Bowl heading into the year, and faltered early in the year, but a late season push has them hosting the AFC Championship Game and one game away from the Super Bowl for the fourth straight year. Chiefs Head Coach Andy Reid is the first coach in NFL history to take two different teams in two different conferences to four straight championship games. Kansas City will lean on their offense again to score fast and often and keep Cincinnati at bay. One of their keys to offense is WR Tyreek Hill, who had 150 receiving yards and one touchdown against Buffalo. Hill's speed is unrivaled and his numbers show it. Since 2018, Hill has +112 yards after catch over expected in the playoffs, 61 more than the next closest according to Next Gen Stats. The team that can make enough plays on defense will head to Los Angeles for a chance to hoist the Lombardi Trophy.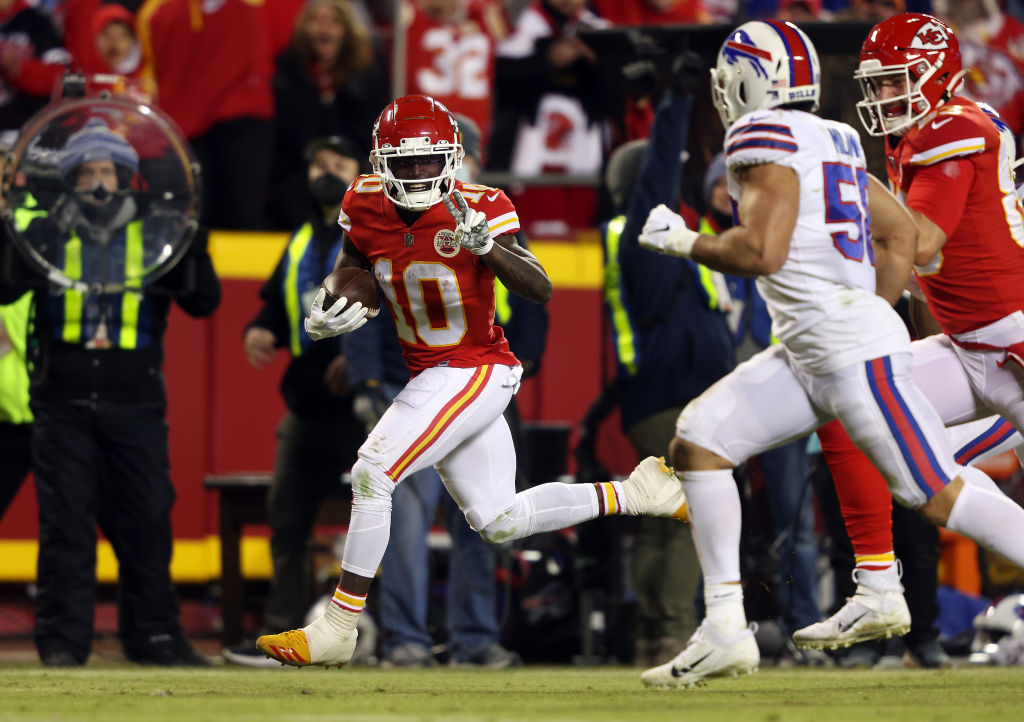 San Francisco 49ers (9-8) @ Los Angeles Rams [-3.5] (12-5):
Kick off time: Sunday 18:30 EST
Two division rivals, former colleagues, and offensive masterminds meet for the third time this season. 49ers' Head Coach Kyle Shanahan and Rams' Head Coach Sean McVay were once assistant coaches on Washington Football Team's staff before getting promotions and opportunities to coach elsewhere. Since their departure from Washington they have been wildly successful. McVay is 55-26 in five years as a head coach for the Rams, while Shanahan is 39-42 in five years (many argue injuries have kept him back from having a better record). Both have had one trip to the Super Bowl but came up short late.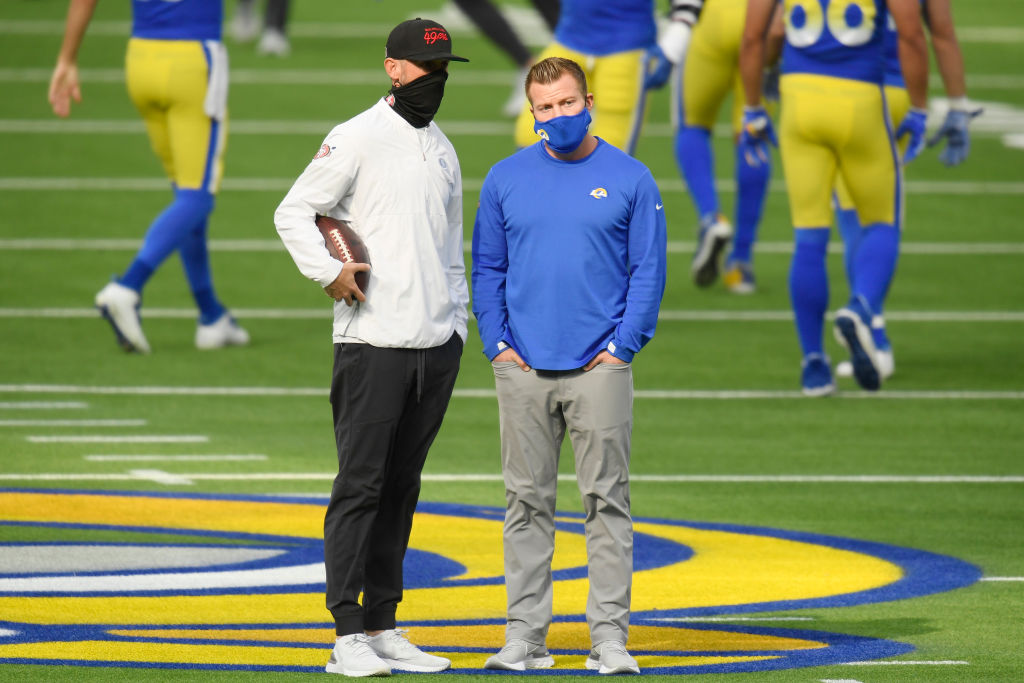 The 49ers have found success with a strong defense and a dominating running game based on creative schemes to maximize opportunity. One of the keys to Shanahan's offense is his use of pre-snap motion. Pre-snap motion allows the offense a chance to read the defense and determine if there is a zone or man-to-man match-up (among other things). According to Next Gen Stats, the 49ers led the league with +1.1 more yards per carry on plays with pre-snap motion than without. Something the team will surely lean on against a fierce LA defense. The 49ers struggled on offense against the Green Bay Packers last week, but earned the win with a strong special teams performance. All 13 of their points were scored on special teams with two field goals (including the game winner) and a blocked punt returned for a touchdown. Winning by a 3-point margin was possible due to special teams blocking a Green Bay field goal attempt before halftime. San Francisco will hope for a more complete team victory, but gladly rely on strong special teams play again.
The @49ers defense and special teams came to play in the Divisional Round. 🔒 #FTTB pic.twitter.com/0re8iy1tNM

— NFL (@NFL) January 25, 2022
The Los Angeles Rams have been one of the hottest teams all year. With new additions Matthew Stafford, Odell Beckham Jr. and Von Miller, their team battled for a tough NFC West Division title and knocked off Tom Brady and the reigning Super Bowl Champion Tampa Bay Buccaneers last week. The Rams advanced to the Championship game for the second time in five years on a combination of explosive offense and opportunistic defense. The league was put on notice for WR Cooper Kupp this season as he won the receiving triple crown, leading the league in receptions, yards and touchdowns this year. Stafford's production at quarterback was dynamic all year and dangerous when he was "in-rhythm." In-rhythm throws are defined as throws between 2.5 and 4 seconds after the snap, enough time for a quarterback to get a snap, drop back, scan the field and make a throw often without pressure. Stafford completed 16/21 passes for 274 yards and two TDs against Tampa Bay when in rhythm, according to Next Gen Stats. However, be careful if trying to blitz to get him off his rhythm. Stafford was 6/7 with a touchdown against the blitz last week and has been one of the best all season, a stat also tracked by Next Gen Stats. Both teams field impressive front four defensive lineman and will look to disrupt opposing quarterbacks without blitzing. This game may come down to which team's defensive lineman can cause the most pressure and disruption without needing to blitz.