Championships will be decided starting this week and go all the way through until the nets are cut down in April. Road wins for Purdue and/or Kentucky can go a long way for those teams to win their conference regular season races, and Kansas is at Baylor in a primetime game that can do a lot to decide the Big 12. Starting noon Saturday and going all the way through Sunday; these are the games you do not want to miss. 
Rankings are curated from the NCAA's NET with NCAA LiveStats data, powered by Genius Sports. Records and rankings accurate as of Friday (25/02).
Five picks (and a bonus!) from the men's games:
(11) Purdue at (36) Michigan State, Saturday at noon ET
Purdue (24-4) is marching toward the Big Ten title and is competing for a high seed in the NCAA Tournament. The Boilermakers enter the weekend tied with Wisconsin in the standings, and Wisconsin has a head-to-head win over Purdue. The Boilers can make their high seed case with this win at Michigan State (18-9), a team that needs to get back on track after losing three straight games. This is a matchup of two of the nation's most efficient offensive teams – both teams are in the top 15 nationally in 3FG% but they have different strategies in how they attack on the arc (see the chart below). Whoever controls the pace and defends better will grab this key victory.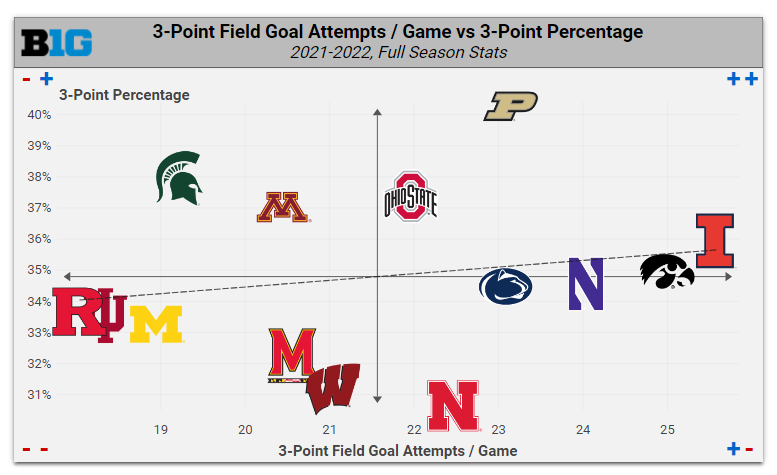 (3) Kentucky at (24) Arkansas, Saturday at 2 p.m. ET
Kentucky (23-5) is a game behind Auburn in the SEC standings and both teams look good for a high seed in the tourney. UK has been hit or miss on the road, owning a 5-4 record but all four losses came against strong opponents. Kentucky will need to be on its game against a hot Arkansas team that has won 12 of its last 13 games. Arkansas is one of the worst long-range shooting teams, so if Kentucky can dictate what shots UA takes and keep the Hogs out of the lane, UK will have a shot at a key road win. Arkansas's strength is on defense, ranking 13th overall in efficiency. Arkansas does pretty much everything well on the defensive end.  
One game at a time, and we've got a big one Saturday.

— Kentucky Men's Basketball (@KentuckyMBB) February 24, 2022
(38)
Seton Hall at (25) Xavier, Saturday at 3:30 ET
Seton Hall (17-9) has done enough to make the tournament but this is the time of year to leave nothing to chance. The Pirates took care of business at home over the last week against the lower-tier Big East teams, now they need another good road win to polish their resume a bit. Xavier is (17-10) is the more desperate team in this matchup, and holding serve at home will help X's tourney chances. Xavier has lost five of its last six and seven of the last 10. Saturday is a must-win for Xavier. 
(5) Kansas at (6) Baylor, Saturday at 8 p.m. ET
Saturday's winner in this game will have the inside track at winning the Big 12 (which Kansas has done 15 of the last 17 years), thought Texas Tech will also have a say in the matter. Kansas (23-4) is in the mix for a top seed in the tournament and a road win here may even clinch that. KU beat Baylor (23-5) 83-59 in Lawrence earlier this season. In that game, Baylor shot just 32% from 2-point range. The Bears will need to defend well and be able to score inside if they want to even the score with Kansas.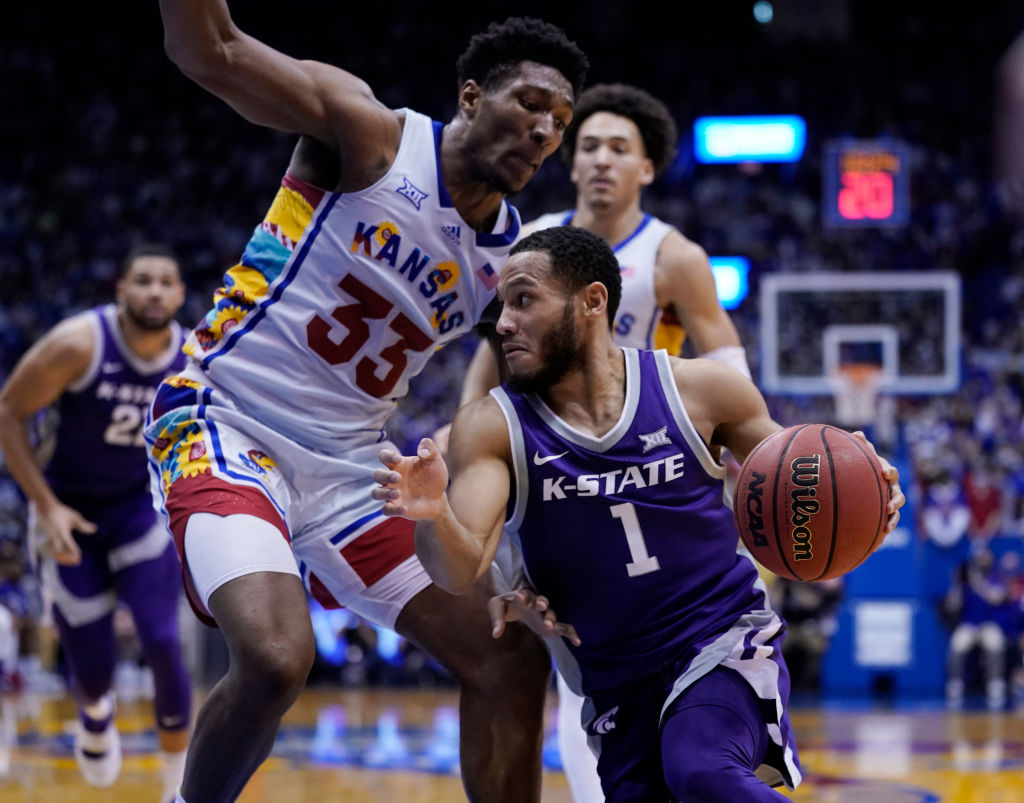 (1)
Gonzaga at (20) Saint Mary's, Saturday at 10 p.m. ET
This is always a good game for the West coast crowd and the diehard hoops fans in the east. Gonzaga (24-2) is the nation's most explosive offensive team and will be a 1 seed in the tournament. Only one team has held the Zags to fewer than 75 points in conference play – Saint Mary's. SMC (22-6) looks the part of a tourney team, ranking 15th nationally in defensive efficiency and standing as one of the best defensive rebounding teams in the country. A win over Gonzaga would clinch a tourney bid for the Gaels, which have won 10 of their last 12 games.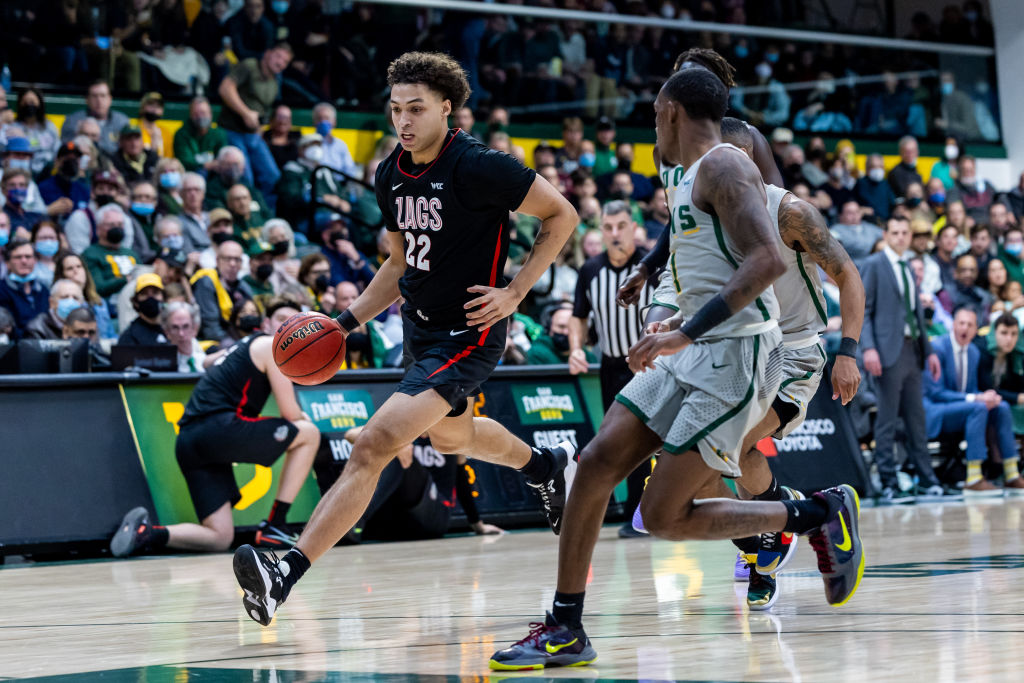 And one! Here's a bonus game for college hoops junkies that may have some March Madness implications. 
(103) Louisiana Tech at (37) North Texas, Saturday at 4 p.m. ET
North Texas (21-4) has been this season's tough mid-major who has flown below the radar. UNT is 8-0 away from home and could warrant at-large bid consideration. North Texas plays at the slowest pace in the nation with an average possession length of 21.3 seconds. The Mean Green want to grind it out and play slow and low-scoring. The only team to score 70 points against UNT this season was Kansas, and that was on Thanksgiving Day. La Tech (19-7) is always a tough out and these two teams played a 63-62 battle a month ago. This is a great game for hoops diehards who also want a glimpse of a potential tourney Cinderella. 
Five picks (and a bonus!) from the women's games:
Saturday's best women's game is the first part of a monster KU-BU doubleheader at Baylor. Louisville and Notre Dame battle it out for ACC tourney seeding at noon on Sunday and there are several other key women's matchups Sunday afternoon. Rankings are the team's NCAA NET, with data collection provided by NCAA LiveStats by Genius Sports. Records and rankings accurate as of Friday. 
(37) Kansas at (10) Baylor, Saturday at 3 p.m. ET
Before Bill Self's Jayhawks take on Baylor at 8 p.m., the women will battle it out with plenty on the line. Kansas (19-6) has outplayed projections and stands near the top of the Big 12 standings with ranked teams Baylor, Iowa State, Oklahoma and Texas. KU projects to be in the tournament for the first time in nine years. Baylor (22-5) is tied atop the Big 12 and needs to hold serve at home to continue toward the regular season title.  
We need y'all THIS HYPED for our game on Saturday against Kansas!!

🎟️ https://t.co/EQB770jHoC#SicEm | #GreaterThan pic.twitter.com/iUtHdh5lkk

— Baylor Women's Basketball (@BaylorWBB) February 24, 2022
(4) Louisville at (18) Notre Dame, Sunday at noon ET
Louisville (24-3) is in contention for a 1 seed and a win at Notre Dame would really help. The Cardinals thumped the Irish 73-47 just two weeks ago but this game should be a lot tighter. This will be an outstanding point guard matchup between Louisville's Hailey Van Lith and Notre Dame's Olivia Miles. Both are among the league leaders in usage and shoot a good percentage. The chart below shows how Van Lith (HVL) and Miles (OM) stack up.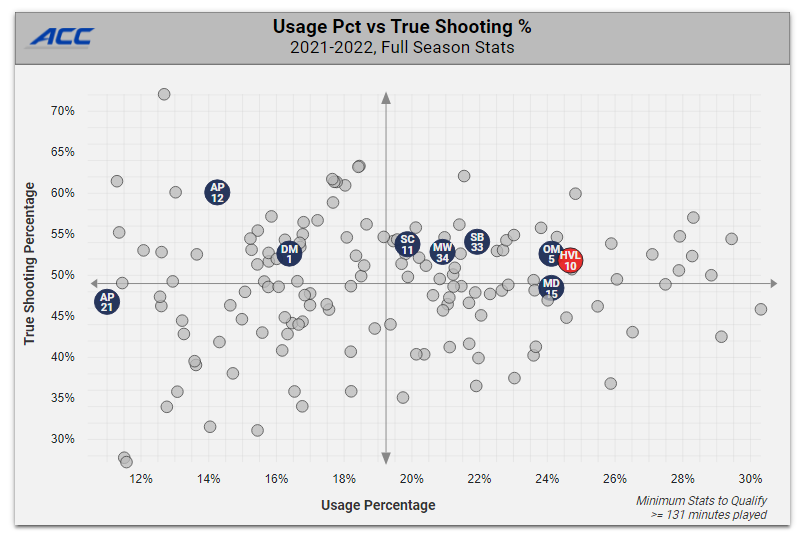 (17) LSU at (15) Tennessee, Sunday at 2 p.m. ET
LSU (24-4) enters the weekend having won seven straight games and could end up on the 2 line in March Madness. The Tigers will likely finish 2nd in the SEC but a strong finish will elevate their tournament seeding. LSU shoots the fewest amount of 3-pointers per game in the country and averages 36 points per game in the paint, so Tennessee will have to keep LSU from getting good shots. UT is one of the best rebounding teams in the country and will need to crash the boards against a high-scoring LSU team to limit second chances.  
(13) Michigan at (20) Iowa, Sunday at 4 p.m. ET
This is a must-watch game with star power and a championship on the line. Michigan's Naz Hillmon and Iowa's Caitlin Clark are stars vying for Big Ten Player of the Year notice. Clark's usage rate is a whopping 37.4%, meaning she has a hand in the outcome of Iowa's offense more than a third of the time. Both teams are in the hunt for the Big Ten title, with Michigan (22-4) in first place. A Michigan win means an outright regular season title and the top seed in the Big Ten tourney.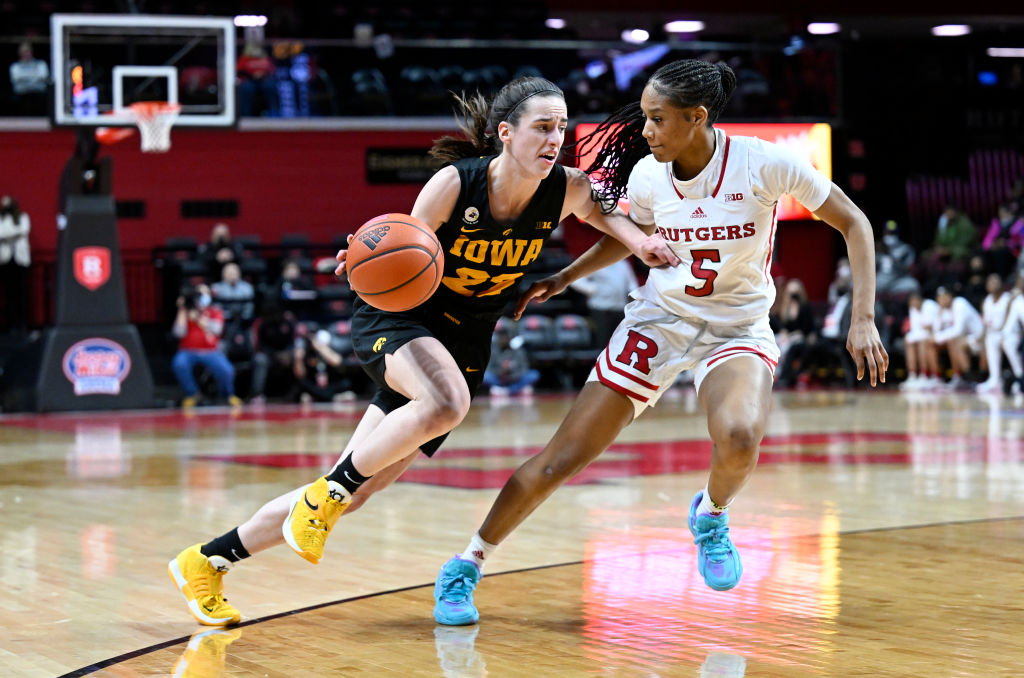 (49) Duke at (6) North Carolina, Sunday at 4 p.m. ET
It's the most famous rivalry in men's college basketball, and UNC-Duke is still quite fierce when they meet in women's basketball. North Carolina (22-5) has surged into the rankings by winning six of seven down the stretch. The Tar Heels can grab a top four seed in the conference tournament with a win and some help. Duke (16-11) is projected as a tourney team but could use a couple more good results to feel more confident in its profile. 
And one! Here's a bonus game to keep an eye, and luckily for fans it features the top-ranked team in the nation. 
(1) South Carolina at (26) Ole Miss, Sunday at 2 p.m. ET
Usually our bonus game features some off the path teams playing in a sneaky good game. But let's keep an eye on the best team in the country, South Carolina. Dawn Staley's team has clinched the SEC title and will likely be the overall top seed in March Madness. A Sunday showdown with a very strong Ole Miss (22-6) team could be the cherry on top of another excellent season for South Carolina, who remains one of the few favorites to win it all.