Now that the last football game has been played in America, we are less than a month from Selection Sunday (set your calendar for Sunday, March 13). For the casual fan out there who may need a primer for where college hoops stands the day after the Super Bowl, we have you covered. Here are the top teams, stand-out players, bubble teams and potential Cinderellas to watch over the final month of the regular season.   
Who are the elite teams in College Basketball? 
The usual suspects of Gonzaga, Duke and Kentucky are all in the mix for the coveted 1 seeds in the bracket. Gonzaga (21-2) has won 14 games in a row, all by at least 14 points. The Zags are the best offensive team in the nation and also lead the country in defensive eFG%. It stands to reason Gonzaga will be the top seed in March.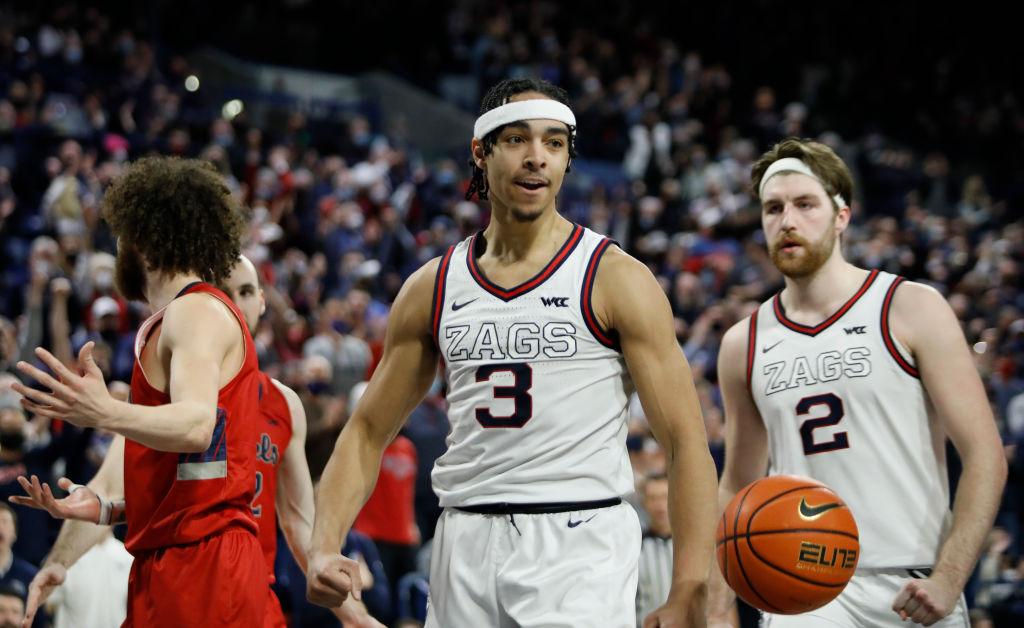 One of Gonzaga's two losses was at the hands of Duke in a thriller in Las Vegas. Duke (21-4) has four losses by a total of nine combined points and they've had ups and downs, but figure to be capable of winning it all in Mike Krzyzewski's final season. Duke owns a victory over Kentucky (21-4), which has won six straight games including a resounding win at Kansas two weeks ago. UK looks like it's finding it's form at the right time. Arizona (22-2), reigning national champion Baylor and Auburn have all been at or near the top of the rankings and will be battling for those 1 seeds as well.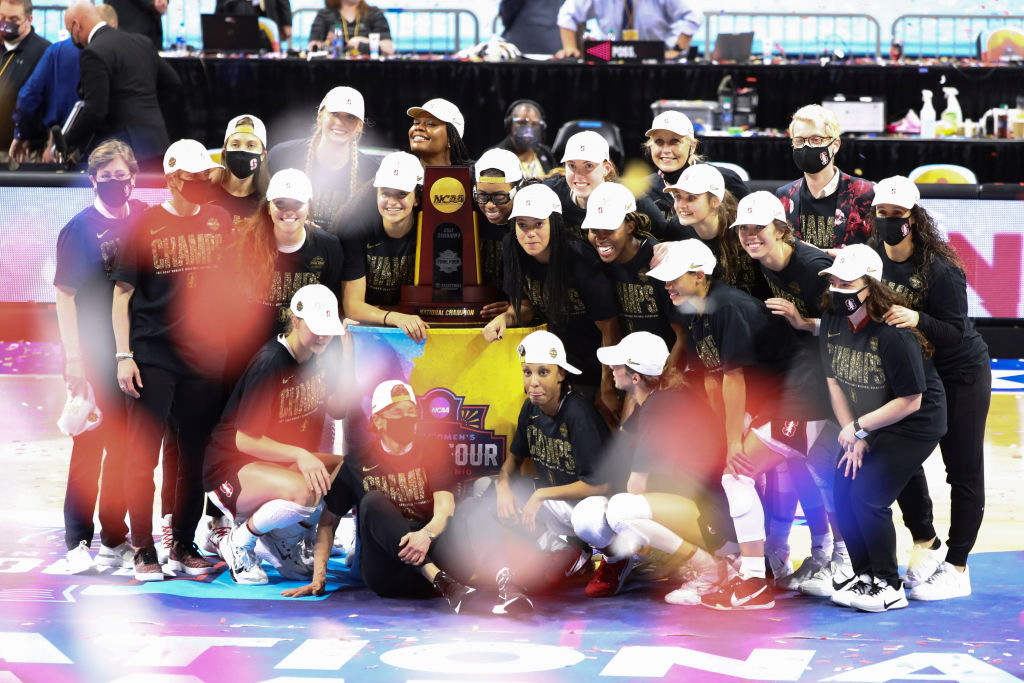 South Carolina (23-1) has been a dominant team and figures to be the top overall seed in the women's tournament. A very balanced Louisville team (22-2) is scoring more lately and is competing with North Carolina State in the ACC for a 1 seed. 2021 champion Stanford (21-3) and Arizona (18-4) are the best teams out west and Michigan (20-4) and Indiana (18-3) are in the mix out of the Big Ten. UConn (17-4) is very much among the elite teams despite missing star player Paige Bueckers for much of the season. If Bueckers comes back and is her usual self, that changes the equation and UConn would be up there again. 
What mid-majors can make me sound smart in March?
Like the top seed lines, you'll see some familiar brand names here. Murray State (24-2) is in the top 30 of the NCAA NET rankings and has won 14 straight games. Davidson (20-4) of Steph Curry fame is leading the Atlantic-10 and Loyola Chicago (18-5) has been spotted in the national rankings. The West Coast Conference is likely to get multiple tourney bids, maybe even three or more. St. Mary's (20-6) and San Francisco (21-6) are both really strong and will be a tough out in the tournament. The Mountain West Conference also has six teams in the top 60 of the current NCAA NET, led by Wyoming (21-3), Boise State (19-5) and Colorado State (19-3). Teams in the west are playing some good ball this year. 
On the women's side, Florida Gulf Coast (22-2) continues to be an elite program and also keep an eye on IUPUI (18-3) out of the Horizon League and Delaware (17-5) out of the Colonial.  
Who have been the stand-out players so far?
We've seen a resurgence of big men this season, with Drew Timme and Chet Holmgren of Gonzaga, Oscar Tshiebwe from Kentucky, Kofi Cockburn of Illinois and Duke's Paolo Banchero all showing a variety of skills at 6-foot-9 or taller. And that's not even mentioning the fierce twin towers Purdue has inside and Keegan Murray of Iowa is a high scorer at 6-foot-8.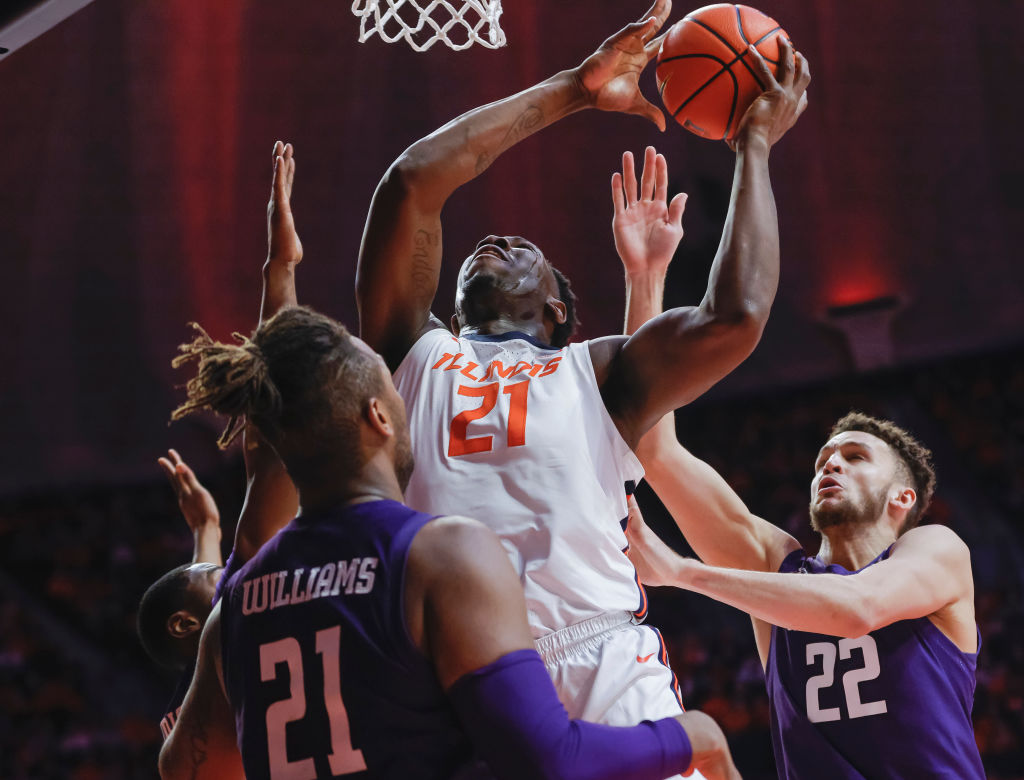 Some of the perimeter players to know include Johnny Davis from Wisconsin, Alondes Williams of Wake Forest, the explosive Jaden Ivey of Purdue, Ochai Agbaji of Kansas, Baylor's James Akinjo and Arizona's Benedict Mathurin. 
Caitlin Clark of Iowa is leading the nation in points and assists and is spectacular to watch. 
Iowa's Caitlin Clark is must-see TV.

She scored 46 points and dished out 10 assists vs. No. 6 Michigan yesterday.

Look at where she is pulling up from, folks.

Check out the three shots she knocked down in the final five minutes alone!
pic.twitter.com/8YRi747mg7

— Tommy Beer (@TommyBeer) February 7, 2022
Along with Clark, some of the top players on top teams include Baylor's NaLyssa Smith, Aliyah Boston and Destanni Henderson from top-ranked South Carolina, Naz Hillmon from Michigan, Cameron Brink from Stanford and North Carolina State's Elissa Cunane. 
Ayoka Lee from Kansas State put up a remarkable 61-point game in January, setting an all-time women's basketball Division I record. Be sure to also keep tabs on Maryland's Ashley Owusu and Ashley Joens of Iowa State as well as Lorela Cubaj from a Georgia Tech team that should be seeded fairly high.
 
What's the Tournament Bubble looking like?
Blueblood North Carolina (18-7) is the most notable team in the bubble mix. The Tar Heels have been brilliant at times but don't have many marquee wins on their profile. Oregon (15-8), Oklahoma (14-11), Florida (16-9), Michigan (13-10) and BYU (17-8) are also all battling for tournament spots among other teams. One team to always keep an eye on is Memphis (14-8), which just won at highly-rated Houston. Penny Hardaway has assembled a talented roster that has had an uneven season, but it's a team capable of anything.   
SEC women's tournament regulars Texas A&M (14-9) and Mississippi State (15-8) are trying to play their ways in. Teams in the west on the bubble include Washington State (16-8), which made its first appearance in 30 years in last year's tourney, Oregon State (12-9), UCLA (11-8) and Arizona State (12-8). Florida State (12-10) is another tournament regular that may need to play its way in after making the tournament in 15 of the last 16 years. 
As we march closer to March, basketball comes into focus and you should now be caught up on the top things to know for college hoops. It'll be an exciting race from now until the bracket comes out, and from there the real fun begins.