Are you missing the NFL yet? Well, you might just want to pass, kick and scrum your way over to Major League Rugby for your fix of tough tackling, quick passing and box kicking as Round 4 of MLR gets underway this weekend.
There are five big games across Saturday and Sunday, with the pick coming from the Western Conference as the top two, Austin Gilgronis and Seattle Seawolves, go head-to-head to determine who remains unbeaten and stake a claim as the early runaway leaders of the conference.
Early season, top of the table matchup
At 8pm ET Austin Gilgronis visit the Seattle Seawolves in what promises to be a mouthwatering matchup. Both currently hold a 3-0 record in the standings and with the Gilgronis only in the lead via two bonus points, it's all to play for to remain the only unbeaten team in the Western Conference of Major League Rugby.
Two teams are 3-0 in the wild West! 🔥#MLR2022 | #RiseOfRugby pic.twitter.com/rZNpBltJOY

— Major League Rugby (@usmlr) February 21, 2022
Coming off the back of a dominating 14-point win last week against the Utah Warriors, the Gilgronis are looking to make it four wins from four. With outside centre Mark O'Keefe bagging himself two tries – the game's top scorer with 10 points – he will be looking to continue his fine form heading into this crunch fixture. Both O'Keefe and his Argentine teammate Julian Dominguez lead the try scoring table with three each so far this season. That feat is also matched by Seattle Seawolves' number 8, Riekert Hattingh.
Incidentally, Hattingh became just the third player in MLR history to reach 20 tries scored in the competition in the last round. His Seawolves team narrowly saw off San Diego Legion in a pulsating game that saw eight tries in total and finished 31-28 to Seattle at the SDSU Sports Deck.
View this post on Instagram
Seattle have bolstered Tongan National Team Lock, Setefano 'Fano' Funaki to strengthen their forward pack, but will he make his debut this weekend and will it be enough to secure victory for the Seawolves?
This one will be a tough game to predict, but the Austin Gilgronis currently lead the line in offensive and defensive stats having scored 124 and only conceded 29 in three games. This will be their toughest test yet!
Prediction: Austin Gilgronis to win by 3
Newbies Jackals looking for first win
It's been a tough start to the inaugural campaign for the Dallas Jackals. They're bottom of the Western Conference and conceded 43 points on the opening weekend of the competition as they lost by 36 to the Austin Gilgronis.
Since then, they have certainly been more competitive. Although they boast an 0-3 record, the closely–fought losses to the San Diego Legion (37-29) in week 2 and a conversion away from a win against the Houston SaberCats in week 3, where they eventually lost 33-38, have renewed optimism among the ranks of the Jackals.
Even though they haven't won they actually possess the 5th highest record for offensive points in the whole league. With two tries in week 3 from No. 8, Conrado Roura, their offensive prowess will be key to any type of victory against week 4 opponents Rugby New York.
49' | 64' Conrado Roura with two Tries in the Inaugural Opening Day 👏 pic.twitter.com/rIxaczupe3

— Dallas Jackals (@DallasJackals) February 20, 2022
New York are unbeaten in the Eastern Conference with a very solid 2-0 record. They can go top this weekend with a couple of bonus points.
They have the fourth best defense in the league having conceded only 38 points from their first two games. Although they'll need to improve on offense – 46 points scored is the third-lowest in the league.
Despite the loss this weekend, @rugbyatl is getting comfortable at the top of the East!#MLR2022 | #RiseOfRugby pic.twitter.com/ykkE98Q2Qo

— Major League Rugby (@usmlr) February 21, 2022
New York will be looking for inspiration from Samoan international winger, Teofilo Ed Fidow to improve their points record. He currently is tied for first in the try scoring table with three from two games.
This will be a difficult matchup for the Jackals to get their first win. However, if they continue to score high and can shore up a leaky defence against a New York team that are not big scorers, we could see something of an upset.
Prediction: Dallas Jackals to win by 2
LA Giltinis looking to add to winning run
After a disappointing opening round loss to Houston SaberCats, the Giltinis bounced back in round 2 with a thumping 31-16 victory at the Toronto Arrows to leave them 1-1 in the season so far.
In the victory over the Arrows, they overpowered their opponents in an all-out-attack with 160 carries to the Arrows 103. The Giltinis also completed 185 successful passes, which was 53 better than their opponents.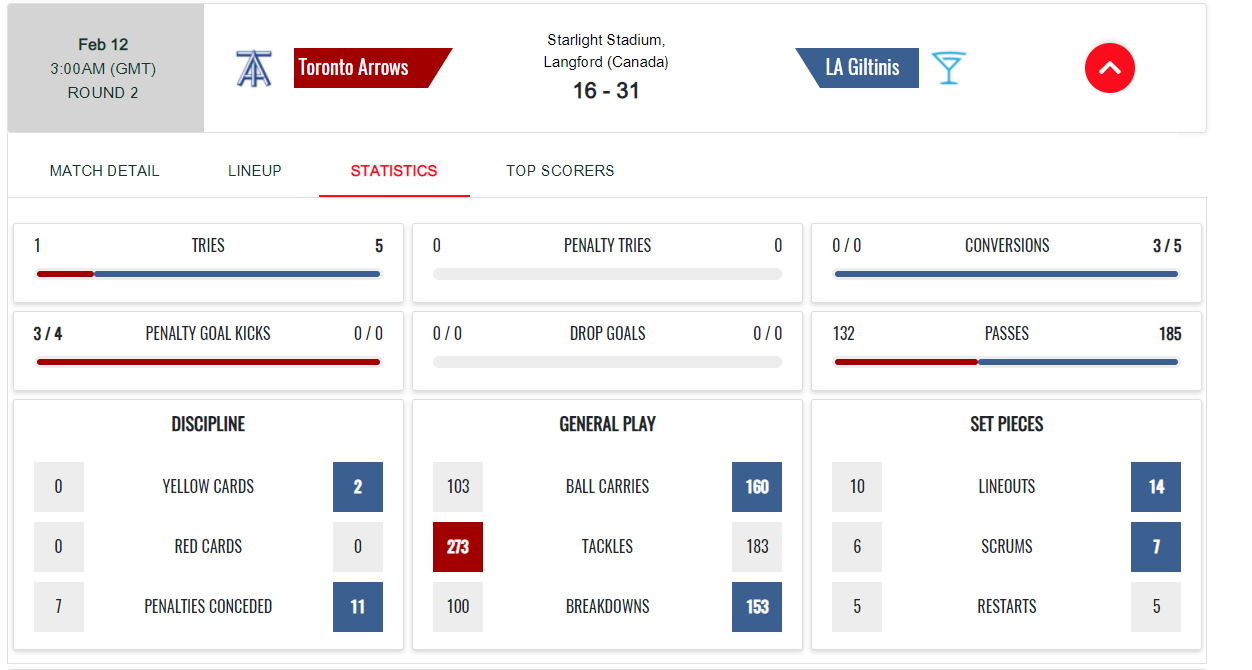 As for their opponents this weekend, New England Free Jacks can go top of the Eastern Conference if other results go their way. With the third best defensive record of 38 points (only Gilgronis with 29 and LA with 37 have better), they will be tough to beat.
With a solid defense and highly influential New Zealand winger, Beaudein WAAKA in attack (currently with three tries from two games), the Free Jacks could be a force to be reckoned with.
🐎//💥 Big numbers 👀

Stan Van Den Hoven with the impact off the bench! 19 tackles in 30 minutes on the field#SaddleUp #LetsRide #NewEnglandStrong pic.twitter.com/h7bSYMU00N

— New England Free Jacks (@NEFreeJacks) February 21, 2022
Defense will be key in this game. It could be low scoring, but a very interesting match up.
Prediction: New England Free Jacks to win by 5
Other fixtures this weekend:
Toronto Arrows (1-2) @ Old Glory DC (0-3) (Saturday, 4pm ET)
San Diego Legion (2-1) @ Houston SaberCats (2-1) (Saturday, 9pm ET)