As the second FIBA window of the season brings together players on the international stage, teams in domestic leagues have a week or so to take stock of their season so far, and what they can improve on when their squads reconvene.
In Spain's highly contested LEB Oro – the second division of professional basketball – the season is well over halfway through. Just 13 games remain, and the league table could not be a tighter affair. With two spots available for promotion to the Liga Endesa – one automatically (first place), and the other by the playoffs – every game between now and the end of the season is crucial for the teams in the mix.
Here's our look at the LEB Oro picture and the players that are making a difference this season.
Estudiantes & Granada tied at the top
With identical records (16 wins, four losses), Estudiantes and Granada find themselves tied at the top of the league on 36 points.
⛹️‍♂️ #LEBOro: La 🇯2⃣1⃣ permite al @MovistarEstu cazar al líder y al @BasquetGirona ganar posiciones

✅ 𝗔𝘀𝗰𝗲𝗻𝘀𝗼 𝗱𝗶𝗿𝗲𝗰𝘁𝗼:
– @FundacionCBG

❌ 𝗗𝗲𝘀𝗰𝗲𝗻𝘀𝗼:
– @iraurgisb
– @CBPHuesca
– @BahiaSanAgustin

📊 Resultados y clasificaciones ⬇https://t.co/yAsdIEexM8 pic.twitter.com/H9i8cj3NwN

— CompeticionesFEB (@CompeticionFEB) February 21, 2022
It is second placed Granada that have the second highest scoring rate in the league, currently averaging 82.1 points per game. Estudiantes, on the other hand, have a points per game average of 78.6.
The rest of their stats are extremely similar – reflecting their table positions. Estudiantes currently edge total rebounds at 32.3 per game (8 offensive; 24.3 defensive), compared to Granada who average 31.2 total rebounds per game (9.9 offensive; 21.3 defensive). Both have impressive records in 2-pt and 3-pt field goal conversion rates: 53% and 35% respectively – which places them in the top five performing teams in the league.
The Estudiantes squad is packed with young talent, some of whom have been called up for international duty. Nacho Varela (Chile), Emil Stoilov (Bulgaria) and Kevin Larson (Denmark) will each be competing with their countries during the FIBA international window. Until recently, Estudiantes had lost just two of their first 15 games. But they have lost two of their last five, suggesting some fatigue had begun to creep into their play.
Jornada de selecciones para…

🇧🇬 @EmilStoilov24 18h 🆚🇨🇿

🇩🇰 Kevin Larsen, 19h 🆚🇳🇴

🇨🇱 @nachoarroyo24 1:40h (viernes) 🆚🇨🇴#MovistarEstudiantes #LEBOro pic.twitter.com/yW8nPWQJdl

— Movistar Estudiantes (@MovistarEstu) February 24, 2022
Granada, on the other hand, have won nine of their last 10 games. They also edged out Estudiantes 69-58 when the two sides met earlier in the season. They next meet in Jornada 27 – scheduled for 10/04. Their head-to-head record could become an important psychological factor, as both sides will be looking to progress automatically, without the jeopardy of the playoffs.
The playoff picture: Three points separate 10 teams
Here's where it gets really interesting.
From Lleida in third place, to Almansa in 13th – there is a difference of just three points. There are four teams on 33 points; three teams on 31 points; and a further four teams on 30 points. Only teams placed from second to ninth will take part in the playoffs to the Liga Endesa to join top spot in promotion. This means that the race to finish in those spots is incredibly close, and will likely change order a number of times.
In Nicholas Ward, Leyma Coruna boast one of LEB Oro's most well-rounded and effective players. The United States player ranks first in total rebounds (8.05) and second in offensive (2.72) and defensive rebounds (5.33) per game, as well as placing in the top 10 for points scored per game – 15.6 (seventh).
Gipuzkoa currently hold onto ninth spot. But Basquet Girona in 10th are in thrilling form of late – winning their last five games. They have done well to bounce back from seven consecutive losses earlier in the season and, for them, the break was likely a hinderance to their momentum. Much of their form is down to the incredible performances of former NBA champion and defensive player of the year, Marc Gasol.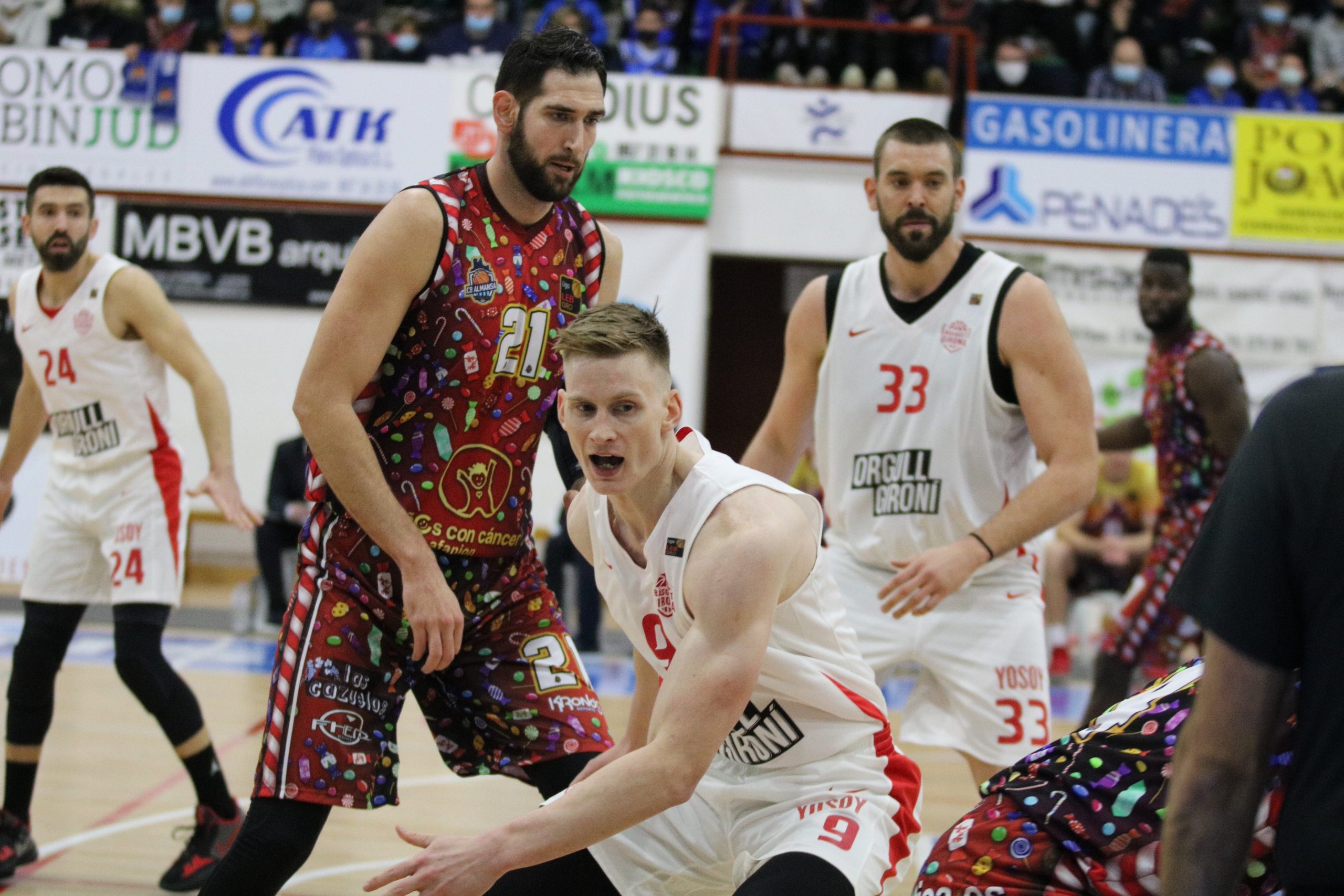 Oviedo, in 11th, are in free-fall. Despite winning eight of their first 10 games, they have lost their last six. For them, the break could not have come at a better time. Despite their form, they have the third-highest rebounds per game rate of any team in the league (34.1) and are particularly strong on defense.
Lleida will be the team that the top-two are most worried about. They have the fourth-highest points per game of any team (80.9), have the third-fewest losses (5) and the second-highest rebounds per game in the league (34.6) – despite playing the joint-fewest games in the league (19).
Working out who can put together a run for the playoffs will depend on how teams bounce back from the international break. This isn't a race you want to miss.
Avoiding the drop
At the other end of the table, things are a little clearer.
Palma sit rooted to the bottom of the table with just three wins to their name. The silver lining for them is that two of those wins have come in their last four, which could mean that they have turned a corner. Fortunately for Palma, they have Wesley Van Beck, who currently leads the league in points per game (19.7). He also has a 2-pt conversion rate of 48.3%, and a 3-pt conversion rate of 44.4% (7th highest). These are remarkable stats given he has played just 14 games all season.
Welsey Van Beck @Wes_VanBeck se incorpora al Palmer Alma Mediterránea Palma 2021-22. Llega al equipo tras haber jugado en el Tigrillos de la Liga Colombiana https://t.co/TYtRPRmLL0 pic.twitter.com/obHUbKGkLb

— Palmer Alma Mediterránea Palma (@BahiaSanAgustin) October 21, 2021
Huesca, above them by virtue of games played, have won only two games all season. They are currently on a run of 10 consecutive losses. They boast the lowest points per game average of any team (72.8) and the second lowest rebounds per game in the league (29).
It will be a monumental effort for either of these two teams to escape the drop, with Melilla, Prat and Iraurgi battling it out to avoid the third and final relegation spot.