This Sweet 16 could be one for the ages.
The true bluebloods (save UCLA) are gone. Eleven different conferences are represented, and the schools owning the last seven national titles are all gone. Princeton – let's say that again, Princeton! – is in the Sweet 16 for the first time since 1965. Some of the best arenas in the country will play host to the games and four teams will cut down a net this weekend. The stakes don't get much bigger.  
Taking each game, we'll examine one key question and identify the X-factor that will make or break a trip beyond the Sweet 16. 
Thursday's NCAA Regional Games 
East Region, New York: Michigan State vs. Kansas State
In the face of this winter's on-campus tragedy, Michigan State has the hearts of the nation and certainly has a winning March tradition on its side. Kansas State sent Kentucky home and is slightly favored by the metrics.  
Key Question: Can Michigan State make enough 3-pointers to win?
Michigan State shoots 3s at a 38.7% clip, good for sixth in the nation. Kansas State is 15th nationally in defending the long ball. MSU went just 2-for-16 from long range and still beat Marquette. If the Spartans can get open 3s and convert, they'll move on. 
X-Factor: Nae'Qwan Tomlin, Kansas State.
The 6-10 Tomlin is an efficient scorer, shooting 12-for-14 during the tourney's first weekend. If he can continue that and grab a few offensive rebounds to give KSU more chances, it could put MSU on its heels. 
West Region, Las Vegas: UConn vs. Arkansas
This game will feature some big-time talent and athleticism, as five of the top 58 players in ESPN's most recent NBA Draft projections will be in action.  
Key Question: Which Arkansas team will show up?
Albeit Arkansas faced elite competition down the stretch, the fact remains the Hogs lost four of their last five before the tournament. Arkansas had a six-game stretch with five losses in the middle of the season. At its best, Arkansas can win the title. At its worst, it will allow 97 points in a loss to Vanderbilt. 
X-Factor: Makhi Mitchell, Arkansas.
Most likely to draw the defensive assignment against UConn star Adama Sanogo, Mitchell will be key to Arkansas advancing and slowing down the Huskies' big man. Mitchell gave key minutes off the bench last weekend after starting much of the season. He'll need to play like a starter to keep Sanogo in check.  
East Region: Florida Atlantic vs. Tennessee
A mid-major darling all year, Florida Atlantic is in the Sweet 16 for the first time ever and on paper is a plucky underdog. In reality, FAU is among the national elite this year and is tied with Houston with a national-high 33 wins. The East Region has been turned upside down with the top two seeds and Duke losing – the question is who will take advantage. 
Key Question: Can Tennessee control the style of play?
Tennessee is a force because it's the top defensive team in the nation. In the last month, UT has held Alabama, Arkansas and Duke to fewer than 60 points. The Vols play at a slow pace, crash the offensive boards and wear opponents down. If the Vols impose their will, they will advance beyond the Sweet 16. 
X-Factor: Vladislav Goldin, Florida Atlantic.
FAU will of course need stellar play from leading guards Johnell Davis and Alijah Martin. But the 7-1 center needs to give Florida Atlantic something of a curveball and give a third option for the Owls to score enough to win. 
West Region: UCLA vs. Gonzaga
These two teams met in an all-time epic during the 2021 bubble tournament in Indianapolis, with Gonzaga star Jalen Suggs hitting a buzzer-beater to send the Zags to the national final. Most of the key players from that game are gone, but two stars remain – UCLA's Jamie Jaquez and Gonzaga's Drew Timme. 
Key Question: How will UCLA guard Drew Timme?
Timme's list of accolades is legendary and he'll go down as maybe the best Gonzaga player ever, which says a lot. He was outstanding in the win over TCU, scoring 28 points and making the big shots down the stretch. UCLA is No. 2 nationally in defense (Tennessee) and it'll be interesting to see how they deal with Timme. As a comparison, Arizona star center Azoulas Tubelis averaged 19 points and 11 rebounds in three games vs. UCLA. But those numbers came inefficiently (40% shooting), so the plan may be to just make Timme work for everything. 
X-Factor: Amari Bailey, UCLA.
Bailey has improved his status with solid performances down the stretch. His size, defense, 3-point shooting and ability to finish have all been on display and he can be the difference for UCLA to get past the Zags. 
Friday's NCAA Regional Games 
South Region, Louisville: San Diego State vs. Alabama
The tournament's top overall seed, Alabama has shaken off-court distractions to be in prime position. A No. 5 seed and the winner of a 6 vs. 15 game stand in Alabama's way to the Final Four. The Tide has steamrolled all five of its opponents in the SEC and NCAA tournaments, winning by an average margin of 19.2 points per game. 
Key Question: Will San Diego State be able to adjust to Alabama's athleticism?
The Mountain West continues to be a strong conference and makes for great late-night TV during the season. However, San Diego State hasn't seen a team built like Alabama since Thanksgiving. A slow, grinding game is SDSU's style. If they can hold Alabama's athletes in check and play that way, it'll be a battle. 
X-Factor: Lamont Butler, San Diego State.
Butler is SDSU's third-leading scorer but isn't a volume scorer. Anything there would be a bonus, and he'll be asked to slow down Alabama guards Mark Sears and Jahvon Quinerly.  
Midwest Region, Kansas City: Miami vs. Houston
Houston has at times been ranked and played like the nation's best team. Miami tied for the title in the ACC and is 12-3 over the last eight weeks. Both teams will bring dynamic guard play and coaches who have been there before.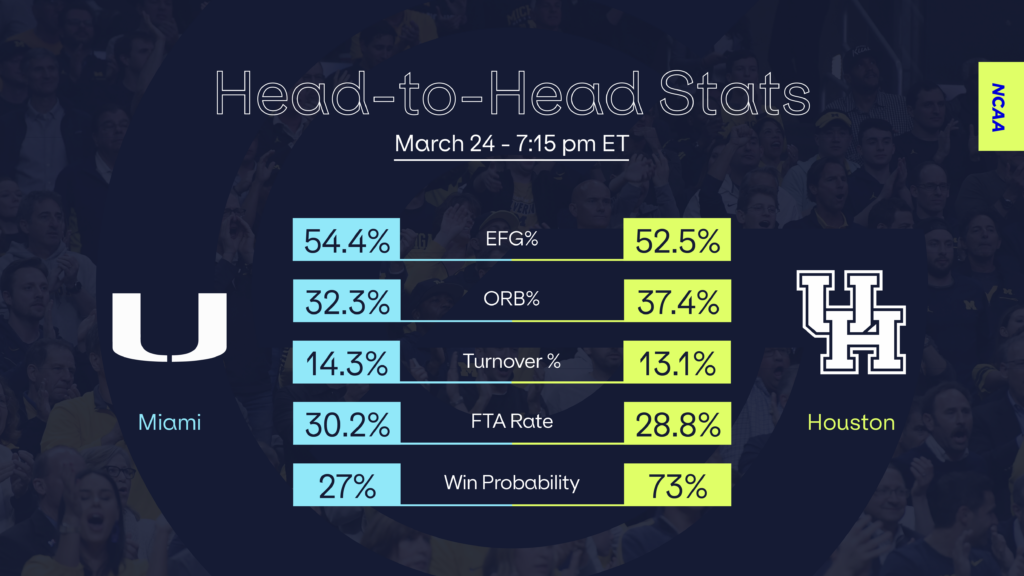 Key Question: Who will get better guard play?
Houston has Marcus Sasser, Jamal Shead and Travon Mark. Miami has Isaiah Wong and Nijel Pack. This game has dynamic playmakers everywhere. Which team's star guards will produce more? 
X-Factor: Jarace Walker, Houston.
In a battle of guards, UH's big man could make a large difference. Walker scores when he needs to, having scored 13 points or more 17 times. But Walker has been Houston's enforcer on the glass and at the rim. He's blocked 11 shots over the last three games and grabbed 10 rebounds vs. Auburn. 
South Region: Princeton vs. Creighton
Few if anybody saw this matchup coming. Princeton is this year's Cinderella, having beaten popular bracket pick Arizona before thrashing Missouri. Creighton is big and athletic and has shooters. But America always wants the glass slipper to fit. 
Key Question: Can Princeton continue winning the shot quality game?
Last week Princeton took on Arizona and ended up taking twice as many shots at the rim as the Wildcats. Usually, underdogs win with a barrage of 3-pointers. Not this team – Princeton gets to the hoop and swarms inside to prevent easy shots. Can they do it again against one of the nation's best offensive teams? 
X-Factor: Francisco Farabello, Creighton.
The Blue Jays really only play six players, with Farabello being the only player getting big minutes off the bench. He scored nine points in 22 minutes to provide the extra lift Creighton needed to get past Baylor.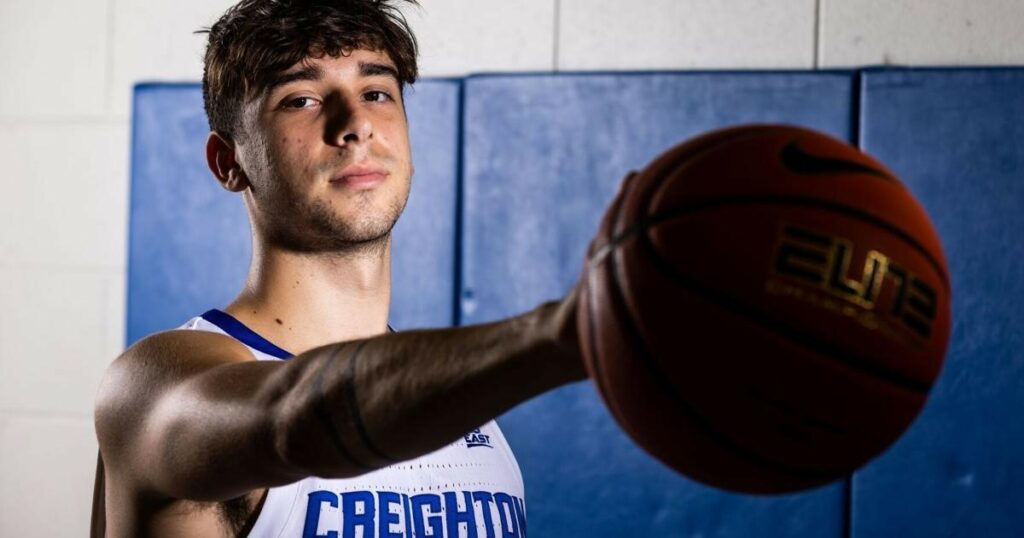 Midwest Region: Xavier vs. Texas
In 2019, these nationally relevant programs played an overtime battle in the NIT, won by Texas 78-76. That's how far we are from that, with the two teams back at it this time for a trip to the Elite Eight.
Key Question: How will Xavier attack Texas on offense?
Xavier shoots an outstanding percentage from 3-point range (38.9%, 3rd in the nation). Strangely, XU doesn't shoot a lot of 3s. Just 31.3% of Xavier's shots are 3-pointers, which ranks 320th in the nation. Xavier flipped that script in the win over Pittsburgh, shooting 24 treys in a comfortable win. Will Xavier stick with their usual inside style or attack from long range? 
X-Factor: Tyrese Hunter, Texas.
As the nation watches a dynamite guard matchup between XU's Souley Boum and UT's Marcus Carr, it might be Hunter who matters more. The third scoring option for Texas is averaging 6.8 points over the last four games but has 10 outings with 13 points or more this season. Texas would certainly like a lucky 13 from Hunter this weekend.
The Playbook is powered by Genius Sports, the exclusive distributor of Official NCAA Data. Our NCAA LiveStats solution is courtside throughout March Madness, capturing location and statistical data for every play in real-time – including the Sweet 16.