This years' Final Four in the men's NCAA tournament is, understandably, the talk of the nation. Of the four remaining schools, only UConn has any basketball pedigree. Miami is known for football, and San Diego State are best known for producing Clippers forward Kawhi Leonard. Then, you get to FAU, the darling of the Final Four.
This has been one hell of a March for Florida Atlantic University. The Conference USA tournament and regular season champions were slated to finish fifth before the season started. The Owls have proved they were the team to beat in the C-USA, and ranked #25 in the final AP poll. Here's how they took March Madness by storm.
The road to Houston
Heading into NCAA tournament play, the Owls were riding a seven-game win streak, were awarded a 9-seed and were matched up against 8-seed Memphis in the first round. FAU won a high energy and thrilling encounter – their first ever March Madness win.
16-seed the Knights had just caused the most astonishing upset in recent memory with their win over 1-seed Purdue. But FAU had too much on offense and brushed aside the would-be Cinderella 78-70. A Sweet-16 matchup against 4-seed Tennesse followed. Most expected FAU's journey to end here, but the Owls played with great energy and made key plays down the stretch to seal a victory and advance to the Elite Eight.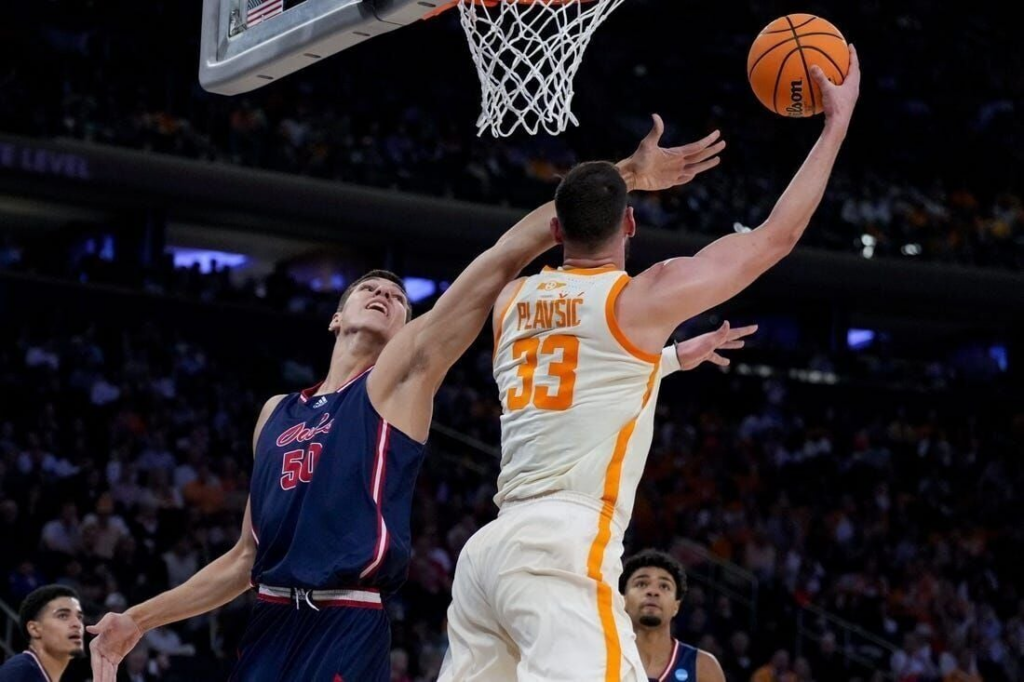 Big-12 Conference stalwarts Kansas State stood between FAU and a spot in the Final Four. In yet another nailbiter, the Owls shot well from the field, maintaining their consistent offense and composed defense – securing an historic trip to the Final Four.
The Owls offensive structure is versatile and effective
Have FAU caught fire at the right time? Did they get some lucky bounces and calls along the way? Is it all just a product of the Madness of March? Good teams, especially those that win the NCAA tournament, need all three to achieve success. Luckily for FAU, they've got this in abundance.
FAU head coach Dusty May has built a very versatile team that can play any style of basketball. Throughout the tournament, they have shown that they can run and play an up-tempo style, hitting from all angles. They can also slow the pace and execute in the half court. Offensively, they are rated at 114.4 and have a true shooting percentage of 57.5% which is among some of the best in the nation. Their shooting is a strength, causing massive headaches for teams.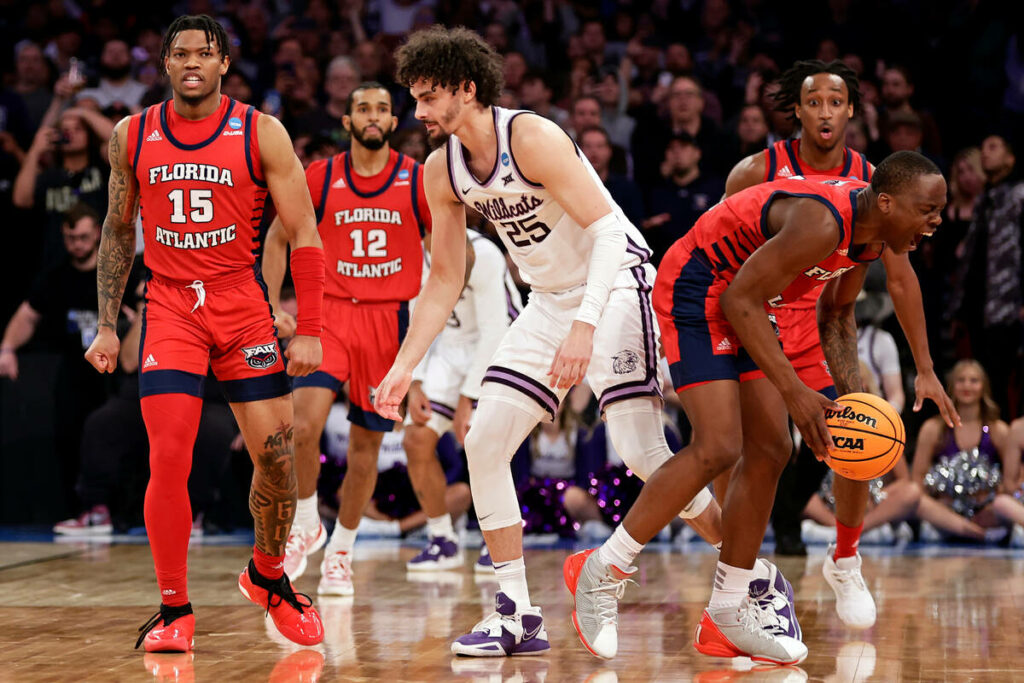 In their half court sets they like to run a high pick for the guard, who is patient enough to wait for his big to roll and get him the ball in the paint for easy buckets. Their two bigs, Vladislav Goldin and Giancarlo Rosado, can score in the paint and but they can also make passes within the offense, which has been an overlooked tool during this tournament run.
Their bigs can hit pocket passes to backdoor cutters from the high post or hit open shooters on the weak side which is an added advantage to their offensive attack. The ball movement within the offense also helps them get driving lanes from the wings because the defense is shifting. FAU has multiple players that can use their dribble drive quickness and get to the rim for easy layups or dump offs to cutting players.
Having multiple perimeter shooters helps
In other moments within the game they like to push the tempo and run and shoot. From missed shots or turnovers, FAU will push the ball and hit open shooters in transitions. Johnell Davis, Alijah Martin and Bryan Greenlee are all shooting over 36% from behind the arc.
As the tournament has gone on, the Owls have improved their three-point shooting from game to game. They shot .286% against Memphis, .290% against FDU, .296% against Tennessee and .391% against Kansas State. Their field goal percentage also has gone up consistently throughout. When they get out in the open, defenses are forced to react. But with multiple perimeter shooters, the defense is usually late, leaving players with uncontested shots.
FAU can rely on solid defense
As for the defense, their rating is a 94.2, and they've held opposing teams to 65.4 points per game this season.
Their defense is quick, and with the bigs protecting the paint and altering shots at the rim, it can be frustrating for offenses to find a rhythm at times. They like to play in a straight up man coverage, but help is not far behind. The Owls also like to soft trap the post, opting to show and frustrate the post player to force deflections and steals.
In the midst of the hustle of their defensive rotations, they try to run shooters off the three-point line and make them take the tough shots. Teams are currently shooting 32% from three against FAU. On the other hand, their activity and quick rotations can sometimes leave them vulnerable to easy buckets when a curveball is thrown in from opposing coaches. All being said, their defense is solid. If you can frustrate a better team than you into making bad decisions, that's a great foundation to work from.
San Diego State offer a new challenge, but one FAU can overcome
Heading into their showdown with San Diego State, another tough, grind-out game is expected.
Both teams have a good bench, who can contribute on both ends of the floor. San Diego State doesn't mind playing at a slower tempo when required, grinding out low-scoring victories. But FAU doesn't mind that either, and can adapt to any style of play. On paper, both teams match up fairly well and college basketball fans should be in for yet another exciting and close game.
The shooting for FAU could – and should – be the difference maker and the thing that sends the Owls flying into the championship game. If they overcome San Diego State, they'll be the first team to have won their first ever game and reached the championship game in the same tournament since Larry Bird's Indiana State in 1979.
The Playbook is powered by Genius Sports, the exclusive distributor of Official NCAA Data. Our NCAA LiveStats solution is courtside throughout March Madness, capturing location and statistical data for every play in real-time – including the Sweet 16.