As a city, Miami makes you think of the beach, glorious weather, spring break and parties that go on all day and night. The Miami Hurricanes evoke memories of a storied college football program, big football names and personalities, and college football championships. Somewhere further down the list, you'll arrive at the Miami Hurricanes men's basketball team.
The Miami Hurricanes are riding a seven-game win streak after beating the Virginia Tech Hokies 76-70 last night. They're now 23-5, second in the ACC, and have a NET ranking of 31.
Miami has played well enough of late to make a push for the top spot and finish with the conference tournament title.
Offensive improvement has been key
Miami is looking to improve from their previous season where they reached the Elite Eight as a 10 seed in the tournament, before losing to eventual champion in Kansas. Miami has increased their scoring (averaging 79.5 PPG, placing them in the top 5% in the nation) from last year, and their offensive rating has also jumped up to 117.5.
Their starting unit has also done well this season. They have a true shooting percentage of 58.8%, good to land them in the 96th percentile in the nation. The offense is led by their guards Isaiah Wong who is averaging 16.3 PPG and Nijel Pack at 13.6. Going into the final two games of conference play, they will be looking to avenge their loss to Pittsburgh.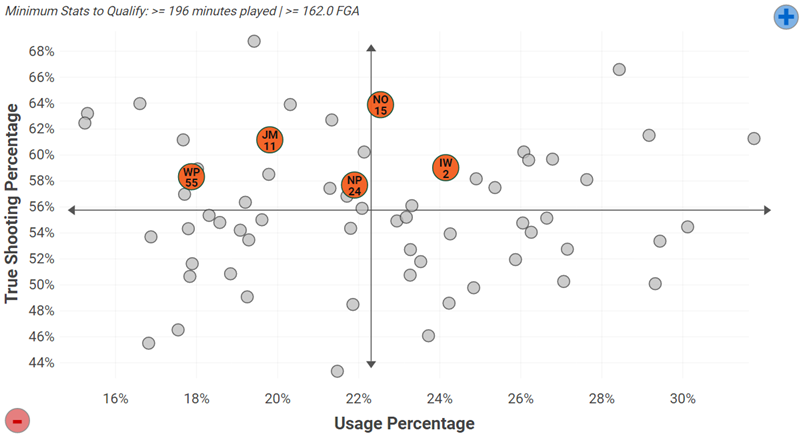 The offense is solid and exciting to watch when they get out in the open court. Lead by their guards, Miami likes to push the ball and get easy buckets in transition. Their effective field goal percentage is at 54.8% which ranks 22nd in the nation. They get good looks within the offense with the spacing and ball movement, but they have multiple players who can create and get their own shot in the half court.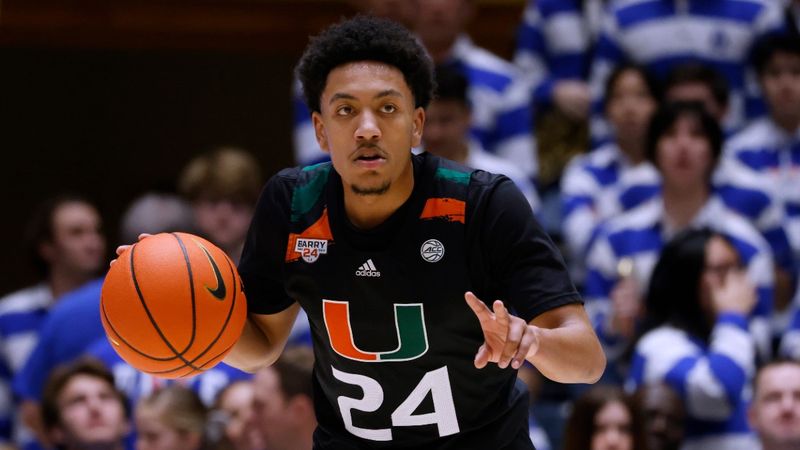 Their bigs are also active on the offensive glass. Players like Norchad Omier have an ability to recover loose balls and offensive rebounds which leads to second chance opportunities for the offense. They are currently averaging 12 PPG and shooting 60.5% on second chances. Benzly Joseph also provides a spark offensively with his speed and movement, and Jordan Miller adds further scoring to a balanced offense.
Defensively, the Hurricanes are better than the numbers reflect
Their overall defensive rating is 105.0 and they hold opponents to 71.1 PPG. While these aren't championship-winning numbers, the Miami defense is strong, fast and can certainly cause issues for opposing offenses.
When in their half-court defense, Miami will trap on pick and rolls, mainly in the corners and at the wings. But they trap hard and force turnovers at a high clip. At times Miami looks small, but the defense is disciplined and very active.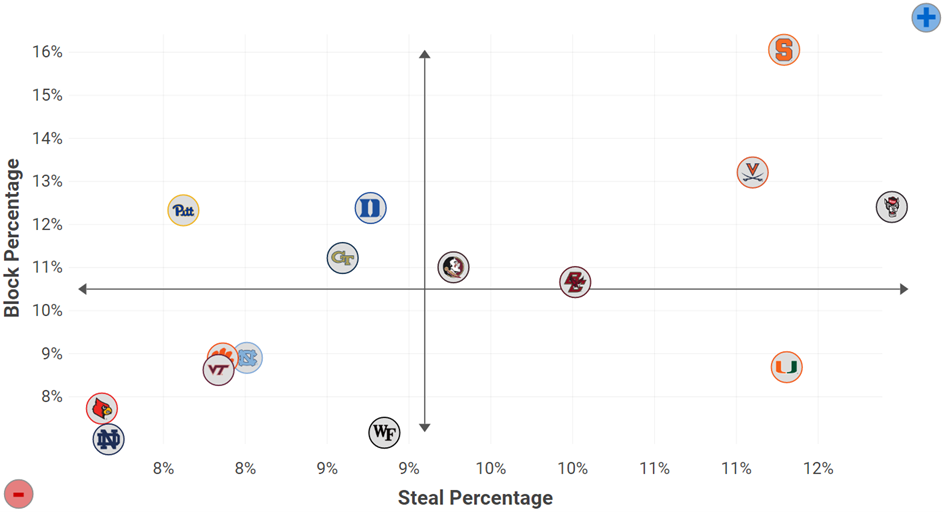 In the recent game against Wake Forest, ACC player of the week Tyree Appleby was held to 15 points and 12 turnovers. The Hurricanes forced the Demon Deacons into 19 turnovers overall, which led to 34 points. One can look at this game and say that Wake Forest did fairly well offensively, scoring 87 points and shooting 55.2% from the field and 42.9% from behind the arc. However, the Miami defense did a stellar job on the defensive end to close out the game and come out with a convincing win.
Big picture: Underestimate Miami at great risk
Heading into the ACC and NCAA tournament, Miami is looking to win out and land a high seed based on their resume. Early bracket predictions have Miami seeded around four or five. If they can win out and hold the title conference they can (and should) move up to a two seed.
The Hurricanes have had a fantastic season but aren't considered a blue blood school. If Duke or Carolina were having this season, they would probably be ranked somewhere in the top 10. Heading into March Madness, Miami should get some respect if they continue to finish strong.
Based on the teams' record, they are 6-4 in Quad 1 wins and losses. Their 3 conference losses to NC State, Duke and Pittsburg were all close games and lost by an average margin of just three points.
As the saying goes in college basketball, come tournament time, experienced guard play and solid defense will lead you to a deep tournament run. With Wong and Pack leading Miami, they are expected to make a Hurricane-type splash come March.
The Playbook is powered by Genius Sports, official data collection partner of the NCAA, via NCAA LiveStats.