The first weekend of the NCAA Men's Basketball Tournament has come and gone and, as always, it did not disappoint. With nine truly significant upsets, and more than that if we look at seeding alone, it was the same old madness. A quarter of the teams still remaining in the Sweet 16 are double-digit seeds; previously unknown stars are emerging; household names continue to dominate; and the "One Shining Moment" team has its work cut out early on.
So, let's break it down.
St. Peter's: Challenging the big boys and smashing brackets
How could we start anywhere except St. Peter's? The 15-seed Peacocks were tied with 2-seed Kentucky at halftime and at the end of regulation in the first round, a situation which so often spells the end for a lower seed with the more talented team coming together in overtime.
St. Peter's, though, would not be denied. They outscored Kentucky – one of the favorites to win the whole tournament – 14-8 in overtime (85-79 final score) to move on to the Round of 32. St. Peter's only had two players score in double figures, but Daryl Banks III and newly discovered fan favorite Doug Edert combined for more than half of their team's points with 47.
Daryl Banks III, @PeacocksMBB:

Banks has been central to #StPeters' fairytale run. He ranks in the top 10% for touches (133), handoffs (16) and isolations (11) – picking up 33 points.

He went 100% from the free-throw line in the first round upset over Kentucky. #Peacocks pic.twitter.com/38dt6b3SWK

— Genius Sports Report (@GSports_Report) March 22, 2022
National Player of the Year candidate Oscar Tshiebwe (30 points, 16 rebounds) did more than his fair share to try and will the Wildcats into the second round, but with St. Peter's shooting percentages of 50/52/85 from the field, 3pt range, FT line respectively, Kentucky's pedestrian 42/26/65 line wasn't enough to save them from an early exit.
Just two days later, the Peacocks took on 7-seed Murray St., who entered the tournament with a record of 30-2, were undefeated in conference, and were recently crowned champions of their conference tournament with several players having previous NCAA Tournament experience.
Despite a less impressive performance by St. Peter's on the offensive end, shooting just 41/23/74 percentages, they locked down on the defensive end, winning 70-60. To this point in the tournament, St. Peter's 10-man-deep rotation is paying huge dividends. The Cinderella story of this tournament so far will face 3-seed Purdue in the Sweet 16, with NBA caliber potential throughout the rotation. Still, St. Peter's has made their point and the Boilermakers would be wise not to underestimate the Peacocks.
"SAINT PETER'S HAS DONE THE UNTHINKABLE" 😱

THE 15-SEED PEACOCKS ARE HEADED TO THE #SWEET16@PeacocksMBB #MarchMadness pic.twitter.com/aQpOfjJNzS

— NCAA March Madness (@MarchMadnessMBB) March 20, 2022
Richmond Spiders leave their mark on March Madness
From one bracket-buster to another! The Richmond Spiders' only way to make the NCAA Tournament was to win the A10 conference tournament as a 6-seed. They ran the table, beating Davidson in the A10 championship, only to gain a 12-seed and the unfortunate draw of the high-powered, red hot 5-seed Iowa Hawkeyes. The Spiders were unfazed.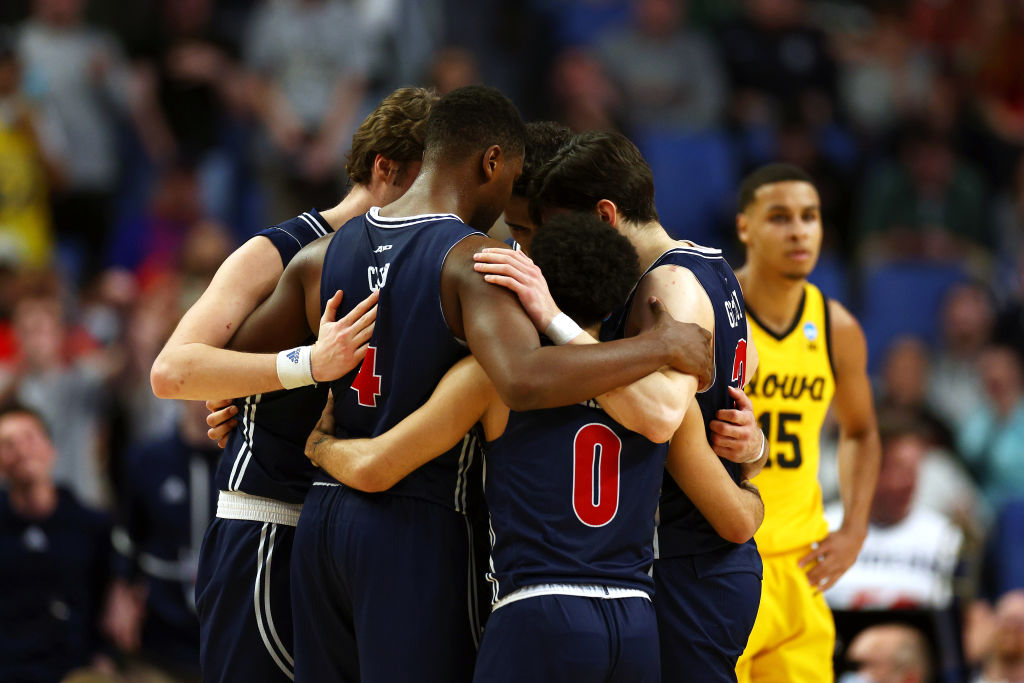 Iowa averaged almost 84 points per game this season, but Richmond dictated the pace of play with their stifling defense, allowing just 63 points to the Big10 champs. While Big10 Conference Player of the Year candidate Keegan Murray got his with 21 points and nine rebounds, the Hawkeyes as a team shot just 20.7% from 3 point range and only 36.4% from the field. Just like that, a trendy Final Four pick in the Iowa Hawkeyes were headed home, 67-63. Richmond would go on to lose to 4-seed Providence, but their presence was felt in the 2022 NCAA Tournament.
An historic tournament for upsets
So far, a 1-seed, two 2-seeds, two 3-seeds, and a 4-seed have been eliminated.
After hammering Longwood in the first round, #3 Tennessee fell to #11 Michigan. #1 Baylor gave up 93 points in a loss to #8 North Carolina. #2 Auburn had their periodic backcourt deficiencies completely exposed in a whopping 18 point loss to #10 Miami. #3 Wisconsin fell apart after an injury to freshman point guard Chucky Hepburn, scoring just 49 points in a loss to #11 Iowa St., who is on to the Sweet 16 after winning just 2 games last season.
As usual, excitement, heartbreak, and fulfilled dreams were anywhere we looked in the first two rounds of this year's tournament, and there are many more to come.