Austin Gilgronis are starting to look over their shoulder rather than push forward in Major League Rugby's Western Conference.
The team occupying top spot in the West succumbed to their second consecutive defeat at the hands of New England Free Jacks.
In a very strong Eastern Conference, Rugby ATL win again, but New York and the Free Jacks continue to apply pressure with convincing wins.
Gilgronis record second consecutive defeat
Ill discipline proved costly for Austin Gilgronis as they lost for the second successive week in a row.
The early moments of the game suggested it was going to be a close encounter, but that was undone by two yellow cards in a matter of minutes for Austin in the first half. Both hooker, Hugh Roach, and flanker, Christian Ostberg were sent to the sin bin meaning that the Gilgronis spent more than seven minutes with 13 men. Crucially it was their defence that was hampered.
Winger, Paula Balekana, pounced for the Free Jacks to score a try as he broke a weakened line.
New England took an 11-point lead heading into the second half, but Lachlan McCaffrey scored a neat try off a lineout, with a dummy pass, to close up the score for the Gilgronis.
One point separated the teams heading into the last eight minutes, but wave after wave of Free Jacks offense proved too much for a worn-out Gilgronis defence. A number of slick offloads enabled Zachary Bastres to get over the gain line for New England.
Ultimately, the two yellow cards for Austin proved costly as they lost their temperament and their energy to succumb to a second loss in a matter of matches. New England won 25-17 to leave themselves 5-1 for the season and 3rd in a closely contested Eastern Conference.
Giltinis shake up West with win over San Diego
If there is one consistent narrative of the MLR season so far, it's that LA Giltinis continue to be inconsistent.
They picked up a 26-13 win against San Diego Legion to retain the Cali Cup. It was a renewed performance from the reigning champions. They had both defensive grit and attacking intent to ensure they look towards week 8 with a 3-3 record.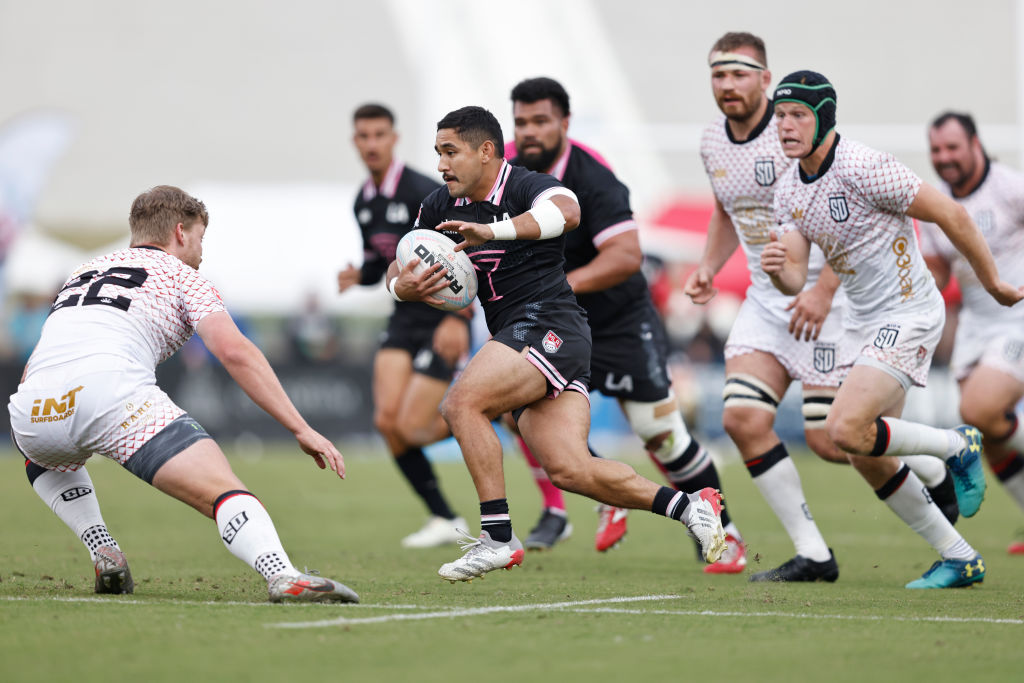 The game plan was clear from the offset of the first whistle for LA. With four tries to the Legion's one, their focus was on slick passes and offloads through the pack. Only Joe Pietersen's boot kept San Diego in with a chance of a comeback – he's now the second-highest points scorer in the league (56).
It was Pietersen's nimble footwork after some great defence from San Diego, with a turnover, that setup San Diego's only try of the game in the second half, but they left themselves with too much to do.
With more carries (119-94) and passes (170-129), this game was won with a cohesive attacking presence, turning pressure into points, from the Giltinis.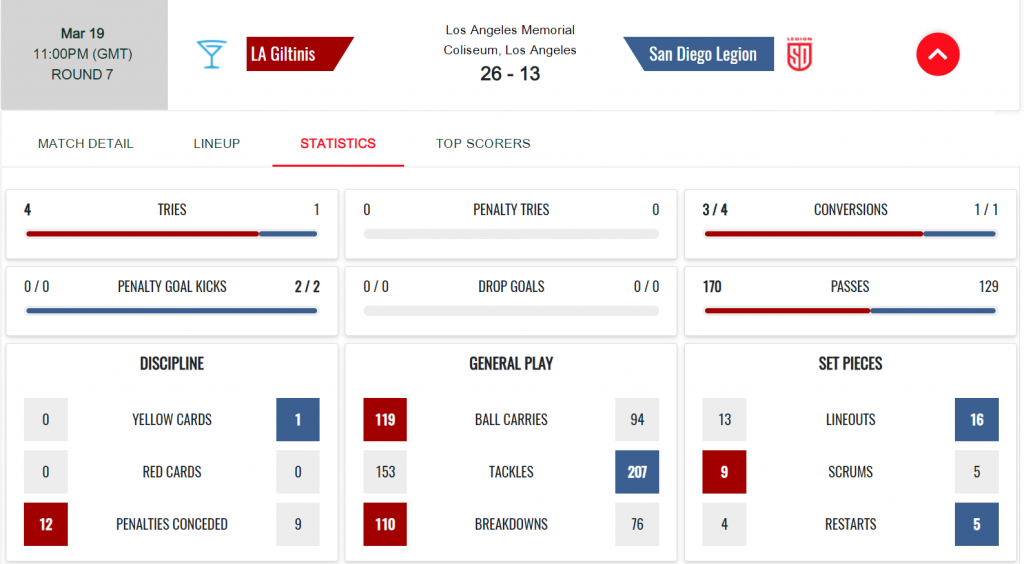 This result really opens up the West. It leaves San Diego lying in 3rd level on points with Seattle, but as the second-highest points scorers in the league (187). They have a week off to regroup in round 8.
While LA lie in sixth with a 3-3 record and, although they are the second-highest in the league for defensive efficiency, having conceded 115, they have only scored 115 to level out their points difference. They face Seattle next.
Other results
Old Glory DC 13 – 27 Rugby Atlanta
Firepower from Rugby ATL at the breakdowns and in the mauls were too much to handle for a committed DC.
ATL Hooker, Janse van Rensburg is playing himself into "Player of the Year" territory as he is now second on the leaderboard for tries scored this season (5).
Coming home with the W 🙌

Second half tries by Marko Janse van Rensburg | Alex Maughan 🐍🐍

Next week we're home in the Snake Pit with a big game against @NEFreeJacks | 3pm EDT at Silverbacks Park 🏉#PACE #RiseOfRugby #MLR2022 #rugbyatl pic.twitter.com/3EqvNHizIV

— Rugby ATL (@RugbyATL) March 21, 2022
van Rensburg scored 1 of 4 ATL tries to leave them top of the East with 5-1 record and the joint second leading try scorers (24). While Old Glory are yet to win a game and face NOLA Gold in a crunch match at the bottom of the Eastern Conference.
Dallas Jackals 12 – 34 Seattle Seawolves
Defensive mistakes cost the Jackals dearly as the Seawolves rebound from their loss in week 6 to Houston.
Seattle scored 4 tries to Dallas' 2 and successfully converted them all. With more carries (120 – 105) and passes (142 – 130) the experienced Seawolves highlighted their attacking danger against a subdued Jackals in their inaugural season.
Seattle captain, Riekert Hattingh was the Major League Rugby player of the week with 1 try, 16 carries, 190 metres run and 10 tackles.
A huge performance from @Riekerthattingh earned him the title of Player of the Week! 👏#MLR2022 | #RiseOfRugby | @seawolvesrugby pic.twitter.com/qEQ97eXuFd

— Major League Rugby (@usmlr) March 23, 2022
NOLA Gold 19 – 30 Rugby New York
 Both Sam Windsor and Dylan Fawsitt notched up 50 appearances in MLR, only the 3rd and 4th players to do so in the history of the league.
However, it was New Zealand centre, Jason Emery, who scored 1 try and 15 points for Rugby New York to keep them within touching distance of ATL.
Utah Warriors 24 – 27 Toronto Arrows
Toronto are the LA Gilitinis of the Eastern Conference. With a 3-3 record, you just don't know what to expect from them.
The Arrows were named MLR's Team of the Week as they overcame a late, spirited Warriors side to claim crucial bonus points.
The Eastern Conference is all mixed up following week 7! 😳#MLR2022 | #RiseOfRugby pic.twitter.com/9usg6xjdMR

— Major League Rugby (@usmlr) March 21, 2022
.@SeawolvesRugby moves to #2 in the West, it's a fierce battle at the top!#MLR2022 | #RiseOfRugby pic.twitter.com/ouHc7fzNC8

— Major League Rugby (@usmlr) March 21, 2022
Can Old Glory DC get their first win in the bottom of the East clash?
Old Glory DC (0-6) v NOLA Gold (2-4), Saturday 26th March, 15:00 (EST)
With the least points scored in the league (89) and the second most conceded (233), it's hard to see how Old Glory DC can stop their slump.
It's a huge game for two teams at the basement of the Eastern Conference. If NOLA Gold win, they will be looking to make a run to catch the top three who are beginning to draw a gap at the table.
However, you would think this would be DC's best chance of the season to snatch a win. They'll be looking to captain, and former Samoan international, Danny Tusitala to help reinvigorate this wounded DC side.
Prediction: NOLA Gold to win by 7
Rugby ATL (5-1) v New England Free Jacks (5-1), Saturday 26th March, 15:00 (EST)
With only two points separating the top three at the top of the East, this will be a fiercely contested game. A slip up here for either of these two teams and New York will be ready to pounce.
Home advantage again could prove key for Atlanta, but this mouth-watering encounter pits the top two leading try scorers against each other.
Beaudein Waaka (6 tries scored) didn't start the last game for Free Jacks and will be keen to increase his try scoring tally. While Marko Janse van Rensburg (5 tries scored) will use his fine form in both offence and defence to heap pressure on the Free Jacks defence.
Prediction: ATL to win by 3
Other fixtures
Seattle Seawolves (4-3) v LA Giltinis (3-3), Saturday, March 26th 18:00 (EST)
Utah Warriors (2-4) v Houston SaberCats (3-3), Saturday, March 26th 19:00 (EST)
Rugby New York (5-1) v Toronto Arrows (3-3), Sunday, March 27th 16:00 (EST)
You can catch the highlights of all Round 8 fixtures on the MLR YouTube channel.