Chaos! Anarchy! Parity! This certainly has been a wild couple of weeks as the bracket has been cut to the Final Four.
Yet each of the four remaining teams earned it on the court, and below we'll make the case that their runs to Houston weren't so surprising after all. UConn is a juggernaut peaking at the right time, Miami and Florida Atlantic had the guards and the metrics and San Diego State has been knocking on the door for years. 
Why nobody should be surprised at this Final Four lineup
UConn was there all along
The Huskies started the year 13-0 with wins over Oregon, Iowa State, Oklahoma State and Florida and at the turn of the calendar were ranked No. 2 in the AP poll and on KenPom.com. They lost buzz with a 5-6 start in Big East play, but then won nine of 10 down the stretch before falling to Marquette in the Big East Tournament. That loss gave them a week of rest, and they've steamrolled their way to Houston since then. 
That bad start in league play was deceptive. Other than a head scratcher at home against St. John's on January 15, UConn hasn't lost a game by more than three points. They really were only a few tweaks away from being the top five team everyone expected. Probably under-seeded at No. 4, UConn is now the favorite to win after smashing Arkansas and Gonzaga last week. 
Miami and Florida Atlantic had the guards to get there
There was a lot of preseason chatter around Miami's acquisition of Nijel Pack from Kansas State. Pack, combined with veteran Isaiah Wong, has made Miami one of the best teams in the country. Three bad losses made them dip to the 5-seed line, but people sort of forgot that the Canes were the regular season champ in the ACC and added an all-league player in Pack to a team that made the Elite Eight last year.  
To have two high-level guards with experience is one of the tenets of March Madness success. That, and a coach as respected as Jim Larranaga with the ability to win games in several different ways should've made Miami a more popular pick than it was. 
Similarly, Florida Atlantic's guard play should have been a clear signal it would be a tough out. Johnell Davis and Alijah Martin make the machine go, while Nick Boyd, Bryan Greenlee and Michael Forrest have made a combined 162 3-pointers. The emergence of 7-1 center Vladislav Goldin has put them over the top against physical teams, Memphis, Tennessee and Kansas State. 
Without question, Florida Atlantic is a Cinderella story. They had never won a tournament game before this year and play in a gym that seats 2,500. Yet, this team started 21-1, spent much of the season in the national rankings and dominated in its league where every night was the other team's biggest game. With a target on their back, the Owls went 31-3 during the year and have proven themselves on the biggest stage. 
San Diego State has been knocking on the door
In 2011, San Diego State won 34 games and lost a close game to a UConn team that rode a crazy wave all the way to the national championship. That team was the second-best defensive team in the country and featured a guy named Kawhi Leonard. Since that time, SDSU has won 77 percent of its games and played in the NCAA Tournament eight times (not counting the canceled 2020 year where SDSU was 30-2 and probably would've been a top 2 seed).  
San Diego State has been elite in basketball for a while now, and it was a matter of time before it broke through to the final weekend. SDSU remains one of the sport's best defensive clubs and has been ranked 21st or better in defensive efficiency for four straight seasons. Had the 2020 tournament been played, this Final Four run may have happened then.  
The burning questions for these teams
UConn: How will the Huskies handle being the favorites?
As mentioned before, UConn was an early favorite this season and played like it for two months before a January slump. Now, all eyes are on the Huskies. The Final Four week is a whirlwind of distractions, attention and change. Teams each year handle it differently. How will this particular team go about being the hunted?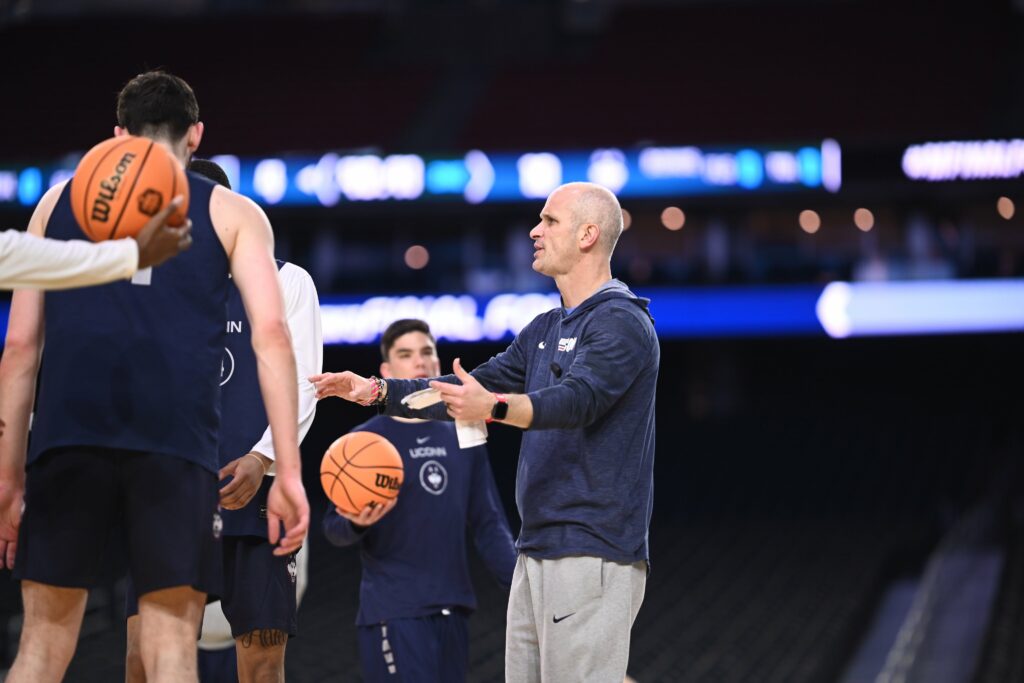 Miami: Can Jordan Miller replicate his epic regional performance? 
Pack was voted as Midwest Regional Most Outstanding Player, but it was Miller that made the difference in Miami's win over Texas. The 6-7 Miller had a perfect shooting game, scoring a season-high 27 points on 7-for-7 FG shooting and 13-for-13 FT shooting. If he is doing that (and he has lately, averaging 17 ppg over the last month), Miami may have enough to make it to Monday. 
Florida Atlantic: Which team will benefit more from a defensive battle? 
In a tournament where nothing is certain, here's one thing that is certain: the FAU-San Diego State game will be a defensive fistfight. SDSU is elite defensively and has the athletes to dictate the game's tempo. Florida Atlantic is a top-30 defensive team in its own right and after four close tournament wins, FAU has proven it can win any which way.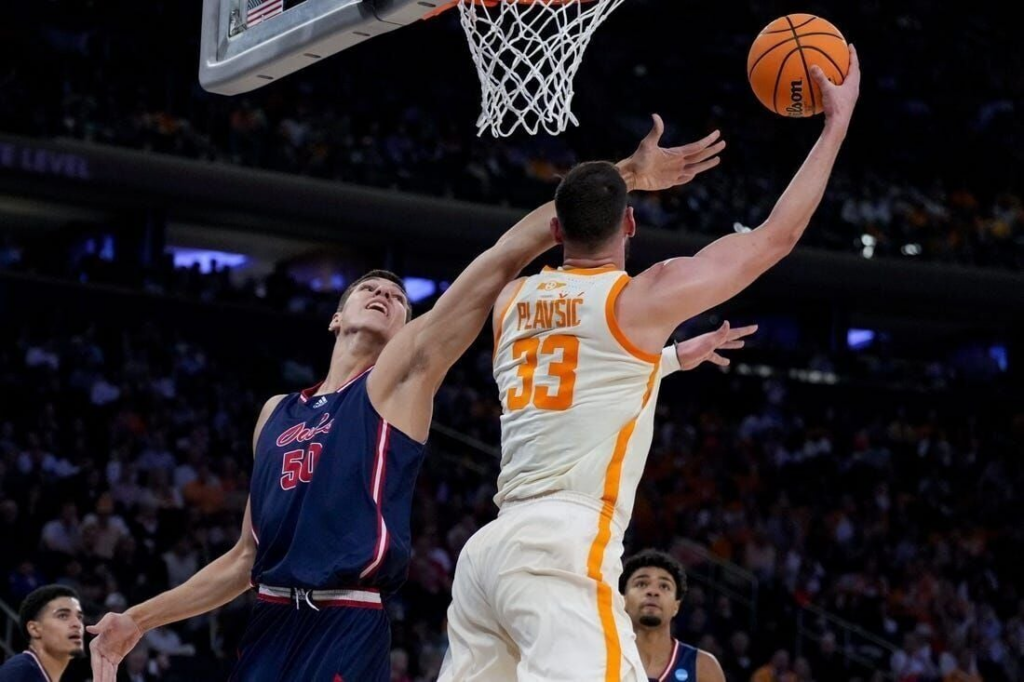 San Diego State: Can the Aztecs keep scoring *just enough* to make it to end? 
In its last nine games, San Diego State has scored less than 70 points in seven of them. Still, SDSU won eight of those nine games. Just a month ago, the Aztecs won a 45-43 game at Fresno State. San Diego State rarely scores big, but almost always scores enough. A telling SDSU stat came from Eli Boettger of Heat Check, who noted San Diego State wins 93% of its games when scoring 1.0 points per possession, which is more or less the national average. An average shooting night is almost an automatic win for San Diego State.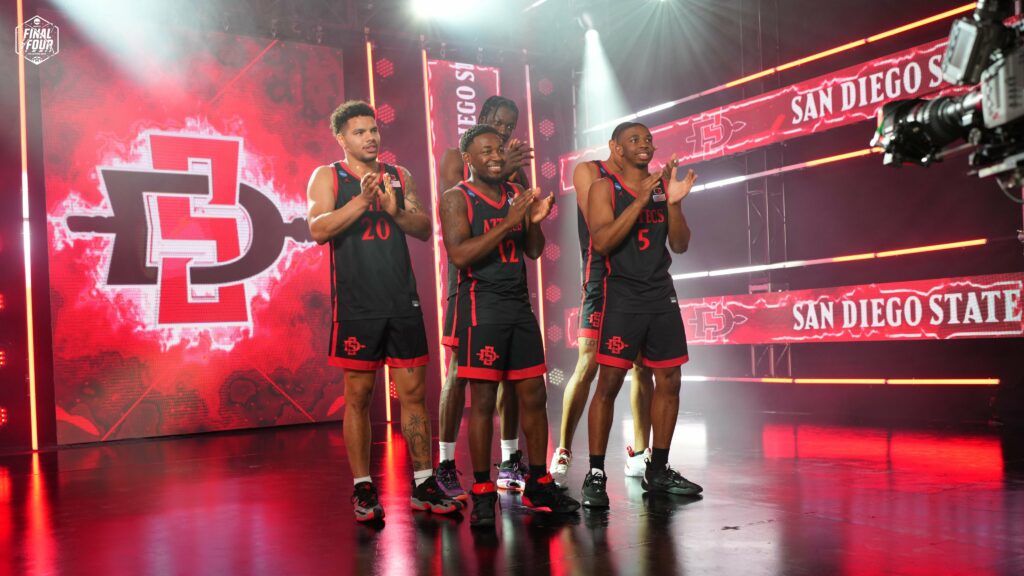 The Playbook is powered by Genius Sports, the exclusive distributor of Official NCAA Data. Our NCAA LiveStats solution is courtside throughout March Madness, including the Final Four, capturing location and statistical data for every play in real-time.