Just days before the annual drama of Selection Sunday, the scene isn't much different than that which the academic world knows very well. The teams who have done their work earlier in the season (studied well and remained prepared) will sleep easy before the grades are released next Sunday. Those who procrastinated all season long and need extra credit are cramming this week and may be sweating on Sunday. 
Below we review the teams who have already punched their ticket last weekend and look at the conference tournaments coming up this week. Who needs to study hard this week? And could any bid thieves make the grade? 
Which teams have already made the NCAA Tournament? 
As of Tuesday morning, seven teams have punched their ticket to the Big Dance. We had a first-timer, a thrilling comeback in the Big South and we'll also keep an eye on the champ out of the Missouri Valley Conference. The following teams are already in: 
Kennesaw State won an overtime thriller in the Atlantic Sun final to clinch its first bid in school history. UNC Asheville came back from 14 down to win the Big South tourney. Fairleigh Dickinson, making its third appearance since 2016, won the NEC and Southeast Missouri State won the Ohio Valley as the No. 5 seed.
But the early dancer who could make some moves is Drake, blowout winner in the Missouri Valley final. Drake (27-7, 52 NET) has won 13 of its last 14 games and is in the top 50 in both 3FG percentage and free throw percentage. Drake won a First Four game in 2021 and knows how to win, fashioning a 122-47 record under head coach Darian DeVries since 2018. 
Tournaments with teams looking for extra credit this week 
Big Ten: Michigan (54 NET) is among the army of Big Ten teams that went 11-9, and finished the year with three straight overtime games. UM went 1-2 in those games and needs some good grades this week in Chicago and probably some help to make the tournament. Rutgers (40 NET) lost to Northwestern at home Sunday night in game that would've helped, and RU is trending downward. Penn State's exciting buzzer beater may have punched a ticket for PSU but the Nittany Lions (56 NET) probably want to double check their work this week. 
Pac-12: Arizona State (65 NET) is very bubbly and in the mix of teams the NCAA committee will examine closely. ASU has a 10-6 record away from home and four Quad 1 wins – on the surface that seems like enough. Oregon (47 NET) split with ASU this season and is 18 spots better than Arizona State in the NET rankings. But will Oregon's three Quad 1 wins and a 5-8 record away from home be enough?  
Big 12: Oklahoma State (43 NET) is right there with Arizona State and Penn State. The Cowboys own six Quad 1 wins and beat Iowa State twice, but a recent five-game skid has OSU needing an all-night study session to ace the test this week. 
SEC: One of the nation's top-ranked institutions of higher learning, Vanderbilt (83 NET) isn't known for basketball prowess but has found answers lately. Vandy has won eight of its last nine games and finds itself fourth in the SEC standings. At 20 wins, it would be hard to keep Vandy out. Auburn (32 NET) and Mississippi State (46 NET) seem much safter but can improve their grade this week to cruise on Selection Sunday. 
ACC: In nobody's wildest dreams would the ACC regular season champ miss the NCAA Tournament. That almost happened, as Clemson (61 NET) was at the top of the standings until being passed by Miami and Virginia. A quarterfinal win (over NC State) and a good showing in a potential semifinal against Virginia could put Clemson on the right side of the curve. It's still wild that the ACC's No. 3 team is on the bubble. Further down the list is North Carolina (49 NET), which may need to win the ACC to replicate its late season magic like last year.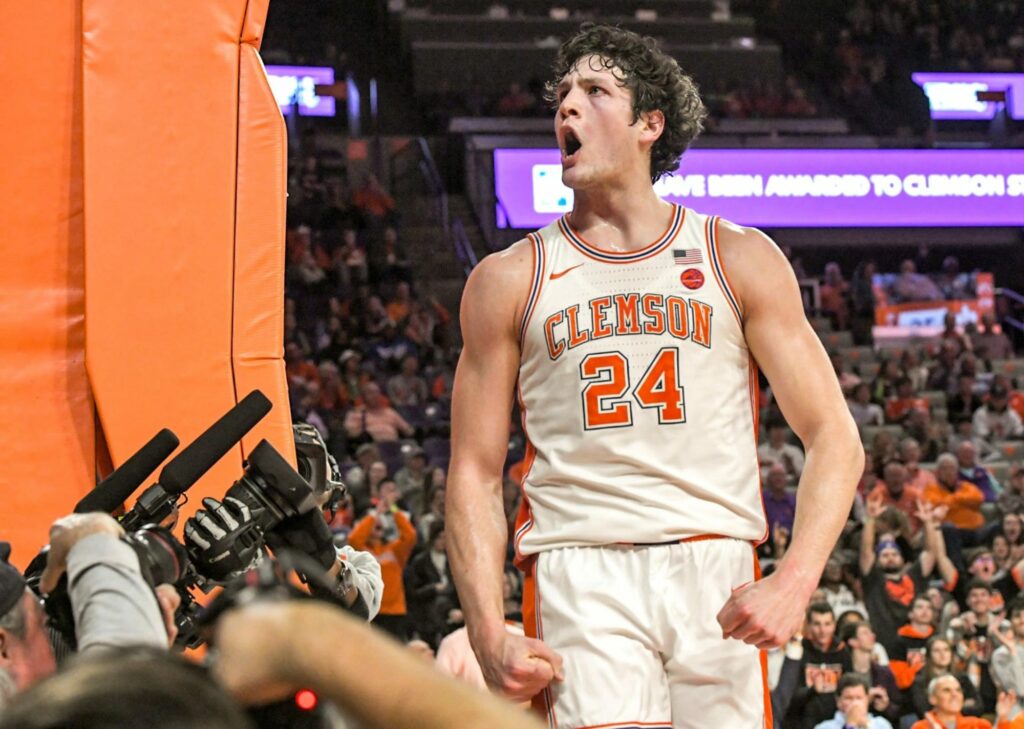 Mountain West: Utah State (21 NET) has been a hot topic across the sport. USU is ranked in the 20s in both the NET and KenPom, has 10 wins away from home and 12 wins against teams rated in the top 100. However, only one Quad 1 victory and two ugly losses will make it tough. Utah State would probably like to beat Boise State again and make the Mountain West final to feel a little more confident. 
Could any bid thieves make the field and mess up the grading curve?  
On the topic of bid thieves, let's again consider Utah State. Teams all around the country (Michigan, Penn State, Vanderbilt, Arizona State and others) will be rooting for virtual locks San Diego State and Boise State in the Mountain West, so Utah State doesn't take up another bid. But as major conferences expand and play more in-conference games, the Utah States of the world are squeezed out. So there are fewer bid thieves out there because the middle conferences don't have any tournament locks.  
But the number isn't zero. Here are some other league tournaments where a bid thief may be hiding. 
American: The AAC looks like a 1 seed for Houston and a likely at-large berth for Memphis. Cincinnati, UCF and Tulane are all capable but would require some really good guesses to ace the Houston and Memphis exams this week. 
Conference USA: Florida Atlantic is the one true mid-major who appears to be a lock. That would make North Texas and UAB potential bid thieves should one of them knock off FAU this week and earn C-USA a second bid. Fans will remember the noise North Texas made in 2021 when it beat Purdue in the Indiana NCAA bubble tournament.  
3o-wins-and-out
While not exactly a bid thief because of its fairly modest metrics, Charleston is an interesting case. The Cougars are in the final and can take care of business this week and be a dangerous underdog in the tournament, or it can make tournament history. Should Charleston not make the bracket, it will be the first time a team with 30 wins doesn't make the NCAA Tournament. 
The Playbook is powered by Genius Sports, the official data collection partner of the NCAA. Rankings are curated from the NCAA's NET with NCAA LiveStats data – also powered by Genius Sports.
The Playbook will be covering every angle of March Madness. Join us here.