Touted as one of Europe's most sensational young talents, Andreas Schjelderup has completed a move to Benfica that will see him play football there until 2028. The Portuguese giants paid around 10 million euros to sign him from FC Nordsjaelland – the most they've ever paid for a teenager.
The Norway U21 international had a breakout start to the season for FC Nordsjaelland, attracting attention from the likes of Liverpool, Ajax and Tottenham Hotspur.
The 18-year-old has enormous talent, but what are his greatest strengths? How does he affect games? And how excited should Benfica fans be? We've used elite-level tracking data from his 2022/23 season in Denmark to examine the most impressive areas of his game.
Goal threat: Devastating, accurate, varied
Schjelderup has been integral to FC Norsdjaelland's electric start to the 2022/23 season. They currently sit three points clear at the top of the Danish Superliga, having scored the most goals and conceded the fewest. The league halted at the end of November for the World Cup, and resumes around mid-February, after the customary winter break.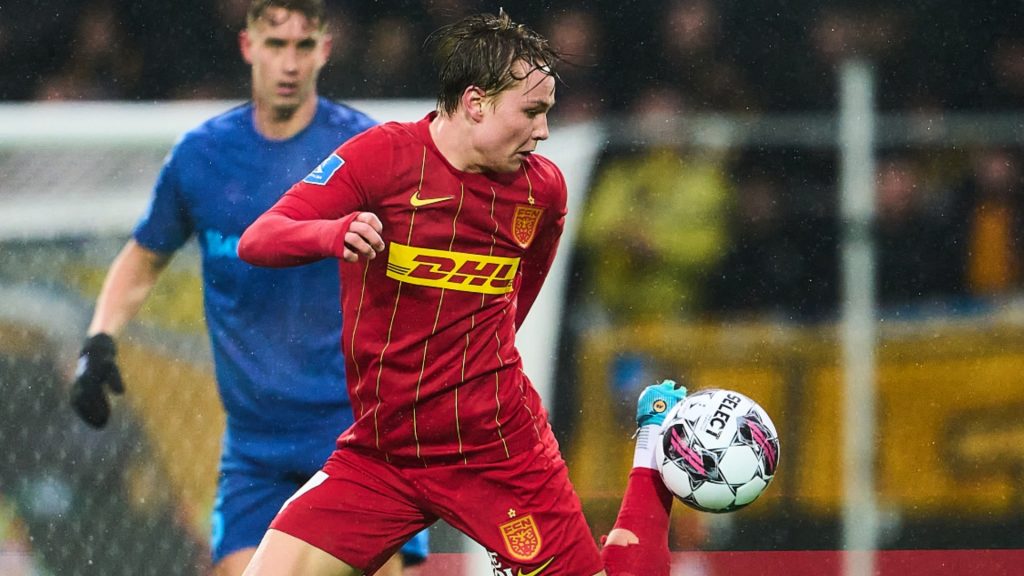 During that time, Schjelderup scored 10 goals in 17 games – meaning he departs Denmark as the league's top scorer. In those 17 games, the 18-year-old recorded an xG of 5.3, meaning he outperformed his expected goals by a margin of 4.7 – that's also the highest overperformance of any Superliga player. It goes some way to explaining why his conversion rate (38%) is one of the highest in the league. He also registered 16 shots on target – almost a shot on target every game – ranking him in the top 2% of all Superliga players.
For a winger, instructed by Nordsjaelland head coach Johannes Thorup to stay as wide as possible, these are phenomenal numbers. His goals are varied, too. His most attractive are those that originate out wide: a ball is fizzed into his feet; he controls with poise, and isolates the full-back. But as he's right-footed, he devastatingly cuts inside to beat his man, create space and fire in a perfect finish.
He's also scored from arriving late into the box, and by being the most alert in goal-mouth scrambles. He was even on penalty duty, a testament to his maturity and a reflection of his teammates' respect.
Benfica have got themselves a rarity: a wide player with a genuine instinct for scoring goals.
Positional strengths: Width, directness, discipline
Schjelderup played for Norsdjaelland as an inverted winger: a right-footer playing on the left of a 4-3-3 formation.
It should be mentioned that The Tigers have been the outstanding team in Denmark this season. Thorup has helped his young team blossom into a fluid, possession-based attacking force. They circulate the ball effectively, spring counter-attacks from turnovers, and operate on a high technical level.
Key to that is positional discipline, which Schjelderup demonstrated well. Despite his sensational scoring run, he remained comitted to Thorup's tactical plan: pinning his wingers as wide as possible, to stretch the pitch.
Take a look at Schjelderup's average positioning without (top) and with (bottom) the ball, taken from their last game before the World Cup break: a 5-1 win over Aalborg, in which Schjelderup scored.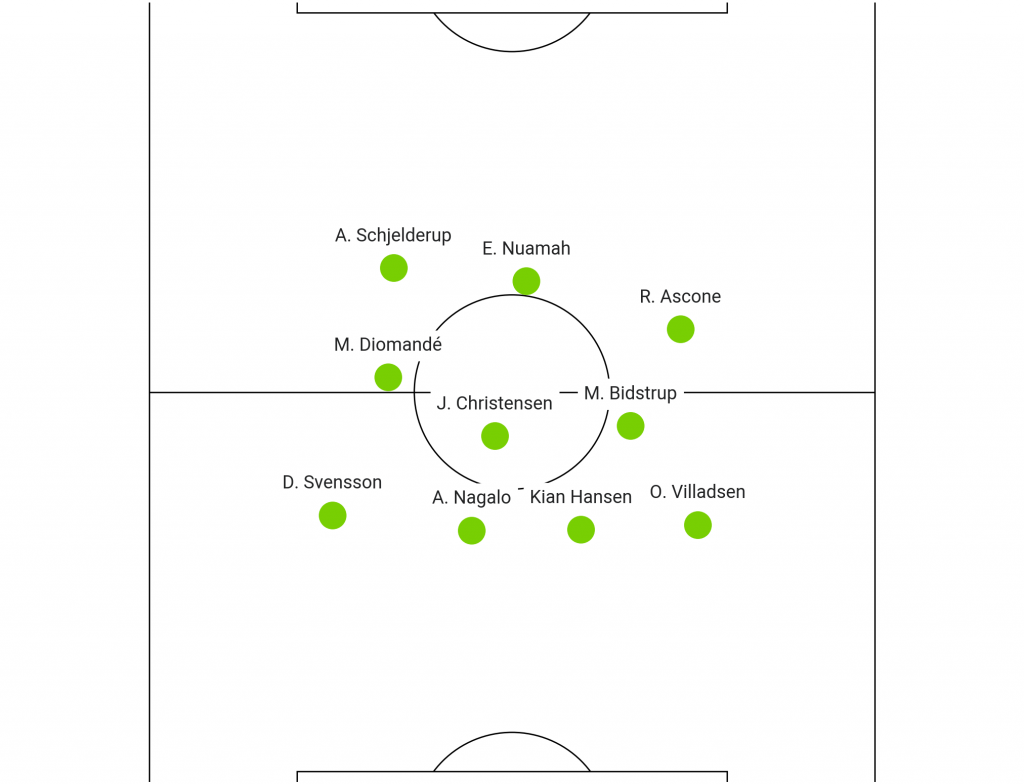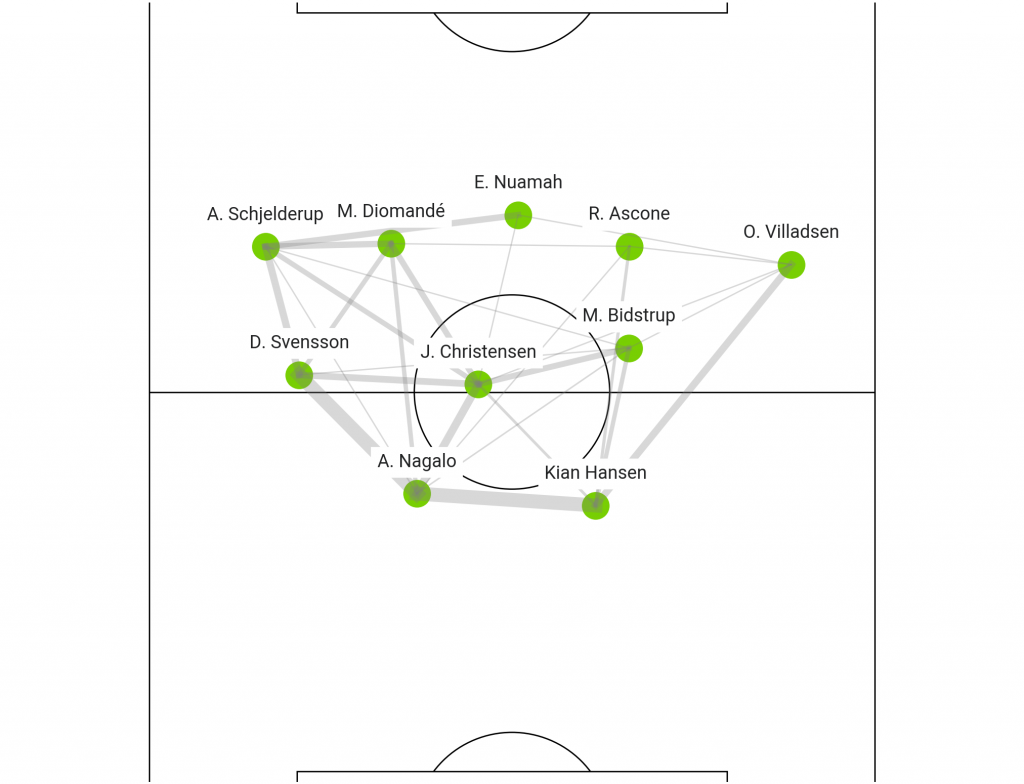 Benfica would be wise to deploy him in this same position. It helps isolate the right-back and gives Schjelderup leverage in a favourable one vs. one scenario.
Chance creation: Dynamic, unpredictable, technically brilliant
Schjelderup's creativity is perhaps his most exciting attribute. He's a fearless attacker, with a sense of accomplishment that is so rare in young players.  maintains his rawness but doesn't compromise on technical ability.
Schjelderup was a key figure in creating attacks for Nordsjaelland. He ranked second among all Superliga players for penalty area entries (61) and in the top 2% for touches in the opposition box (75).
His dribbling frightens defences, whether as part of a change of pace during build-up or on the counter-attack. He averaged 8.2 carries per game this season, one of the highest tallies of any Superliga player. Of the total number of carries, he took on 47 defenders successfully – placing him in the top 4% of any player. Just under half of those successful one vs. ones ended in the penalty area, substantially increasingly his goal threat.
Take a look at his attacking involvement below.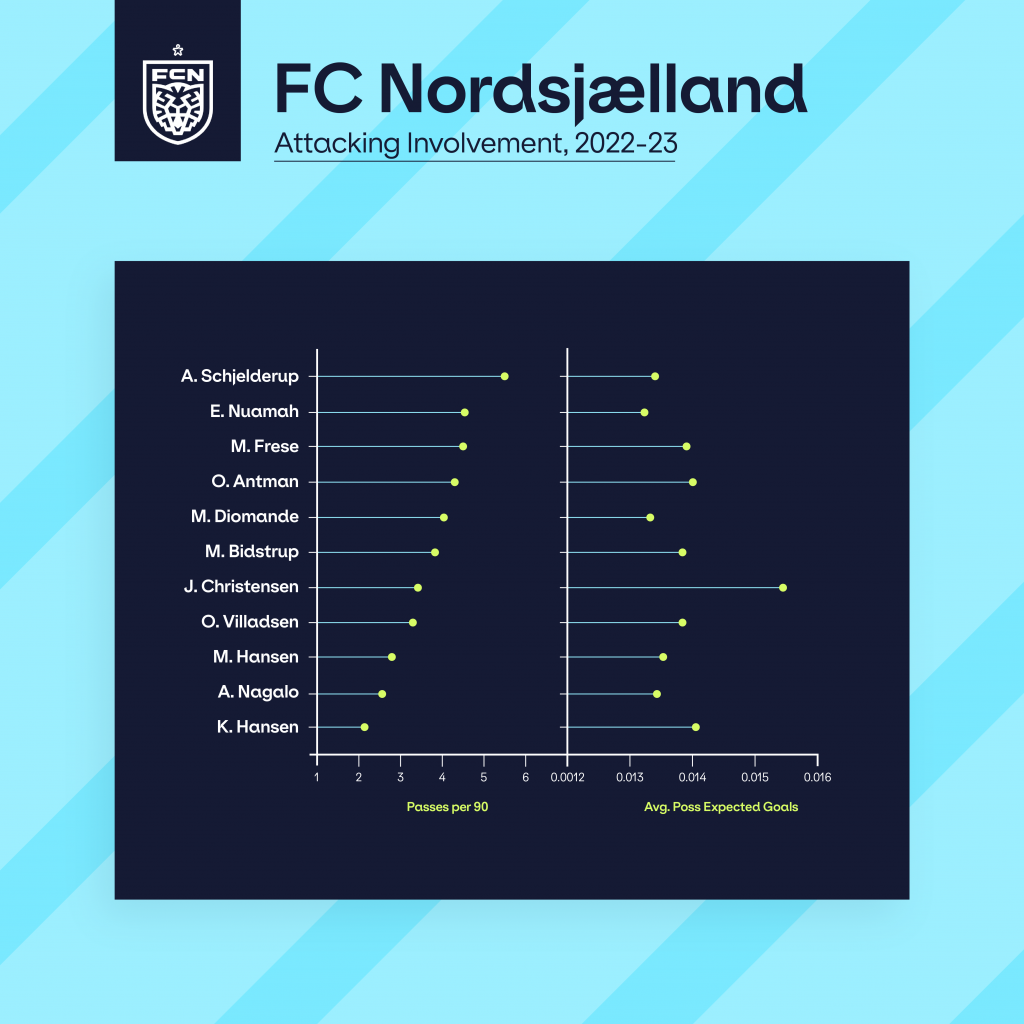 He's also a visionary passer, able to break lines and find his teammates in dangerous positions.
He made the 5th-most through balls of any Superliga player this season, with 13. Of those, six led directly to a shot on target. Being able to break the defensive line with a pass is one of his most impressive attributes. He can make passes under pressure, progress the ball forwards and circulate quickly to maintain possession.
With his first thought usually forwards, he has a tendency to run into trouble. But with other like-minded players around him at Benfica, like Gonçalo Ramos, he'll have the opportunity to become one of the most productive creators in the Liga Primeira.