The Houston Cougars slipped two places to #3 in this week's latest AP Poll, following their second defeat of the season at the on Sunday.
With one non-conference loss to Alabama, they were set to dominate conference play. But their most recent stumble, at home to Temple, was the biggest upset of this past NCAA basketball weekend.
🚨 New AP POLL!

1. Purdue
2. Alabama
3. Houston
4. Tennessee
5. Kansas State
6. Arizona
7. Virginia
8. UCLA
9. Kansas
10. Texas

— NCAA March Madness (@MarchMadnessMBB) January 23, 2023
The Cougars have been consistently ranked in the Top 5 this season; this will always bring out the best of opposing teams who are looking to upset and make a statement for their March Madness resumé. Despite the defeat, Houston has championship aspirations heading into second half of AAC conference play.
With past memories of the Phi Slama Jama team from the early 80's – led by the likes of Clyde 'The Glide' Drexler, Hakeem 'The Dream' Olajuwon and Benny 'Bomber from Bernice' Anders – this Houston team is set for a Final Four run in their own backyard at NRG Stadium this year.
On offense, the Cougars struggle without intensity
The Houston offense is solid and can be explosive and overwhelming for opponents. Their offensive rating stands at 115.1, which is among the highest in the nation. They are averaging 75.1 points per game while shooting .465 from the field and .356 from behind the arc.
The Cougars are led by guard Marcus Sasser, who is averaging 15.9 points per game right now. The senior guard commands the offense and is second on the team in assists, averaging 3.2 per game. Primarily, they like to get up and down the floor and score in transition by forcing turnovers. Their top four scorers each average around 10 points per game.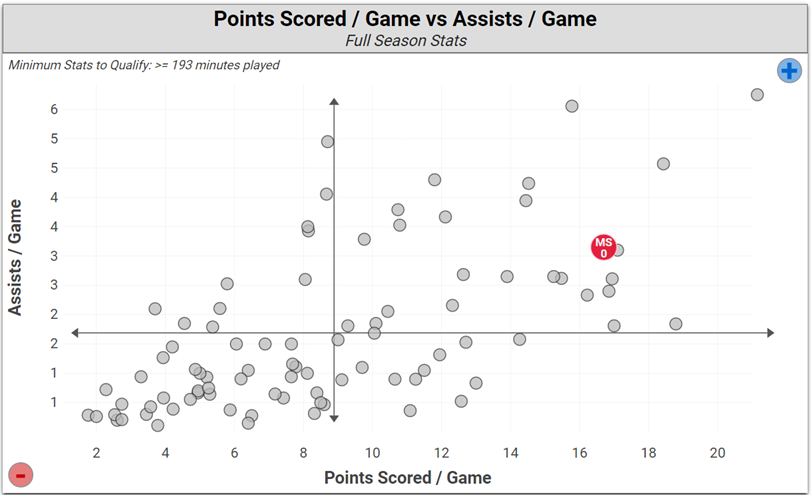 At times, their offense can be stagnant and slow: a hallmark of both of their losses. It struggled against Alabama and Temple, shooting an average of 35.5% from the field and only 29.2% from three-point range. Portions of the second-half lagged, with no offensive sets or ball movement. There were multiple possessions without passes in the half court, forcing the ball handler to simply play isolation basketball.
By and large, ISO is fine. But when the set is a high pick and an attack at the rim without a pass, it can deteriorate overall scoring. The combined total of assists in both of their losses was 16 – well below their per-game assists average.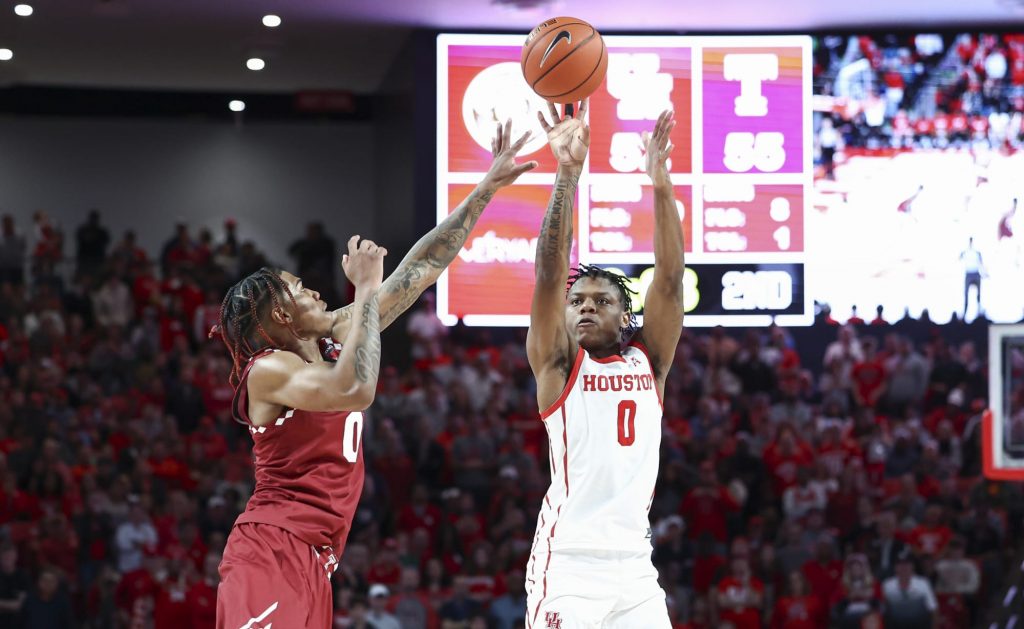 It means that the opposing defenses are not forced to play defense and rotate. With more ball movement and off the ball action, the offense can be more potent, keeping the defense on its heel and more vulnerable – potentially causing them to get into foul trouble.
With all that being said, the Cougars have only lost two games and are still in prime position finish on top of the AAC.
The Cougars' all-action defense is exciting to watch
With the Cougars being strong defensively and forcing turnovers they can definitely run and gun like the Phi Slama Jama team from the early '80s.
Their pressure-style defense certainly leads to offensive scoring opportunities and creates and highlight reels. At times it looks like they come out in a zone but quickly revert into straight man, an attempt to confuse the opposition.
Houston likes to recruit tall, rangy and athletic bigs – and this shows in their defense. The defenders are quick laterally, can stay in front of their opponent, and have active hands which lead to steals, which they are averaging 8.7 per game.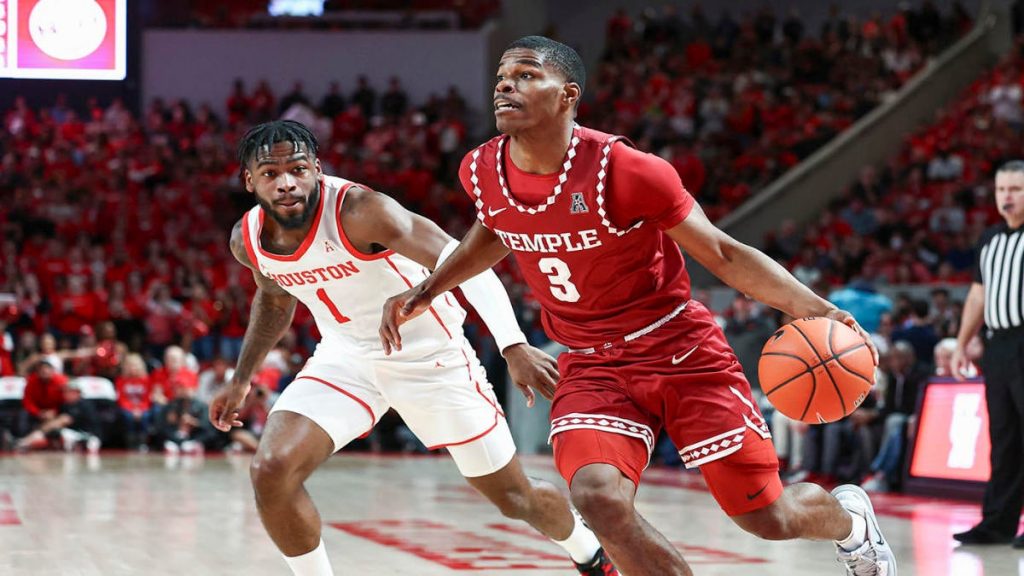 The Cougars like to hedge on pick and rolls, and trap when possible with their bigs at the wings and corners. With the overall pressure and length, they frustrate and overwhelm the offense.
Their defense is exciting, fast and certainly fun to watch; no wonder their defensive rating is Top 5, coming in at 82.5. They are holding teams below 55 points per game. Opponents are shooting an average of .342 from the field and .254 from three,  ranking top five in all these categories. It is the strength of this team. In critical situations during their two defeats, helping on pick and rolls and in the rotation to open shooters was late, leading to easy baskets.  This doesn't happen often, but in their losses, it appears to be a common theme.
Big picture: Temple defeat will awaken Sampson and the Cougars
One of the staggering stats from their recent loss is that Temple did not score a field goal in the last six minutes of play. Coming into the game, Houston was a 20-point favorite, making this a huge upset. But if upsets do anything to elite teams in this game, it's awaken them to shortcomings that already existed. The conference rematch with Temple in February will be a fun game to watch.
TEMPLE STUNS NO. 1 HOUSTON 😱

The Owls march into Houston and shock the top ranked team in the nation, standing tall defensively to end the game 👏 pic.twitter.com/7ESzgNReuq

— NCAA March Madness (@MarchMadnessMBB) January 22, 2023
Defensively, the Cougars are strong and fast with multiple athletes. Offensively they tend to struggle compared to their defense, but with Sasser leading the way they should contend. Houston is certainly a favorite to win the conference and seed highly for March Madness. They will continue to cause damage in the AAC, let alone the NCAA National Championship.
This series breaks down the NCAA contenders all throughout basketball season. For our deep dive on the Longhorns, click here.
The Playbook is powered by Genius Sports, official data collection partner of the NCAA, via NCAA LiveStats.