The 2023-2024 OHL season is in full swing with electrifying hockey action, and the developments have not disappointed.
Here is a comprehensive overview of the key events for the week of November 1 to November 5, including a closer look at some standout players and their performances.
Ottawa 67's, Overall Record: 8-4-1
Record for Nov 1-Nov 5: 2-0-0
The Ottawa 67's have demonstrated their resilience and strength in recent games.
They sought redemption for a prior loss to Guelph with a convincing 4-1 victory. In a remarkable display, they enjoyed an 8-3 triumph over Barrie, highlighted by Luca Pinelli's first OHL hat-trick.
Sudbury Wolves, Overall Record: 9-5-0
Record for Nov 1-Nov 5: 2-0-0
Sudbury Wolves have made significant strides in their performance, securing recent victories over North Bay and the Niagara IceDogs.
The team's potential is evident, with key players like Quinten Musty and Goyette leading the offense and the ability to rely on depth scoring, resulting in a strong 9-5-0 record for the season.
Mississauga Steelheads, Overall Record: 10-5-0
Record for Nov 1-Nov 5: 0-2-0
Mississauga Steelheads faced a challenging weekend in Michigan, encountering formidable opponents in Saginaw and the Flint Firebirds.
Despite the hurdles, the team remains determined, with players like Luke Misa, who has 15 points in 23 games, being a driving force for Mississauga's offense.
Kitchener Rangers, Overall Record: 11-5-0
Record for Nov 1-Nov 5: 1-1-0
The Kitchener Rangers have been steadily progressing in recent games.
Their resilience was on full display as they managed to secure victories over tough opponents. A key factor in their success is OHL scoring leader Carson Rehkopf, who has consistently delivered outstanding performances.
London Knights, Overall Record: 9-5-1
Record for Nov 1-Nov 5: 2-1-0
The London Knights continue to establish themselves as a formidable force in the OHL.
Toronto Maple Leafs' first overall draft pick Easton Cowen is leading the charge offensively, and the team boasts excellent talent on the blue line in Oliver Bonk and Sam Dickinson, contributing to their ongoing success.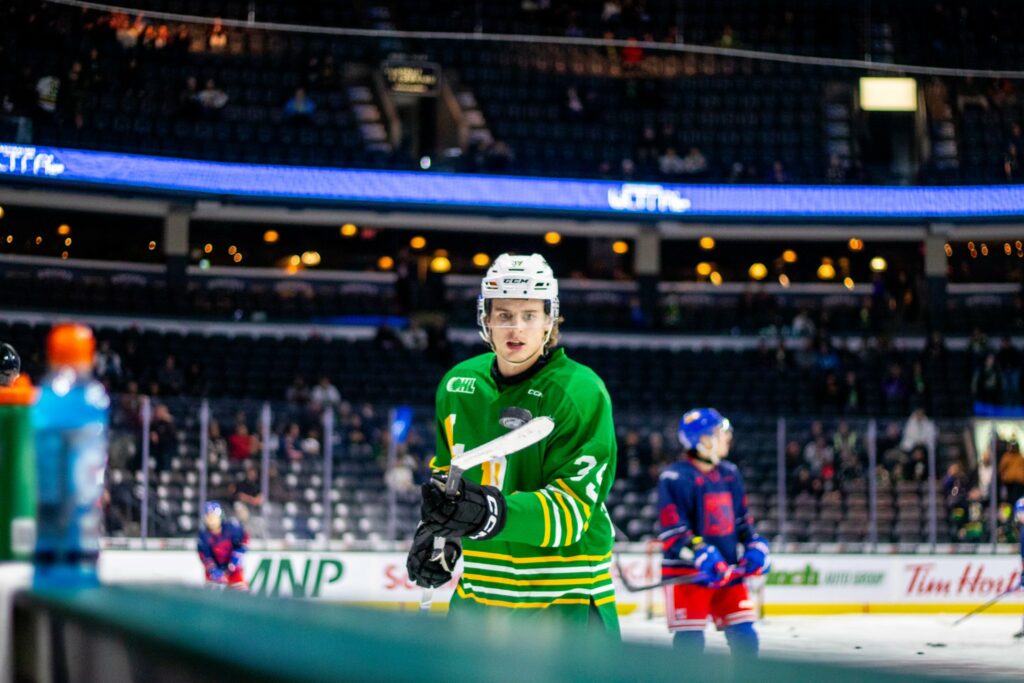 Soo Greyhounds, Overall Record: 11-5-0
Record for Nov 1-Nov 5: 2-0-0
The Soo Greyhounds are on a winning streak, having clinched four consecutive victories.
Their top scorer, Jack Beck, in his first year with the team, is leading by example in his overage year.
Beck's contributions have been instrumental in the Greyhounds' impressive run, which also featured a touching moment as they retired Joe Thornton's #19 jersey.
Peterborough Petes, Overall Record: 8-2-3
Record for Nov 1-Nov 5: 1-1-0
The Peterborough Petes have shown their strength by securing victories and leading the East Division.
Notable players like Johnathan Melee and Jax Dubois have taken their game to the next level offensively, with the anticipation of Owen Back ramping things up further. Their contributions have been pivotal in the team's recent successes.
Flint Firebirds, Overall Record: 7-6-2
Record for Nov 1-Nov 5: 2-0-1
The Flint Firebirds have shown significant improvement, overcoming early-season struggles.
They are now scoring at will, and Chicago Blackhawks prospect Gavin Hayes, with his impressive 11-game point streak, has been a key player in their resurgence.
Current Standings (as of November 6,2023)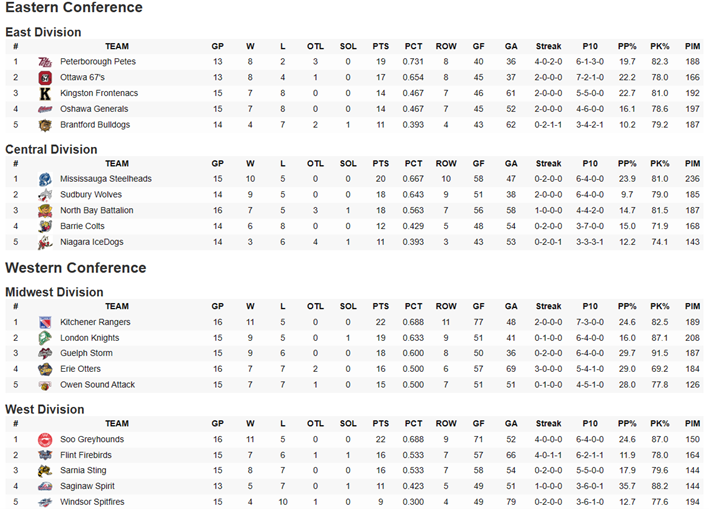 The Playbook is powered by Genius Sports and will provide regular updates of the Ontario Hockey League throughout the 2023-24 season.