The Ontario Hockey League continues to excite hockey fans across the country.
We have already seen some gripping performances in early November.
Here is a comprehensive overview of the action that we witnessed between November 7th and November 12th.
Kitchener Rangers, Overall Record: 14-5-0
Record for Nov 7 – Nov 12: 3-0-0
The Kitchener Rangers have emerged as a powerhouse with a league-best 14-5-0 record, showcasing resilience and offensive prowess
Their recent 3-0 week included impressive shutouts by Jackson Parsons and key returns in Filip Mesar (Montreal) and Roman Schmidt (Tampa Bay), adding strength to an already formidable lineup under head coach, Jussi Ahokas.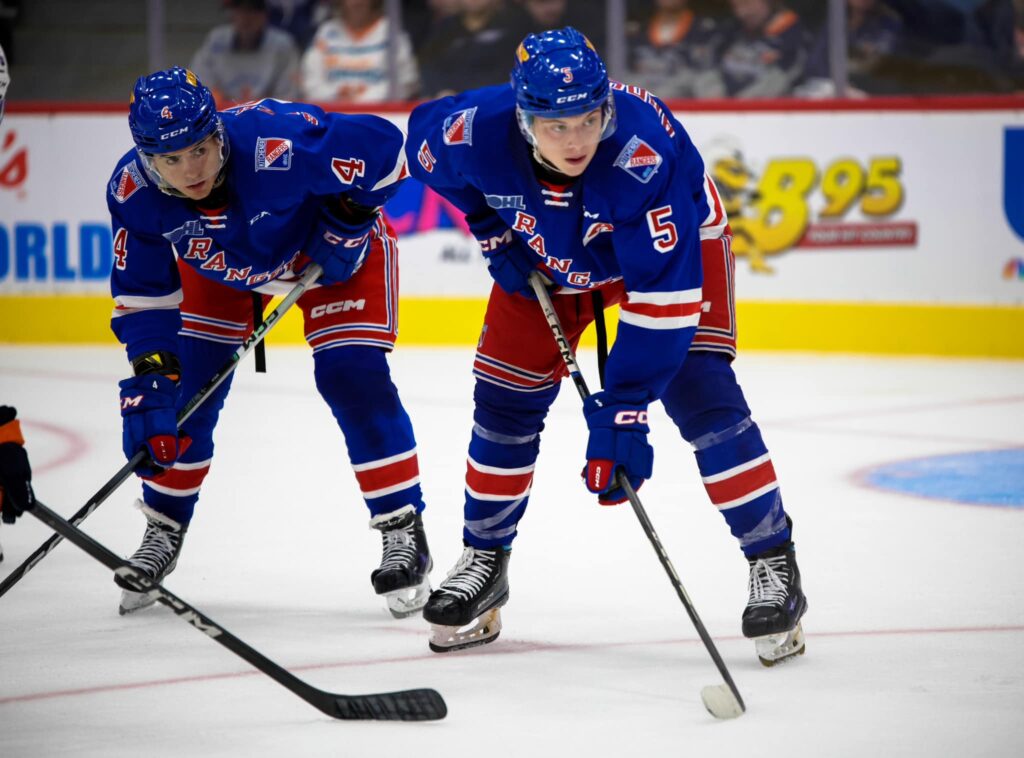 London Knights, Overall Record: 12-5-1
Record for Nov 7 – Nov 12: 3-0-0
The London Knights asserted dominance, winning all three outings. The most notable was a high-scoring Thursday night victory in Windsor and a dramatic overtime win against Owen Sound.
San Jose Sharks' prospect Kasper Halttunen with 14 goals this season, played a pivotal role in their success. Sam O'Reilly had a standout weekend with 4 points in 3 games, adding depth to their offensive arsenal.
Saginaw Spirit, Overall Record: 9-7-1
Record for Nov 7 – Nov 12: 4-0-0
Saginaw Spirit had a remarkable four-win week, showcasing depth with contributions from winger, Dean Loukus and blueliner, Zayne Parekh.
Their strong performance places them second in the West Division with a 9-7-0-1 record. Michael Misa continued his impressive run, amassing 19 points in 16 games.
Erie Otters, Overall Record: 8-7-3
Record for Nov 7 – Nov 12: 1-0-1
The Erie Otters impressed with a 4-3 overtime win against the Sudbury Wolves and a point in an overtime loss to the Flint Firebirds.
Captain Spencer Sova's game-winning goal and veteran netminder Ben Gaudreau's solid performance contributed to their five-game point streak. Key contributors Sam Alfano and Pano Fimis added depth to their offensive efforts.
Barrie Colts, Overall Record: 9-8-0
Record for Nov 7 – Nov 12: 3-0-0
After a brief absence, the Barrie Colts swiftly climbed back with three consecutive wins. Highlights included victories against Kingston, Mississauga, and North Bay.
Netminder Sam Hillebrandt's steady performance and rookie forward Shamar Moses' breakthrough added to the Colts' resurgence.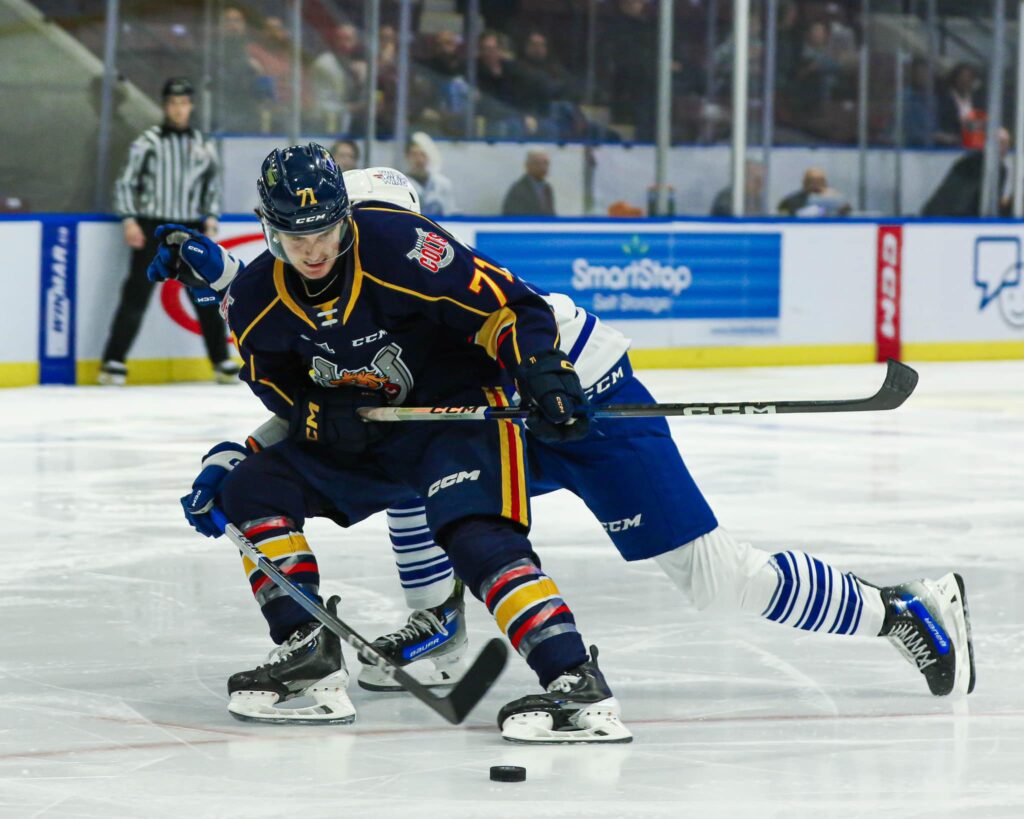 Kingston Frontenacs, Overall Record: 9-9-0
Record for Nov 7 – Nov 12: 2-1-0
The Kingston Frontenacs rebounded after a Barrie loss, securing two wins at home.
Friday's victory against the Sarnia Sting marked JJ Salajko's first career OHL win, and Matthew Soto showcased his strong hockey IQ to get into scoring areas. Captain Paul Ludwinski's nine-game point streak solidifies his leadership.
Sudbury Wolves, Overall Record: 10-6-1
Record for Nov 7 – Nov 12: 1-1-1
The Sudbury Wolves faced a demanding three-game stretch, amassing three of a possible six points.
They displayed dominance with a resounding 7-2 victory over the Niagara IceDogs, showcasing their offensive prowess. However, the Wolves encountered resistance, succumbing to a 4-3 overtime loss in Erie and a 4-0 shutout by the Brantford Bulldogs.
Notably, key players Quentin Musty and Nathan Villeneuve faced setbacks due to illness during the road trip, affecting the team's dynamic.
Additionally, Landon McCallum missed the last two games due to suspension, adding further challenges to an intense schedule.
Peterborough Petes, Overall Record: 9-3-4
Record for Nov 7 – Nov 12: 1-1-1
The Peterborough Petes are navigating through a challenging phase, facing unique situations beyond regulation play. Despite encountering hurdles, the Petes maintain a league-leading seven instances of games beyond regulation, showcasing their competitive spirit.
In a series of games last week, the Petes experienced a 2-1 shootout loss to Sarnia on Thursday, followed by a 4-0 defeat to Kitchener on Friday.
However, they rebounded with a stellar performance on Sunday, securing a 5-4 overtime victory against the Brantford Bulldogs, courtesy of a standout performance from Sam Mayer.
Current Standings (as of November 13,2023)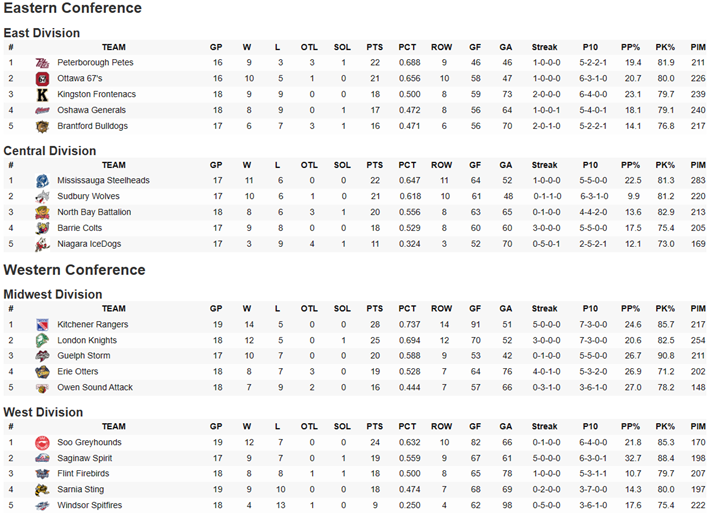 The Playbook is powered by Genius Sports and will provide regular updates of the Ontario Hockey League throughout the 2023-24 season.