The Ontario Hockey League (OHL) has begun another exciting season of fierce competition and memorable moments.
Since its establishment in 1980, the OHL has been a member of the Canadian Hockey League (CHL) and has built a rich history with a fervent fan base.
Links to NHL
The OHL stands as one of the top suppliers of talent to the NHL. Throughout the years, the OHL has produced many NHL legends. Players like Wayne Gretzky, Bobby Orr, and Mario Lemieux all honed their skills in the OHL.
In recent times, OHL alumni continue to leave their mark on the NHL. Names like Connor McDavid, Patrick Kane, and John Tavares are just a few examples of players who seamlessly transitioned from the OHL to the NHL, becoming pivotal figures for their respective teams in the world's biggest hockey league.
2023-2024 Schedule and Teams
The 2023-2024 regular season started on September 28, 2023, and will run until March 24, 2024, followed by playoffs, where the top 16 teams will compete to become the OHL champion.
The league consists of 20 teams, including 17 in Ontario, 2 in Michigan, and 1 in Pennsylvania, all competing for the OHL championship.
The champions of the OHL, the Western Hockey League (WHL), and the Quebec Major Junior Hockey League (QMJHL) then compete in the Memorial Cup, the national championship of the Canada Hockey League (CHL).
Teams and divisions are as follows:
East Division:
🏒 Peterborough Petes
🏒 Ottawa 67's
🏒 Kingston Frontenacs
🏒 Oshawa Generals
🏒 Brantford Bulldogs
Central Division:
🏒 Mississauga Steelheads
🏒 Sudbury Wolves
🏒 North Bay Battalion
🏒 Barrie Colts
🏒 Niagara IceDogs
Midwest Division:
🏒 Kitchener Rangers
🏒 London Knights
🏒 Guelph Storm
🏒 Owen Sound Attack
🏒 Erie Otters
West Division:
🏒 Soo (Sault Ste. Marie) Greyhounds
🏒 Sarnia Sting
🏒 Saginaw Spirit
🏒 Flint Firebirds
🏒 Windsor Spitfires
Current Standings (as of October 30, 2023)
Each team has already played between 11 and 14 games. The Mississauga Steelheads are having the best start of the season with 10 wins out of 13 games.
The Kitchener Rangers and the Soo Greyhounds are tied for second. Each team has 18 points.
As the 2023-2024 OHL season unfolds, the quest for the Memorial Cup continues, with teams vying for the opportunity to hoist this prestigious trophy.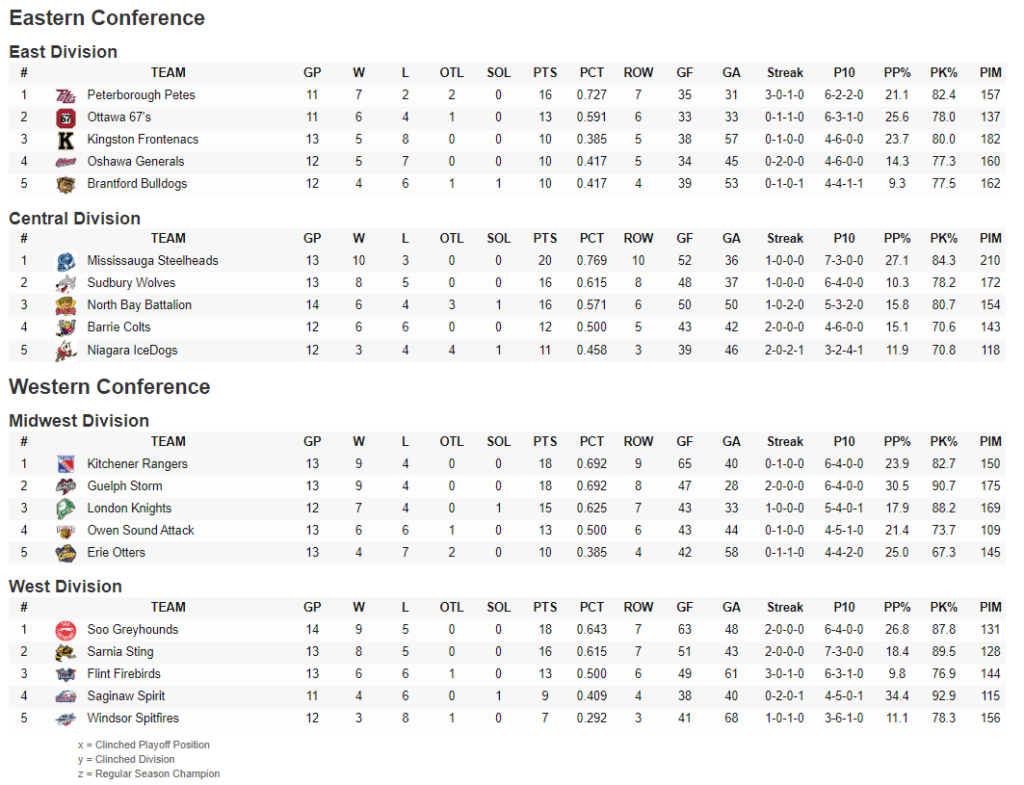 The Playbook is powered by Genius Sports and will provide regular updates of the Ontario Hockey League throughout the 2023-24 season.