In the run-in to their 2021/22 Danish Superliga title, FC Copenhagen put together an incredible string of results.
But the bold decision of astute manager Jess Thorup to throw 19-year-old Hákon Haraldsson into the heat of a title race might be looked upon as one that birthed the career of a future star.
Born into a family of international footballers, the Icelandic attacking midfielder Haraldsson was central to FCK's title run. His performances earned him his first call up to the Iceland national team, just months after scoring two goals on his debut for the Under-21's.
Using Second Spectrum data, we've taken a look at his numbers to show why he will be pivotal to FC Copenhagen this season, and why he could be the future of the Icelandic national team.
F.C. Københavns islandske skarpretter Hákon Haraldsson scorede Rundens Mål i 31. spillerunde, da han knaldede bolden i kassen efter smuk forarbejde af Rasmus Falk 🇮🇸#sldk | #rundensmål pic.twitter.com/cickX5LHMG

— 3F Superliga (@Superligaen) May 18, 2022
Goal-scoring prowess 
Across the season, Haraldsson played just 11 times for FC Copenhagen, including 7 in the championship stage. An injury in mid-February forced him to miss 6 games, just as he'd found some rhythm in the team. His 571 minutes played puts him in just the 12th percentile of total Superliga minutes.
In games where he featured, he was most often deployed as one of a midfield three, or out wide on either flank. He's diminutive: just 1.80 meters tall, and Thorup sees him as a dynamic playmaker.
Despite a lack of playing time, Haraldsson scored 4 goals at critical stages for his team. Two of these came back to back; in a 2-0 win over Randers, and the opening goal of Copenhagen's 3-0 win over Aalborg – a game they need to win to secure the title.
Hákon Haraldsson 🥶👀 #fcklive pic.twitter.com/cdXaCATclY

— F.C. København (@FCKobenhavn) May 25, 2022
His 0.36 goals per game ratio places him in the top 5% of all Superliga players. What is perhaps most incredible is Haraldsson's ruthlessness in front of goal. His average shot quality sits around 0.16 – good for the top 10% in the league, while his 40% shot conversion rate is comfortably the highest in the Superliga. He scored 2.38 more goals than expected (xG), and Thorup will be pleased to have unearthed a streak in Haraldsson that produces important moments.
A goal-scoring, versatile midfielder is a rare find.
High-risk, high-reward playmaking
Haraldsson's technical ability in attacking situations means that he is heavily involved in the middle and final third of the pitch.
He always looks forward – playing 3.3 progressive passes per game. He is comfortable receiving and playing the ball under pressure, averaging 1.8 pressured passes per game. These qualities unlock chances for his teammates and provide respite from the opposition press.
As well as being a metronomic figure in midfield, Haraldsson is at home when running at defences – with and without the ball. He makes at least 10 attacking runs each game, with around 4 of those being runs that actively disrupt the opposition back line. He attacks with dynamism and a rawness that terrifies opposition midfielders, as it's difficult to track his running.
U19-topscorer Orri Óskarsson scorede for anden kamp i træk i træningskampen mod @fchelsingor. Se scoringen på oplæg fra Hákon Haraldsson lige her 👏🏼🇮🇸 #fcklive #sldk pic.twitter.com/DNLKUpiV4p

— F.C. København (@FCKobenhavn) January 24, 2022
In the 3 Europa Conference League games Haraldsson featured in this year, he registered 3 assists, from a variety of positions on the pitch.
A team player
Haraldsson is all-in on Thorup's playing style. The Copenhagen coach desires maximum effort from his attacking players in pressing and recovering the ball. Haraldsson is pivotal in making that happen.
The 19-year-old averages 31.36 pressures per game, with around 25.9 of those being direct pressing movements towards an opposition player about to pass the ball. This places him in the top 10% of all Superliga players when it comes to pressing. It's also an impressive metric given FC Copenhagen usually dominate the ball in games.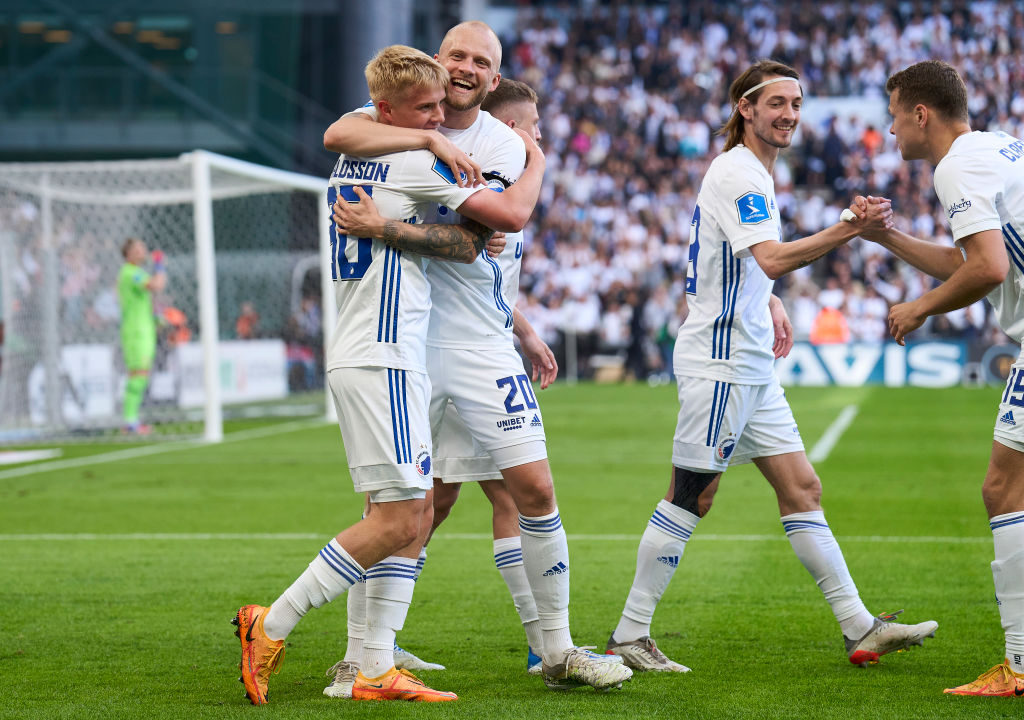 That domination is possible because they work as a team to recover it. On average, Haraldsson is key to around 9 team pressures (3 or more players pressing at once) per game. He is well-tuned to the movements of his teammates, particularly someone like Pep Biel, who often triggers the press from the false-9 position. He is a player molded in the image of a Jess Thorup system.
What does the future hold for Haraldsson?
This will be an important season for Haraldsson.
Providing he avoids injury, it'll be the first full professional season of his career, and his team will be defending champions. Finding a position into which Haraldsson can settle, whether as a winger or an attacking midfielder – or even a box-to-box player – will be so crucial to his development this season.
That will present new challenges, and the way in which he reacts will indicate just how far he can take his incredible talent.
We'll be covering the Superliga right here, on The Playbook.