Danish giants FC Copenhagen finished the 2021/22 season in fine form, winning five on the bounce to claim their 14th Superliga title – the most of any club since the league was founded in 1991.
Despite starting slowly with back-to-back draws, Jess Thorup's side quickly found their feet, winning 14 of their next 20 games – losing just twice – with a defensively solid and pragmatic style of play. The Danish capital-based club conceded just 13 times all season – 8 goals less than their biggest challengers Midtjylland and 11 less than third-placed Brondby IF – keeping a staggering 18 clean sheets.
FCK were comfortable switching between formations while getting the best out of their star man: Spanish-born midfielder Pep Biel. We've analysed the underlying performance numbers to look at how they won their 14th league title.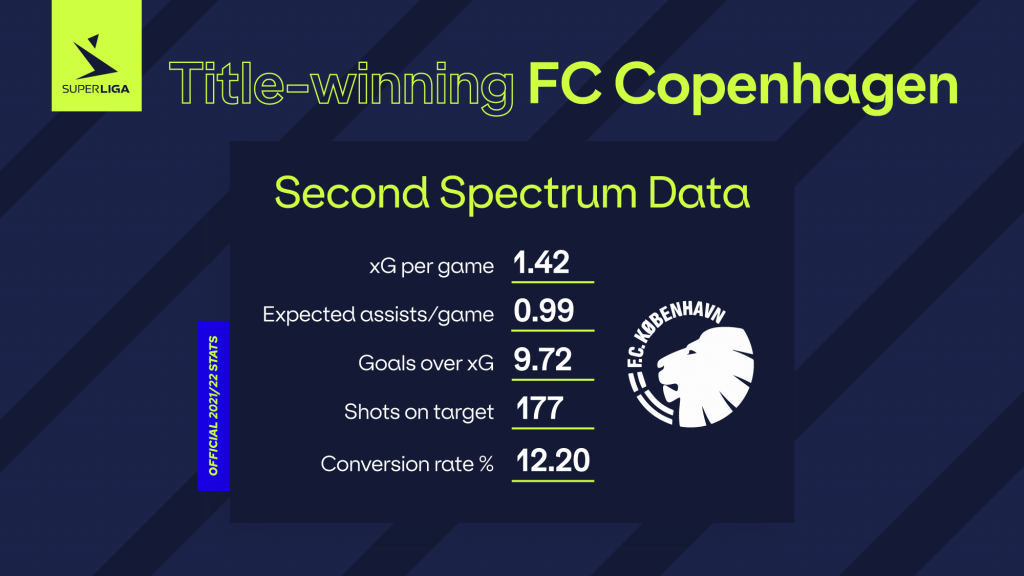 Defence wins titles
FC Copenhagen lost just four games this season, the fewest of any other team in the league. Jess Thorup built this title-winning team on defensive solidity and pragmatism.
They rotated through a number of formations this year, mostly either a 4-3-3 or 4-5-1. Defending in this shape, with wide attackers dropping to provide defensive cover, was highly effective; they conceded an xG of just 0.043 and 0.045 on the right and left flanks respectively this season.
As the below diagram demonstrates, the deepest midfielder – most often Rasmus Falk Jensen, drops very deep, and the full-backs act as more traditional, defensive components. This is something we will see mirrored in the attacking shape.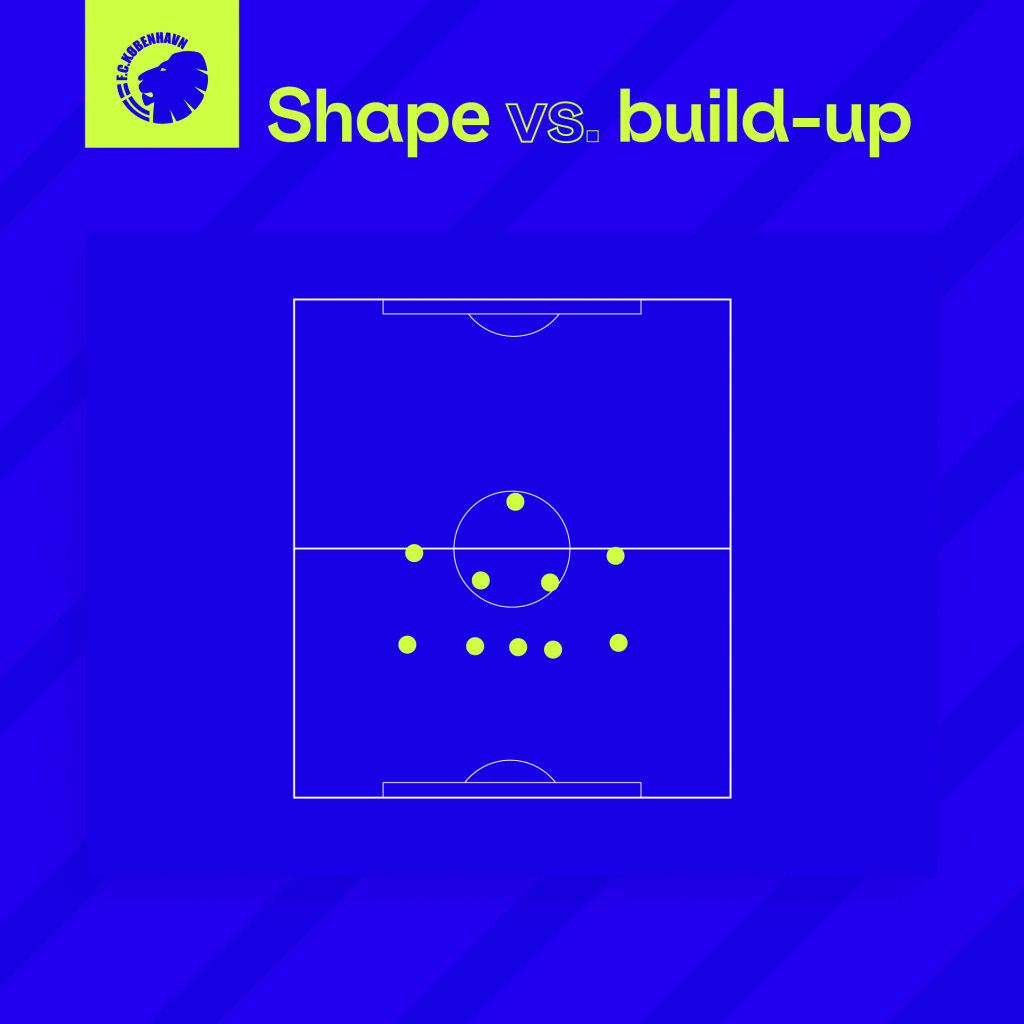 Thorup has been able to achieve something of a hybrid defensive system, based on two states: a deeper defensive line, and effective pressing.
Second Spectrum tracked just 1019 high line phases for FC Copenhagen this season – the lowest proportion of any team in the league. Whenever they did attempt to cut out the space behind by defending with a higher line, they were punished. They conceded 20.76 final third entries per game with a high line, a fact which prompted Thorup to drop the back line to high-mid and mid-low positions.
Most teams that defend with a deeper back line often forego pressing, as that opens spaces that can be exploited. This is where Thorup's defensive innovation has been most remarkable: they used the press with enormous effect.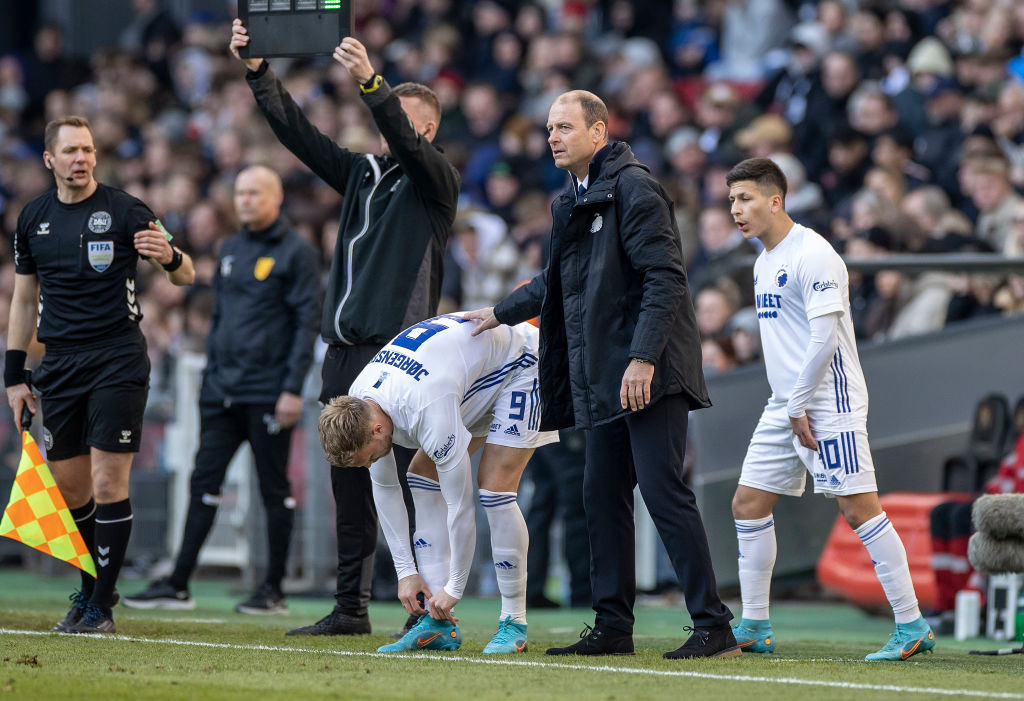 Jess Thorup's in-game management has also been first-in-class. His rotation of players during games has ensured that pressing is always vigorous, and effective. (Photo by Anders Kjaerbye / FrontZoneSport via Getty Images)
His team are most effective when pressing from the front. Opposition full-backs were pressed 51.6 times per game on average, closing the space by approximately 417 meters each game. Centre-backs were pressed even more vigorously: 52.94 occasions a game, closing off 453 meters of space. These metrics place FC Copenhagen's attackers in the 97th percentile of players in the league as regards to pressing. As a team, they recorded an average of 11.91 instances per game where they recovered the ball within 5 seconds of beginning the press.
One suspects Thorup would prefer to play with a higher line, but without quick defenders, he's conjured a strong alternative. It means there are two lines of defence. If the pressing attackers cannot retrieve the ball, and an opposition counter-attack develops, the slightly deeper defence – with the third defensive midfielder – leaves less space behind for opposition players to exploit. It has also provided a foundation for this young squad to express itself in attack.
On the front foot
FC Copenhagen's statistics with the ball are reflective of their pragmatism without it.
With an average possession of 50.65% per game, Copenhagen aren't afraid to concede the ball when the situation calls for it. Their average of 403.03 passes per game is not indicative of a team that applies a slow and steady suffocation of the opposition. It is just the 4th highest figure in the league. On the other hand, they average 20.41 passes before a shot opportunity emerges, which indicates they are patient in building attacks.
Win the ball back & score quickly

Pep Biel @FCKobenhavn | #UECL pic.twitter.com/qLzxE0vLBb

— UEFA Europa Conference League (@europacnfleague) March 15, 2022
That patience is key. The data shows that their off-the-ball movement in attack is exceptional. They rank third in the league for overlapping runs per game (28.41) and runs that challenge the opposing back line (36.34). They also complete the second-most pass-and-move plays, averaging 14.4 each game. Overall, they make 113.9 attacking runs each game, creating an xG of 1.09 before a shot has even been taken. These runs, regardless of whether they're directly involved in the play, stretch and work the opposition out of position.
As mentioned above, the shape in buildup reflects Thorup's desire to be able to drop quickly when needed, but also to create a strong foundation from which the attackers can move fluidly.
Rather than being given licence to join the attack, the full-backs are used more conservatively. Instead, the two more advanced midfielders are encouraged to join the forwards to create unique running angles.
The key ingredient: Pep Biel
Biel found new levels of performance this season that have become pivotal to the way FC Copenhagen enact their game plan. Head Coach Jess Thorup deployed him in a number of positions, principally as the most attacking of the three midfielders, but on occasion as a false-nine. He finished the season with 11 goals and seven assists, placing him joint-third for goal contributions in the Superliga.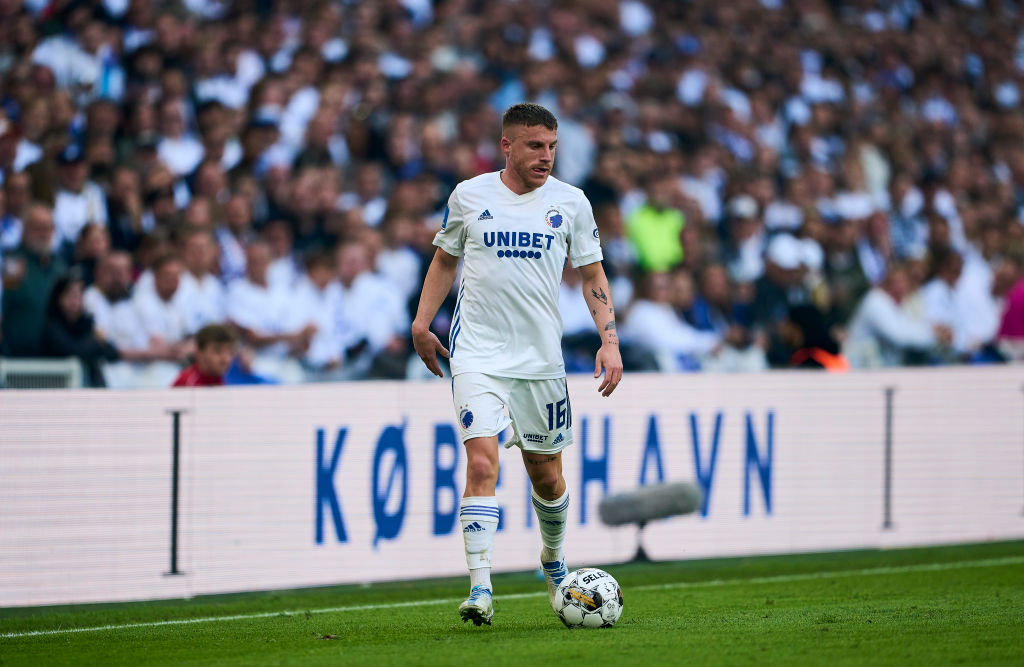 Pep Biel was a key man for FC Copenhagen this season. Can they hold onto him in the summer? (Photo by Lars Ronbog / FrontZoneSport via Getty Images)
He sits in the 97th percentile of all players for total shots (90), shots on target per game (1.53) and expected assists (5.53 total). His total xG for the season was 7.69, meaning he scored 3.3 more goals than expected – which also places him in the top 3% of players.
As the graphic below demonstrates, he also leads his team in key passes per 90.
Thorup's ability to create the perfect conditions for Biel has been so important: giving him a supporting cast and a fluid system within which Biel can play to his own strengths.
It's been a memorable season for FC Copenhagen. In the end, they won 20 of their 34 games, and lost the fewest of any other team in the league (4).
With a fluid attack and a versatile, but ultimately risk-averse defensive structure, they've been able to play to their strengths and win games with effective play. Thorup deserves huge credit for the way in which he weaved together the different elements of this team, to create a title-winning machine.