CLEVELAND — The stage is set at Ohio's Rocket Mortgage Fieldhouse as the Mid-American Conference (MAC) Tournament kicks-off on Thursday, March 9th at 11:00 AM (ET). This tournament features the top eight teams in the conference battling for a chance not only to win Saturday's championship game, but also receive an automatic bid to this year's NCAA Tournament.
In this one-stop-shop, we'll be taking a look at all things MAC Tournament: the players to watch; the favorites; potential bid-stealers and more.
Key players
Mark Sears (Ohio)
Sears is a sophomore guard who averaged the 2nd most points per game in the MAC this year (19.4 PPG). He shoots 41.6% from three and has the best free throw percentage in the conference (91.2%). At 6'1 he still manages to grab 5.8 rebounds per game. He is a big defensive factor, too, averaging 1.7 steals per game.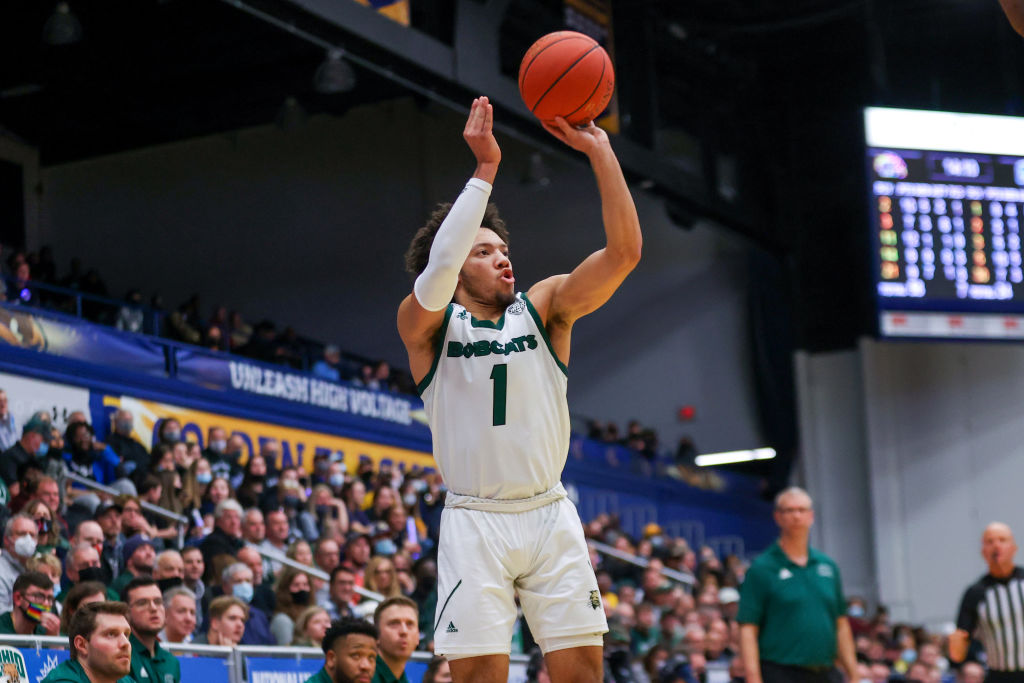 JT Shumate (Toledo)
Toledo has two big forwards on their team that are notable, but I chose to talk about Shumate because of this absurd stat: of his 123 three-point attempts, he made 51.2% of them (63 total). On top of that, he averages a team-high 6.1 rebounds per game and averages over a block per game.
Ryan Rollins (Toledo)
Shumate and Setric Millner Jr. may dominate Toledo's frontcourt, but Rollins might be the best player in the entire tournament. The sophomore guard averages 19.2 PPG and 6.0 rebounds per game. He's also one of the best defenders, totaling 56 steals this season, two shy of having the most in the MAC.
Sincere Carry (Kent State)
The junior guard fills out the stat sheet for Kent State, averaging a team-high 18.7 points per game, 4.8 assists per game and 1.5 steals per game. Carry put on a clinic against Ball State where he dropped 42 points and went 10-16 from three. Expect to see him to do some damage in this year's postseason.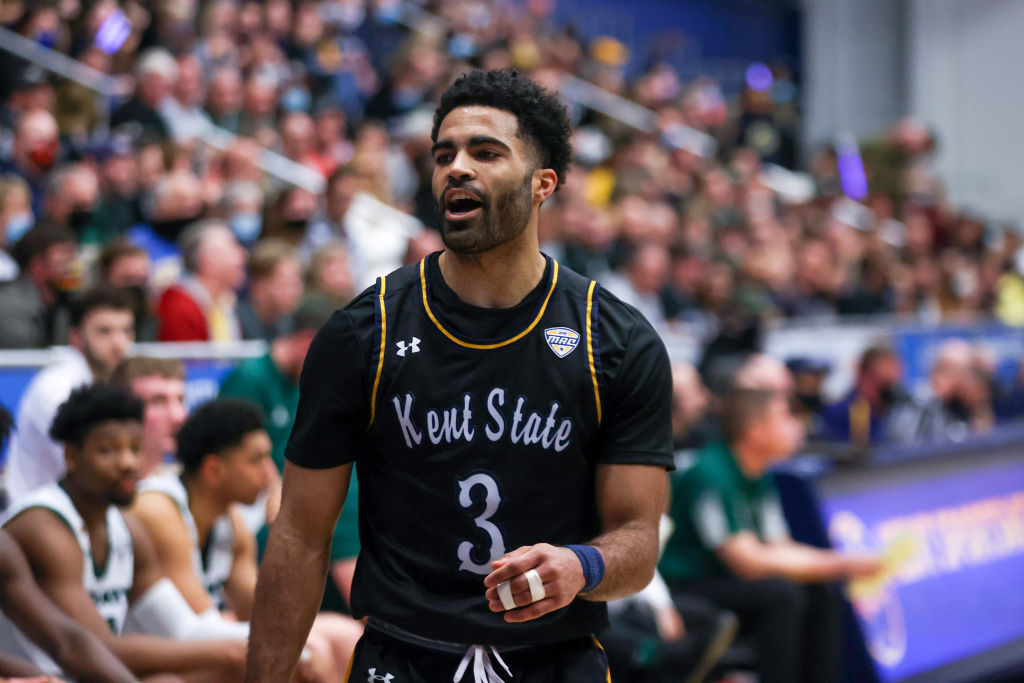 Jeenathan Williams (Buffalo)
At 6'5 Williams can excel at just about anywhere on the court. He has the speed and length to drive on defenders and is also a sniper from three, making 45.0% of his shots from beyond the arc. His only flaw is that he shoots a less-than-average 69.4% from the free throw line; other than that, he's easily one of the most exciting players in this tournament.
Grant Dae Dae (Miami OH)
Dae Dae leads the Miami Redhawks in scoring with 17.6 points per game. He's also one of, if not, THE best ball handler in the conference. He gets about 4.1 assists per game while limiting his turnovers to 1.8 per game, giving him the 2nd best assist/TO ratio in the conference.
Enrique Freeman (Akron)
The 6'7 sophomore is the only player in the MAC who averages a double-double. His contribution of 13.0 PPG and 11.0 rebounds per game have been a very important part of Akron's success this season. He also averages 1.2 blocks per game.
Favorites
Without question the team to beat is top-seeded Toledo. The Toledo Rockets repeated as regular season conference champs with a 25-6 overall record. Their total points per game is a conference-best 81.5 and they win games by an average margin of 13.2 points (next best is Akron with an average victory margin of 8.2). They also have the best field goal and three-point percentages in the conference at 48.5% FG and 36.5% 3P.
𝙍𝙊𝘾𝙆𝙀𝙏𝙎 𝙎𝙊𝘼𝙍𝙄𝙉𝙂 𝙄𝙉 𝙍𝘼𝙉𝙆𝙄𝙉𝙂𝙎!!🚀📈

Toledo ranks in @NCAA's Top 1⃣5⃣ nationally in 6⃣ categories:

# 3⃣ – 30.0 def. rpg
# 6⃣ – 81.5 ppg
# 9⃣ – 40.6 rpg
# 1⃣1⃣ – +13.2 scoring margin
# 1⃣4⃣ – 1.50 A/TO ratio
# 1⃣5⃣ – 48.5 FG% pic.twitter.com/m1ZjNKy3Id

— Toledo Men's Basketball (@toledo_mbb) March 7, 2022
My only concern for the Rockets is if they face Kent State in the title game. The Golden Flashes gave Toledo two of their three conference losses this season, and the most recent matchup ended 72-59. Luckily for Toledo, they wouldn't have to face Kent State until the championship game, should both teams reach that mark.
2-seeded Kent State could just as easily find themselves in the NCAA Tournament. They are entering the MAC Tournament on a 12-game win streak, which includes their most recent matchup against Toledo. They hold their opponents to an average of 64.1 points per game, and according to KenPom.com, they have the best adjusted defensive efficiency in the conference.
The Golden Flashes travel to Cleveland for the MAC Tournament and will take on Miami tomorrow at approximately 4 p.m.! #team106 x #KentStMBB https://t.co/PKVW0uP5W1

— Kent State Men's Basketball (@KentStMBB) March 9, 2022
While this is a team known for their defense more than anything, they have a prolific scorer in Sincere Carry. Aside from Carry, their offense has some inconsistencies. My fear for Kent State is that in a single-elimination tournament, all it would take is one bad game from Carry to end their NCAA Tournament hopes. Still, this team has caught fire in their last 12 games and expects that streak to continue throughout the MAC postseason.
Potential bid-stealer
For my sleeper pick, I'm going with another 5-seed to win it all. Last year, we saw 5th seeded Ohio make a run to the MAC Championship and blow teams out on their way. This year, I believe the same thing will happen with 5th seeded Buffalo. This team is full of seniors who were one step away from the NCAA Tournament last year.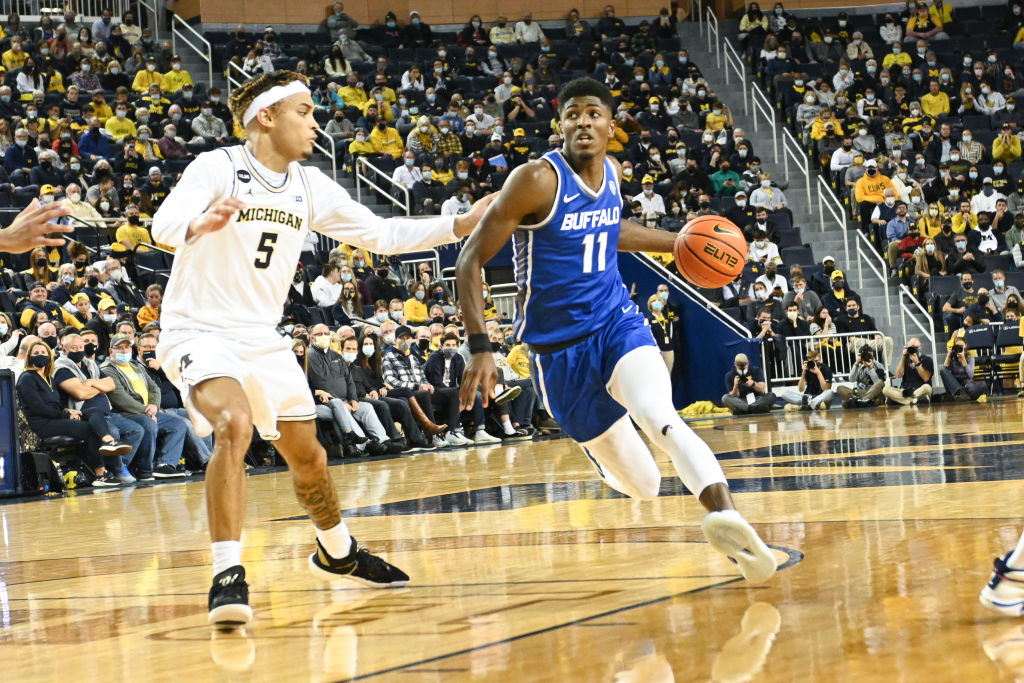 Ranked number 1 in the MAC preseason, they underperformed this year. However, they average the second most points per game with 80.3 and they out-rebound their opponents by 7.9 per game, the most in the conference. When it comes down to it, they have one of the conference's best players in Jeenathan Williams and other seniors like Ronaldo Segu and Josh Mballa who are hungry to make it back to the MAC Championship. Hopefully, the luck of the 5 seed rubs off on Buffalo in this year's tournament.
Schedule for Thursday, March 9th
#1 Toledo vs. #8 Central Michigan at 11:00 AM (ET)
#4 Akron vs. #5 Buffalo at 1:30 PM (ET)
#2 Kent State vs. #7 Miami (OH) at 4:00 PM (ET)
#3 Ohio vs. #6 Ball State at 6:30 PM (ET)