On a weekend where more than half of the fixtures were postponed due to the Covid-19 crisis, spectators were rewarded for their patience with an enthralling 90 minutes at the Tottenham Hotspur Stadium.
A breath-taking 2-2 draw in North London saw the points shared in a game that will go down as a Premier League classic. An end-to-end encounter – Liverpool manager, Jurgen Klopp cut a frustrated figure at full time. Andy Robertson found himself at the centre of attention, the full back being sent off for a late challenge in the second half. Robertson was on the receiving end of a high tackle from Harry Kane in the first half which looked a clear red card, however the referee and the VAR agreed it was only a yellow. The Liverpool manager was angered further as the officials waved away what looked a clear penalty when Jota tumbled over in the box.
Covid-19 Rife in Premier League Squads
With so many postponements, it wasn't until the team sheets were revealed that we knew for certain that the game would go ahead. Spurs were without the ever-present Pierre Emile Hojberg for the first time in the Premier League since he joined from Southampton 18 months ago, lining up with an unfamiliar central midfield pairing of Harry Winks and Tanguy Ndombele. Dele Alli was certainly the surprise name included on the Spurs starting eleven, going on to have a huge impact on proceedings and certainly repaying his manager's faith during the course of the game.
Liverpool, who had been imperious in previous encounters with Spurs under Jurgen Klopp, were without Van Dijk, Fabinho, Henderson and Thiago.
A Frenetic Opening
The game began with Liverpool on the front foot, who created the first clear cut chance inside the opening minute: the full back combination of Trent Alexander Arnold crossed for Andy Robertson who headed wide when he was unmarked in the area. He really should have scored or at the least made Hugo Loris work in the Spurs goal.
Following a period of Liverpool pressure, Tottenham grew into the game and took the lead through Harry Kane in the 13th minute. Ndombele's pass was through to Harry Kane was perfectly weighted and the England Captain finished beautifully into the corner past Allison. It was Kane's first league goal of the season.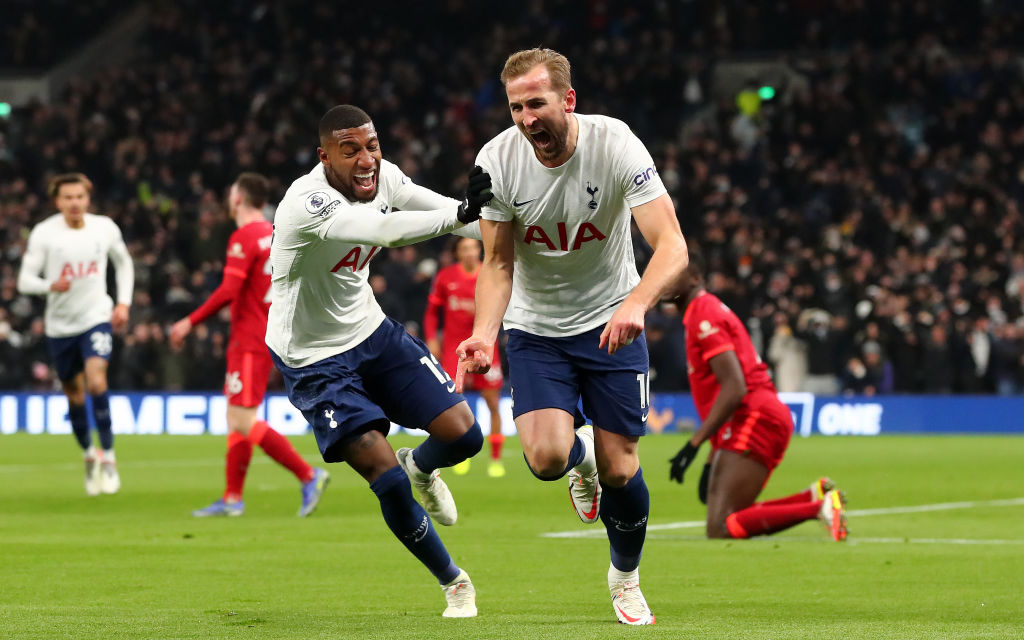 The goal played perfectly into Tottenham's hands, who opted to sit and absorb Liverpool's passive possession – springing counter-attacks forward when the opportunities arose – which Tottenham will kick themselves for not maximising.
At this stage, Liverpool looked shell-shocked but arguably should have had a man advantage when a Harry Kane lunge on Andy Robertson should really have resulted in a red card. It was surprising that VAR didn't invite referee Paul Tierney to have a second look.
Around the half-an-hour mark, another Tottenham counter-attack saw Son slip through Dele Alli, who's one-on-one effort was expertly saved by Allison.
Just five minutes later, Spurs were left to rue their missed chances as a smart Liverpool move involving the tireless Mane and Robertson was finished brilliantly by the head of in-form Diogo Jota. He headed home a Robertson crossed to score his sixth header of the season.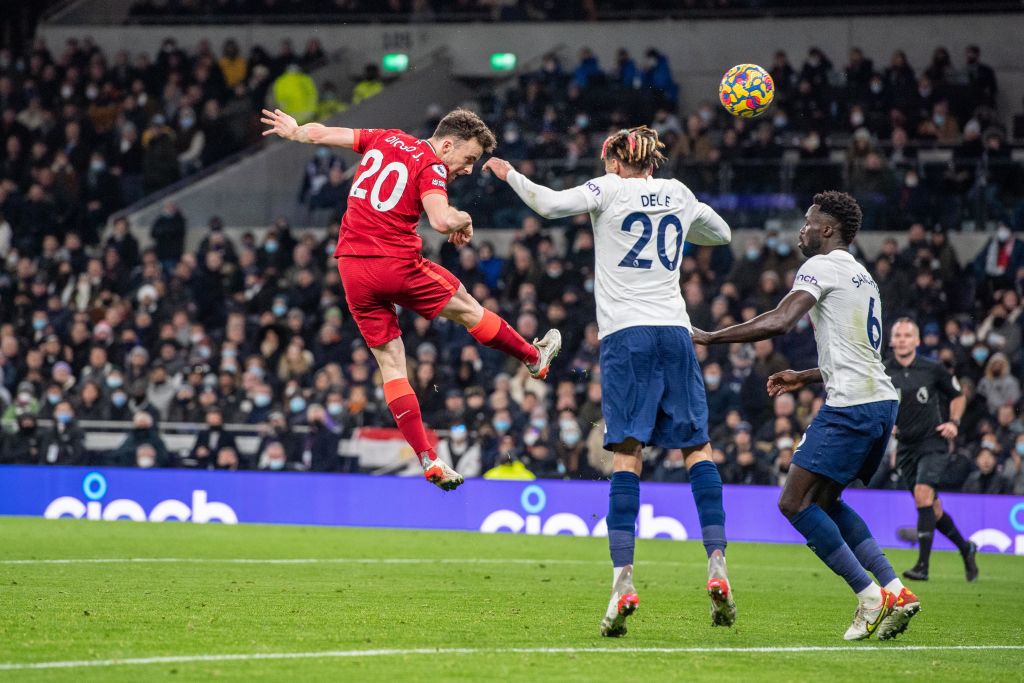 Liverpool piled on the pressure for the last ten minutes of the half, as Jota went down in the area for what looked like a stone wall penalty only for Paul Tierney to wave it away. VAR had a look and surprisingly didn't advise any further viewing from the on-field referee.
Second-Half: More of the Same
The second-half continued to play out at a frenetic pace: Tottenham this time with their own penalty shout, which was brushed aside, and Harry Kane again being denied by Allison at point-blank range.
20 minutes into the second half, Alli again broke free and this time before he could shoot or pass, he looked to have been fouled only for Paul Tierney to wave play on. Liverpool wasted no time and broke while VAR had a look at the penalty appeal. Jota crossed from the left; Salah's effort was brilliantly saved by Loris only for Robertson to nod home from Alexander Arnold's cross.
Liverpool's lead didn't last long and five minutes later Spurs were level. A through ball from Harry Winks to Son looked to have been overplayed, but Allison messed up his clearance and missed the ball, letting it run through to Son who slotted into the empty net.
At this stage, the game was in the balance with both teams looking to get the winner. Roberston was then booked for a foul on Emerson Royale only for the VAR to invite the referee to have another look. The yellow card was upgraded to a red and the Scottish International was sent from the field of play. He can count himself very unlucky when compared with the earlier challenge on Robertson from Harry Kane.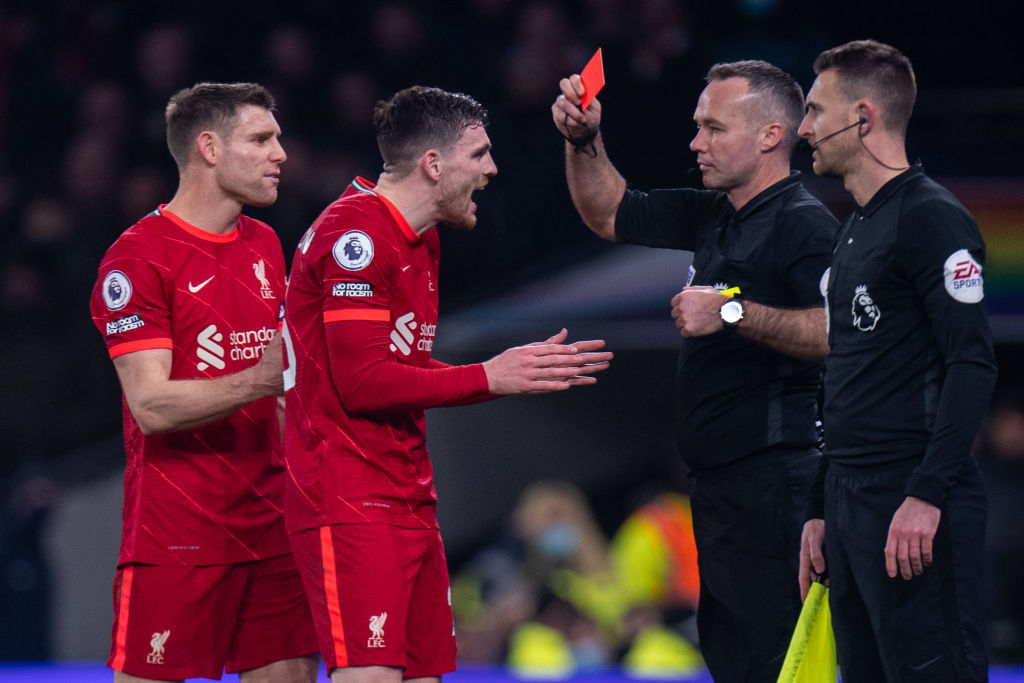 Tottenham with the man advantage looked to get the winner, however time ran out and a pulsating encounter ended in a 2-2 draw, a game that will live long in the memory of every Premier League fan.
Next up for both sides is an EFL Quarter Final this Wednesday, with Spurs at home to West Ham while Liverpool welcome Leicester City to Anfield.