The last decade has seen a period of change in German football. Traditionally one of the more competitive European leagues, it has been dominated by Bayern Munich, who are on course to win a tenth successive title. Other clubs have been less fortunate.
2007 Bundesliga champions Stuttgart were relegated in 2017, again in 2019, and are in severe danger of adding this year to their recent relegation misery. Never-before-relegated Hamburg SV finally went down in 2018 after several near-misses in years prior; they're currently playing their fourth consecutive season in the second tier. Werder Bremen, 2004 champions, were relegated in 2021 after surviving a play-off with Heidenheim in 2020. Accompanying Bremen into the second tier was Schalke 04, relegated after going 30 games without a win across two seasons. This season, giants Wolfsburg and Borussia Mönchengladbach are fighting to avoid their own relegation.
Historic Highs and Lamentable Lows
One notable struggling presence in the German league system of recent years has been 1. FC. Kaiserslautern. The Red Devils were Bundesliga constants until relegation in 1997 but they bounced back to famously win the Bundesliga in 1998 as a newly promoted team; a feat that has never been repeated.
The club has suffered financially since a second relegation in 2006 coincided with the costs of the redevelopment of the Fritz-Walter Stadion, selected as a venue for the World Cup in Germany that same year.
Despite returning to the Bundesliga in 2010, FCK continued to struggle with spiraling finances. They were again relegated in 2012 and are yet to return to the top flight. A 5-2 aggregate defeat to Hoffenheim in the 2013 play-off was an gigantic missed opportunity.
It proved even more costly as their six-year run in 2. Bundesliga came to an end in painful fashion: a 3-2 defeat to Bielefeld – having led the game 2-0 – consigned The Red Devils to the third tier of German football. The decline within the club has been so stark, that FCK have now recorded club record low league finishes in each of the last four seasons.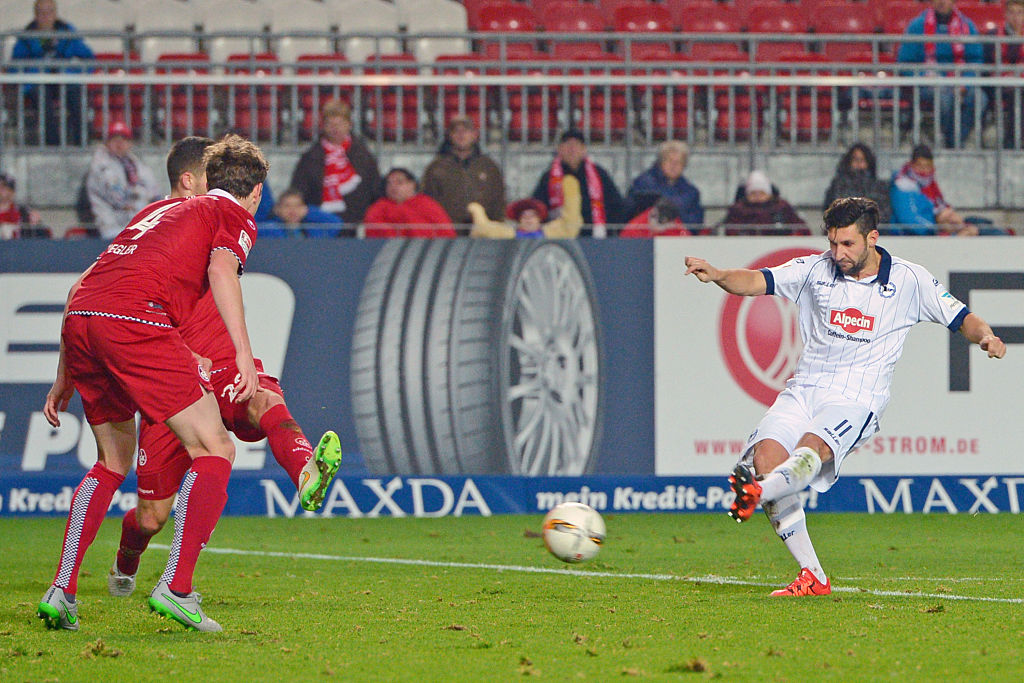 Life in the third tier has thrown up embarrassing moments; losing 5-0 at Unterhaching in 2018; a 6-1 collapse during a visit to Meppen nearly a year later; and an early season 3-0 defeat at Türkgücü Munich in 2020/21. The defeat in Munich was in-keeping with a season that threatened to drop Kaiserslautern to new depths, spending nearly its entirety in and around the relegation places. After 28 games, they had managed to record just four victories, but were saved by winning four of their last ten games to eventually finish 14th. Kaiserslautern won the joint fewest games that season (eight), but lost just 11 games, only two more than league champions, Dynamo Dresden. Kaiserslautern's season was characterised by 19 draws.
Rise 2.0
The appointment of current boss Marco Antwerpen in February 2021 signalled a change in fortune for FCK. Antwerpen was the third manager of the season to take charge, following on from Boris Schommers (11 wins in 32 league games) and Jeff Saibene (3 wins in 20 league games). The instability off the field was reflected on it, a league-topping eight red cards plus crucial points dropped late in games – 22% of 52 goals conceded came after 75 minutes. However, Marco Antwerpen slowly worked to turn the club around after a difficult start with 17 wins in 39 games.
Achieving a 9th placed finish in 2018/19 remains the best 3. Liga finish so far. Already this season FCK have won 12 out of 23 and sit second in the table. They're just one point behind their end of season tally last year.
Antwerpen had a busy summer in the transfer market, but early results were not convincing, and many believed he might be on his way out.
When the season did kick into life, it came from an unlikely source in the form of a goalless home draw. Despite it being another game without a win, it felt like a win. Waldhof Mannheim visited Kaiserslautern in a bad-tempered derby match. The home side were reduced to nine men before half time, both sides had coaching staff sent off, and eight players received yellow cards. In amongst the reckless challenges and fighting, FCK showed resilience and new first-choice 'keeper Matheo Raab produced a series of saves to help his side to the point. The 15 games since that day have resulted in 11 clean sheets, 11 wins and one defeat, a run that has propelled FCK into second place – the automatic promotion place.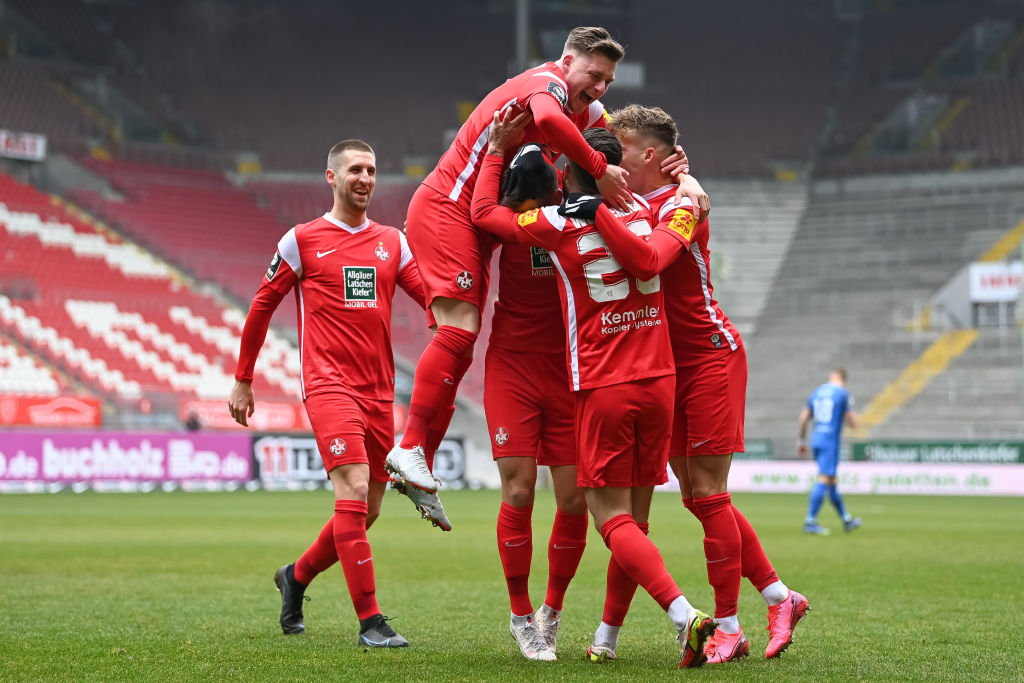 A 6-0 win over Havelse and 4-0 wins over Viktoria Berlin and Meppen have given a more assured look to Kaiserslautern's performances, but outside of these games they have scored just 21 times in 20 games. Philipp Hercher has scored five times and provided five assists from right-back and right midfield, Mike Wunderlich has also chipped in with five goals and an assist from midfield, and forward, Daniel Hanslik, has netted five goals and four assists. Recognising the need for a more reliable source of goals, the club moved in January to bring in Terrence Boyd from Halle. American centre-forward Boyd has scored seven times in 17 games this campaign.
At the other end, they have conceded just 13 goals, nine fewer than the next tightest in the league. Kevin Kraus, Boris Tomiak (with four goals to his name), and Alexander Winkler have become a formidable back three in the run of clean sheets. In a much-changed scenario from last season, the defence has conceded just one goal in the final 15 minutes, shaking off the previous vulnerability.
A Season-Defining 15 Games…
As the season begins to reach the business end, the final 15 games come with optimism that a repeat of the previous 15 can be achieved, but it is far from a forgone conclusion. In particular, the next three weeks will be challenging, although it is a different Kaiserslautern that will welcome Magdeburg on the 12th February. Sitting top with a 12 point lead, the 1974 European Cup Winners' Cup champions have a comfortable margin for error, but FCK have a game in hand to further close the gap if current form can be maintained. The home side will also have momentum if they can defeat Zwickau before then. The following weekend, there is another derby with Waldhof Mannheim to contend with. With just two points separating second place and the chasing pack – Eintracht Braunschweig, Saarbrucken, and Meppen all tied on 40 points – and seventh placed Osnabruck just five points behind, any bumps could change the outlook drastically.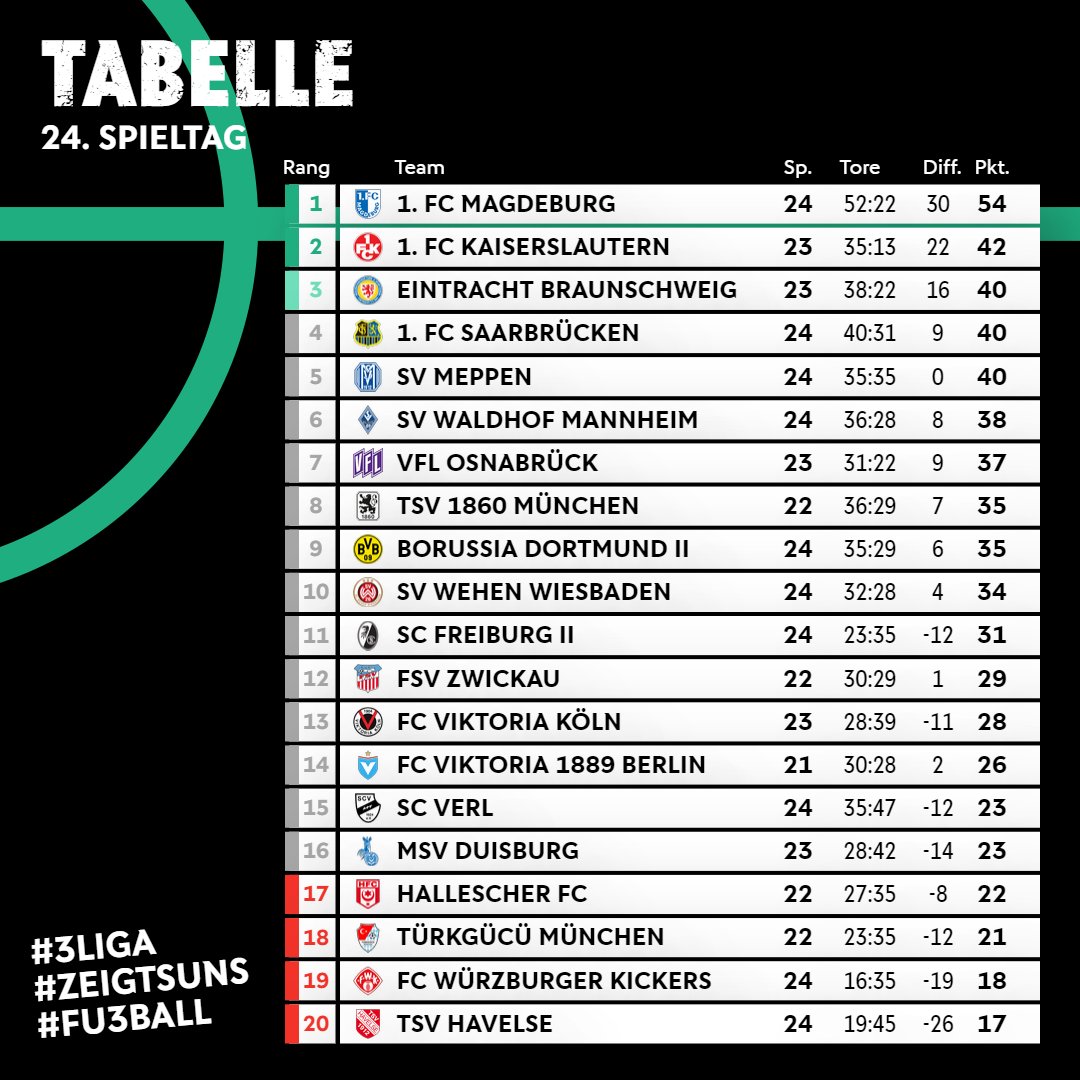 Kaiserslautern fans will know all too well there is a lot of work to be done to secure promotion. It has been a long and painful decline for four-time champions, but the last four months have gone some way to restoring hope. There is still uncertainty about the financial stability of the club, despite reduced stadium repayments having been negotiated, they do not own the stadium or control its future.
Promotion to 2. Bundesliga may in part resemble the top flight next season, featuring teams like Hamburg, Schalke, Werder Bremen, and Stuttgart. Alongside the attractive ties that could await, promotion to 2. Bundesliga is thought to be worth at least 7m Euros, which would go some way to helping the club set itself on a level footing and the aim of reclaiming its status as a Bundesliga club.
It may not have the global reach of the Bundesliga, but 3. Liga has plenty of storylines to watch out for in 2022.