While midweek #MACtion isn't quite here yet (the MAC takes over ESPN weeknights in November each year), the calendar has hit October and in college football that means conference play comes into focus. Let's take a look at some MAC storylines, contenders, and review who plays who, as most teams try to get out to a 1-0 start. 
#MACtion means top tier competition
MAC teams haven't backed down from top-ranked competition. The MAC collectively has played 11 games against teams ranked in the Associated Press poll, the most of any Group of 5 conference.  
Games vs. Teams Ranked By The Associated Press (as of Sept. 30):
MAC – 11
Sun Belt – 7
C-USA / MWC – 6
American Athletic – 5  
Flying the flag
When a MAC team beats a team from a bigger conference – which happens all the time! – it celebrates with a pirate flag on the field. It's a neat element of solidarity and branding for the conference, which owns six wins over Power 5 opponents since the 2019 season. This year, the skull and crossbones has flown in each of the last two weeks as Miami (Ohio) beat Northwestern and Eastern Michigan won at Arizona State. 
Miami's @ryanmcwood13 had a game-high 11 tackles and recorded a fumble recovery in Miami's 17-14 win at Northwestern. #RiseUpRedHawks | #MACtion pic.twitter.com/ufcQQyD6cp

— #MACtion (@MACSports) September 26, 2022
Top-ranked Georgia's toughest opponent so far this year has been Kent State, which played UGA within three scores. Additionally, Central Michigan almost took down 12th-ranked Oklahoma State in a 58-44 loss in week 1. Of Oklahoma State's first three opponents, nobody played OSU tougher than did CMU in that shootout. 
Pivotal month for the reigning champ
Preseason favorite and 2021 MAC champion Northern Illinois is 1-3 with three narrow losses to stiff competition. NIU lost 38-28 to Vanderbilt and has two losses by a single score to Tulsa and 8th-ranked Kentucky. We'll find out a lot about the Huskies this month as three of NIU's next four games are on the road. They're at Ball State, Eastern Michigan and Ohio over the next month with a home game against Toledo. 
Think You Know #MACtion?
College football fans can compete for prizes by playing our MAC Pick 'em free to play game. Simply sign up for free and create an account. You can make your picks on anything from head-to-head matchups, over-unders, and performance metrics, and battle your way up the leaderboard. 
Think you know your #MACtion!? 🏈

Test your knowledge with the FREE TO PLAY @GeniusSports MAC Pick'em contest for your chance to win MAC Football Championship Game tickets!

Sign Up Now: https://t.co/FYeNxCY7Bk | #MACtion pic.twitter.com/9UOxZtGA5S

— #MACtion (@MACSports) August 31, 2022
This Week's Top Games (plus our picks)
Northern Illinois at Ball State
Saturday – 2 pm ET
In each of the last three years, BSU-NIU has come down to the final possession, with Ball State taking two and NIU winning last year on a last-second field goal. NIU has lost three straight and needs to start 1-0 in conference play, while BSU needs to avoid starting 0-2 in the MAC with both losses at home. Also, these two schools play for this very interesting Bronze Stalk Trophy, which always adds a little flavor. 
The Playbook's Pick: Northern Illinois has played two SEC teams tough and should be primed to pull out a close road win.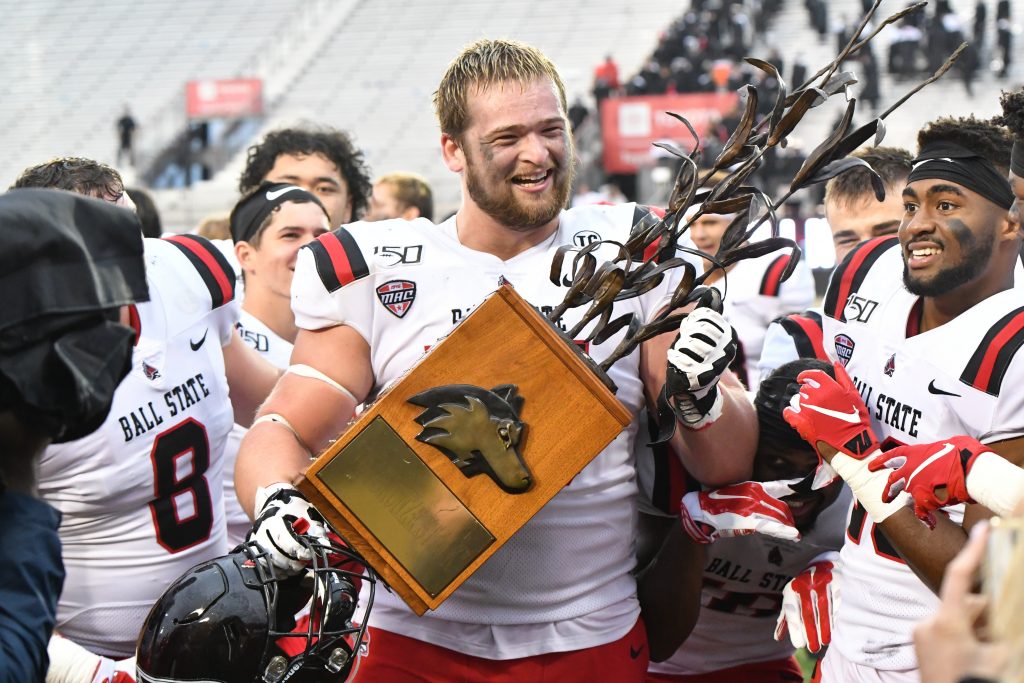 Central Michigan at Toledo
Saturday – 3:30 pm ET (NFL Network)
Both of these teams are expected to be in the race. Toledo, just a field goal away from being the MAC's only 3-1 team, is the favorite at home but Central Michigan is second in the league in defense. Both teams have dynamic playmakers and this one should be a good watch on NFL Network. 
The Playbook's Pick: In a close game, The Playbook likes the road underdog.
 
Miami (Ohio) at Buffalo
Saturday – 3:30 pm ET
These teams are riding high after wins last week. Miami won at Northwestern and Buffalo dropped 50 at Eastern Michigan. Both teams are expected to compete in the MAC East division and this game is a key piece for both squads eager to make it back to Detroit. 
The Playbook's Pick: Buffalo is a slight favorite at home and The Playbook will go with the odds.