Extending their unbeaten run to 11 games, Boca Juniors beat Vélez Sarsfield to go top of the league on Sunday night. Atlético Tucumán slipped up, as they were defeated by Patronato, while a seven-goal thriller between Racing and Rosario Central was the game of the weekend.
Here are the biggest headlines as we enter a critical period in the title race.
Boca go top
Boca Juniors defeated Vélez Sarsfield 1-0, putting them top of the division in a heated affair at La Bombonera. Alan Varela played through Gonzalo Morales who slotted the ball in from a tight angle in the game's only goal in the 79th minute.
🗣️ ¡Pero claro, 𝑻𝑶𝑹𝑶! 🤩#DaleBoca 🔵🟡🔵 pic.twitter.com/y0VFdq9L5F

— Boca Juniors (@BocaJrsOficial) October 3, 2022
The match then got out of hand in the final few minutes as Francisco Ortega made a reckless tackle from behind on Luis Advincula. This led to a mass brawl that saw Ortega and Valentin Gomez sent off for Vélez and Boca's Luis Vazquez also shown a red card.
Hugo Ibarra's side just edged the possession stats with 51% and were efficient with their shots as they had 5 on target from 6 attempts. Vélez in fact had more on target with 6 on target from 15 efforts.
Atlético Tucumán slip up
Atlético Tucumán were defeated by Patronato 2-1 as they relinquished their place at the top of the league.
El Decano actually had a bright start to the match, taking the lead in the 5th minute when Mateo Coronel headed in from a Ramiro Carrera cross.
However, Patronato equalised in the 16th minute as Raul Lozano whipped the ball in was flicked into the net by the head of Marcelo Luciano Estigarribia.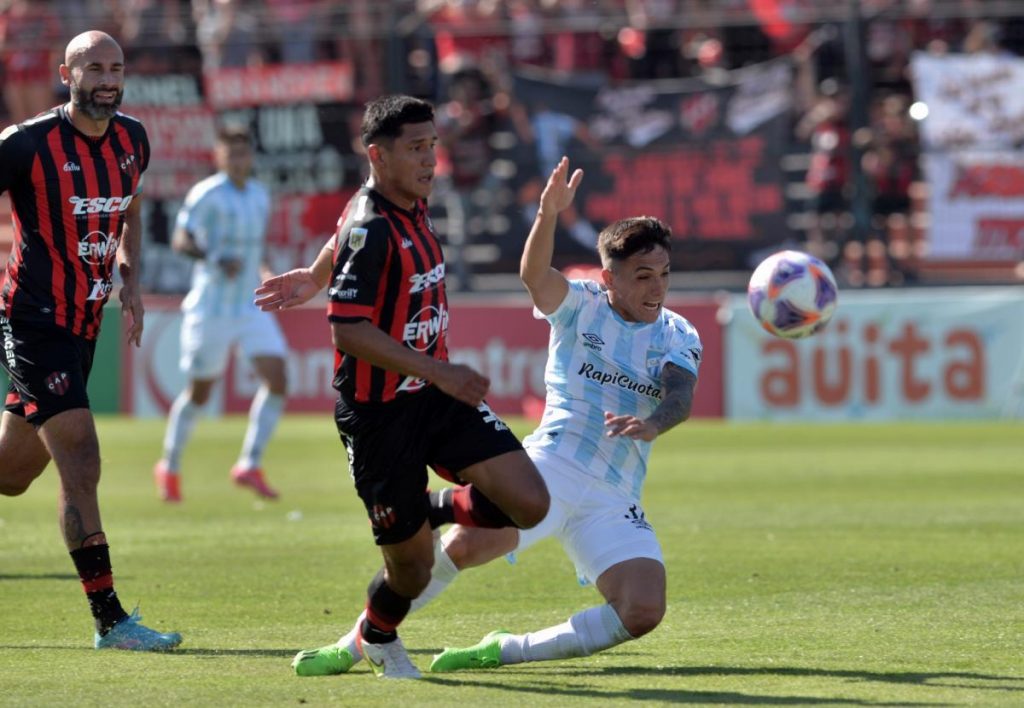 Their winner came in the 65th minute, as a Justo Giani squared pass was clipped in off the post by Sebastian Medina.
Patronato had less possession with 47%. However, they had 6 shots on target to Tucuman's 5.
Racing and Rosario play out a classic
Racing beat Rosario Central 4-3 at El Cilindro in one of the most thrilling encounters of the competition so far.
The match also saw two former teammates in Fernando Gago and Carlos Tevez go against each other in the dugout for the first time. An emotional embrace between the two friends proceeded the match.
¿Seguiste de largo después del 4-3? 😎
¿O te tocó arrancar temprano? ⏰🥱

No importa: acá te agregamos combustible 💙⚽

¡Racing nos dejó manija! 💪🏻 pic.twitter.com/oEem0Qg6QE

— Racing Club (@RacingClub) October 1, 2022
The home side took the lead in the 8th minute when Juan Rodriguez's clearance deflected off Carlos Jonas Alcaraz and into the net.
However, Rosario were level in the 19th minute Lautaro Blanco's cross was headed in by Facundo Ezequiel Almada.
The game went back and forth in the following 50 minutes, with both sides prepared to attack with intent.
Racing's winner came in the 92nd minute, Oroz's cross was turned in by Anibal Moreno who celebrated wildly after netting the winner in such a fantastic game of football.
It was a game that Gago's side dominated with 76% possession and 10 shots on target to Rosario's 5.
Racing now enter the conversation for title challengers, sitting in third and just two points behind leaders Boca.