Week six match-ups to watch
The Arizona Cardinals remain unbeaten but face a tough test travelling to Cleveland to face the Browns.
Another NFL London game kicks off and the Chargers and Ravens face off to see who can take early control in the AFC play-off race.
Genius Sports Report takes a data led approach to four of the week's top games.
---
Green Bay Packers (4-1) @ Chicago Bears (3-2):
Kick off time: Sunday 13:00 EST
Considered the oldest rivalry in the National Football League, the Chicago Bears and Green Bay Packers have played against each other since 1921.
Both teams are battling for top seed in the NFC North division, though taking different approaches.
The Packers contain a dynamic offense with reigning MVP Aaron Rodgers and Pro-Bowl wide receiver (WR) Davante Adams and running back (RB) Aaron Jones.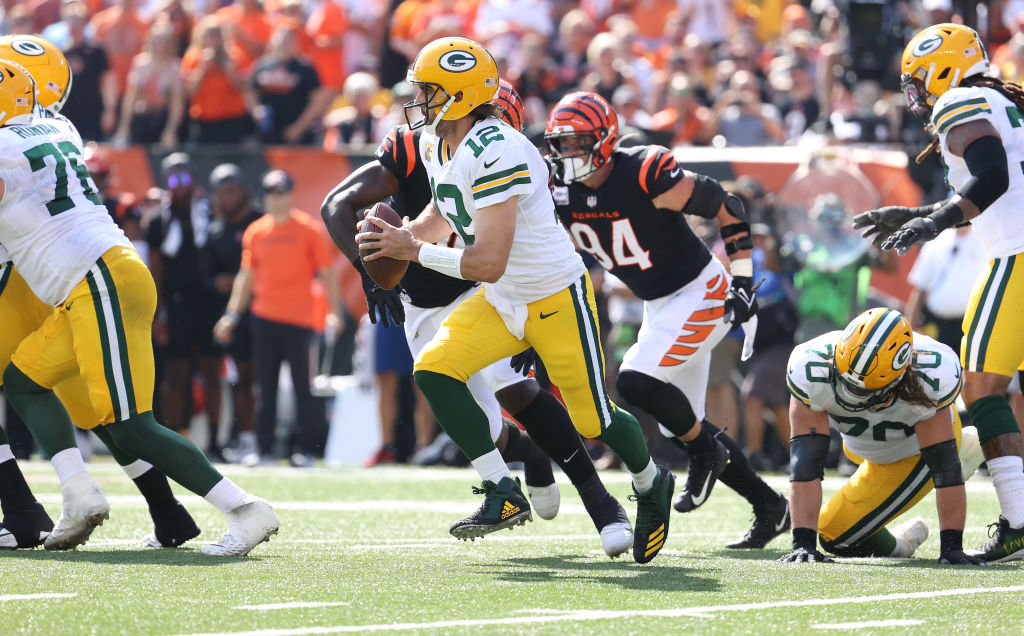 The Bears are led by a tough defense and look for a more balanced approach to help rookie QB Justin Fields in what will be just his third start.
A strong running game that featured an impressive 5.2 yards per carry on runs outside the tackles helped keep the pass rush off Justin Fields.
Fields was 11/15 for 99 yards and a touchdown when not under pressure according to Next Gen Stats.
A strong running game and protection will be needed to keep the Bears competitive against Green Bay.
The Bears have won their last two games after suffering a heavy 26-6 defeat against the Browns at the end of September. Fields threw for 68 yards in the match and was sacked nine times.
They have responded by beating Detroit at home and Las Vegas on the road last week but they have a dreadful record against the Packers; Green Bay have won 19 of the past 22 meetings.
The Packers have won their last four games after being hammered by New Orleans on the opening day.
---
Miami Dolphins (1-4) @ Jacksonville Jaguars (0-5)
Kick off time: Sunday 14:30 BST
The first game in London offered fans a chance to see some exciting rookies and this matchup aims to do the same.
Jaguars number one overall draft pick quarterback (QB) Trevor Lawrence will look to get his team their first win of the season and try an end their dismal 20 game losing run, which is close to breaking an NFL record.
Lawrence leads the league in interceptions, but has shown improvement over his last two games.
In week five, Next Gen Stats tracked Lawrence at 4/7 passing for 111 yards on intermediate throws, an impressive 15.9 yards per attempt.
The Dolphins continue to deal with injuries at key positions with the health of QB Jacoby Brissett and QB Tua Tagovailoa battling injuries.
Miami found some explosive plays from RB Myles Gaskin who caught 10 passes for 74 yards and two touchdowns, including a 24-yard reception on an early wheel route.
Miami have lost their last four games and their stats don't make for good reading: they rank 31st in total yards, 30th in passing yards and 31st in scoring.
---
Los Angeles Chargers (4-1) @ Baltimore Ravens (4-1):
Kick off time: Sunday 13:00 EST
Two of the hottest teams in the AFC face off in Baltimore.
The Ravens are coming off an impressive overtime win against the Colts on Monday night, while the Chargers battled late against the Browns to move to 4-1.
Both teams' quarterbacks are playing at MVP levels.
Chargers defensive end (DE) Joey Bosa will have his hands full trying to contain Lamar Jackson, while the Ravens struggling defense faces a potent offense with WRs Mike Williams, Keenan Allen and RB Austin Ekeler.
These weapons has helped Herbert reach fourth in passing yards and third in passing touchdowns through five weeks.
Lamar Jackson continues to prove doubters wrong with his passing ability.
Jackson ranks fifth in passing yards and second in the league on completed pass air yards (60.8 yards) tracked by Next Gen Stats.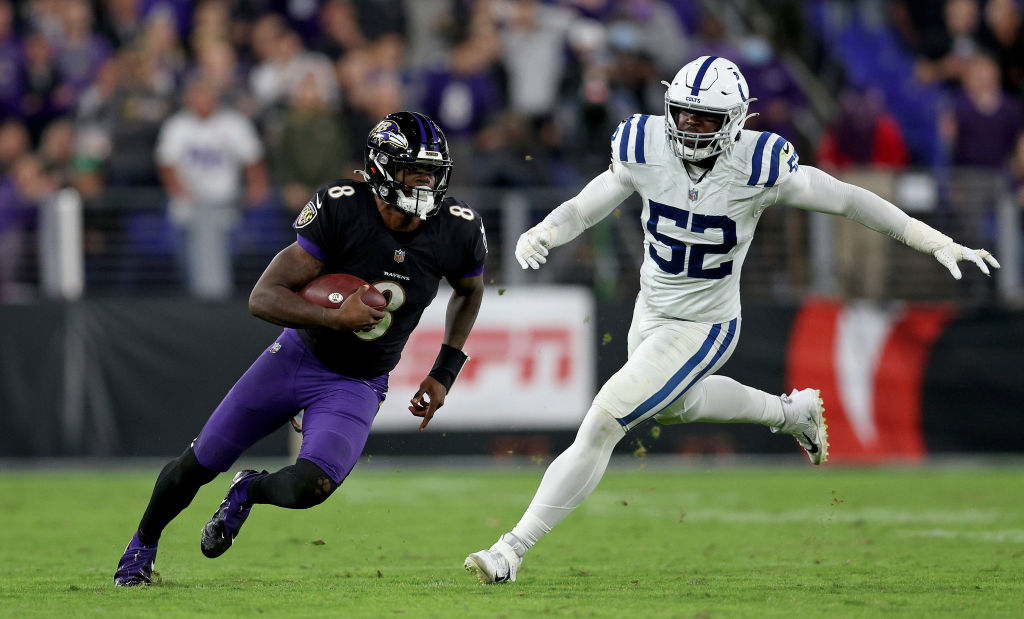 This game is sure to be entertaining and may define the AFC playoff race as well as the MVP race.
---
Arizona Cardinals (5-0) @ Cleveland Browns (3-2):
Kick off time: Sunday 16:05 EST
The Cardinals are on a hot streak and have formed an impressive 5-0 start behind Kyler Murray's MVP calibre season so far.
Murray's favorite target, superstar WR DeAndre Hopkins hauled in a nine-yard touchdown pass against the San Francisco 49ers that had just a 28.8% chance of being a catch.
The Browns left Los Angeles after a tough loss and became the only team in NFL history to lose a game with 40+ points scored and 0 turnovers.
Baker Mayfield had an incredible day passing the ball, but a balanced running attack between Kareem Hunt and Nick Chubb led to 222 yards on the ground.
Chubb tied his career single game high of +87 yards rushing above expected according to Next Gen Stats.
Look for another high scoring game full of incredible plays for both teams.