The Buffalo Bills continue to prove they are the best team in the league right now. Followed closely by the Chiefs and Tampa Bay, our Top 3 remain unchanged from Week One. Green Bay's routine win over the Bears sees them rise one place, to fourth.
Taking flight: Eagles and Cardinals move up
Week 2 led to some exciting finishes and explosive plays from new stars in the making.
The biggest movers include the Philadelphia Eagles and Arizona Cardinals, both coming off a win in week 2. The Eagles got the spotlight on primetime Monday Night Football and convincingly beat the Minnesota Vikings.
Jalen Hurts has started the season in fine form, and much of that is due to help from his teammates. According to Next Gen Stats, he has the third-highest TT (time to throw) – 2.96 – in the NFL so far this season. He also has a completion rate of 83.9% – 14.7% higher than his expected completion rate (xCOMP%).
Eagles fans are chomping at the bit to see Hurts run through the league and many are already pitting them against the Bills in the Super Bowl. 
.@JalenHurts had himself a Monday. 👏 pic.twitter.com/GvYR1ndnRH

— NFL (@NFL) September 20, 2022
The Cardinals needed extra time to win in Las Vegas, but Kyler Murray put on a clinic in the fourth quarter to show why he was worth the big money this off season.
It may not be sustainable to count on Murray to scramble and run for over 80 yards back and forth across the field, but when it works, it is exciting! 
MURRAY MAGIC!!!!!!!!!@K1 X #BirdCityFootball pic.twitter.com/6lwMSQVP1r

— Arizona Cardinals (@AZCardinals) September 18, 2022
The Jacksonville Jaguars are now 1-1 and in possession of first place in their division, just how everyone had predicted in the off season I'm sure. We're not ready to make them a playoff contender just yet, but the new coaching staff has at least turned the team around so far. 
Sophomore quarterback Trevor Lawrence was predicted to make a huge jump in 2022. His performance against the Colts showed exactly why. He went 7/7 for 55 yards passing on his opening drive, which included a 4th-down conversion and a 10-yard TD pass to Christian Kirk.
Colts, Titans and Bengals dropping spots
Trevor Lawrence's divisional opponents in the AFC South, the Indianapolis Colts and the Tennessee Titans, are off to unexpectedly horrendous starts to the season. Titans were beat down by the Bills while the Colts got blanked by the Jaguars.
The Colts' 13-place drop from 13th to 26th makes them the single biggest mover – up or down – after Week Two. The Titans didn't fare much better, dropping 10 places to 27th. 
Cincinnati fans are likely still reeling from their Super Bowl run last year, but their hopes of a repeat season have not lived up to expectations so far.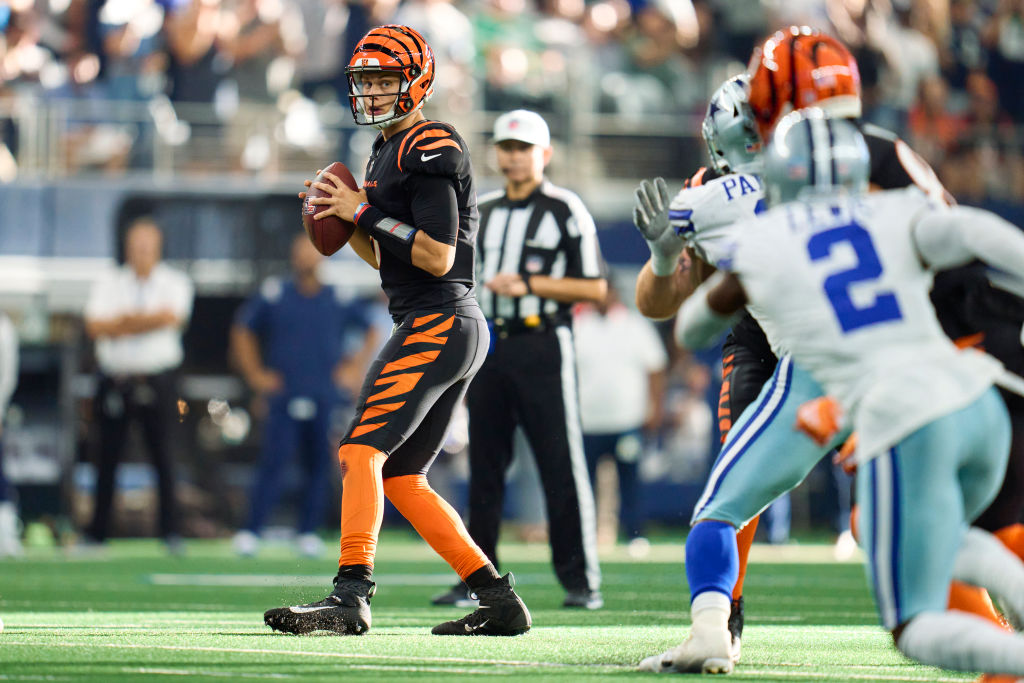 The Bengals fall to 0-2 to start the season and Joe Burrow is on pace to be sacked at one of the highest rates in the league; despite the team's efforts to rebuild the offensive line. Although when facing up against Micah Parsons, who averaged a separation of just 3.63 yards from Burrow on Sunday afternoon according to Next Gen Stats, it's clear to see where the problems lie for Zac Taylor's new-look O-Line. 
It's still too early to write them off as a playoff hopeful, and the second half against Dallas during their 17-20 loss was a promising return to the form of last season.
But they need to make some adjustments and protect their franchise quarterback if they want a chance in late January.