Just as we learned in the offseason, you can't take anything for granted in the NFL. After a wild night of trading up, trading down, surprise picks and some outstanding maneuvering from the Eagles, Jets and Giants (among others), the first round of the 2022 NFL Draft is complete.
Let's take a breather and look at which players were drafted first in each position.
Edge – Travon Walker: Jacksonville Jaguars #1
So there you have it: your 2022 NFL Draft No.1 overall pick. A surprise to some, but Walker flew up the draft boards and immediately makes the Jackson defense better.
Here's what we said:
This newly crowned National Champion has been a force on the Bulldog defense for years. Although a member of the Freshman All-SEC team his first year, Walker was only used sporadically until his junior season where he started all 15 games and led Georgia to a victory over rival Alabama in the College Football Playoffs National Championship Game. Footwork is an area that can be improved upon, as he can sometimes get beat to the point of attack. Nevertheless, Walker has the size and ability to shed blocks and set the edge. He has to be considered among the top prospects.
Cornerback – Derek Stingley: Houston Texans #3
A lockdown Corner who battled it out with some of the best WRs in the game at LSU. A solid move on defense for the Texans.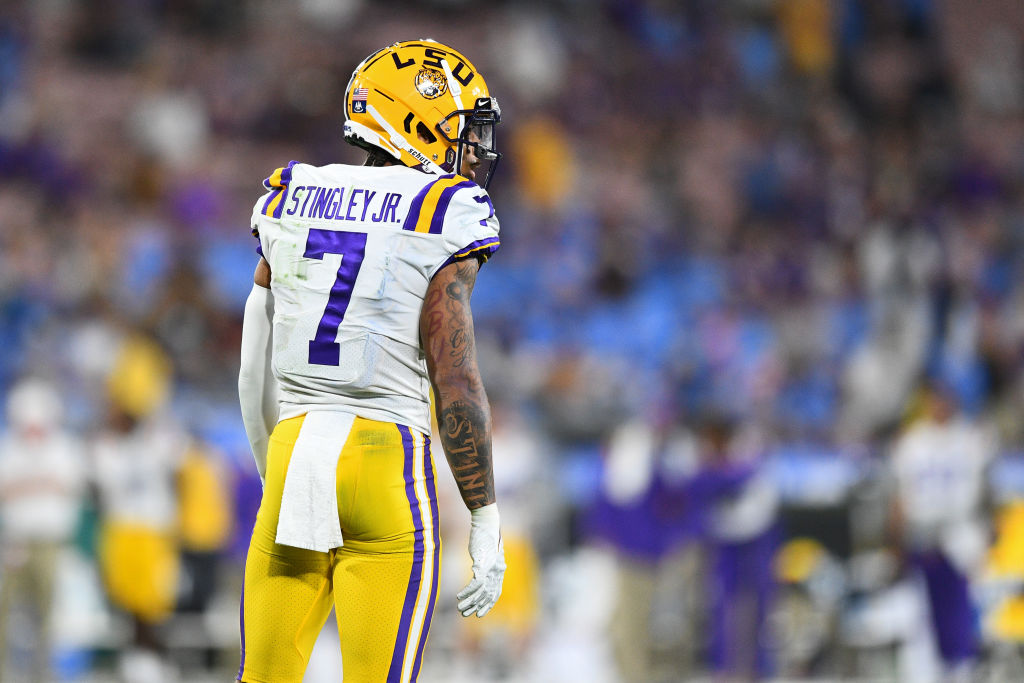 Here's what we said:
It will be a toss-up as to whether Stingley or Gardner go first in this years' Draft. Stingley has outstanding hand-eye coordination and ball skills and a long frame that helps in coverage. NFL teams will be wary of the foot injury that cut short his 2021 season.
Offensive Line – Ikem Ekwonu: Carolina Panthers #6
The Panthers needed to protect Sam Darnold and do so with this pick. The first offensive player off the board is an impact starter to boost their offense.
Here's what we said:
Ekwonu established himself early by playing two different positions his first two seasons for the Wolfpack, being voted Co-Offensive Lineman of the Year his freshman season. In 2021 he continued his growth as one of the top college prospects, being recognized with first team AP All-American and All-ACC honors as well as being a finalist for the Outland Trophy. Ickey is a great teammate and personality to be around and knows when to turn it on come game time. Pass protection and hand technique are some areas of his game that could use improvement.
Wide Receiver – Drake London: Atlanta Falcons #8
The Falcons add to their offense with the best jump ball threat in the draft. London and TE Kyle Pitts will be a dynamic duo in Atlanta.
Here's what we said: 
At 6 feet 4 inches and 219 pounds, Drake London is a big-bodied receiver with high-end red zone threat potential. His catch radius and ability to work back to the ball and fend off smaller DB's makes him likely one of the first receivers off the board. London averaged over 12 yards per catch every year at USC, and hauled in a career high 88 receptions for 1084 yards and seven TDs in just eight games during his third and final year with the Trojans.
Defensive Tackle – Jordan Davis: Philadelphia Eagles #13
The next Georgia defender from their championship team is off the board. Davis is a gap filler and helps rebuild a defensive foundation that led the Eagles to a Super Bowl only a few years ago.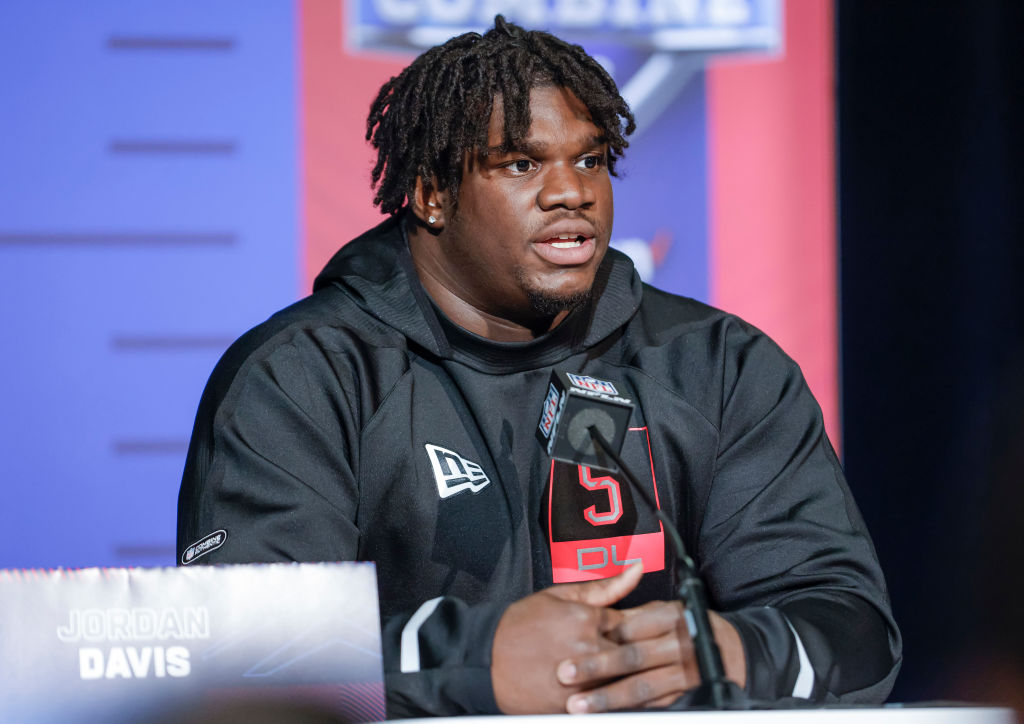 Here's what we said: 
At 6'6 and 340 pounds with a 4.78 40-yard dash time, it's almost like Jordan Davis was created in a lab. He also received the Chuck Bednarik Award which is given to the best defender in college football. His stats don't appear to be very impressive at first glance, but this is because opposing teams' offenses constantly avoided running the ball to his side. His balance, size and strength provide Davis with all of the tools he needs to become an elite run-stopper in the NFL. Davis will likely be a top 15 pick in this year's NFL Draft, it's still just a question of who will take him?
Safety – Kyle Hamilton: Baltimore Ravens #14
Ravens have Hamilton fall in their lap as an absolute superstar in the making. Hamilton joins a team culture built on strong defense where Ravens fans hope he's the next Ed Reed.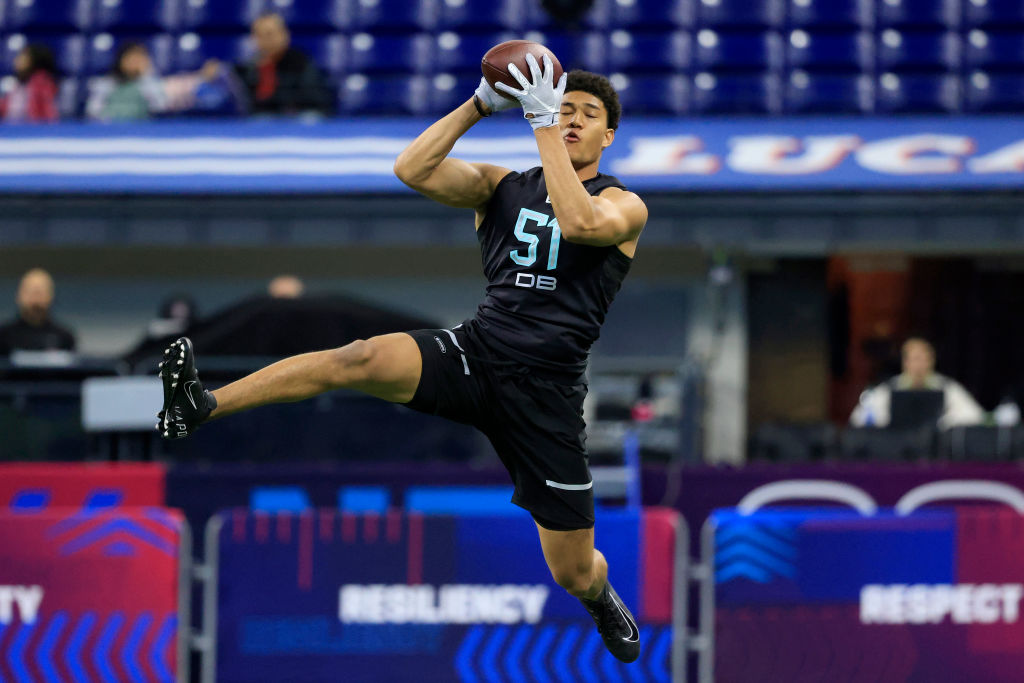 Here's what we said: 
The Notre Dame Safety is 6'4", weighing 220 pounds, and one of the most explosive athletes in this class. Unfortunately a knee injury meant he was only able to feature seven times in 2021. In those games, he showed an elite ability to be a professional nuisance: disrupting passing lanes and making brave tackles. He might be the highest-drafted safety on this list.
Guard – Zion Johnson: LA Chargers #17
Chargers add depth on offensive line with Johnson. Los Angeles feels as long as they protect their superstar quarterback Justin Herbert there is no stopping them.
Here's what we said: 
Boston College was lucky to get this transfer guard, who spent two seasons at Davidson earning a first team All Pioneer League selection. Johnson made an immediate impact his first year with the Eagles, which was recognized by his being voted a team captain the following season and to the AP All-American and All-ACC first teams his senior year. Zion Johnson uses brute strength and force to knock back defenders, but that will be tough to maintain with NFL lineman for 3 downs at a time.
Quarterback – Kenny Pickett: Pittsburgh Steelers #20
The Steelers were patient throughout the early chaos and snagged their quarterback of the future. Pickett stays in Pittsburgh and has big shoes to fill as he is tasked with replacing Ben Roethlisberger.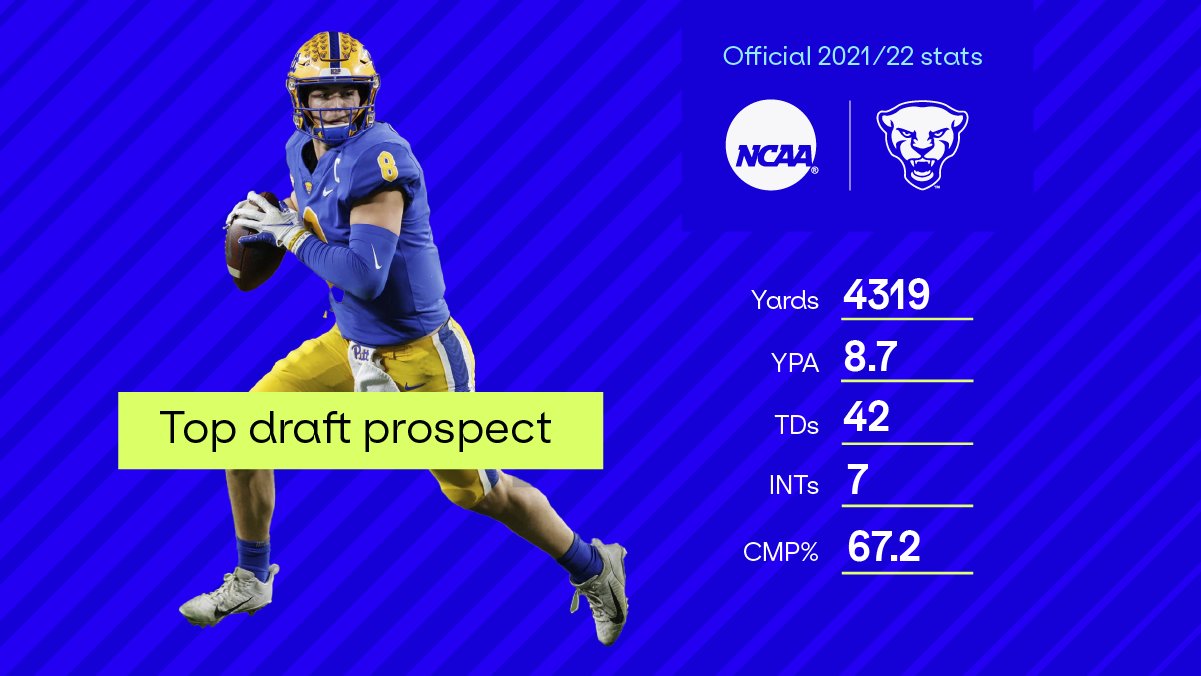 Here's what we said: 
Pickett enters the draft with the most experience out of the pool of QBs for 2022. At 23 though he will be an older rookie. He finished third in the Heisman Trophy voting and many believe he has the tools to convert his college potential into the NFL. His strengths lie in his arm, but also his quick decision making in the pocket which will be advantageous for many teams who like to play that way.
Pittsburgh was his destination throughout his college career where he finished with figures of 52 games players, 12,303 yards thrown, 81 TDs, 32 interceptions and 1,045 completions with an average of 62.4%.
Linebacker – Quay Walker: Green Bay Packers #22
The Packers bolster their defense with another stud from Georgia. Walker adds immediate strength and speed to a strong Packers defense.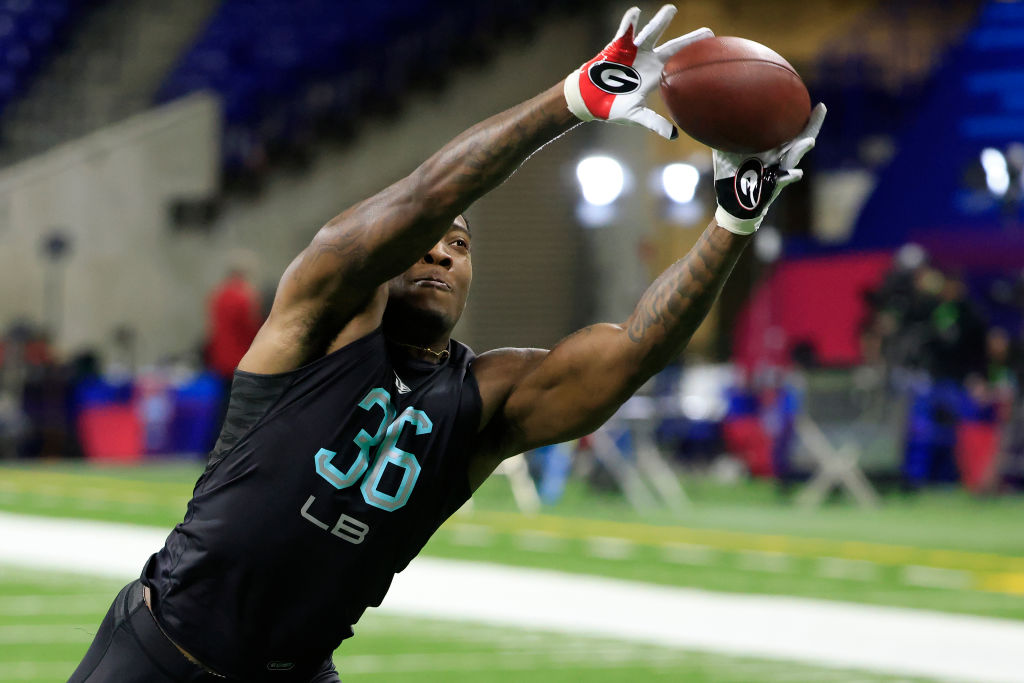 Here's what we said: 
Quay Walker's size and football IQ make up for his only-average athleticism. At 6'4 and 240 pounds, he's one of the biggest linebackers on the draft board. He has fantastic intuition and play recognition that allows him to mirror runningback's movements and be in the best position to make a play on the ball. His stats aren't jaw-dropping by any means, but he impacts the game by playing smart and making good reads. Walker's ceiling may not be as high as some other guys on this list, but he'll likely become a consistent starter at the next level. I see him going late in round 2 of the draft.
Defensive Tackle – Devontae Wyatt: Green Bay Packers #28
Two in a row for the Packers this draft. Can't fault drafting players from the National Champions. Wyatt joins his teammate to make a fierce defense up North.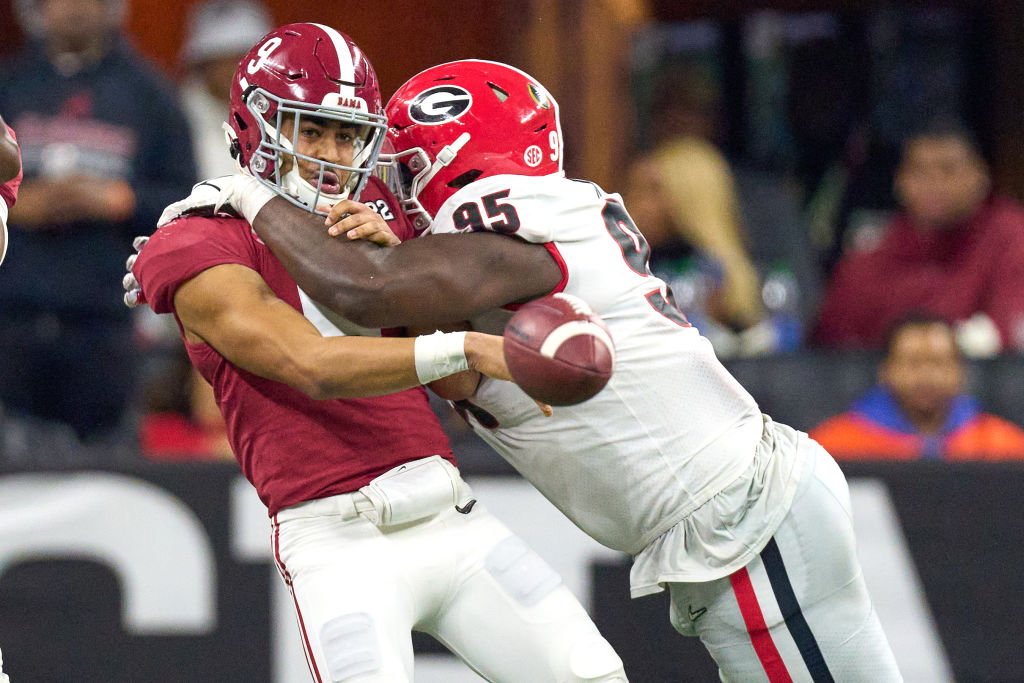 Here's what we said: 
What I really like about Devonte Wyatt is that he does more with less. At 6'3, 304 pounds with a short wingspan, he doesn't have the natural size or length like some of the other prospects. His work ethic and talent are what sets him apart from his competitors. He punches, spins and stomps his way through the line of scrimmage to make plays. Wyatt's also agile and shifty enough to move from side-to-side, locate the ball-carrier and make the correct read. He's almost certainly going to be picked somewhere late in the first round, if not, then very early round 2.