There's just a month left before we'll have a March Madness bracket. That thought alone is enough to motivate fans to dial in on the biggest college basketball games each weekend. With just one football game in America left to be played, sports fans will turn toward who is shaping up for a Final Four run. Here are five key men's and women's games (and a bonus!) to watch this weekend.  
Rankings are curated from the NCAA's NET with NCAA LiveStats data, powered by Genius Sports. 
 Five Men's Games to Check Out this Weekend…
(74) Texas A&M at (9) Auburn, Saturday: Noon ET
Auburn (22-2 overall) climbed to the top spot in the human polls but will drop due to its loss to Arkansas on Tuesday night. It was Auburn's first loss in 65 days. That means the Tigers, ranked in the top 15 nationally in defensive efficiency, block percentage, eFG% defense and 2-point FG% allowed, will be at home and eager to get back on track. The metrics don't love Texas A&M (15-9), which quietly started the season with a 15-2 record before losing its last seven. Any hope of playing in the NCAA Tournament is quickly fading, but a win at Auburn would certainly be a gold star on the report card. To win, TAMU will need to turn Auburn over – the Aggies are 6th in the nation with a 25% defensive turnover percentage.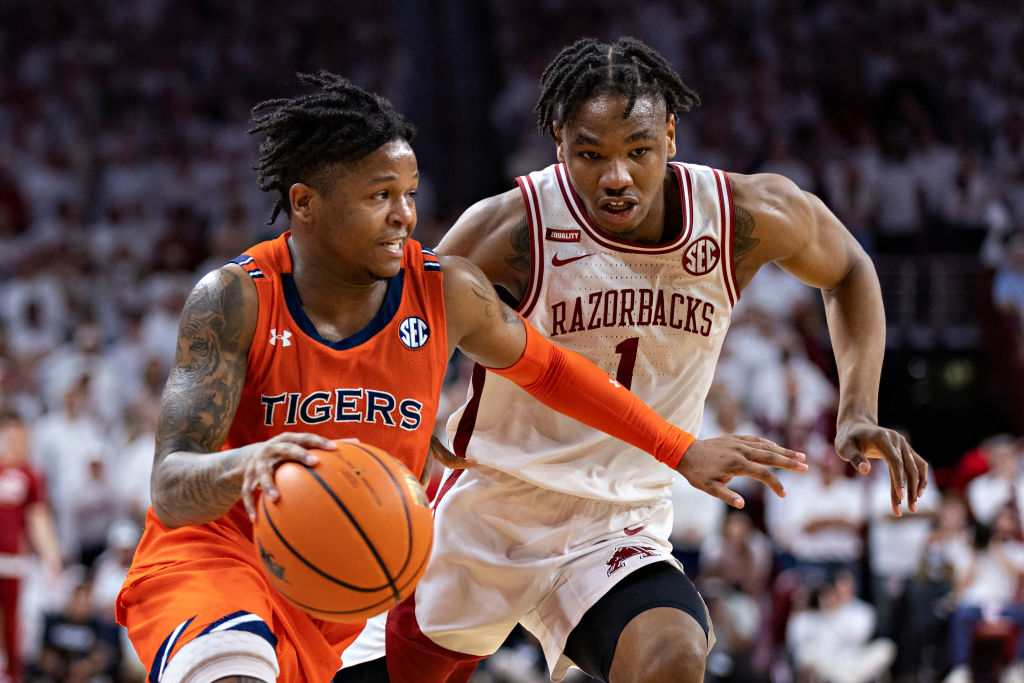 (33) Seton Hall at (6) Villanova, Saturday: 1 p.m. ET
Seton Hall (15-7) is on the tournament bubble, but with four top-50 wins the Pirates can play their way in and a win at Villanova would go a long way. Seton Hall makes its mark defensively, with high national rankings in 2-point FG% (22nd), eFG& (27th) and block percentage (26th). It'll need to, as Villanova (18-6) is 7th nationally in offensive efficiency and leads the country in free throw percentage. And if the Pirates want to play a defensive slugfest, Villanova can win that way too. VU is 21st nationally (and best in the Big East) in defensive efficiency.  
(35) Indiana at (27) Michigan State, Saturday: 3:30 ET
Indiana (16-7) is one of college basketball's biggest brands, and the Hoosiers look to be in position to get back into the tournament for the first time since 2016. Tuesday's loss at Northwestern continued a troubling trend for IU – road losses. The Hoosiers are 2-5 on the road this year and Michigan State has one of the top homecourt advantages in the country (48-9 over the last four seasons). MSU shoots 38.8% from 3-point range, good for 10th in the nation. At home, if the Spartans are hitting, it's a tough road to win. Indiana is among the nation's best in defensive efficiency (15th in the country), and it will need to be sharp against Michigan State.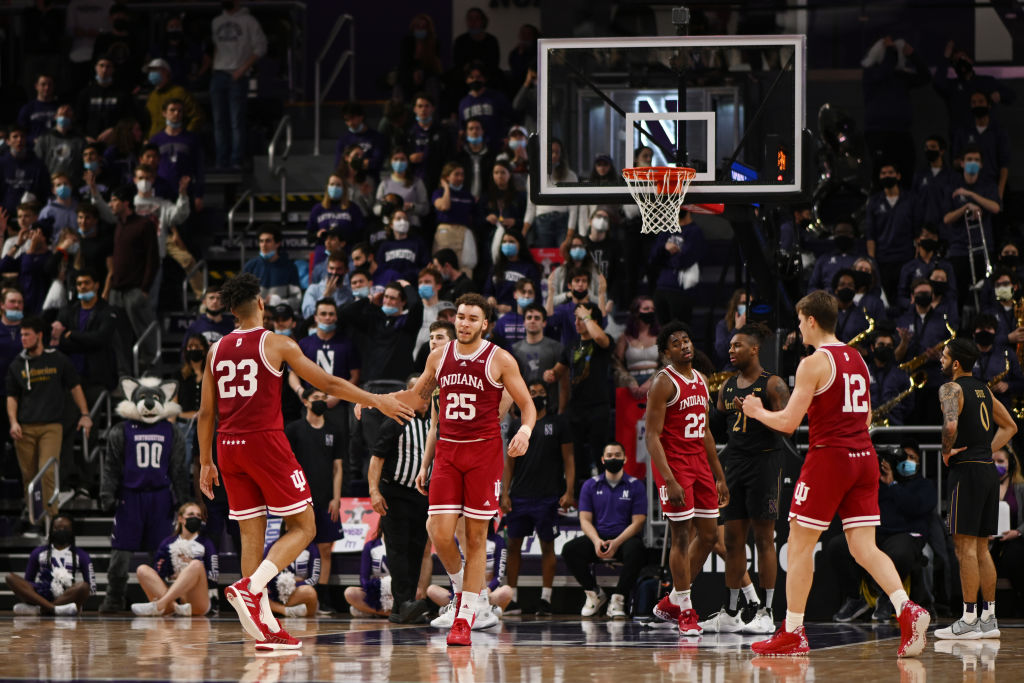 (58) Memphis at (3) Houston, Saturday: 3:30 ET
Houston (20-3) lost for the first time in 60 days when SMU beat the Cougars on Wednesday night. Coming off a loss and back at home, UH should be tough to beat. Simply put, the Cougars – a Final Four team last season – do everything well. That is, except shoot free throws. Houston is 324th of 358 Division I teams in free throw percentage. But UH runs and rebounds and defends so well it rarely matters. Memphis (13-8) has loads of NBA talent on its roster and has garnered a lot of attention both good and bad this season. Five of the Tigers' eight losses has come by four or fewer points. Memphis has the talent and has shown it can play with the elite, it just needs to show it can do so regularly. But there's no doubt this game will be played at a high level of athleticism.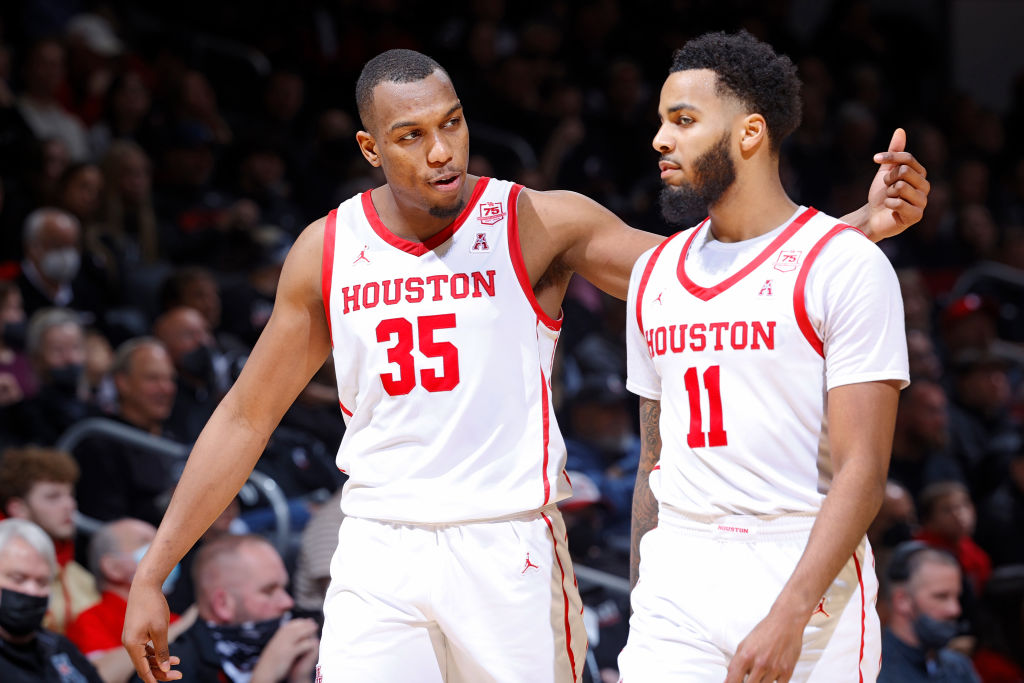 (18) Ohio State at (47) Michigan, Saturday: 6 p.m. ET
Though this one isn't on the gridiron, it's still a major matchup between rivals. Ohio State (14-6) seems to be projected into the field but is coming off a tough loss at Rutgers. Road wins are always valuable for seeding purposes, so Ohio State will need to play with urgency. OSU averaged 77.4 points per game on offense over seven games heading into Wednesday's Rutgers loss, where it only scored 64. Michigan (12-9) is a very efficient offensive team (24th nationally) but only has one win against a team ranked in the top 50. Saturday's rival home game is huge if Michigan wants to play in March. 
And one! Here's a bonus game for college hoops junkies that may have some March Madness implications. 
(26) Murray State at (108) Morehead State, Saturday: 4 p.m. ET
True college hoops diehards know how good these two teams are, and this game could settle a conference championship. Murray State (22-2) is well-known as a March Madness regular – and of course is the alma mater of NBA superstar Ja Morant. Morehead State is a dangerous team with a 19-6 record and plays high above its weight. Whichever team wins this game – and ultimately the conference tournament to get into the NCAAs – will be a tough out in March Madness. A sneaky good game!  
RACERS WIN! Murray State beats TSU 73-62 to move to 23-2 on the year. We are playing again at Morehead State on Saturday! #GoRacers 🐎🐎🐎 pic.twitter.com/NqkCOrts7N

— Murray State MBB (@RacersHoops) February 11, 2022
Five Women's Games to Check Out this Weekend…
On the women's side, there are several good rivalry games starting Saturday night and on Sunday leading into the Super Bowl. Here are some games with March Madness implications you can watch while your pregame meal is cooking. 
Rankings are the team's NCAA NET, with data collection provided by NCAA LiveStats by Genius Sports. 
(27) Oklahoma at (10) Texas, Saturday: 8 p.m. ET
These fierce rivals play Saturday night in primetime with Oklahoma (20-3) chasing a piece of the Big 12 regular season title. Both teams are projected firmly into the tournament and this game in Austin is important to determine both seeding and bragging rights. 
(1) South Carolina at (24) Georgia, Sunday: Noon ET
Fans on Sunday at lunchtime on the east coast will find the nation's best women's team, South Carolina (21-1), on the road against a conference rival desperate for a key win to improve its resume. Georgia (17-5) is a tournament team but can play into hosting the early NCAA rounds with a win over the top-ranked team in the nation.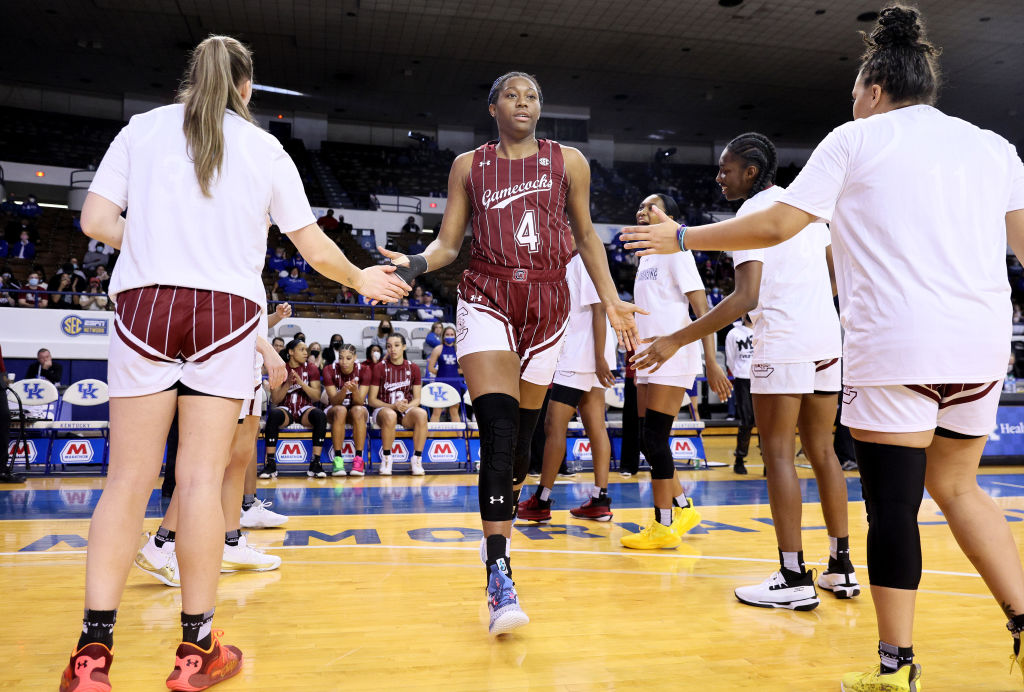 (15) Notre Dame at (4) Louisville, Sunday: 2 p.m. ET
These two conference rivals are among the best in the country and should provide an entertaining matchup. Louisville (22-2) is trying to keep pace in the ACC with leader North Carolina State while also aiming for a potential #1 seed in March Madness. Notre Dame (19-5) is the only ACC team to beat NCSU this year and needs another marquee win to ensure it is a host school in the NCAA opening weekend.  
(11) UConn at (58) Marquette, Sunday: 2:30 p.m. ET
UConn (15-5) took a rare loss this week, falling to Villanova on Wednesday. UConn hasn't lost two games in a row since March 1993, so history is with the Huskies. Marquette is 11-1 at home and needs a big win to bolster its tournament hopes. MU is very much on the bubble and win would be historic. 
Statement dub in Hartford‼️✌️ pic.twitter.com/ntJmDlrntJ

— Villanova WBB (@novawbb) February 10, 2022
(56) Oregon State at (7) Oregon, Sunday: 4 p.m. ET
Oregon (15-7) is one of the best teams in the country, winning by an average of nearly 14 points per game. The Ducks are one of the best shooting teams in the nation and with a strong finish can earn home games in the NCAA Tournament. Oregon State (11-8) is squarely on the bubble and is seeking a key win to improve its tourney profile. OSU's next two games are a home-and-home with Oregon and then a home game vs. Stanford. The Beavers can find their way in with some big wins down the stretch.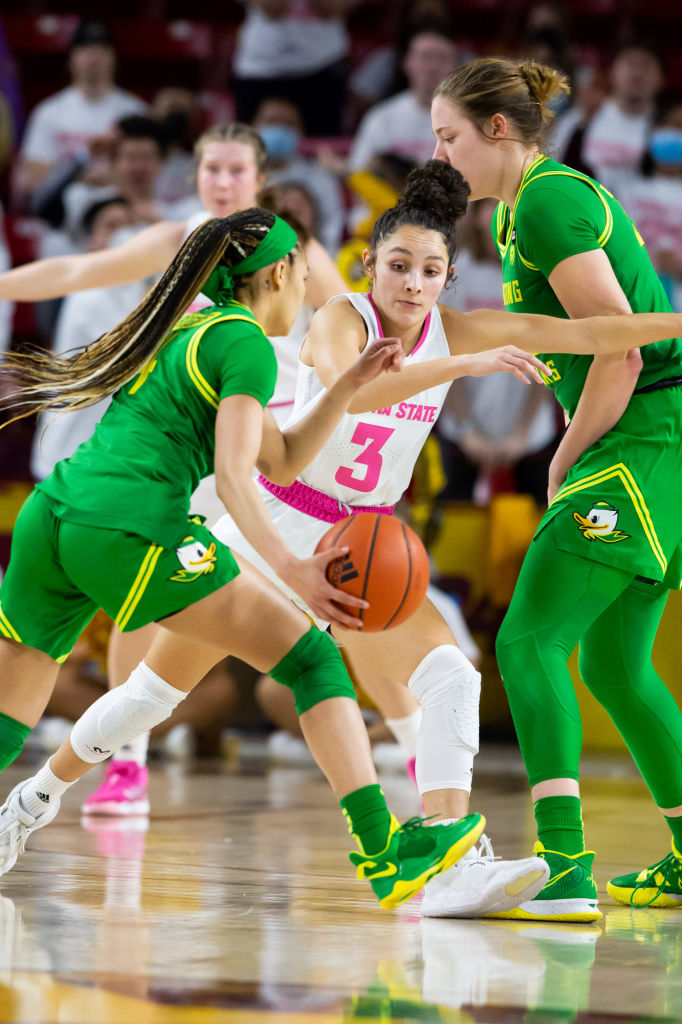 And one! Here's a bonus game for college hoops junkies that may have some March Madness implications. 
(27) Ole Miss at (50) Mississippi State, Sunday: 4 p.m. ET
Another big rivalry game with plenty at stake. Ole Miss (18-5) is one of the best defensive teams in the nation and has only allowed 70 points twice all season. Ole Miss owns a strong 7-1 record on the road this season, with bodes well in this showdown against a Mississippi State (14-7) team looking to stay on the right side of the bubble. A win over Ole Miss will certainly help.