It's the first weekend without football. Luckily, you can park on your couch at noon ET on Saturday and catch quality college basketball for the entire weekend. Ranked teams battling for position and other matchups with teams who are fighting for their seasons dot the weekend. Texas Tech-Texas will be a monster rematch between rivals following a resounding Texas Tech win over UT on Feb. 1. UNC and Va Tech will try to polish their tournament resume and Oregon will try to bounce back from some tough losses when it travels to Saturday night. 
Rankings are curated from the NCAA's NET with NCAA LiveStats data, powered by Genius Sports. Records and rankings accurate as of Friday. 
Five picks (and a bonus!) from the men's games:
(24) Xavier at (18) UConn, Saturday at noon ET
The weekend's games start with a Big East showdown on big FOX. Both Xavier (17-8) and UConn (18-7) are projected into the tournament and this battle is a resume builder in front of a big TV audience. Xavier beat UConn 74-68 in a close battle a week ago and should have each other well-scouted. The Big East isn't just Villanova and Providence – it's a deep league with teams like these that will be well-represented in the bracket. Looks for UConn to crash the boards – the Huskies are second in the nation in offensive rebounding percentage.  
Saturday is officially SOLD OUT ❌ pic.twitter.com/UjF0UPGx1T

— UConn Men's Basketball (@UConnMBB) February 17, 2022
(11) Texas Tech at (15) Texas, Saturday at 12:30 p.m. ET
Texas Tech (20-6) got the best of this matchup two weeks ago at home but now they'll have to go to Austin. The pressuring, stifling Red Raiders are not only third in the nation in defensive efficiency, but also third in the Big 12 standings and can put some space between them and the Longhorns in the standings with a win. After losing in Lubbock, Texas wants revenge and can tie the Red Raiders in the conference standings by holding serve at home. Like Texas Tech, Texas is an elite defensive team (10th nationally) and both teams force turnovers at a very high rate. 
(21)
Iowa at (17) Ohio State, Saturday at 2:30 ET
Nobody takes care of the basketball better than Iowa (17-8) – the Hawkeyes are 1st nationally in both turnover percentage and they commit the fewest unforced turnovers in the nation. That matches with Ohio State (16-6), which is at the bottom of the rankings in forcing turnovers on defense. Iowa should be able to find good shots and both teams score at a high rate. Iowa's Keegan Murray and Ohio State's EJ Liddell is a showcase of two of the nation's best scorers. See the chart below to see how Murray (KM) and Liddell (EJL) measure up against all Big Ten players offensively.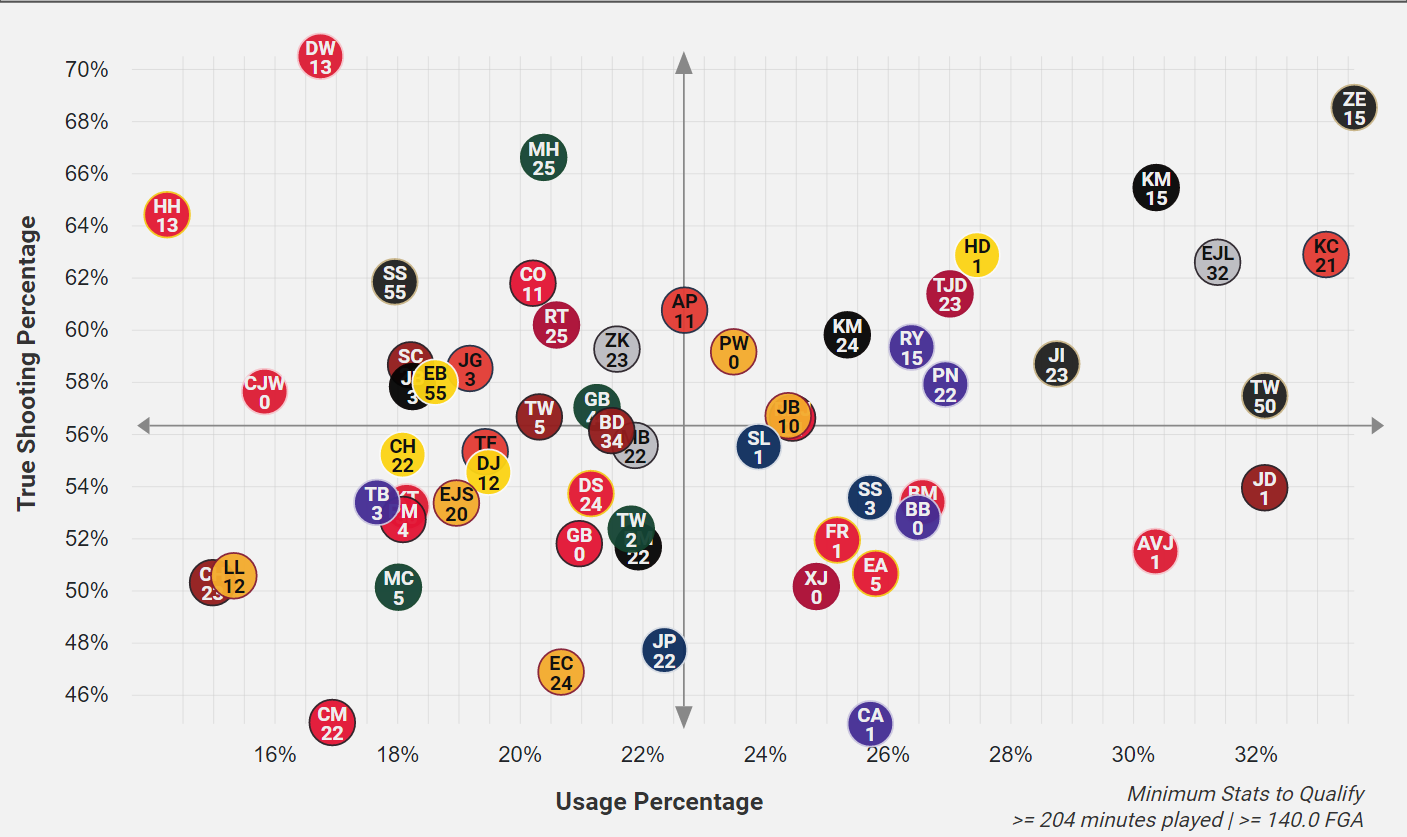 (45) North Carolina at (37) Virginia Tech, Saturday at 4 p.m. ET
North Carolina (18-8) owns two wins against the nation's top 50 teams – and one of those came at home over Virginia Tech back on Jan 24. UNC can claim another important win and also earn the season sweep over Va Tech with a win on Saturday. The Tar Heels also need a rebound after a tough home loss to Pittsburgh this week. Both of these teams are elite 3-point shooting teams, with Virginia Tech 2nd nationally in 3-point percentage. This one could be a high-scoring shootout, and it's an important game for each team's tourney hopes.  
(71)
Oregon at (2) Arizona, Saturday at 10 p.m. ET
Oregon (17-9) dropped 10 NET spots in a single day with Thursday's loss to Arizona State. The Ducks own some outstanding wins (at UCLA and USC) but have taken some hard losses lately. Now at 71 in the NET (last year's lowest-rated at-large team was 47), it's an uphill climb back into contention for OU. Arizona (23-2) has won seven straight by an average margin of 13.1 points and is in the mix for one of the coveted tournament 1 seeds. The Wildcats, under first-year head coach Tommy Lloyd, could lock up the Pac-12 regular season title in a week's time. 
Recapping the win last night…

1⃣ – Benn, Zu do what they do (20+pts each)
2⃣ – Held opp. under 40% shooting third straight game
3⃣ – 52 paint points

🗞️ https://t.co/CYyurB54tE pic.twitter.com/yBw7WptIJS

— Arizona Basketball (@ArizonaMBB) February 18, 2022
And one! Here's a bonus game for college hoops junkies that may have some March Madness implications. 
(55) Saint Louis at (58) Davidson, Saturday at 3:30 p.m. ET
Davidson (21-4) holds one-game lead in the Atlantic-10 standings and needs to improve its NET ranking should it need to compete for an at-large bid on Selection Sunday. There's plenty at stake for Davidson, which is one of the best shooting teams in the country. Saint Louis (18-8) actually has a slightly better NET than Davidson thanks to a strong non-conference schedule, and with Davidson, Richmond and VCU coming up on the schedule SLU can win its way into a really nice profile. SLU is an elite offensive rebounding team, 12th in the nation, while the fundamentally-sound Davidson squad is 26th nationally in defensive rebounding.  
Five women's games to tune into this weekend:
Saturday's best women's game is on the west coast and there's plenty of games to check in on Sunday, highlighted by the SEC showdown at 1 p.m. on ABC. Rankings are the team's NCAA NET, with data collection provided by NCAA LiveStats by Genius Sports. Records and rankings accurate as of Friday. 
(26) Gonzaga at (12) BYU, Saturday at 4 p.m. ET
A conference title is likely on the line in this one, as both teams enter with 12-1 conference marks as well as matching four-game win streaks. BYU (22-2) won at Gonzaga 62-50 in the first meeting and has proven to be one of the best teams in the west and is at the very top of the country offensively. Gonzaga (21-5) is the best offensive rebounding team in the nation, and by far the best in its conference as seen in the chart below.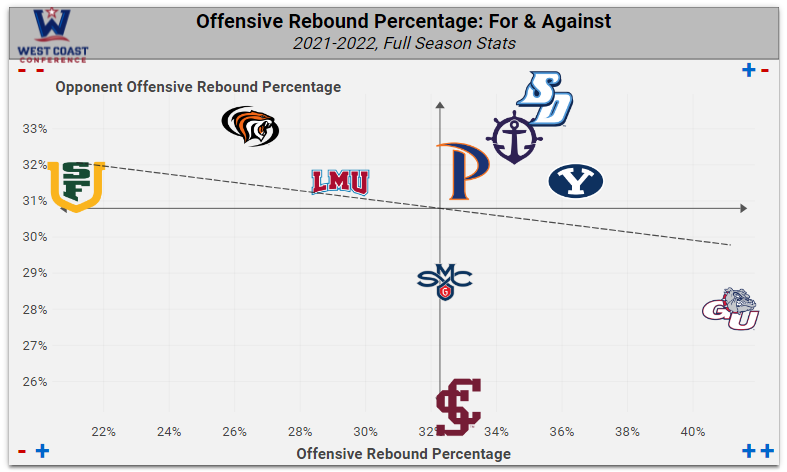 (5) North Carolina at (51) Florida State, Sunday at noon ET
North Carolina (20-5) is riding high and goes on the road after capturing an exciting win Thursday night over top-3 team Louisville. UNC has gotten the job done defensively, ranking 2nd in the nation in defensive efficiency. Florida State (14-11) has been an NCAA Tournament regular but has some work to do. A win over UNC at home Sunday would be a good chip to have at the table. The Seminoles have won four of their last five, including a win over Notre Dame. 
(19) Tennessee at (1) South Carolina, Sunday at 1 p.m. ET
For the everyday hoops fan, this is the biggest women's game of the weekend. Legacy program Tennessee (21-5) playing on a big stage against the nation's top-ranked team in South Carolina (24-1). Tennessee has lost three of its last five (all by double figures) and will play in Columbia, where South Carolina is 50-5 over the last four seasons. USC is the nation's best offensive rebounding team and is also 1st nationally in defensive eFG%. Scoring on USC is hard, and if they miss, they go get the rebound.  
Drive, draw and dish …@eniyar1 @elysawesolek pic.twitter.com/pNLEB9K1Ck

— GamecockWBB (@GamecockWBB) February 18, 2022
(14) Maryland at (15) Michigan, Sunday at 3 p.m. ET
Trivia time: who owns the most conference wins in the Big Ten with 12? 
Maryland. 
The Terrapins (20-6) have won eight straight games and have surged to the top of the Big Ten along with Indiana. Maryland is playing its best ball at the right time of year and can control its championship destiny Sunday vs. Michigan (20-4) and next week against Indiana. Both teams are among the nation's elite in offensive rebounding. Maryland has been the better offensive team, Michigan a little better defensively. Key Big Ten showdown here.  
(11) Arizona at (67) Washington State, Sunday at 3 p.m. ET
With 10 wins against the NET top 70, Arizona (18-4) has built a strong tournament profile and needs to finish strong to earn home games in the NCAA Tournament. UA is one of the most efficient offensive teams in the country and will travel to a Washington State (16-8) playing for its tourney life. The Cougars have won six of eight heading into the weekend. 
Drive, draw and dish …@eniyar1 @elysawesolek pic.twitter.com/pNLEB9K1Ck

— GamecockWBB (@GamecockWBB) February 18, 2022
And one! Here's a bonus game for college hoops junkies that may have some March Madness implications. 
(85) Drexel at (98) Delaware, Sunday at 1 p.m. ET
Here's a sneaky good game that will likely decide a conference regular season title in the Colonial. Both teams own a 12-1 league mark. Delaware (18-5), alma mater of WNBA superstar Elena Delle Donne, has won eight straight games since losing…wait for it…at Drexel (20-3) back on Jan. 23. Drexel won that game 70-62 and enters the weekend having won 17 of its last 18. The winner of the Colonial's conference tournament will play in the Big Dance and nobody will want to see these teams in their bracket.