Bayreuth lost their fourth game in a row in all competitions yesterday as Berlin put in a statement performance away from home.
It was Berlin's third occasion in which they have recorded triple-figures all season, and their fifth consecutive away win. They appear to be going from strength to strength and displayed clear dominance against their tired hosts.
For Bayreuth, the defeat comes during a difficult run of form which has not been helped by injuries, burnout and general fatigue. This was a telling fact, as the second half was particularly key in Berlin's ability to secure the win.
"I have to congratulate my players because playing away is never easy. In the end, it did indeed look quite comfortable for us, but we also had our problems in the game," said Berlin head coach Israel Gonzalez of his team's performance. "But in the last quarter we took advantage of our advantages and that's why I'm happy with my team's performance."
The opening quarter did not necessarily show that the writing was on the wall for Bayreuth, finishing up at 20-26. The hosts upped their game in the second quarter, too – notching up 26 points to Berlin's 28. All the indicators at half time were that Bayreuth were completely up for the fight.
That wasn't to be the case though, as Berlin found another gear – edging two-point field goals (8-3) and total rebounds (10-6), which gave them a comfortable lead to take into the final quarter.
From there, Bayreuth completely fell away – Berlin outscoring them by 29 points to 14. 
An especially good Berlin team had contributions from all over the court – particularly from national team player Johannes Thiemann (14 points, four rebounds) and relative youngster Oscar da Silva (15 points, nine rebounds).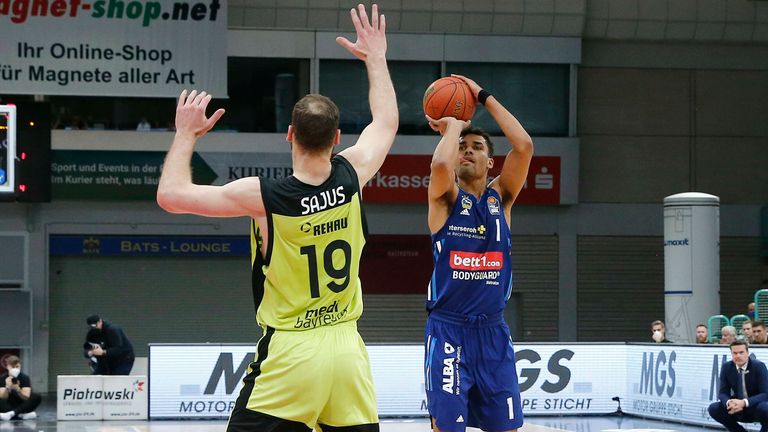 Bayreuth coach Raoul Korner praised his team's character despite the loss, and also pointed to the positive news that Cameron Wells was able to record some minutes on the court:
"Alba is, of course, a team that mercilessly exploits every phase of weakness of the opponent. We came out of half-time very aggressively and started the third quarter accordingly well and imitated a good run here. It was positive for us that Cam was able to play a few minutes again today."
Despite another defeat, ever-present Bayreuth performer Sacar Anmin posted yet another game with 20 points in just 25:04 minutes on the court. If they can keep him happy, with the addition of Wells and returning form of Bastian Dorian, Bayreuth fans will be hoping that they can start 2022 on a better note.