Current champions, LA Giltinis continue to blow hot and cold as they were beaten by in-form Utah Warriors in the major result from Round 6.
While there are new leaders at the top of the Eastern Conference, as Rugby Atlanta successfully overcame previously unbeaten Austin Gilgronis.
Utah pick up shock victory over Giltinis
Utah pounced on their strong showing the previous week against Dallas, to shock LA Giltinis with a 28-19 victory in the Coliseum.
It was a close first half, with both teams making scores to keep it tight. However, the Giltinis fell apart in the last 10 minutes of the second half to concede 12 points.
 Quick reactions from the Warriors offense, and a solid defence to back it up, were key to the final few moments of the game. Utah scrum-half, Niall Saunders, scored a neat try and, with figures of 74 metres ran and 49 passes made in the game, he made the Week 6 MLR team of the week.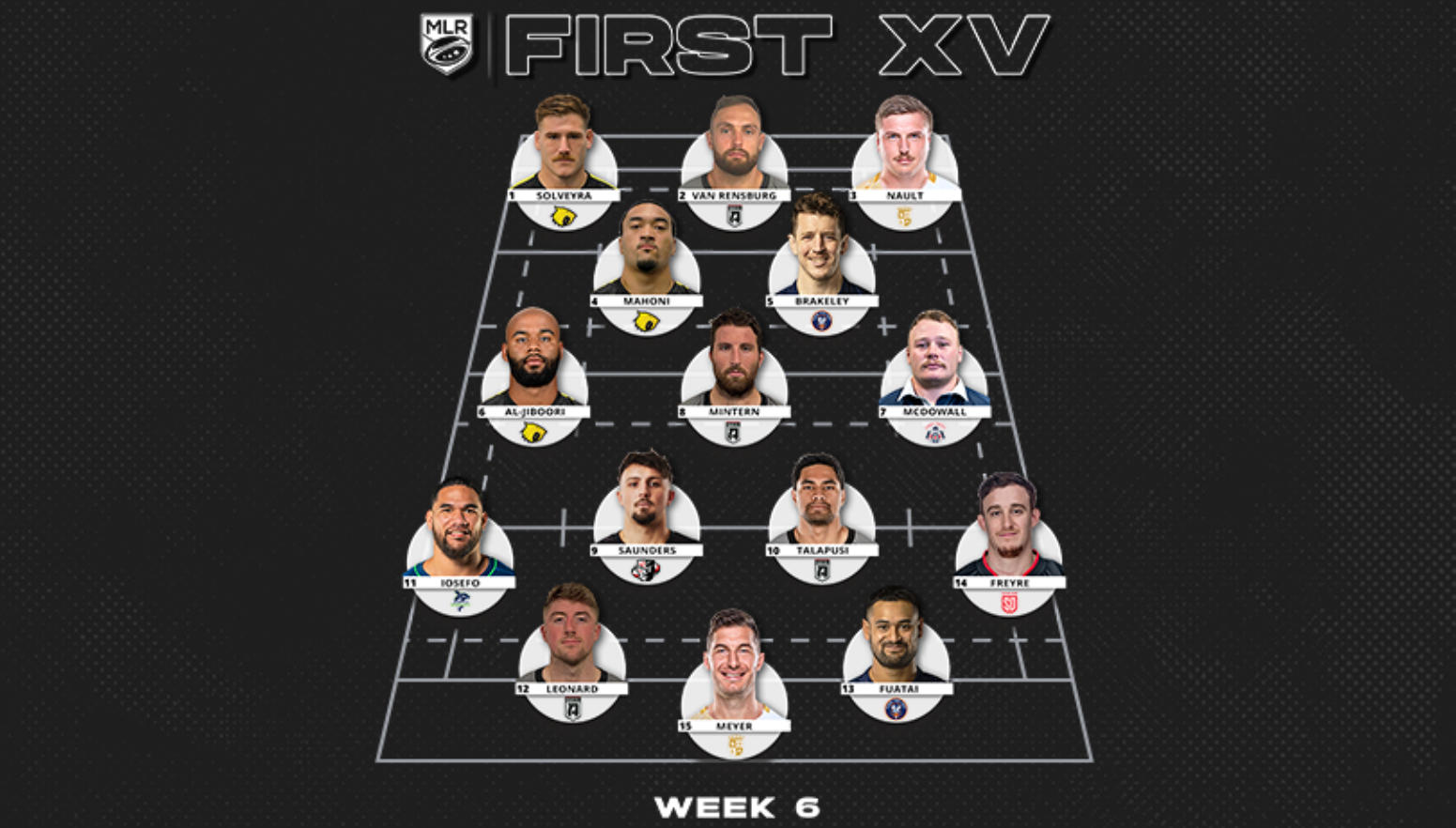 It's a result that poses more questions than answers for LA. While there are still regular season games left to turn their poor form around, they are second from bottom in the Western conference with a 2-3 record and have San Diego Legion next. It doesn't get any easier.
Utah leapfrog the Giltinis in the West and will face the Toronto Arrows to see if they can make it 3 wins in a row in Round 7.
Rugby Atlanta top East and stop Gilgronis unbeaten run
In arguably the biggest game of the weekend, Rugby Atlanta showcased their brand of tough, full-bodied rugby and ended Austin Gilgronis unbeaten run with a 29-14 victory on home turf.
The weather was instrumental in the game. Strong winds meant strategy was focused less on the kicking game and more on how well teams could distribute the ball through their hands. Rugby Atlanta used their mauls, lineouts and carries to better success.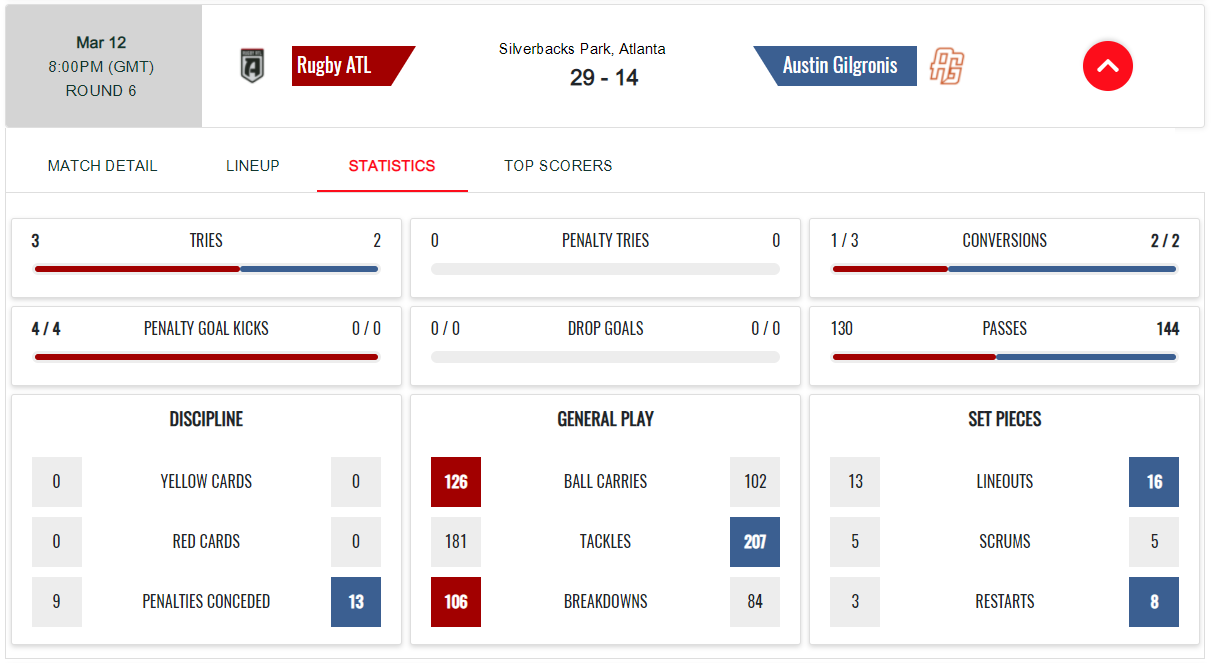 The crucial factor in the game was discipline. Gilgronis conceded 13 penalties to Atlanta's 9. While Atlanta converted four from four penalty kicks, Austin had none. Within 30 minutes Rugby Atlanta took a 16-0 lead and it was just too much for the Gilgronis to claw back.
Game management helped Atlanta over the line as their effort and determination to get to the ball and stop Austin from gaining on their score ensured a well-deserved victory.
Heading into week 7, hooker Marko Janse van Rensburg is now the leading try scorer in the league, with Beuadin Waaka on five each.
View this post on Instagram
Other results
Rugby New York 26 – 23 San Diego Legion
 Legion's full back, Joe Pietersen, is now MLR's second highest points scorer in the history of the league. However, his 13 points weren't enough to earn a victory for the Legion against Rugby New York.
Pietersen's kicking counterpart, fly-half Jack Heighton top scored with 16 points to help Rugby New York just edge San Diego.
View this post on Instagram
Houston SaberCats 21 – 19 Seattle Seawolves
Houston edged the Seawolves in another close encounter, to leave Seattle winless in three. Dillon Smit broke away on a counter-attack and scored right under the posts to score a crucial extra 2 points.
Dallas Jackals 26 – 32 Nola Gold
Dallas are still yet to earn a win in their first season. Gold's Heinrich Meyer scored a try and converted 2 to top score with 12.
New England Free Jacks 21 – 15 Toronto Arrows
 Flanker, Slade McDowall scored two of Free Jacks three tries to continue their fine form after a strong victory in week 5 against Rugby New York.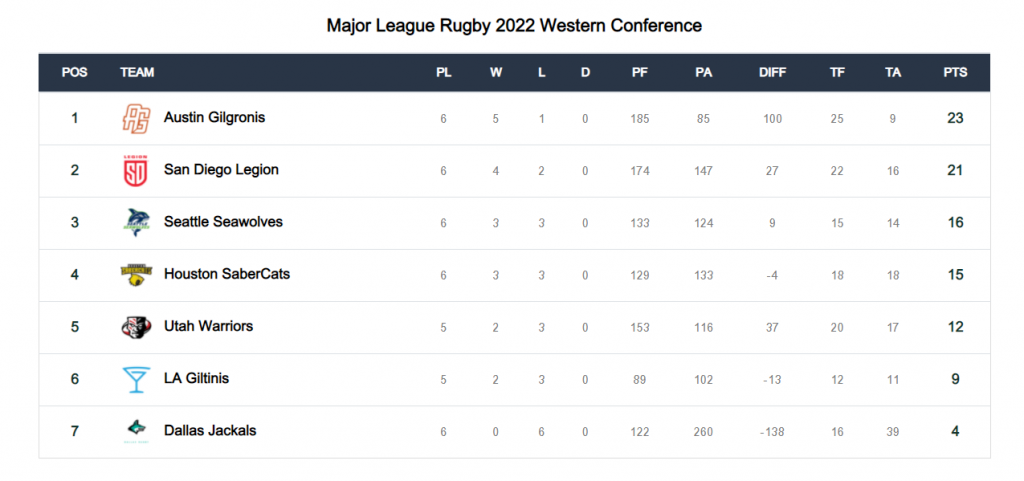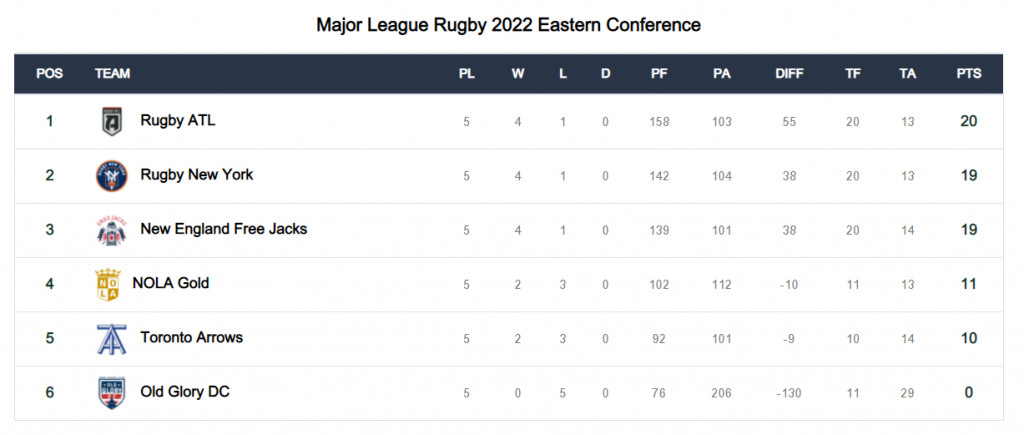 San Diego aiming for top spot in Round 7
LA Giltinis (2-3) v San Diego Legion (4-2), 19th March 19:00 (EST)
 San Diego Legion can take the lead at the top of the Western Conference with victory over LA Giltinis, if other results go their way.
They will be looking to capitalise on a demoralised Giltinis team. Once again full-back Joe Pietersen will be key, while Nate Augspurger will be looking to increase his top score of three tries for the season.
Prediction: San Diego to win by 5
Austin Gilgronis (5-1) v New England Free Jacks (4-1), 19th March 20:00 (EST)
Can Austin Gilgronis rebound from their loss to Rugby Atlanta?
It's another tough match-up for them from a strong Eastern conference side in New England Free Jacks.
New England will be looking to influential fly-half Beaudein Waaka to secure victory with the boot.
The Gilgronis will want to make sure that the last result was just a blip. Winger, Julian Dominguez was quiet in the last game and they'll need his attacking flair to come away with the victory. Home advantage could be key.
Prediction: Gilgronis to win by 3
Other fixtures
Utah Warriors (2-3) v Toronto Arrows (2-3), 19th March 16:30 (EST)
Dallas Jackals (0-6) v Seattle Seawolves (3-3), 19th March 20:00 (EST)
NOLA Gold (2-3) v Rugby New York (4-1), 19th March 20:00 (EST)
Old Glory DC (0-5) v Rugby ATL (4-1), 20th March 19:00 (EST)