For the first time in the history of Major League Rugby, all five games saw victories for the away team in round 8.
Of those five victories, the New England Free Jacks' win against Rugby ATL sent the biggest shockwave around the league.
Toronto Arrows also pulled off a surprise of their own with a high-class defensive display to edge out Rugby New York and stop them from taking first place in the Eastern Conference.
Free Jacks humble ATL to take first place in the Eastern Conference
In what was billed as the biggest game of the season so far in the East: It thankfully lived up to the hype. Rugby ATL set the tone early on to score a try within five minutes of the action starting.
However, the Free Jacks soon equalized as power and precision from centre, Le Roux Malan saw him power to the gain line.
Winger, Mitchell Wilson top scored with 15 for New England as he scored the first of his two tries, with a fine interception after a mistake from the ATL defence, to level up the scores again on the 31-minute mark, after ATL had responded again to take the lead.
You're not gonna catch Mitch Wilson!

🏃‍♂️🔥🔥🔥🔥@NEFreeJacks @usmlr #MLR2022 pic.twitter.com/YokavSklEj

— The Rugby Network (@therugbynetwork) March 26, 2022
ATL took a 10-point lead as they started the second half strongly. Connor Cook comfortably beat the Free Jacks defence to race over the try line.
However, the game soon changed shortly after. From a well worked passing move off a lineout, winger Harry Barlow closed the gap and with it bought up the Free Jacks 100th try in MLR history.
WHAT A WAY to bring up 100 Tries in @NEFreeJacks History ⛽️⛽️⛽️

📽️ @usmlr @therugbynetwork pic.twitter.com/ArcKgfce5b

— Dallen Stanford 🎙️ (@Dallen_Stanford) March 28, 2022
It wasn't until the 70th minute that New England took the lead, even with 14 men as they received a yellow card. Two tries in the space of four minutes were enough to seal the victory.
Lineouts, in the end, proved key for the Free Jacks as they were able to deliver the killer blow off the driving maul.
It blows the Eastern conference wide open, with New England now taking top spot with a record of 6-1 for the season.
This weekend the @NEFreeJacks defeated Atlanta and stole their spot at #1 in the East, earning them the title of Team of the Week! ⬆️#MLR2022 | #RiseOfRugby pic.twitter.com/LVERj1KsVP

— Major League Rugby (@usmlr) March 29, 2022
New York record shock loss to Toronto
Almost as surprising as New England's win, was Rugby New York's loss to a defensively solid Toronto Arrows team.
It was a match-up dominated by power, strength and mistakes than it was by attacking flair.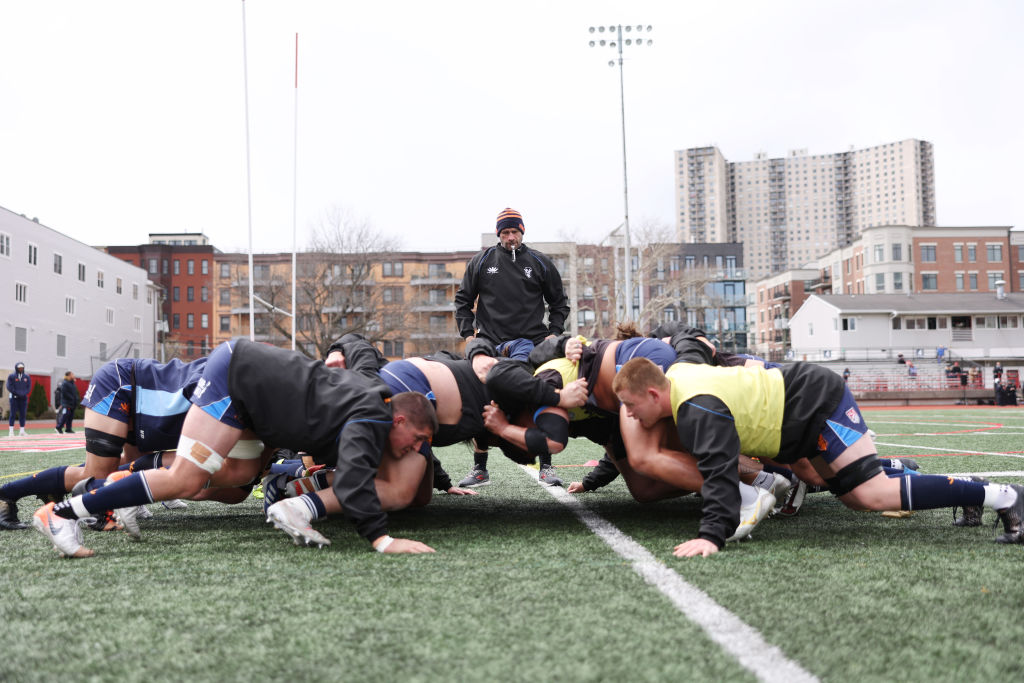 In an even game that saw both teams score two tries, the crucial factor was Toronto's ability to score under the post and claim the full 7 points for a try.
After Ed Fidow raced over to extend New York's lead, their defence crumbled with three minutes of the game remaining.
Using grit and determination, Toronto prop Andrew Quattrin plowed through four attempted New York tackles to score under the posts and give a vital four-point lead for Toronto.
What a turn of events! Andrew Quattrin scores his first try of the season to secure the win for @TorontoArrows over @rugbynewyork 🏹

📺 @therugbynetwork | #NYvTOR | #MLR2022 pic.twitter.com/mcdaORCfPs

— Major League Rugby (@usmlr) March 27, 2022
It's a result that left New York wondering what could have been if they had won. Instead, they remain third in the Eastern conference knowing that Toronto are closing in.
Other results
Utah Warriors 12 – 28 Houston SaberCats
Houston are now 4-3 for the season as they look to reign in the teams at the top of the West.
With their second consecutive win, they outmuscled and out-fought Utah to take a 28-12 win. Although they had fewer carries (56-130) and much fewer passes (58-150) they made their kicking game count to score 4 tries to Utah's 2.
Scrum-half, Dilon Smit kicked for a total of 305 metres during the game, almost double the next best. While Fly-Half David Coetzer converted all four of Houston's tries.
 It's two losses in a row now for Utah after their victory against LA Giltinis in round 6. They face a tough home game against San Diego next.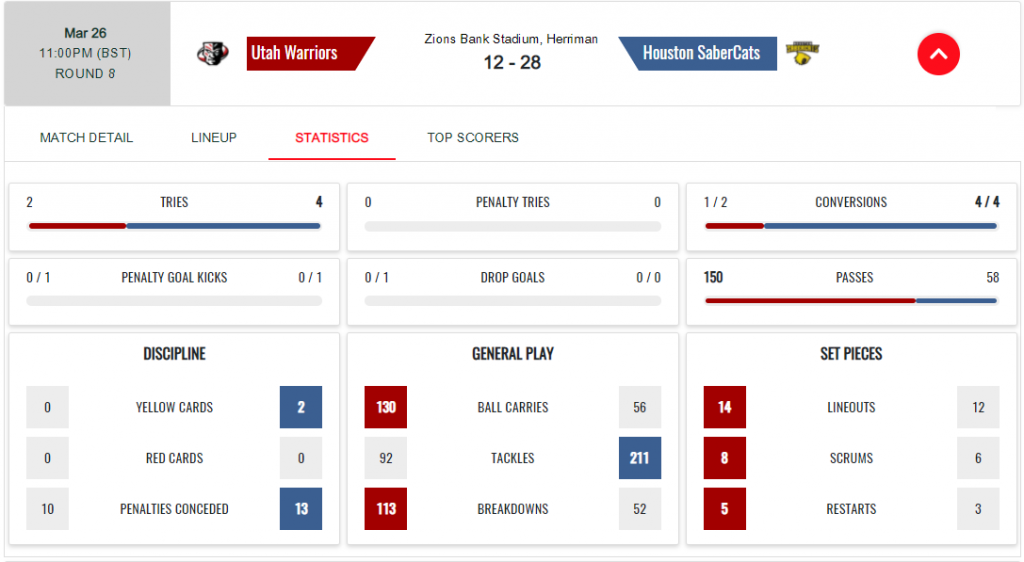 Seattle Seawolves 12 – 31 LA Giltinis
 LA followed up their win against San Diego with a champions display against former champions Seattle.
Prop Joseph Taufete'e top scored with 2 tries as attacking prowess and accuracy was the feature of the game.
LA number 8, Hanco Germishuys made 122 running metres with 10 ball carries and a try to place him firmly in the MLR team of the week.
Seattle are now (4-4) for the season, while LA are back to a positive record of (4-3) and can overtake the Seawolves in round 9.
Introducing the #FirstXV for week 8! 👏#MLR2022 | #RiseOfRugby pic.twitter.com/OCnzX0D0nU

— Major League Rugby (@usmlr) March 29, 2022
Old Glory DC 22 – 31 NOLA Gold
 It's now a 0-7 start to the season for Old Glory as they saw their Head Coach, Andrew Douglas depart.
The game was decided by a single try with NOLA scoring 5 to Old Glory's 4. DC matched Gold for passes made in the game (182) and had more carries (146-139), but it was the accuracy from NOLA Gold that proved pivotal.
NOLA Gold prop, Pat O'Toole was named the MLR player of the week as he finished with match figures of 105 metres run, 13 tackles, 11 carries and 2 tries.
Pat O'Toole could not be stopped this weekend, surging through gaps in the defense to score two tries in @nolagoldrugby's 31-22 win over DC!🏃💨#MLR2022 | #RiseOfRugby pic.twitter.com/Bff9qSL6zv

— Major League Rugby (@usmlr) March 29, 2022
For Old Glory the dreadful season continues as they're now searching for a new coach as well as their first win.
Tables
Can Houston topple Gilgronis in round 9?
Austin Gilgronis (5-2) v Houston SaberCats (4-3), Sunday 3rd April 19:00 (EST)
After their break in week 8, Austin Gilgronis are back in action in round 9 as they face in-form Houston.
The Gilgronis continue to be the most formidable defence in the league having only conceded 110 points so far this season. While they are also joint top of the try scorers table with 28. However, they're on a two-game losing streak.
This is the best chance the SaberCats will have all season to overthrow the Gilgronis as home pressure mounts.
The SaberCats will make it a tough and bruising encounter. They'll look for penalties at every chance as they turn to top points scorer, fly-half David Coetzer.
Winger, Julian Dominguez will be looking to add to his tally of four tries for Gilgronis this season.
Prediction: Gilgronis to win by 10
Arrows looking to inflict another shock win
Toronto Arrows (4-3) V Rugby ATL (5-2), Saturday 2nd April 12:00pm (EST)
After their fantastic victory over Rugby New York, Toronto will be looking to shock another top Eastern side: Rugby ATL.
Coming off the back of a bruising defeat to New England, ATL will be hoping they can recover quickly.
This will be a feisty match-up. It pits the top offense in the Eastern Conference, 212 points scored for ATL, against the East's best defence as Toronto have only conceded 135.
 It will be interesting to see who comes out on top. Toronto's defence will need to be at their best to stop influential ATL prop, Janse van Rensburg as he looks to add to his tally of 6 tries for the season.
Prediction: Toronto to win by 3
Other fixtures
Utah Warriors (2-5) v San Diego Legion (4-3), Friday 1st April 22:00 (EST)
New England Free Jacks (6-1) v NOLA Gold (3-4), Saturday 2nd April 16:30 (EST)
Rugby New York (5-2) v Old Glory DC (0-7), Sunday 3rd April 15:00 (EST)
LA Giltinis (4-3) v Dallas Jackals (0-7), Sunday 3rd April 17:00 (EST)
 You can catch the highlights of all Round 8 fixtures on the MLR YouTube channel here.