Just under a month since Atlas were triumphantly crowned as Apertura champions of Liga MX, the Clausura stage got underway at the weekend. The Clausura will see a single-league, round-robin format, where every team plays each other once – a total of 17 games. The top 12 at the end of the season will advance to the playoffs: the teams finishing in the top four earning themselves a bye and going straight into the quarter-finals.
The games this weekend featured number of big performances from the strongest teams, with some upsets along the way. Defending champions Atlas play their opening game on Sunday, against Atlético de San Luis. We take you through the pick of the games here.
Puebla 1-1 Club América
Friday night's game at the Estadio Cuauhtémoc between Club Puebla and Club América – the largest club in Mexico – was probably the game of the weekend. América were quick to lay a marker to the rest of the Liga MX that they were up to the challenge of improving on their disappointing finish to last season. 23-year-old forward Salvador Reyes opening the scoring for the away side after just 15 seconds. A long ball was sent up towards the Puebla defence, who misjudged the bounce entirely, letting it run through for Reyes to slot home – to the disbelief of the crowd.
 🎥 | Resumen a Nivel de Cancha: Puebla vs América 🦅
🦅| Jornada 1 #Clausura2022
 📺 | https://t.co/A8wHE0VKjU#SiempreÁguilas  #JuntosPorLaGloria pic.twitter.com/1aSQbcZjnA

— Club América (@ClubAmerica) January 8, 2022
América then settled into the game, and it looked as if they would be able to control the pace of the game with relative comfort. That was until the half-hour mark, when Roger Martinez picked up a yellow card for a foul right in front of both managers. Incensed that his side were not given a similar foul just moments earlier, América coach Santiago Solari complained furiously to the referee, who showed him a red card and pointed to the stands. Not satisfied that one red card was sufficiently calamitous a start to a new season, Martinez made matters worse just four minutes later, as he committed a needless foul in almost the same area – giving the referee no choice but to issue a second yellow.
Down to 10 men, América crumbled. 21-year-old wing-back Maximiliano Araujo equalised right on the stroke of half-time. A high cross into the box clear the pack and found it's way to Araujo, who steadied himself and fired into the roof of the net. Puebla asserted themselves into the game after that, finishing with 68% possession and 24 shots, compared to 32% possession and the eight shots of América – who have their centre-back pair of Jordan Silva and Sebastian Caceres to thank for their fortunate point.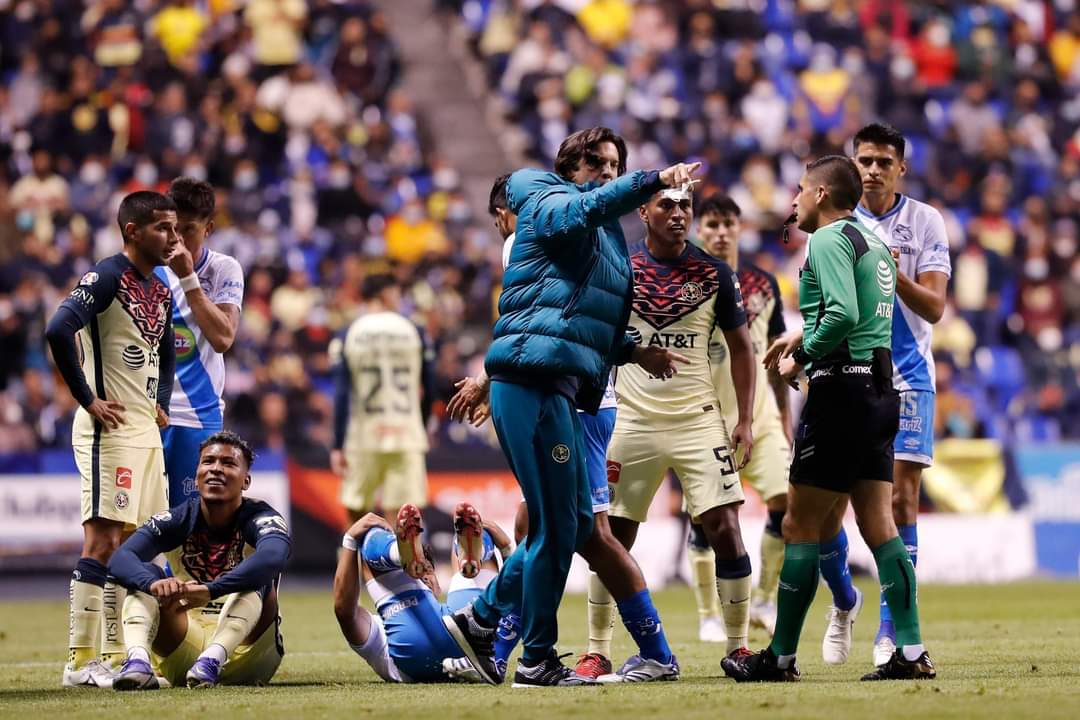 UNAM 5-0 Toluca
The final result of this game came as something of a surprise. Toluca were looking to avenge their defeat to UNAM in the last-16 round of the Apertura playoffs, after working hard to finish sixth in the regular season. UNAM were hoping to go further than last time around, where eventual champions Atlas knocked them out at the semi-final stage.
It turned out to be plain sailing for UNAM though. They registered a staggering 26 shots to Toluca's four across the entire game. UNAM forward Jose Rogerio caused all sorts of problems for Toluca in his 68 minutes on the pitch, picking up space in awkward positions for the Toluca defence. He scored a brace and registered six shots in the game, picking up the Man of the Match award. Barbosa, Ruvalcaba and Meritao each picked up a goal
¡Contundencia universitaria!@PumasMX venció a Toluca en su presentación en el #GritaMéxicoC22. Gran exhibición de los auriazules en C.U.#LigaBBVAMX ⚽ pic.twitter.com/ZXQnvuhs0H

— Liga BBVA MX (@LigaBBVAMX) January 11, 2022
Atlético de San Luis 0-2 Pachuca 
Thursday night's opening game was not memorable for an upset or because it involved one of the 'bigger' teams in Mexico. It was memorable for the performance of Pachuca's Argentinian talisman Nicolás Ibáñez, who was comfortably the best player of the weekend, scoring both goals and registering five shots on target.
After a strong 60 minutes without being able to score, Ibáñez made a perfectly-timed run to meet a low cross from the right and finish emphatically to put his side in front. His second was a well-placed penalty. All evening he picked up the ball in pockets on the right hand side, drifting inwards at will and using his pace to make intelligent runs. He was the difference for Pachuca.
Elsewhere in Jornada 1…
Chivas de Guadalajara started their campaign in winning fashion, with three goals coming in the first half against Mazatlan. Cruz Azul picked up a somewhat flattering 2-0 win over Tijuana, who actually had more of the ball (58% possession) and attempts (13) than their hosts. Juarez beat Necaxa 2-1 and Monterey drew 0-0 with Queretaro.