Division 1 college football, or the Football Bowl Subdivision (FBS), concludes its season later today, with the College Football Playoff National Championship. Up until 2014, FBS was decided by polls and rankings to determine the top two teams in the country to play for the national championship. The process changed and evolved over the years, but there was always debate over who the "true" national champion should be. Therefore, the CFP was created and the top four teams would be chosen to play in semi-final games and the winners in the championship. One could devote an entire novel to the flaws in their system and necessary changes, but the system we have now is much improved and gives two more teams the opportunity to play for a championship.
This year, the class of the SEC meet in what will be a rematch of the 2018 CFP championship where Alabama beat Georgia in overtime. This year, Alabama won the SEC championship over Georgia and went on to defeat Cincinnati in the semifinal. Georgia bounced back from their regular season loss to beat Big Ten Champion Michigan in their semifinal setting up this rematch.
Here's an in-depth look at the matchup from Genius Sports and NCAA LiveStats.
The University of Alabama Crimson Tide
Alabama has absolutely been the football program on the hill since Nick Saban took over as head coach. Saban took the LSU Tigers to a national championship in 2003 and leveraged that success into an NFL head coaching job with the Miami Dolphins. His success didn't translate – as is often the case – and he bolted for the Alabama position in 2007 immediately following another losing season with the Dolphins. Since Saban joined the Crimson Tide the team has a 183-24 (.884) record along with six national championships. Every college program tries to emulate Alabama's success, but few can match up.
This year, Saban has led his team back to the national championship to try for back to back wins, something Alabama hasn't done since 2011 and 2012. Alabama is led by Heisman trophy winning quarterback Bryce Young, who led the SEC in touchdowns with 46, and was second in the SEC with 4,503 passing yards. This is Young's first year starting and has stepped up to every major challenge. Young will make it back to back Heisman trophy winners from Alabama to win the national championship (WR Devonta Smith).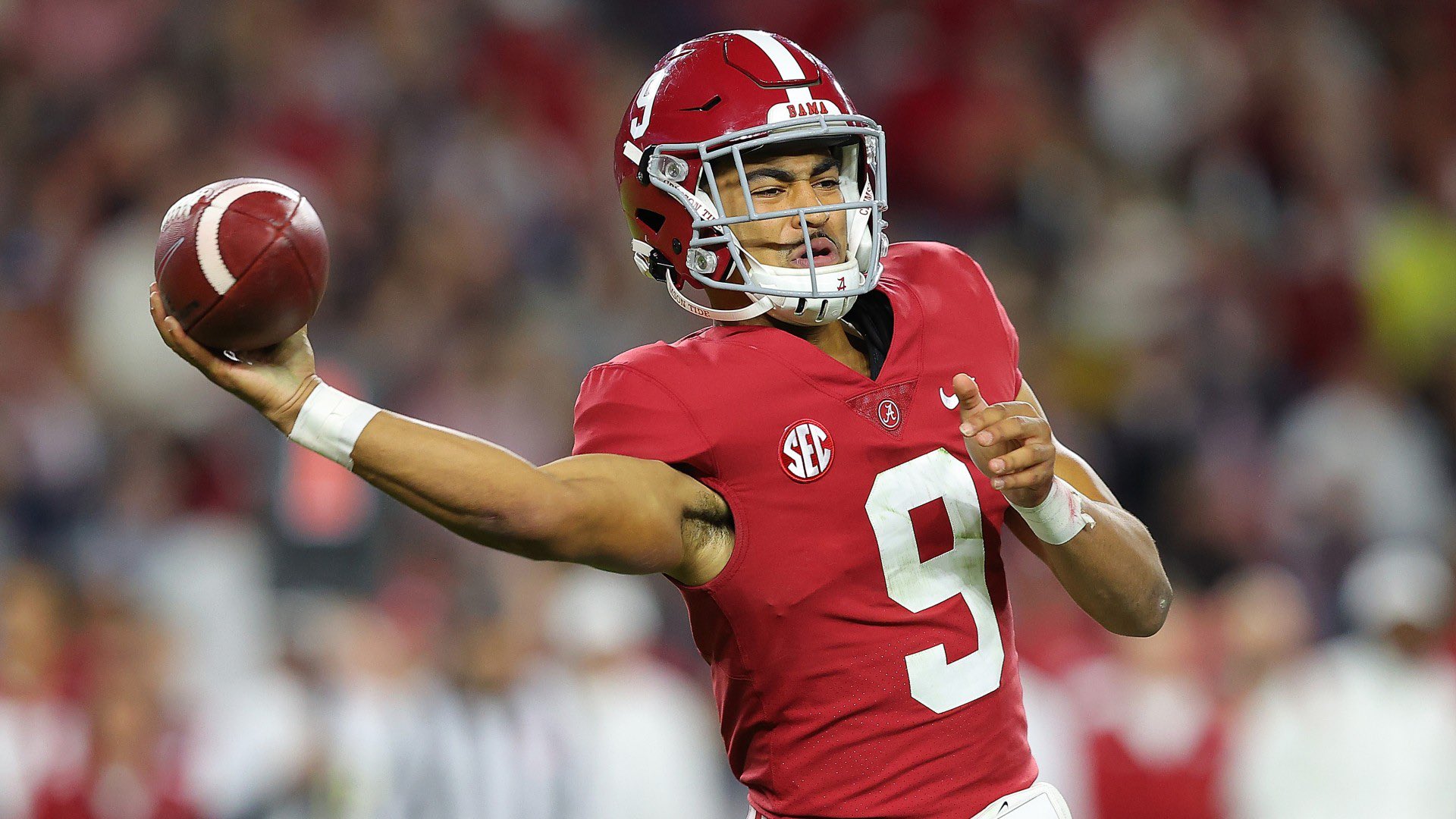 As always, Alabama has been led by a stout defense and playmakers all over the field. Their star defensive player is Will Anderson who barely missed out on being a Heisman finalist himself, despite his impressive numbers. The 6-4, 235 linebacker is only a sophomore, but tallied a gaudy 31.0 tackles for loss and 17.5 sacks along with 97 total tackles. Georgia's offense will need to focus on Anderson and insure everyone knows where he is on the field and how to block him.
University of Georgia Bulldogs
Georgia under head coach Kirby Smart has bounced back from mediocrity to be the premier team in the SEC East (Alabama is in the SEC West). Smart took over the head coaching job in 2016 and has brought Georgia to the SEC championship game by winning the SEC East four times (2017, 2018, 2019, 2021). His Bulldogs won the SEC in 2017 beating Auburn and helping his team reach the championship that year. Smart was hired away from Saban and his staff where he was the defensive coordinator, and the decision was, well… a smart one. Georgia's defense has remained one of the fiercest in the country and this year averaged only 6.9 points allowed per game. That's less than a touchdown a game!
𝐆𝐀𝐌𝐄𝐃𝐀𝐘

📺: https://t.co/gHD3e9pdFx
📻: https://t.co/d6HF3ANdho
📊: https://t.co/xwf8RSbalp
🕗: 8:00 PM ET#GoDawgs #NationalChampionship pic.twitter.com/GYYbCfIAYv

— Georgia Football (@GeorgiaFootball) January 10, 2022
However, Georgia has not faired well against Alabama with Smart. The two teams met in this year's SEC Championship game after Georgia went undefeated in the regular season and was the number 1 team in the country for basically the more or less the entire year. Alabama wasn't afraid of the challenge or the stage and beat Georgia 41-24 behind Young's SEC championship game record 421 passing yards. But Georgia bounced back in their semifinal match against Michigan, defeating the Wolverines 34-11 with 521 yards of total offense and giving up only 328 of total offense.
Kirby Smart will be focused on beating his former coach and mentor at Alabama. Smart has never beaten Saban as a head coach, but isn't alone in that. Saban's former assistants are 1-25 against him all-time, with the one victory coming this year from Jimbo Fisher at Texas A&M. Smart aims to be the second former assistant to do so and earn his redemption from the SEC championship. The win will also be Georgia's first national championship since 1980. A drought many Bulldogs are ready to put behind them.