No more unbeaten teams remain in Liga Endesa following this weekend's incredible round of fixtures.  Barcelona's perfect record was ended resolutely by Valencia – just one of a handful of dramatic victories thrown up by matchday 10. We'll take you through the best of the action here, and take a look at the standings, as we find ourselves almost a third of the way through the regular season.
Barcelona Lose Perfect Record: Barcelona 79 – 87 Valencia Basket
The Catalans missed out on the opportunity to maintain distance between themselves and Real Madrid at the top of the Liga Endesa following their defeat to Valencia Basket on Sunday. Their 100% record was ended by a stellar Valencia performance, who grew into the game and took control in the second half, scoring 52 points. 
Despite a marginal improvement in the second half, Barcelona remained soft in defence; winning only 14 defensive rebounds to Valencia's 20. Where the attacking burden fell too often on the shoulders of Mirotic (22) for Barca, Valencia were quite the opposite. Lopez-Arostegui (17), Dubljevic (15) and Rivero (18) all contributed impressive performances for Valencia. Ultimately, Valencia were more clinical with the ball, making 74.1% of 2-point field goal attempts compared to Barcelona's 57.1%.
It was this that proved decisive, as this young Valencia side managed the latter stages, including a late Barcelona resurgence, with professionalism.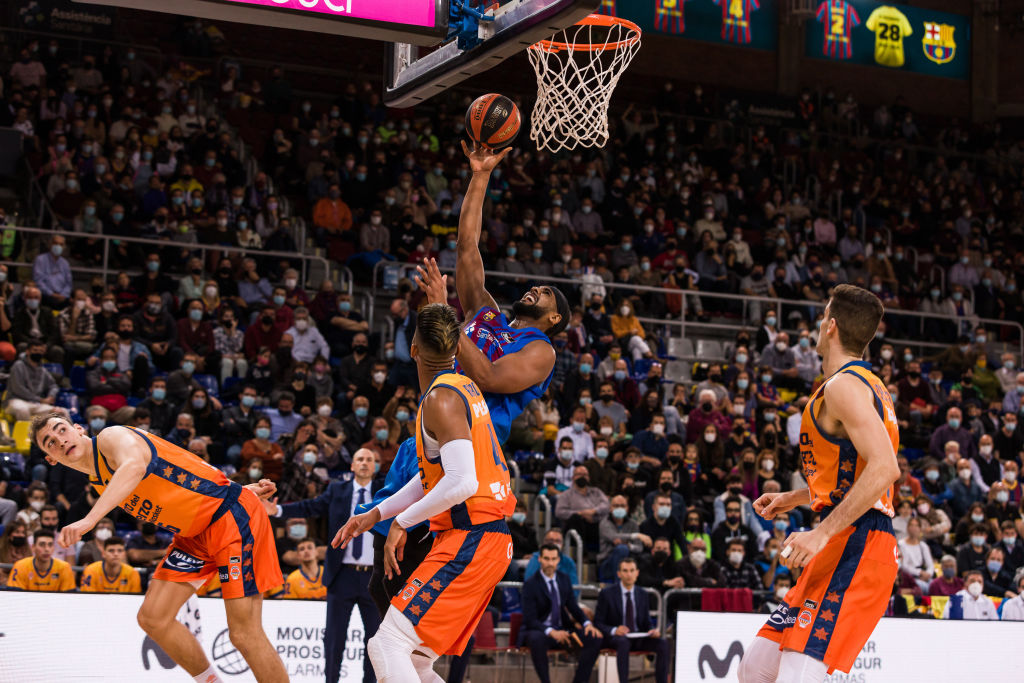 Heurtel on the Buzzer Saves Madrid: Urbas Fuenla 85 – 88 Real Madrid
A last-gasp Thomas Heurtel triple secured a pulsating victory for Real Madrid over Urbas Fuenlabrada, sending them to the top of the league ahead of rivals Barcelona.
Fuenla matched Madrid for energy and solidity throughout the whole game, recording the same number of rebounds (33), turnovers (14), steals (6) and assists (21) as their opponents. Fuenla's Obi Emegano and Dusan Ristic recorded 27 and 25 points respectively: the latter converting five out of six triple attempts. 
An even spread of Real Madrid points from Causer (19), Abalde (15), Heurtel (14), Poirier (11) and Tavares (10 – with 11 rebounds) ensured that the game remained tight. The winning play came as Llull stepped inside, before returning to Heurtel, who dispatched the triple with precision.
Fuenla will be hugely disappointed to have lost in that manner, but should take confidence from their strong showing against the leaders. They now sit 17th in the league table.
Gran Canaria Pile Misery onto Baskonia: Gran Canaria 83 – 77 Baskonia
Gran Canaria kept the heat on the league leaders with a win over Baskonia.
There wasn't much by way of difference between the two sides – Gran Canaria only just edging Baskonia in total field goals made (28/26), rebounds (36/33) and turnovers (15/16). 
Despite being up by five at half-time, Gran Canaria rallied and dominated play in the second half, scoring 47 points. 
The result leaves Baskonia in 11th and with just one win in their last eight in all competitions. 
Following this defeat, it was announced that Neven Spahija would be taking over as head coach, replacing Dusko Ivanovic. Spahija previously won a league title with Baskonia in 2008 and the Croatian returns following stints as assistant manager for the Atlanta Hawks and Memphis Grizzlies in the NBA.
📋 Neven Spahija, nuevo entrenador baskonista 🔵🔴

Ongi etorri, Neven! 👋#GoazenBaskonia

— Baskonia (@Baskonia) November 15, 2021
Poor League Form Continues for San Pablo Burgos: Unicaja 89 – 78 San Pablo Burgos
San Pablo Burgos currently find themselves in 14th place in the Liga Endesa, following another defeat at the hands of Unicaja. The loss was a fifth league defeat in a row for the current Champions League holders. Yesterday, San Pablo Burgos announced that coach Zan Tabak's contract had been terminated, leaving them searching for a replacement.
Their next league match sees them face Barcelona, a fixture they have failed to win in each of the previous five encounters.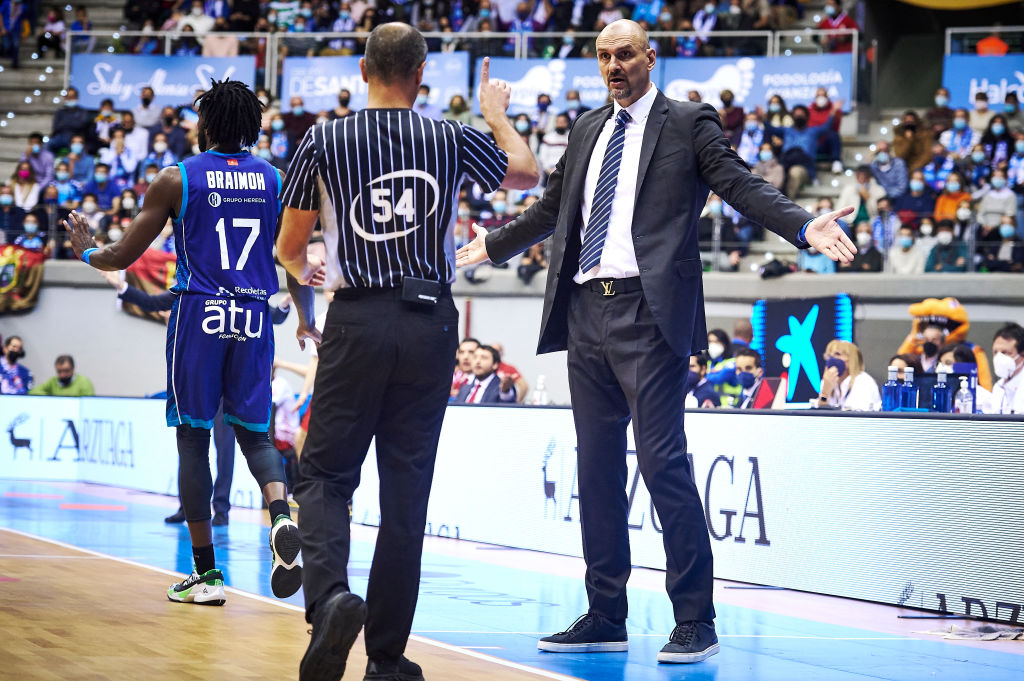 Best of the Rest
Tenerife recorded their third league win in a row over Real Betis (72 – 81) who remain rooted to the bottom of the league. Inconsistent Andorra ran out as narrow winners over Murcia (90 – 89) in an important victory that they'll hope can inspire a strong run of wins. Badalona remain in a playoff position, bettering Zaragoza 84 – 78. Manresa moved two points clear of Breogan in their 86 – 75 victory, whilst Bilbao recorded an 80 – 76 win over Obradoiro.
📊 CLASIFICACIÓN

¡Así están las cosas tras finalizarse la Jornada 🔟!#LigaEndesa#ListosParaRomperla pic.twitter.com/u05syTae3C

— Liga Endesa (@ACBCOM) November 14, 2021