With 10 games played in Colombia's Liga Dimayor, the start of the season is over and the hard yards have begun. We now have a good grasp on who the form teams are, who has started the season poorly and which players are shining for their teams.
#LigaBetPlayDimayor Conoce los resultados de tu equipo y nunca dejes de alentarlo con mucha pasión🔥@BetPlayCO @Dimayor #UnaLigaConMásPasión pic.twitter.com/BRRBgXacsZ

— LigaBetPlayDimayor (@LigaBetPlayD) March 9, 2022
As matchday 11 begins tonight following a weekend break for elections, we dive into some of the themes of the season so far.
Millonarios Lead the Way 
After winning just once in their first four games, Millonarios have won their last six in a row and top the league with 23 points.
The team from Bogotá have built their recent run around a pragmatic approach to games that aims to maintain possession for lengthy periods and control games. Their resolute defence has provided the foundation for them to be able to play this way. They have conceded just three goals all season – the lowest tally in the league, whilst winning 69.9% of attempted tackles. Eight clean sheets from the opening 10 games is a remarkable achievement by any standard, and one that usually goes on to be challenging for silverware at the end of the season.
They average just under 60% possession each game and their 4,477 passes is the second highest total in the Dimayor.
They aren't the most prolific scorers in the league by any stretch; they are only joint-sixth in terms of goals scored (12) – despite having the joint-highest shots on target (50). They did buck this trend in their most recent game – beating Independiente De Santa Fe 3-0: Larry Vásquez, Diego Herazo and Edgar Guerra with a goal each.
¡Millonarios, ganador del clásico de Bogotá! ⚽ ​@MillosFCoficial 🔵⚪ venció 3-0 a @SantaFe 🔴⚪ en uno de los clásicos más importantes de Colombia 🇨🇴​#CreeEnGrande pic.twitter.com/DFBo05CCms

— CONMEBOL.com (@CONMEBOL) March 7, 2022
If they can increase their goal threat without losing any of their defensive solidity, it is safe to say that Millonarios will be the team to beat heading into the quadrangular playoffs at the end of the regular season.
They face a tough match in Once Caldas next.
Tolima Looking Strong 
Just one point behind the leaders are Tolima. With seven wins, one draw and two defeats, their record is comparable to Millonarios.
Their style of play, however, is less comparable. Tolima have scored 14 goals from just 37 shots on target – a conversion rate of 18.7% compared to Millonarios' 11.3%. At the other end of the pitch, they've conceded double the amount of goals and have only five clean sheets.
With the recent experience of getting to the playoff final, as well as their recent win in the Super Cup against Deportivo Cali adding another trophy, Tolima will feel confident that they can keep up their form and produce a strong finish to the regular season. They take on Patriotas tonight.
📸 Último entrenamiento de cara a nuestro juego contra Patriotas. pic.twitter.com/JKIWEfO89G

— Club Deportes Tolima S.A ⭐️⭐️⭐️ (@cdtolima) March 15, 2022
Disastrous Title Defence for Deportivo Cali
After a momentous title win back in December 2021, Deportivo Cali could barely have started this year in worse form. They currently sit 18th in the table, with just two wins and seven points to their name. In their last game out, they were unable to overcome América de Cali – even despite their opponents having two men sent off. The club is in deep crisis and looks a shadow of the team of just a months ago.
Their statistics after just 10 games are even more worrying. They've scored just five goals so far, with a conversion rate of just 5.2% – the lowest in the league. It's quite clear that the departure of Harold Preciado – who has scored four in his last five for his new club Santos Laguna in Liga MX, has had a major impact on their attacking output. Their 2,926 total passes is among the worst in the league. They will be hoping that the break at the weekend gave them the opportunity to regroup and that Rafael Dudamel can rediscover the form that helped them become champions not so long ago.
They have the chance to rectify their current form against Bucaramanga, tonight.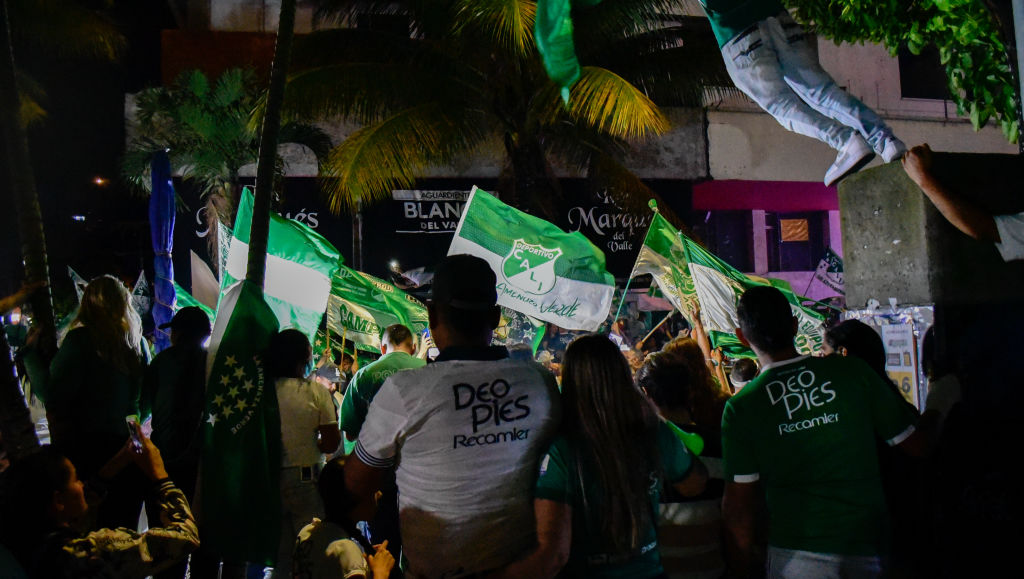 Team to watch: Junior 
One team that never fails to entertain is fifth-placed Junior. They rank joint-first in goals scored; joint-third in shot conversion and feature in the bottom half of the table in goals conceded. They also have just three clean sheets in their games so far. They quite literally never settle for a point: they have six wins, four defeats and no draws across the season.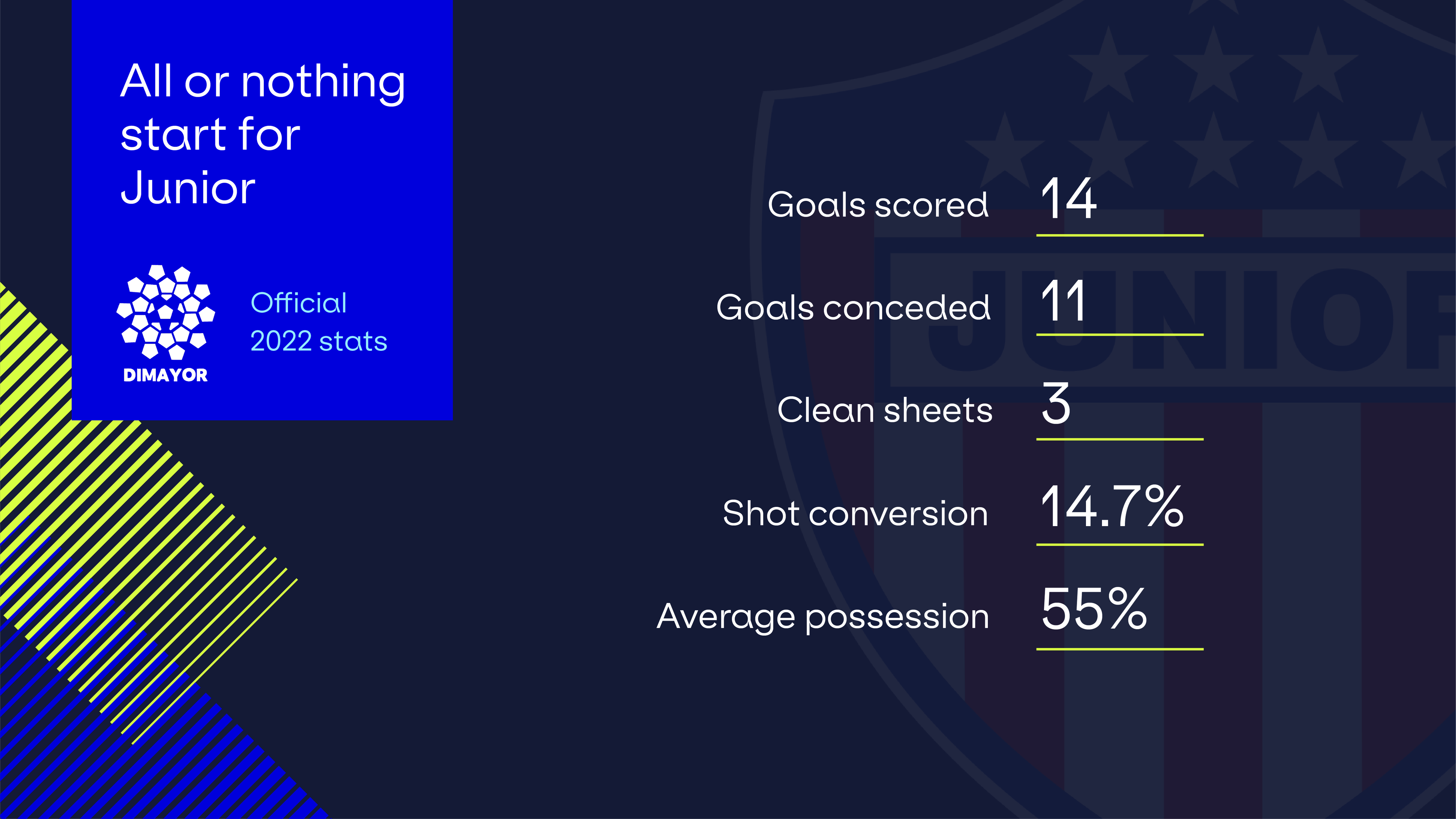 All this is to say: their games are very exciting to watch. They play on the front-foot with an 'all or nothing' attitude to collecting points. Whilst this can given them victories over better-placed sides, it has cost them dearly on occasion. In the long run, whilst they might comfortably make the playoffs (though, this is not guaranteed for any teams, of course), it would be difficult to imagine their style of play being effective in one-off games where losing is fatal.
Nevertheless, if you are stuck for a game to watch – Junior are a safe bet for an end-to-end match. They next face Pereira at the weekend.